How to Spend 10 Perfect Days in Costa Rica
Having rich fauna and flora, there are so many things to do and see in Costa Rica. Every year thousands of adventure seekers from all over the world come to Costa Rica to experience things that they will remember for the rest of their lives. For many years, the Costa Rican government has been doing everything to make Costa Rica a top destination for eco and adventure tourism. Costa Rica is a pretty safe country compared to other Central American countries. That is why it is also called the Switzerland of Central America. I have compiled my favorite activities so that you can have maximum adventure and fun in 10 days or more.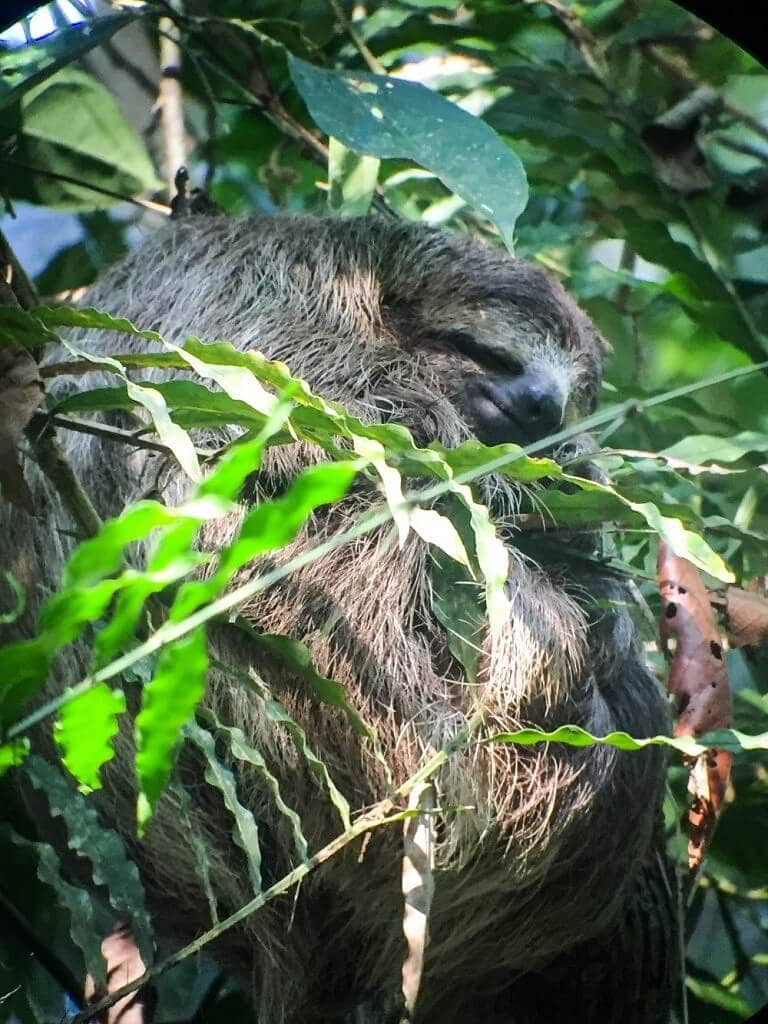 Costa Rica 10 Days Itinerary

Day 1. Arrival and San Jose
San Jose is the capital of Costa Rica and has the largest international airport in the county. If you fly to Costa Rica you will most probably arrive to San Jose international airport. San Jose is the biggest city in Costa Rica and political and economic center. I have spent 2 days in San Jose and have to admit there are not so many things to see or do in the capital.


Monteverde National Park

Day 2. Night Walk in the Jungle


Many animals, reptiles, and insects are more active during the night. They hunt and feed when it is dark and sleep during the day. Although it is dangerous to do such tours on your own, in Monteverde National Park you will find professional guides who will make this experience safe. The tour guides know every single path in the national park and they know where each creature hides. Another reason to take a night tour in the jungle is that during this time the famous Costa-Rican red-eyed treefrog is active. It is probably the most photographed frog on the planet. Although it looks big in photos, in reality, it is a tiny cute creature. It is so small that you won't even be able to notice it easily on your own. If you are lucky enough you will also see a very rare animal called kinkajou also known as the "honey bear". There is also a lot to see in the jungle during the day. The atmosphere is just a bit different. I can highly recommend the sloths in Manuel Antonio. This national park has the highest concentration of animals in a square kilometer.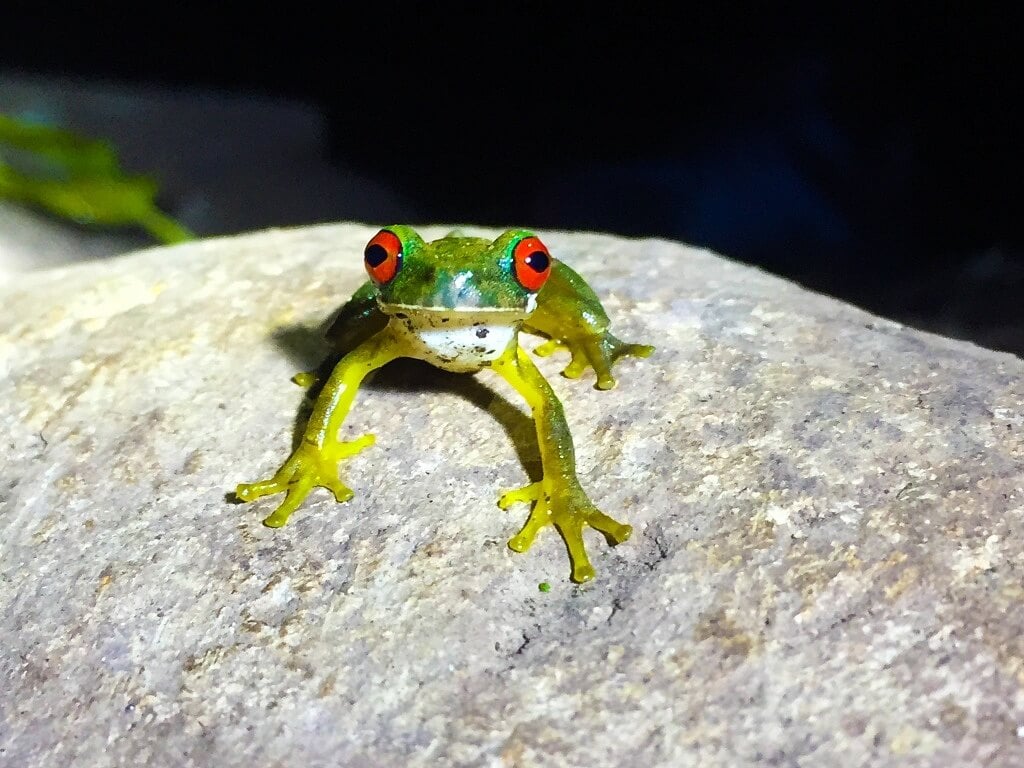 Day 3. Walking Across Suspended Bridges through the Forest Canopy in Monteverde


The Monteverde Cloud Forest Reserve was established in 1972 and is one of the first and oldest areas for the conservation of wildlife in Costa Rica. Monteverde accounts for 2.5% of worldwide biodiversity and 10% of its flora is endemic. Moreover, 50% of the flora and fauna of Costa Rica are found here.
By walking across the cloud forest canopy on a series of suspended bridges in Selvatura Park in Monteverde, you will have a chance to see the unique eco-system of this biodiversity paradise. The treetop walkways tour consists of 1.9 miles of trails in which you will encounter eight bridges of various lengths which range between 170 feet and 560 feet. Each bridge is 5-foot wide and has a capacity of up to 80 people per bridge. Selvatura Park is not only the longest bridge system in Costa Rica but also the safest and strongest.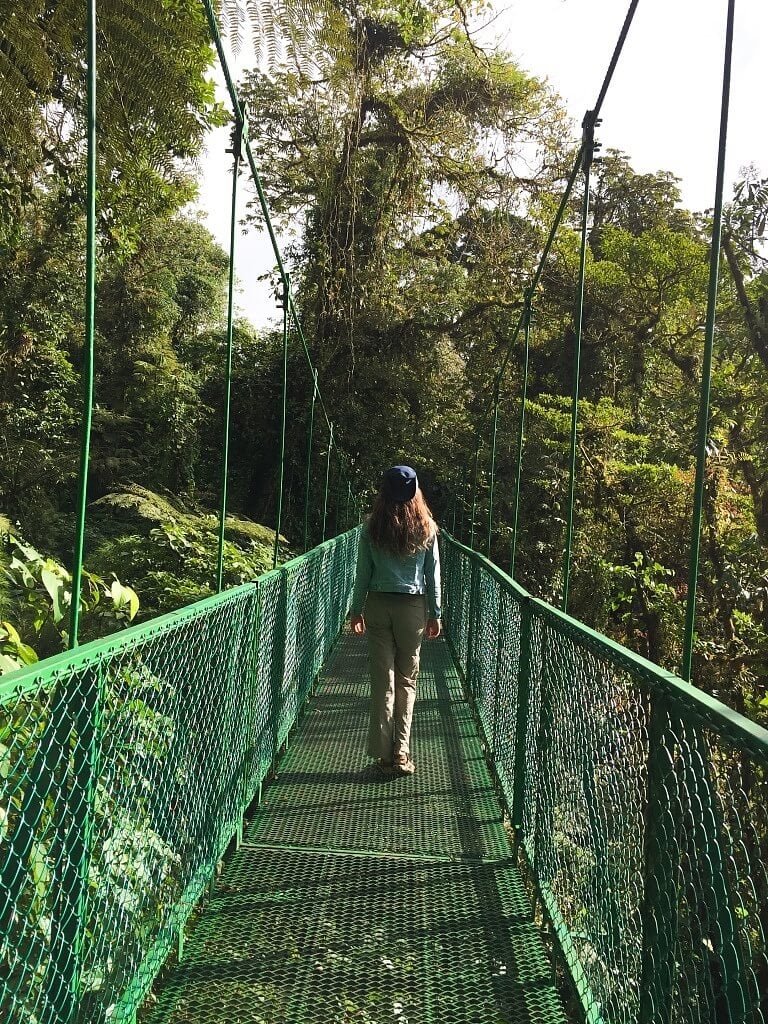 Day 4. Zip Lining in Monteverde or La Fortuna


Did you know that the longest zipline in Latin America is located in Monteverde? It is 1590 meters long and lasts about 1 min 30 seconds. Aventura Canopy includes 11 ziplines, a swinging rope bridge, an exciting rappel, and 2 superman cables. The highlight of the tour is the Tarzan Swing with a height of 45 meters (148ft). It is definitely not for faint-hearted people but no worries, it is possible to skip it and just hike down to the exit if you feel like you had enough adrenaline for the day. I have to admit I have never screamed so much in my life when trying it out. Fling over the treetops of the rainforest was a great experience for me and I think it should definitely be on your bucket list when visiting Costa Rica.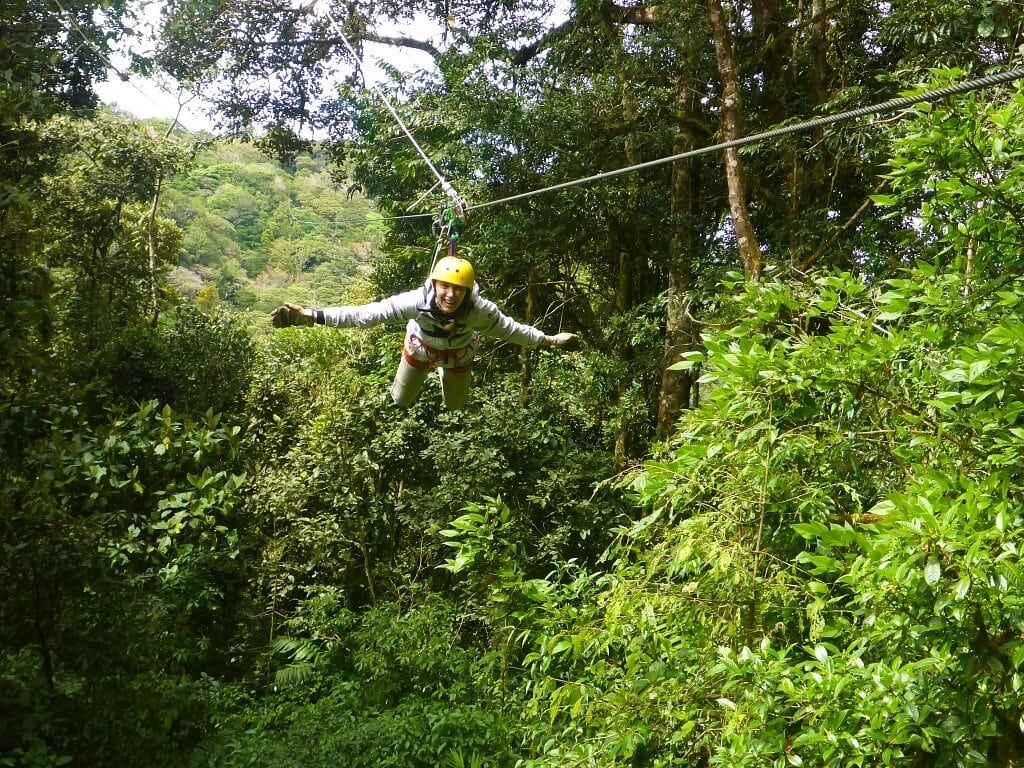 If for some reason you can not do ziplining in Monteverde, Sky Trek Canopy Tour in La Fortune (Arenal) offers a great alternative. It features great views over the lake and the Arenal Volcano.

Day5: White Water Rafting

My list of must things to do in Costa Rica will not be complete without mentioning the White Water Rafting.
Pacuare River (Class III/IV) is considered Costa Rica's N1 river for white water rafting. Located along Costa Rica's Caribbean slope, Río Pacuare's deep gorge is considered one of the best river-rafting sites in the world. Here you will experience cascading waterfalls, amazing gorges flanked by steep, green walls, places to jump in the water, and I to IV class rapids. For more family-friendly options, consider the Peñas Blancas River (Class I) near La Fortuna in Arenal. It is a perfect choice for those who prefer to float more peacefully down a river.


La Fortuna Arenal

Day 6. Canyoning in La Fortuna Arenal

Waterfall Rappelling (also known as Canyoning or Canyoneering) is a fairly new attraction in Costa Rica which is getting very popular year over year. It is a combination of rappelling down waterfalls, hiking along the river in the jungle canyon, and jumping into warm tropical waters. At the beginning of the tour, you'll get 15 minutes ride through a jungle in the back of a truck, safety instruction from an experienced guide, and at the end of the tour you'll be rappelling down a 200-foot (60-meter) waterfall. Make sure to wear clothes that dry quickly and cover your knees and shoulders. I also recommend taking special water shoes to fully protect your feet and keep them dry. The gear and the helmet must be provided by the tour organizer.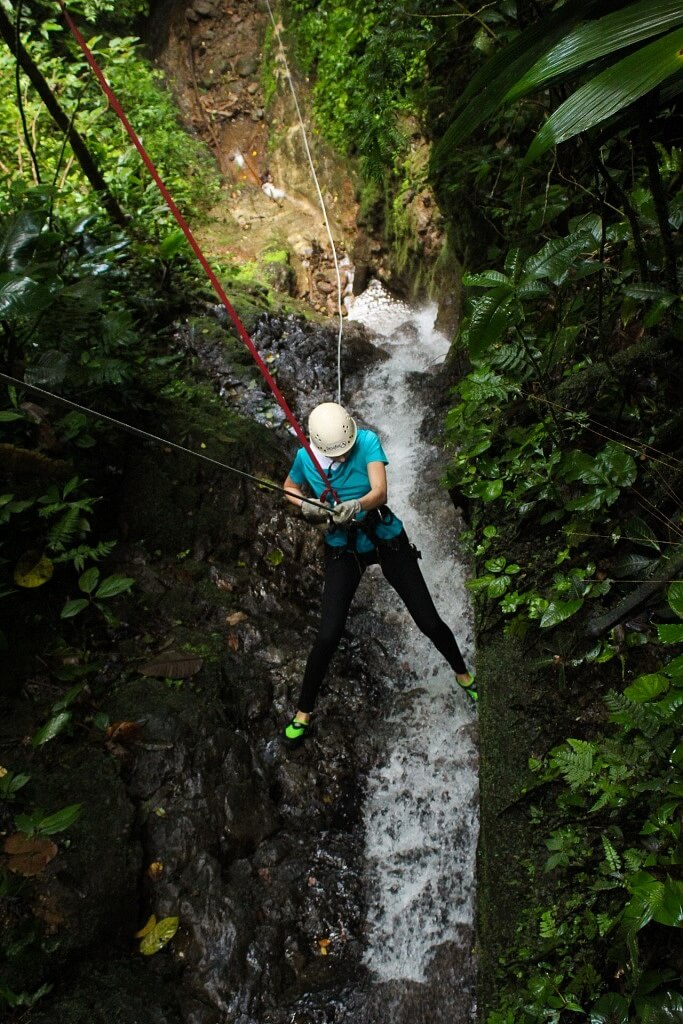 Day 7. Kayaking through Mangroves in Quepos


Your adventure in Costa Rica can not be complete without kayaking through Mangroves. As the kayaking is very relaxed, it does not require any prior experience. Paddle your way along the river and through mangroves and you'll be able to see tons of wildlife (monkeys, sloths, iguanas, birds). You will also be able to learn a lot about the local ecology from an expert guide. The tour guides are usually very knowledgeable and they speak both English and Spanish. They give you a lot of information about local ecology and wildlife. They also spot animals you won't be able to see on your own. The tour prices range between 50-70$ and in most cases, you have to pay in cash. The highlight of the tour is monkeys. These curious creatures jump on the trees with their cute babies and sometimes they come very close to you. Unlike some aggressive monkeys in Asia, these adorable monkeys don't expect you to feed them and don't try to steal anything from you.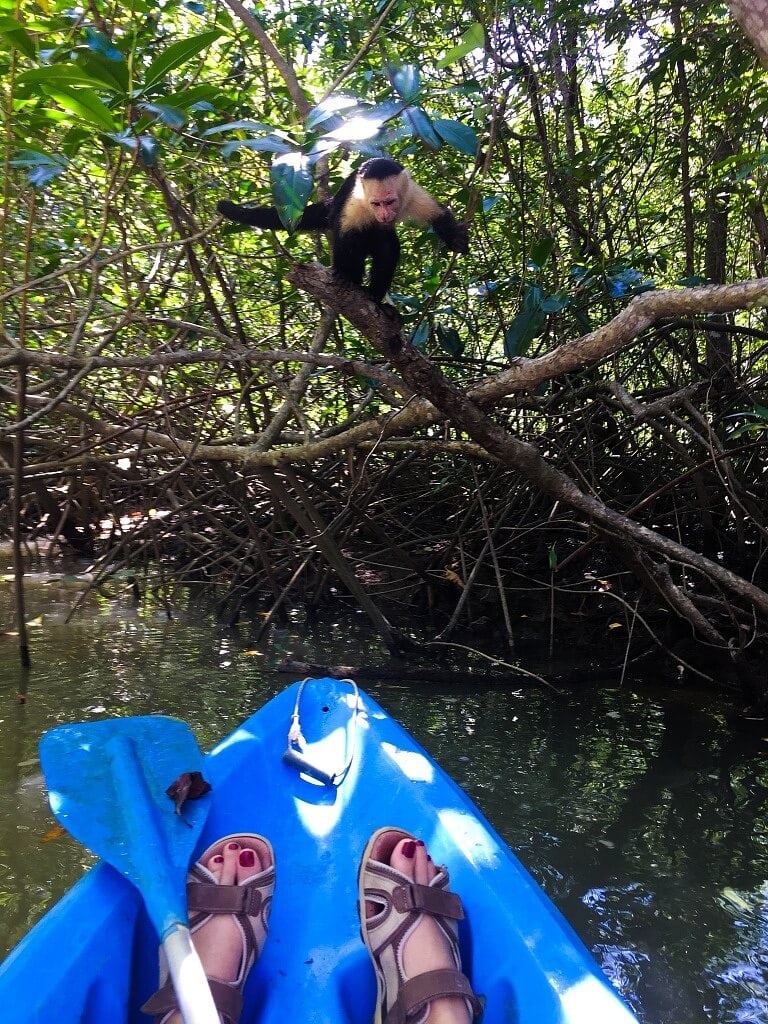 Day 8 to 9. Surfing in Tamarindo


The Pacific Coast of Costa Rica is a perfect spot for surfing lovers. Most famous is probably Tamarindo surf town with renowned Playa Tamarindo and Playa Langosta beaches. It is close to Liberia International Airport (LIR) and many national parks in Guanacaste province. It is a great spot for both pro and beginner surfers. This place is popular among a younger crowd and has a vibrant nightlife.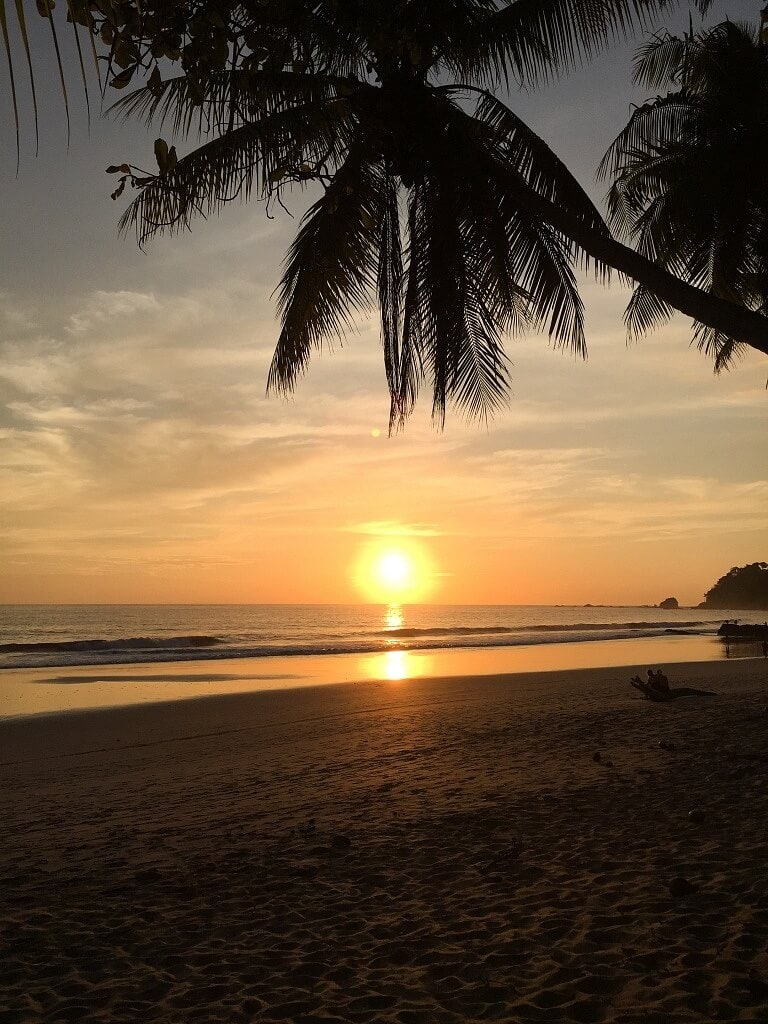 Day 10: Departure

Costa Rica is such a great country which has so much to offer in terms of nature, biodiversity, beautiful beaches, and much more. That's why I think 10 days in Costa Rica are absolutely not enough to see the entire country. However, I do understand that many people simply don't have the opportunity to stay here longer. And that is absolutely ok because you can always return to this beautiful country and explore even more.



My Best Tip for You


Most zip lining and canyoneering tours have photography packages. The tour guides simply take lots of photos of your group during the tour and in the end, you can get them for an extra fee. This can get pretty costly if you are traveling in a small group or alone. You can find another group and stick together to share the costs for the photography package. But don't worry, no matter how large the group is, the guides always take individual photos as well.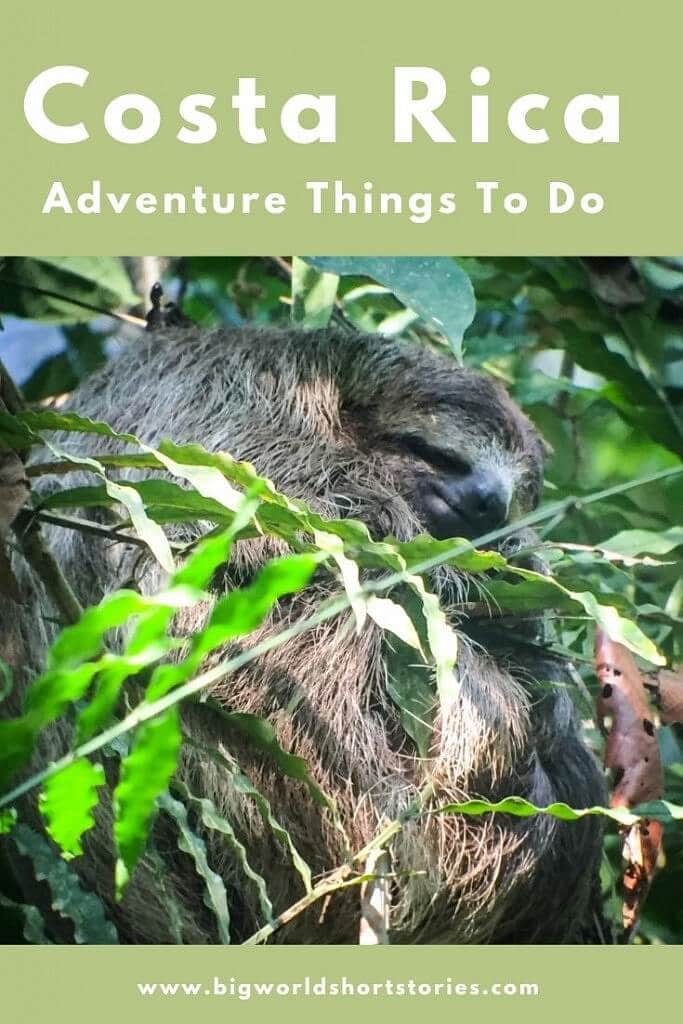 Please follow and like us: