Top 11 Best Beaches in Algarve You Shouldn't Miss
Algarve, the southernmost part of Portugal situated along the Atlantic coast, is famous for sea caves, surfing spots, and beautiful beaches. It has a moderate climate with warm dry summers and very mild winters. Algarve has about 300 days of sun a year making it one of Europe's sunniest places. I love Portugal, especially Algarve, and I am happy to share my list of the most stunning and beautiful beaches in the Algarve including secret beaches.
Most of the best beaches in Algarve are relatively close to each other. Generally, the beaches on the west coast are more wild and good for surfing and beaches closer to resort towns like Lagos or Albufeira are good for more relaxed holidays.
Algarve Beaches on the Map
The stunning coastline of Algarve stretches roughly 155 km on the south-facing side and another 50 km to the north beyond the westernmost point of Cape St. Vincent.


Best Beaches in Algarve for Scenery and Panorama
Algarve is famous for its scenic and panoramic coastline. Thanks to its cliffs and yellow rock formations rising along the coastline of Algarve, it might be the most photographic one in Europe. Below is my hand-picked list of the most panoramic beaches in the Algarve.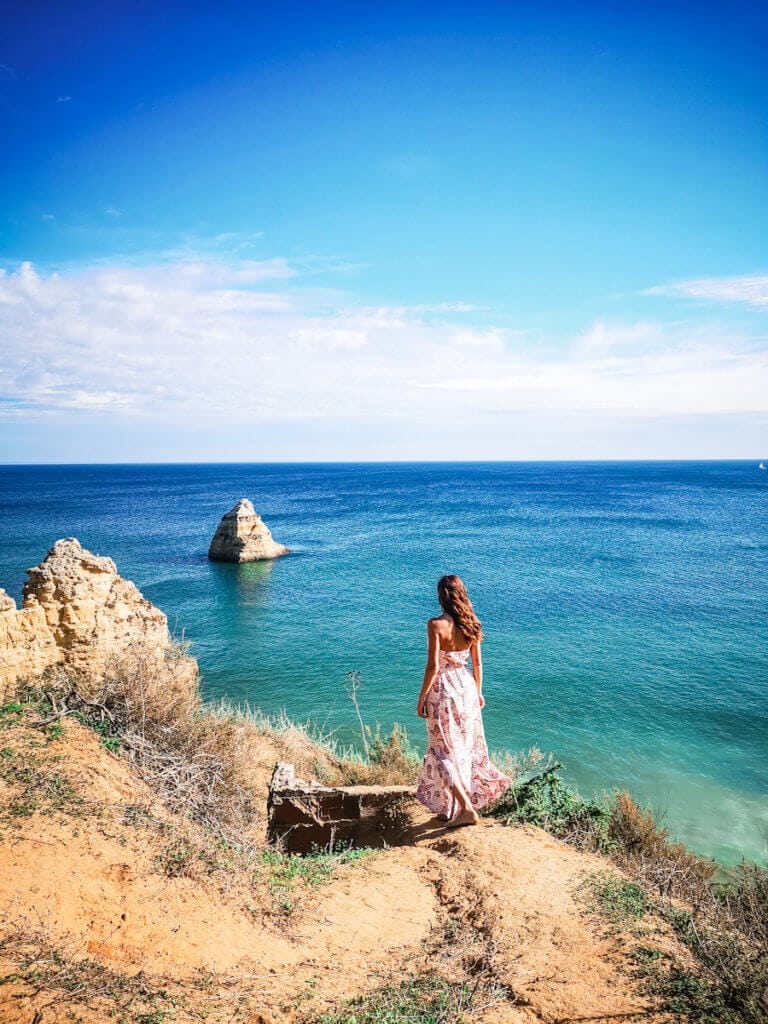 Praia do Camilo ( Lagos )
Praia do Camilo or Camilo beach is one of the most popular and iconic beaches of Lagos and the entire Algarve. To get to the beach you need to walk down 200 wooden steps which will take you to a sheltered sandy cove surrounded by rocks and tunnels.




Ponta de Piedade (Lagos)


Another iconic beach close to Lagos is Ponta de Piedade.It is a headland with a group of spectacular rock formations, hidden grottos, sea arches, and caves along the coastline. There are two ways to explore this headland. Either from the landside using the hiking trail along the coastline with wonderful views or from the seaside as part of a boat tour. I recommend taking kayaks and exploring the hidden grottos of these rock formations.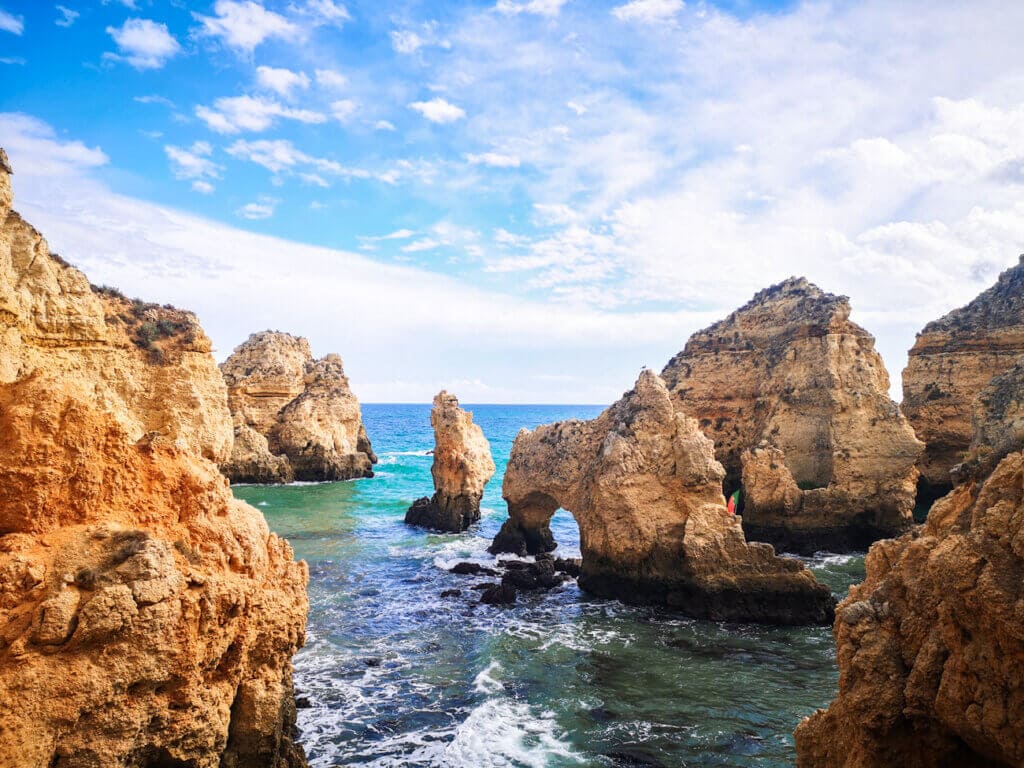 Praia de Benagil | Benagil Beach (Lagoa)
Benagil beach is the most known for its sea cave – the Benagil Cave. It is located next to a small fishing village and it is called after that village's name. Benagil and its caves are the symbol of the Algarve and one of the best things to see there. You will find them on most posters related to the Algarve also on Instagram. I do not recommend swimming to the cave from Benagil beach. The ocean in this area might be rough and it can get dangerous.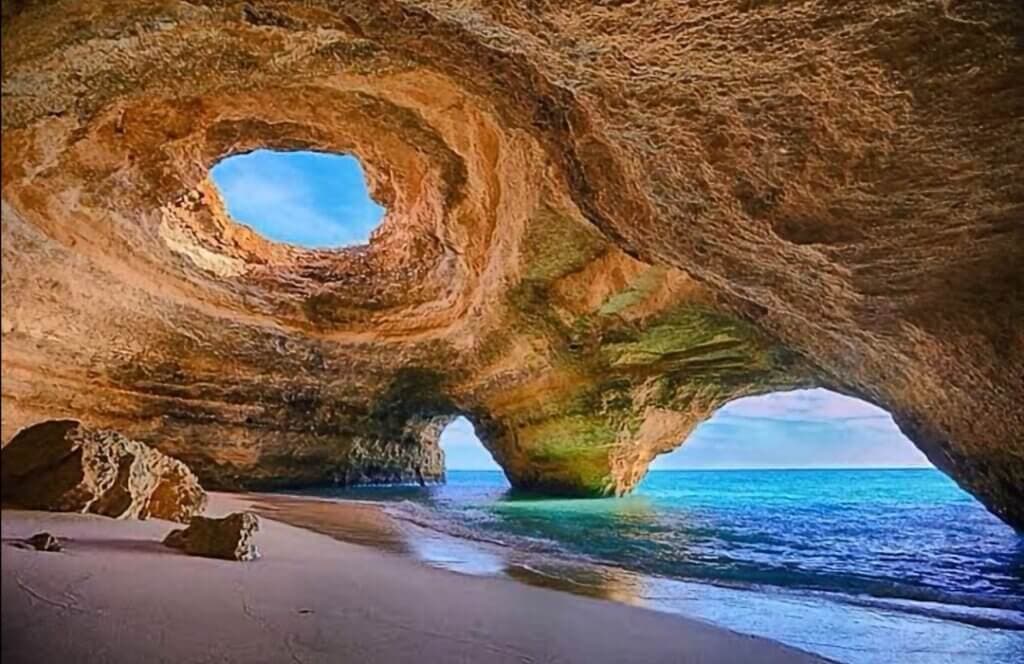 Praia da Marinha (Lagoa )


Praia da Marinha is located in Lagoa municipality, very close to Benagil beach. It is considered as one of the most beautiful beaches in Europe. Surrounded by yellow cliffs and photogenic limestone rock formations, it offers breathtaking views and panoramas.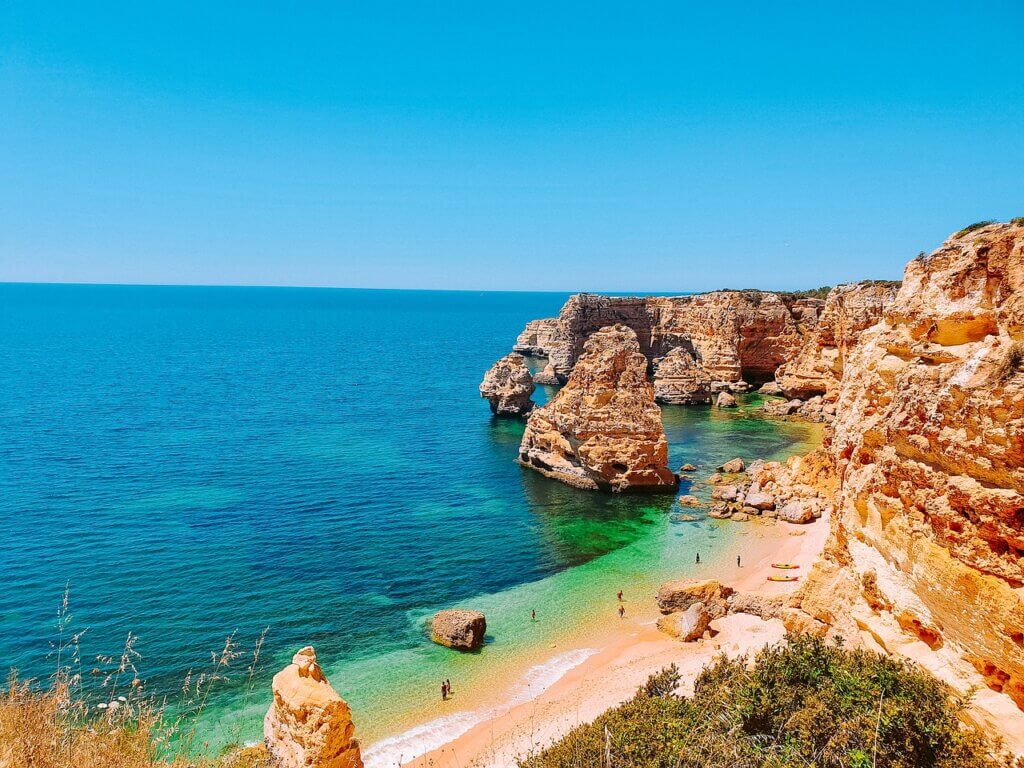 Best Beaches in Algarve for Families and Relaxation


Algarve is a perfect location for family holidays because of its mild climate and safety. If you are looking for relaxed holidays with your entire family and kids, here are some of the best beaches and resort towns for families.


Praia dos Pescadores (Albufeira)


Praia dos Pescadores or the Fishermans Beach near the old town of Albufeira is one of the most popular beaches in Algarve. It can be accessed via stairs or an escalator. Some of the highlights of the beach are sand sculptures and a viewpoint with an elevator. The ocean in this area is very calm and all the facilities are provided including umbrellas, sunbeds and a good selection of beach-front restaurants. It is a perfect place to combine a beach vacation with fine dining, bar hopping, and shopping.




Praia da Luz (Luz)


Luz is a beautiful village very close to more popular and touristic Lagos. It used to be originally a fishing village and nowadays it is a calm and family-friendly resort in Algarve. The beach of Luz is not as big as the other more famous beaches, but it is usually also much less crowded. There is a beautiful promenade along the beach with nice cute restaurants and cafes. On some particular days, it becomes a perfect surfing spot for beginner surfers. There are also some nice surfing and diving schools in the area. I personally recommend the J'hola Surf Camp. I stayed there a few years ago and had a great time.


Praia da Rocha (Portimão)


Praia da Rocha is one of the most popular resort towns in Algarve situated approximately 3 kilometers from Portimao. The sandy beach with the same name stretches1.5 kilometers long along the luxury hotels of the resort town. The highlight of Praia da Rocha is Zoomarine, the best water park in Algarve.


Praia de Dona Ana ( Lagos )


Dona Ana beach near Lagos is one of the most popular beaches in Algarve. Surrounded by limestone cliffs, Praia de Dona Ana is one of the most spectacular and picturesque beaches in the region. It also has all the necessary facilities such as showers, restaurants, and cafes. Dona Ana beach is a walkable distance from the historic center of Lagos, making it a perfect beach for people staying in Lagos.


Best Beaches in Algarve For Sunsets


There are several stunning beaches in Algarve where you can enjoy beautiful sunsets and relax. I have decided to tell you just about one beach, which in my opinion, is the most beautiful rocky beach for viewing sunsets and not so well known among the tourists. It was a recommendation from the locals. I love those kinds of places and I am constantly looking for those little "secret treasures". Here we go…


Praia do Evaristo (the secret beach in Albufeira)


Praia do Evaristo is located within the Municipality of Albufeira about 6 kilometers from the historic old town of Albufeira. The only restaurant on the beach serves one of the best fish in Algarve providing an excellent service. This rocky lonely beach has one of the most beautiful sunsets in the Algarve. It usually doesn't get crowded making it a perfect spot for romantic sunset watching.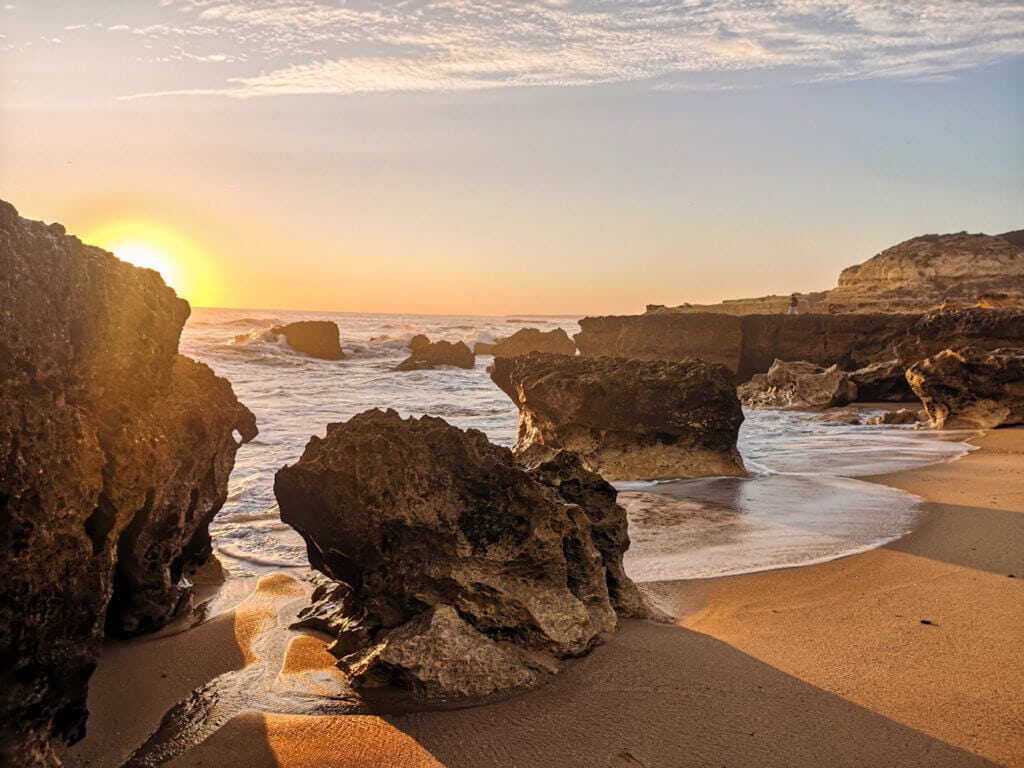 Algarve Best Beaches for Surfing: West Coast


Portugal is very famous for surfing. In fact, Praia do Norte in Nazaré has one of the biggest waves in the world and is quite famous for big wave surfing. Many surfers from around the world go to Algarve because it always guarantees good waves and you can surf there 365 days a year. Algarve offers more than 50 surf spots, the best of which are located on the west coast. If you are a beginner surfer, I recommend you take a surf-package for a few days which includes driving to different locations with the best wave conditions for that particular day. Generally, beaches in the west of Algarve are the best if you want to escape mass tourism. Below are some of the best surf-sure spots of Algarve and the most beautiful beaches on the south-west coast. All of them have surf-schools.


Praia da Arrifana (Aljezur)


Arrifana beach is located near the small surf-town Aljezur. This impressive beach is one of the best surf spots in Portugal that's why it can be crowded on a good day of swell. You are only allowed to park at the top of the cliffs but may drop-off closer to the beach if needed. Aljezur and nearby areas offer nice cafés for brunch where you can meet many digital nomads and surfers.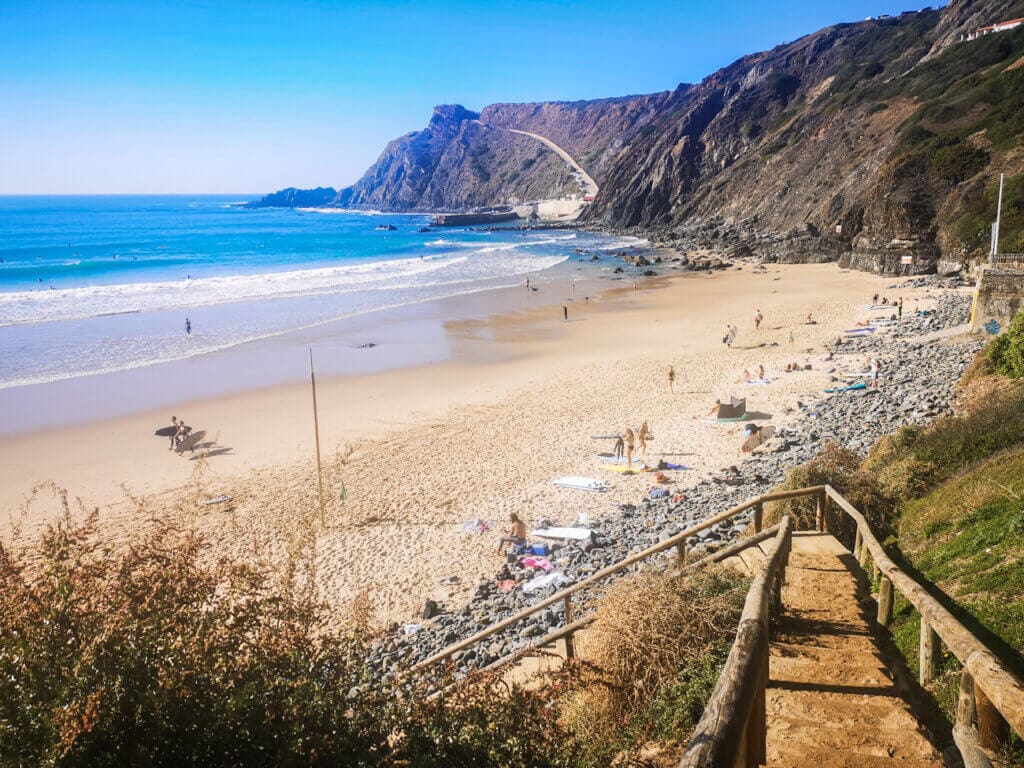 Praia da Amoreira (Aljezur)
Praia da Amoreira is another beautiful beach near Aljezur. This is a wild and spectacular beach surrounded by sandy dunes. Unlike Arrifana beach, this beach is less crowded and stretches for about 580 meters, making it one of the longest beaches near Aljezur.

Praia da Bordeira | Bordeira Beach (Carrapateira)

Bordeira beach is located in the Costa Vicentina natural park, near the villages of Carrapateira. This wild beach stretches for over 3 kilometers. The surrounding cliffs and stairways leading down to the beach offer perfect panoramic viewpoints. It is also great for watching sunsets or catching a wave or two when the sun starts going down.


Praia do Amado (Carrapateira)

Praia do Amado is another amazing beach near Carrapateira, on the west coast of the Algarve. It attracts many surfers because of its amazing waves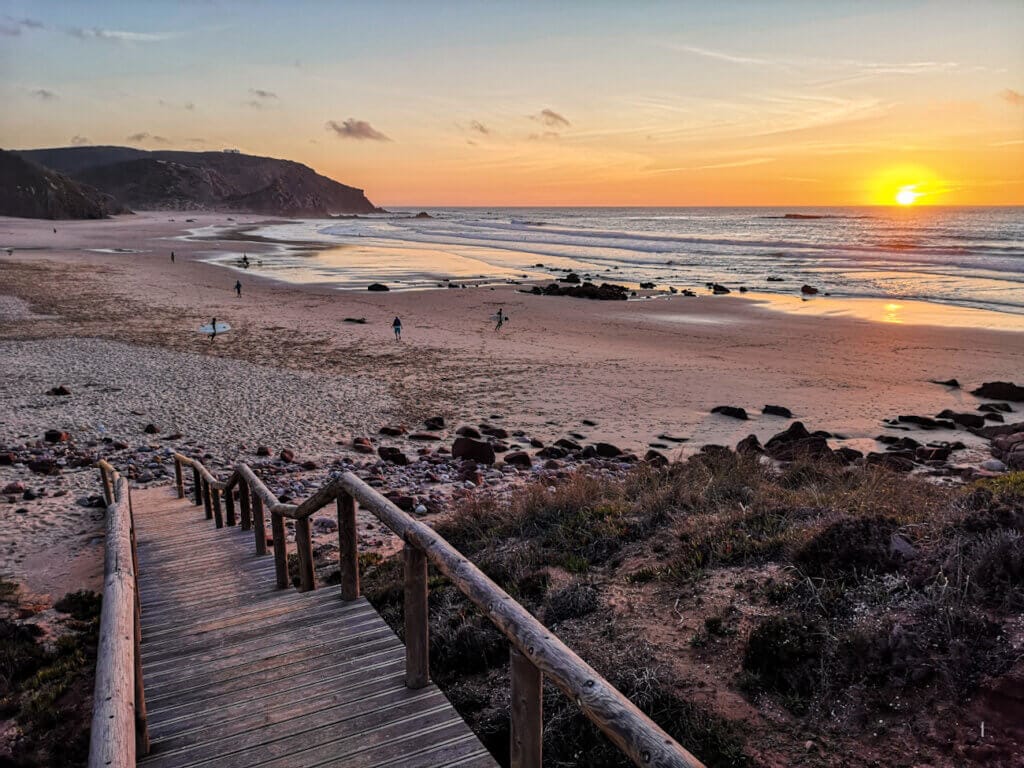 Algarve FAQ


Is Algarve Portugal safe?
Algarve is a very safe travel destination. In fact in small villages and beach towns people don't even lock their doors. The main income source of Algarve is tourism and surfing.
Can you swim in Algarve?
The water in the Atlantic ocean is usually quite fresh all year round but taking a short refreshing swim should not be a problem. Alternatively you can always rent some wetsuits. The rentals are available on almost all the popular beaches of Algarve.
What is the best time to visit Algarve ?
It is generally possible to surf in the Algarve all year round, but the most busy time is usually in Summer. Starting from October the temperature start to cool down and it might also rain occasionally.
Please follow and like us: