Lake Königssee and Berchtesgaden National Park
Königssee along with the Eibsee is one of the most beautiful and famous lakes in Bavaria and probably entire Germany. It is located in Berchtesgaden National Park and it used to be a hunting lodge of Bavarian Kings. Königsee is the deepest lake in Bavaria which is about 200m deep. Thanks to its shape and surrounding mountains it reminds Norwegian fjords. So whenever you are in Bavaria, don't miss the chance to see this natural wonder.

Table of Contents

Salzburg to Königsee
Munich to Königsee
When is the best time to visit Lake Königssee
Take a Königssee Boat Tour
Hike to Lake Obersee and Röthbach Waterfall
Hike to the Malerwinkel and Rabenwald Viewpoints
Visit the Eiskapelle, also known as the Ice Chapel
Have lunch at the St. Bartholomä
Take a Cable Car up to the Jenner Mountain
Hintersee and Ramsau church


How to get to Lake Königssee


Königsee is located in the Berchtesgaden National Park close to the Austrian border. It is easily accessible both from Munich and Salzburg.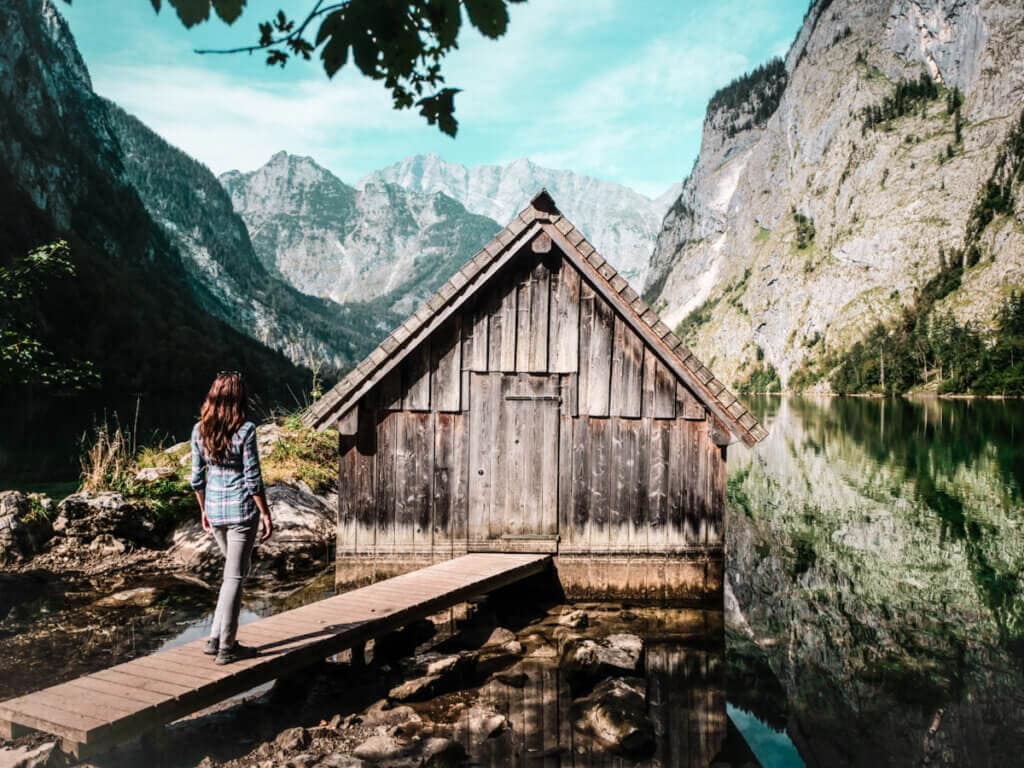 Salzburg to Königsee


From Salzburg main train station or the Rathaus take a bus N840 to Berchtesgaden. Then from Berchtesgaden train station take bus N841 to Königssee Seelände station. The journey will take about 1 hour and 20 minutes. By car, it will take about 40 minutes if there is no traffic.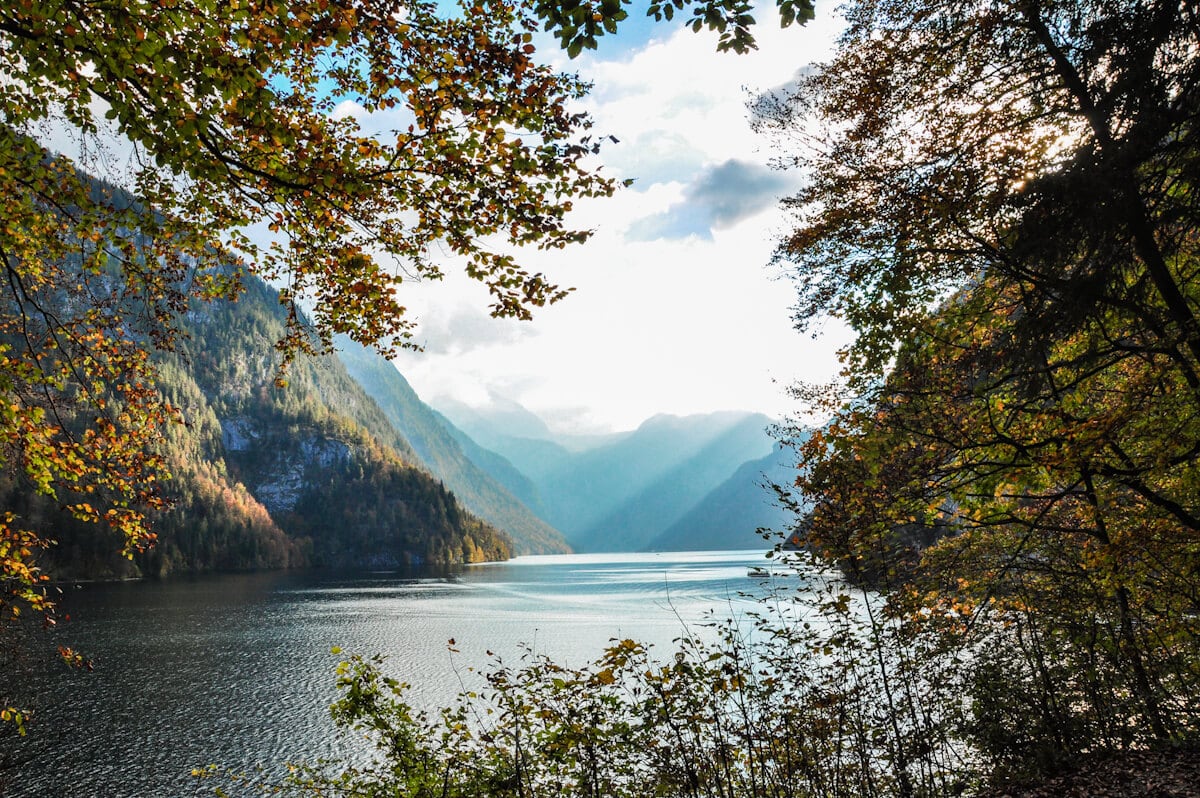 Munich to Königsee


There are two options to get from Munich to Königsee by public transportation. Both options take about 3 hours, so you should start your trip very early in the morning if you wanna do just a day trip.
Option1: Take a train from Munich to Freilassing. At Freilassing you would catch a local train to Bad Reichenhall. From the main railway station at Bad Reichenhall get a bus N841 to Königsee.

Option2: Take a train from Munich to Salzburg main train station. In Salzburg take bus N840 to Berchtesgaden station then take bus N841 to Königssee Seelände station.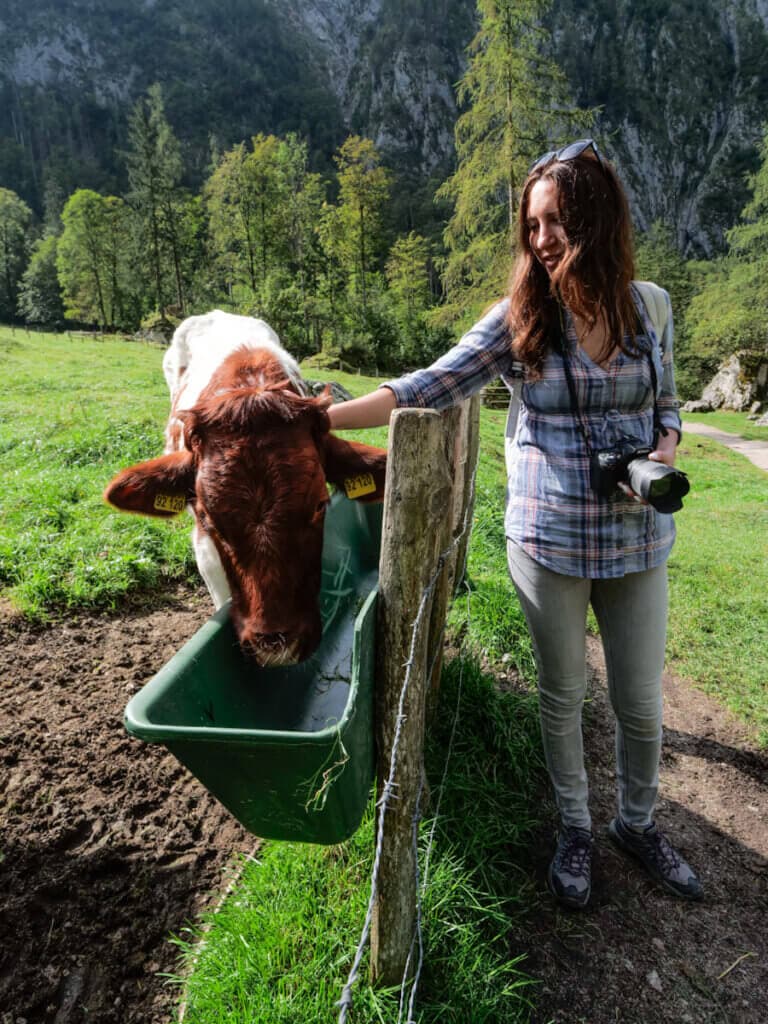 When is the best time to visit Lake Königssee


The best time to visit lake Königssee is between June and September. July and August are also the busiest months of the year. During the summer months, the days are longer and the weather is generally better giving you the opportunity to fully explore this magnificent lake and one of the most beautiful national parks in Germany. The daily boats that cross the entire lake Königsee are running only between April and October. During the winter months, the boats go only till St. Bartholomä and back. If you want to skip the big crows and not miss out on anything go in May or September.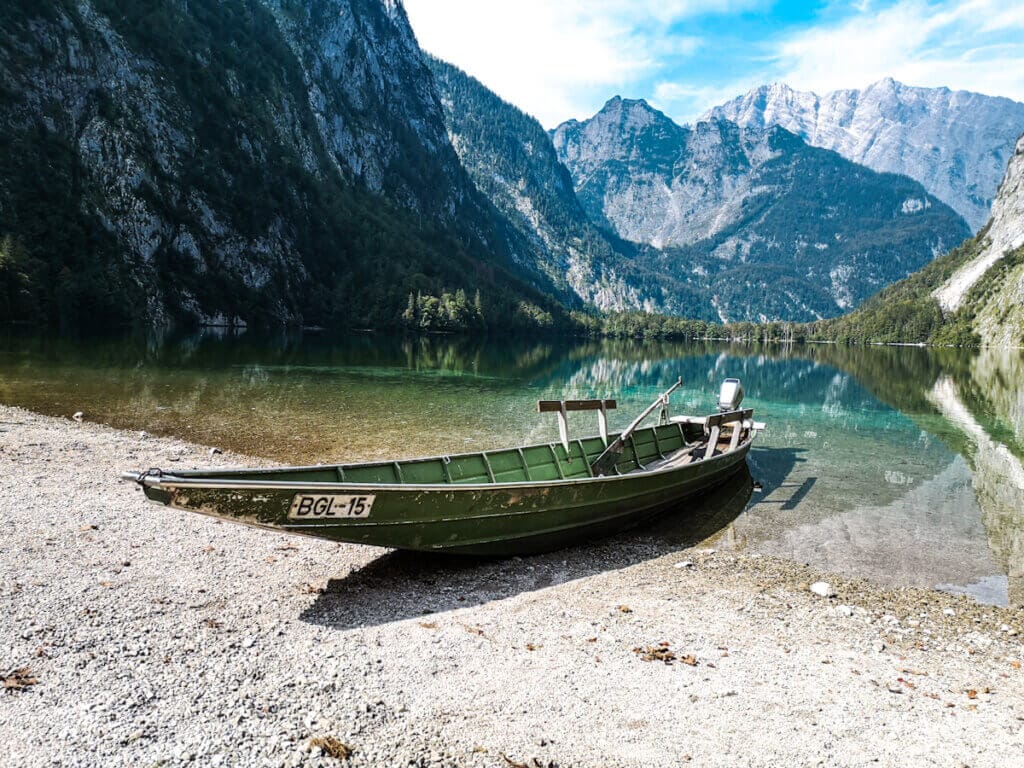 Related Articles

Most Beautiful Lakes Near Munich
Lake Eibsee

Things to do at Königssee

Take a Königssee Boat Tour


There are daily boat trips starting from Königsee Seelände. They usually make two stops – St. Bartholomä and Salet. The boat may also stop at Kessel upon a request. From October to mid-April they go only till St. Bartholomä. Departure times vary depending on national holiday and amount of people. Basically, the more people wanna take the boat trip the more often the boats will go. For more information check the official website. The highlight of the tour is the boat guide playing trumpet in the middle of the lake. The surrounding rocks create an echo effect. When the lake is covered with a mist this creates a pretty mysterious atmosphere.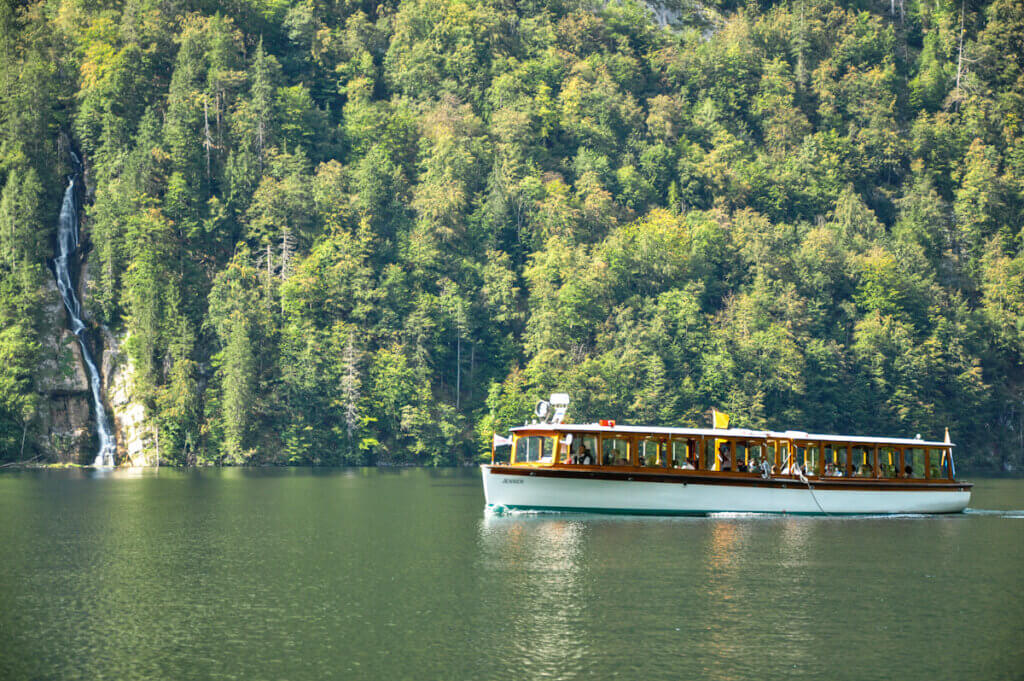 Cost of the the Königsee Boat Tour


A return ticket from Königssee to St. Bartholomä costs about 18,50 euros (price in 2021)
Children up to 5 years old may travel for free
Children at the age 6-17 travel for the half price
Large groups, people with disabilities and seniors can get some reductions.




Hike to Lake Obersee and Röthbach Waterfall


Lake Obersee is a smaller beautiful lake (only 1.3 km long) hidden just behind the famous Königssee. In order to get there, you will have to take a boat to Salet station and walk for about 15-20 minutes. Some people, including me, like Obersee more than its big brother Königssee.
It's crystal clear water in shades of blue and green will make you fall in love with this Bavarian treasure.
On the other side of Lake Obersee is located Germany's highest waterfall – the Röthbach Waterfall. For those who want to reach the waterfall – along the way, there is quite a steep rock staircase to climb but it is doable and definitely worth it. Once you reach the waterfall, you will see how from over 450m Röthbach tumbles down into the valley.




Hike to the Malerwinkel and Rabenwald Viewpoints


Malerwinkel viewpoint, located on the north shore of the Königssee, offers breathtaking views over the lake. When you arrive at the parking lot of Königssee, head towards the main boat station and follow the small way on the left. Follow the signs and after about 15 minutes you will arrive at this viewpoint. The trail is about 3.2 km long and the path is well maintained.
This is quite an overcrowded trail, so I recommend going there either very early in the morning or during the low season in October or November.
On the way to Malerwinkel, you have the opportunity to make a detour to the Rabenwand viewpoint. It goes about 15 minutes further uphill. The road is rocky and a bit slippery.
It has a higher point and offers a direct view of the Königssee with St.Bartolomä. It is considered to be the best view over Königsee and it is usually less crowded compared to Malerwinkel.


Visit the Eiskapelle, also known as the Ice Chapel


Eiskapelle is a naturally made ice cave often called Ice chapel or Eiskapelle in German. It is located below the Watzmann east face where glacier water runs down from the Watzmann mountain and forms a thick layer of ice. The Eiskapelle is the lowest-lying permanent snowfield in the Alps. If you go here in early spring or late autumn, make sure to check if it is safe to do so because of the risk of avalanches.


Hiking to Eiskapelle from St. Bartholomä


The easiest way to get to the Eiskapelle is from the St. Bartholomä. It is about a 2-hour hike. The road is mostly straight. Only the last few meters are quite rocky and slippery. I recommend weathering proper hiking boots and some warm clothes. Eiskapelle is located in the shadow and it is always a bit cooler here than in other places. If you decide to hike to Eiskapelle, make sure that you have enough time and will not miss the last boat.
Eiskapelle is extremely dangerous and I do not recommend entering inside as the ice inside is highly unstable and may collapse at any moment.


Have lunch at the St. Bartholomä


St. Bartholomew's (German: St. Bartholomä) is a Roman church named after Saint Bartholomew, patron of alpine farmers and dairymen. The church is located on the Hirschau peninsula in Königsee. It can only be reached by boat. There is a nice restaurant/beer garden located directly in front of St. Bartholomä church. Here you can enjoy your delicious meal with a scenic background.


Take a Cable Car up to the Jenner Mountain


Take a cable car on the 1,874 -meter (6,148-foot) high Jenner Mountain overseeing lake Königsee. It is a bit pricey, 32 euros return ticket for adults but for that you will get beautiful scenery and a brand new modern mountain gondola. On top, there is a nice restaurant where you can enjoy the magnificent views while having a nice meal and drinks.


Hintersee and Ramsau church


If you are staying longer in the Berchtesgaden national park and Königssee you should not miss another marvelous lake Hintersee in Ramsau. It is only about 12 kilometers away from Königsee. This lake and Ramsau church near it are becoming more and more popular among bloggers and photographers. No wonder, because this scenery is among the most picturesque in the Bavarian Alps. I highly recommend having a car in Berchtesgaden national park and especially Ramsau in order to enjoy all the sights fully and be more flexible. You can park your car just next to the lake. If you have time, you should also check out Zauberwald. It is a magical forest at Hintersee lake. You need good shoes to walk from the church in Ramsau through Zauberwald to lake Hintersee.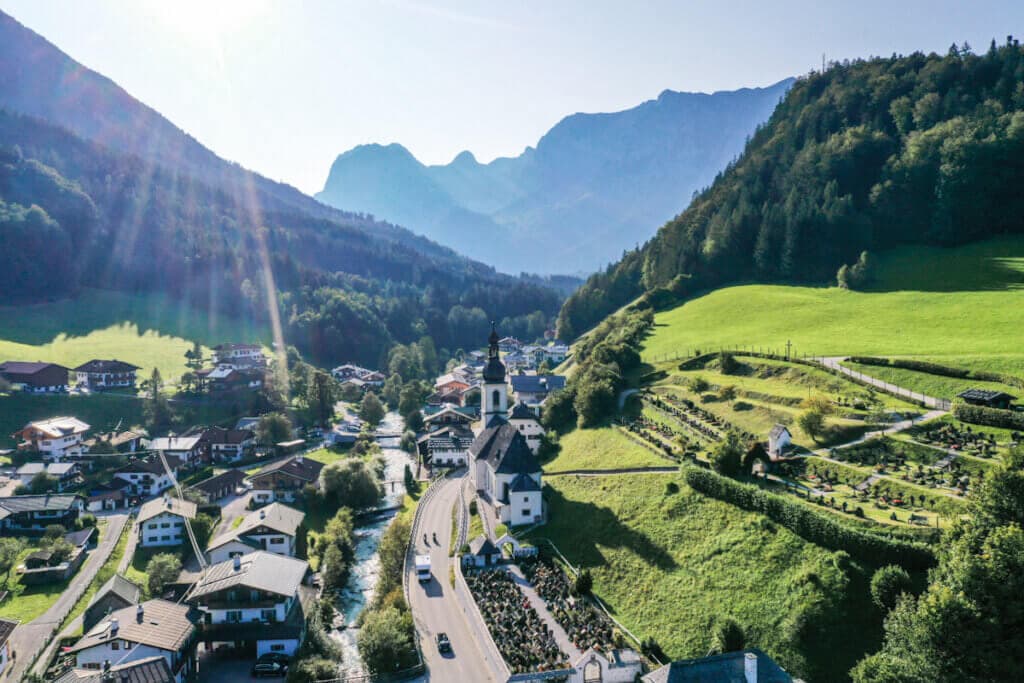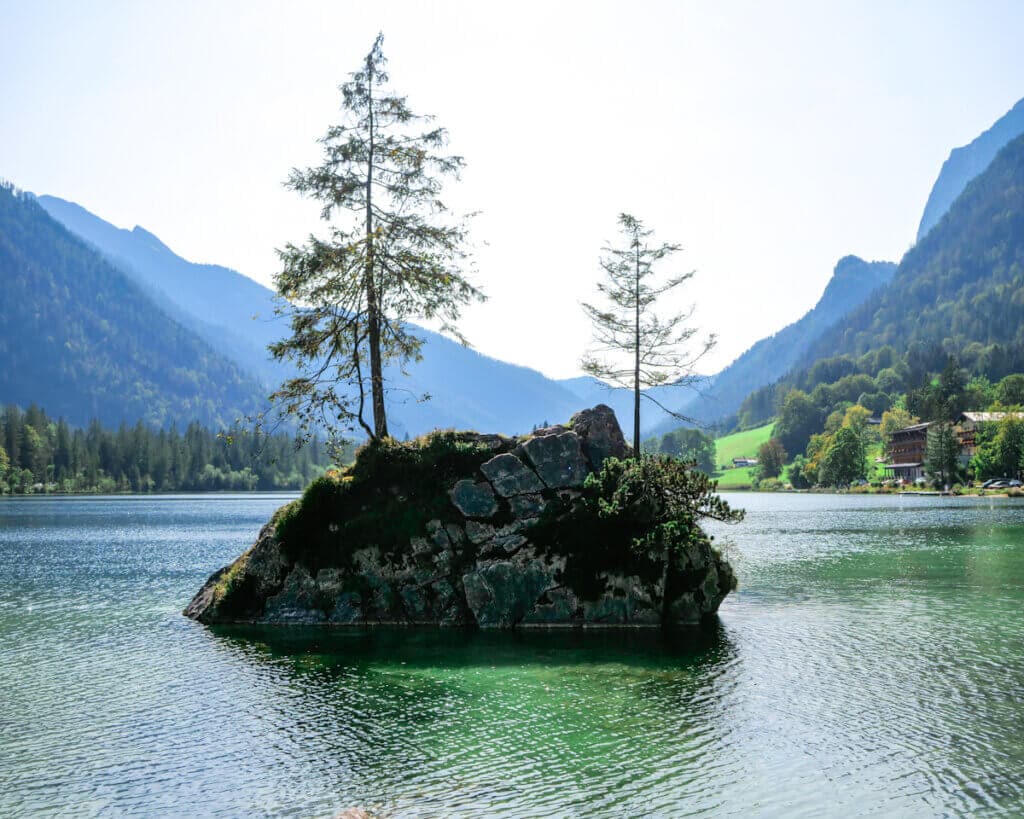 Please follow and like us: