Best Time to Visit the Dolomites
The Dolomites are one of the most beautiful and prominent mountain ranges in Europe and in the whole world. Although there is no such thing as the best time to visit the Dolomites, each season of the year is good for different activities and has its own charm. Below you will find detailed information on what you can do in the Dolomites at different times of the year.


Best time for Hiking and Via Ferrata

The best time to visit the Dolomites for hiking and via Ferrata is August and September. This time of the year is usually dry and most of the snow on the peaks has already melted down. August is also the most crowded period because of the school holidays and a relatively dry climate. If you plan to visit the Dolomites in high season, I recommend booking your accommodation far in advance. Many people book their rooms 6 months before the planned trip. If you are planning to visit the Dolomites with a bigger group in the high season, you might consider booking your accommodation 6 to 12 months in advance.


Best time for Skiing and Snowboarding

The winter sports season in the Dolomites usually starts at the end of November / beginning of December and lasts till the end of April. While days are longer in March and April, visiting the Dolomites in December will give you an opportunity to taste Gluhwein and do shopping in various Christmas Markets in the area. On the other hand, January and February are usually the coldest months and you are almost guaranteed to have a good quality of snow here.


Best Time for Relaxing in the Dolomites

The Dolomites are probably the most beautiful and famous mountains in the heart of Europe. It's not surprising that this natural wonder attracts so many visitors from around the world. To avoid crowds, visit the Dolomites in May or June or late September and October. This is the so-called low season. Please bear in mind that some rifugios (the mountain huts) might be still closed at that time. But this should not stop you from exploring this beautiful area as the Dolomites have more sun-flooded days a year than anywhere else in the alps.


Average Temperature on the valley floor of the Dolomites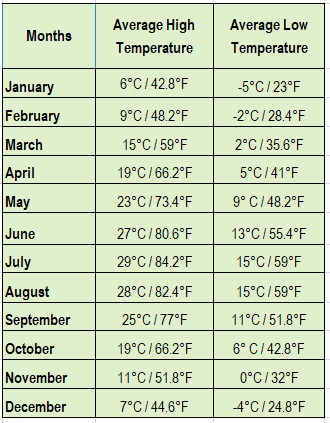 Please follow and like us: