How to visit Mt. Pilatus near Lucerne in Switzerland
If you are visiting Lucerne, you should not miss Mount Pilatus, also known as the top of Lucerne. Both Pilatus and Lucerne are considered to be top destinations in Switzerland. Pilatus is best known for the steepest cogwheel railway in the world which takes you right to the top of the mountain. It has several peaks, the highest of which is the Tomlishorn (2,128.5 m or 6,983 ft). Other good reasons to visit Mount Pilatus are the panoramic views overviewing the Alps and the Lake Lucerne (Germ. Vierwaldstättersee). There are also many family-friendly activities you can do there. Lucerne itself is one of the most beautiful cities in Switzerland. My favorite actually.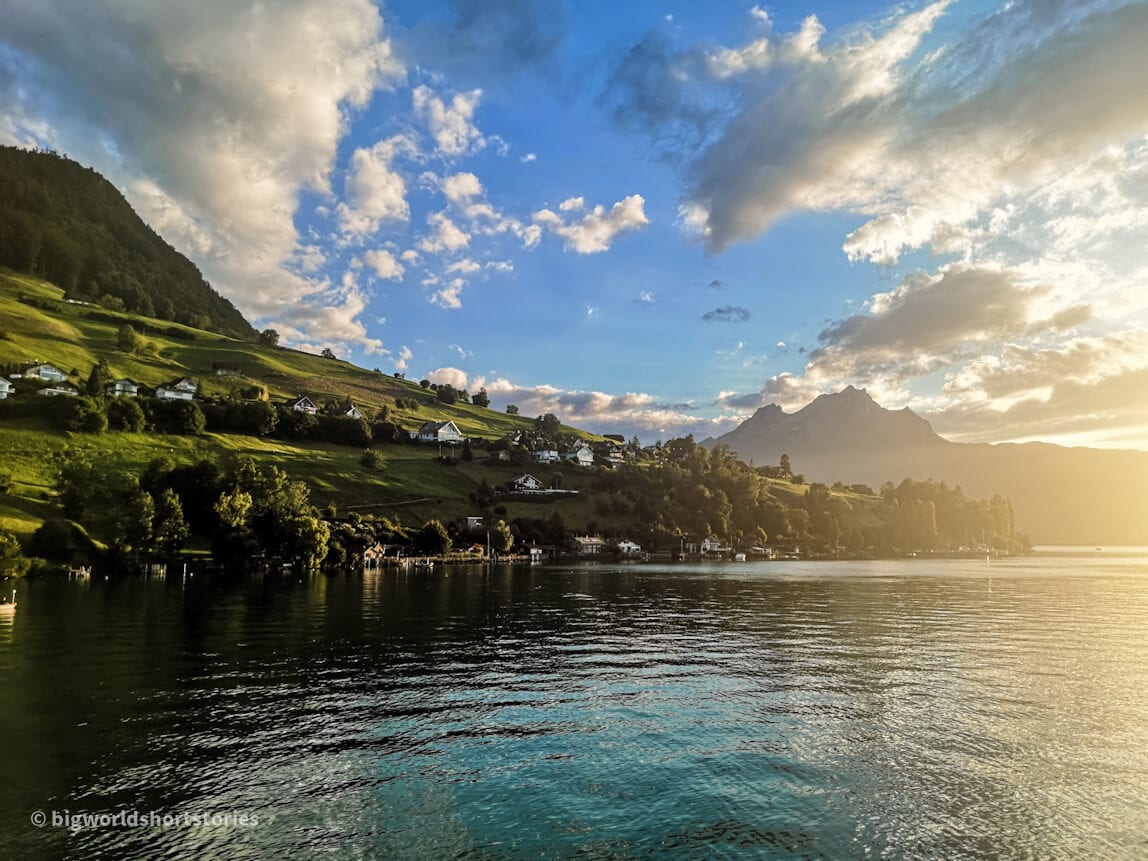 How to get to Mount Pilatus


Located in the heart of Switzerland, Mount Pilatus is easily accessible from Lucerne. There are two main entry points on the opposite sides of the Mountain – Kriens valley station and Alpnachstad valley station.


Arrival by Car

For Kriens Station drive A2 direction Lucerne, exit at Luzern Süd/Kriens. For Alpnachstad station drive A8 direction Sarnen/Interlaken, exit at Alpnachstad.
Both Stations have parking sloths
Cost: CHF 5.00 / 24h


Arrival by Public Transportation

You can take a boat from Lucerne directly to Alpnachstad. The panoramic ride takes about 1,5 hours. It is included in the Golden Roundtrip package ( see below ). Alternatively, you can take a train to Lucerne main railway station and then Bus No. 1 direction "Kriens, Zentrum Pilatus" or train from Lucerne directly to Alpnachstad.


Type of Tickets and Operating Hours

There are two roundtrip options available as well as numerous one-way tickets. Depending on weather conditions and your time schedule you can choose any of the following options.


Golden Roundtrip

This trip starts and ends directly in Lucerne. It combines a boat trip on Lake Lucerne, cogwheel railway, and cable cars. The boat will take you from Lucerne to Alpnachstad where you will take the steepest cogwheel railway in the world to get to the top of mount Pilatus aka Pilatus Kulm. You'll go back by taking a cable car to Kriens station on the other side of the mountain and then a bus to Lucerne. The Golden Roundtrip costs about 103.60 CHF (2020). https://www.pilatus.ch/en/booking/prices.




Silver Roundtrip

The silver roundtrip is very similar to the golden one except instead of taking a panoramic boat trip on Lake Lucerne you will get to Alpnachstadt from Lucerne by train.


One-Way Tickets

If the visibility on the top of Mount Pilatus is bad, there is also an option to take a cable car to the middle stations Krienseregg or Fräkmüntegg and then hike down to Kriens. It takes about 2 hours of relaxed hike to go back to Kriens station from Fräkmüntegg.


Operating Hours

You can reach Mount Pilatus all year round but not all options will be available. The cogwheel railway operates from beginning/mid-May to mid of November. Panorama Gondolas and cableways from Kriens are operating the whole year. The facilities are usually open daily from around 08:00 AM. Check the official Pilatus website to get information about possible maintenance works and operating hours: https://www.pilatus.ch/en/inform/timetable

Things to do on Mount Pilatus

Pilatus Kulm

There are plenty of options on how to spend a great time on top of Mt. Pilatus. There are restaurants, hotels, and several viewpoints around the station with a great view. To reach some of the viewpoints short uphill climbs are required. For example, you could do an easy hike to Tomlishorn Viewpoint or Esel. During the Christmas season starting in mid-November, you can visit Europe's highest Christmas market on Pilatus-Kulm.


Fräkmüntegg-Krienseregg

The fräkmüntegg-Krienseregg middle station offers many activities for families with children. At Krienseregg you will find a large playground for children and a climbing adventure in the high rope course. At Fräkmüntegg you can ride the Fräkigaudi, the longest summer toboggan run in Switzerland. There is also a recreational and picnic area with tables and benches overseeing the lake Lucerne. You can grab a snack at the local kiosk and barbecue your own sausages on the open barbecue. I highly recommend hiking a bit down to buy local goat cheese.

How to spend a relaxing evening in Lucerne

Lucerne is one of the most beautiful and charming cities in Switzerland and actually my favorite one. It is possible to walk around the old town of Lucerne just within a couple of hours. The main landmark of the city is the famous Chapel Bridge, a wooden bridge from the 14th century across the River Ruess.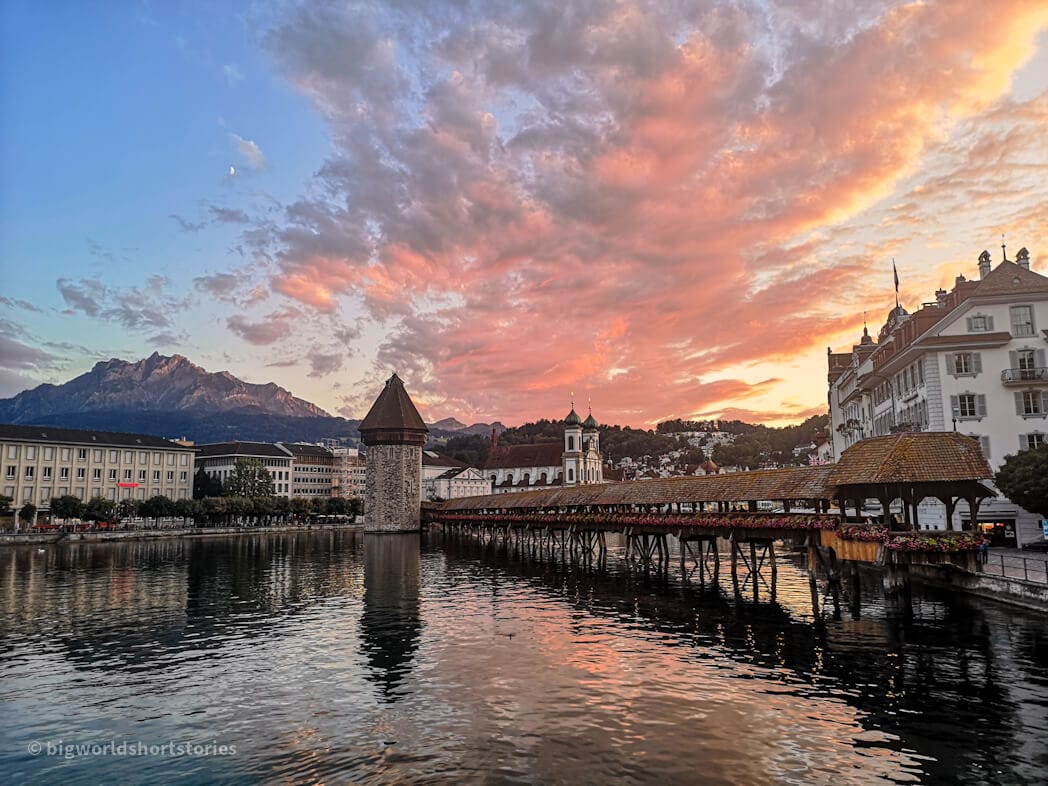 Another attraction in the area is the magnificent lake Lucerne. I highly recommend catching one of the boats at the Marina and taking a sunset cruise. It is a jaw-dropping experience. I can't even describe how beautiful it is. I think no pictures or words can fully reflect its beauty. It is something you have to experience yourself.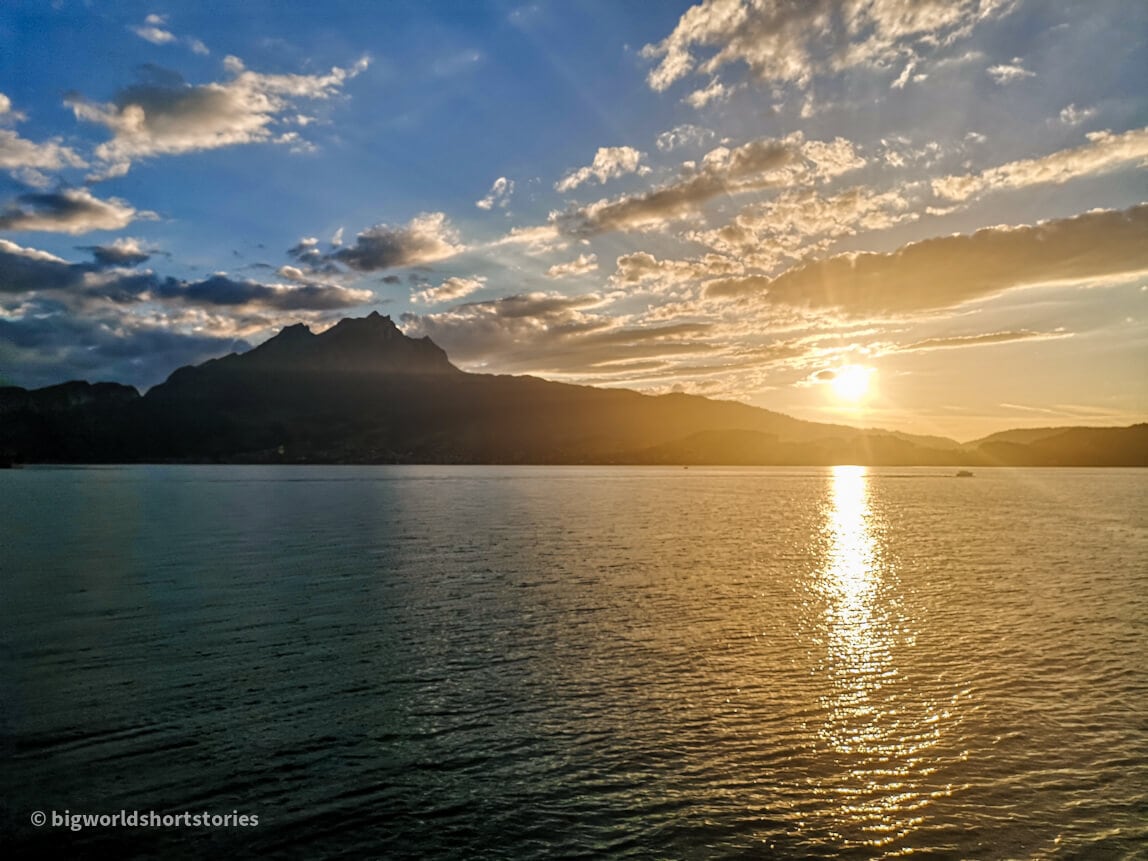 I hope I have managed to spark your interest and motivate you to visit these beautiful places in Switzerland.
Please follow and like us: