Partnach Gorge or Partnachklamm in Garmisch-Partenkirchen is one of the most famous and most beautiful gorges in Bavaria and in entire Germany. It is a starting point of some of the most beautiful hikes in bavarian Alps. The gorge is 702 meters (2,303 ft) long and over 80 meters (260 ft) deep. The mountain river Partnach has influenced the creation of this natural wonder. Partnach Gorge was declared a natural monument in 1912 and has hosted numerous visitors since then. The path along the gorge lays through numerous tunnels carved directly into the rock. When hiking through the gorge, you can see beautiful waterfalls and azure waters of the coursing river.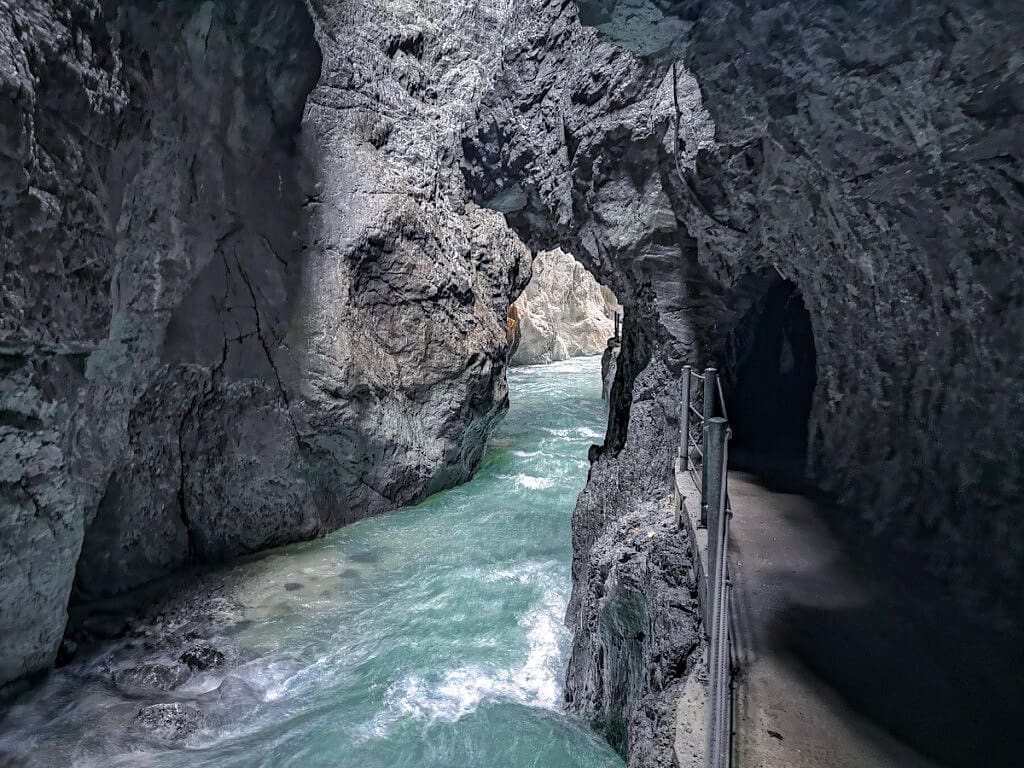 Table of Contents

How to get from Munich to Partnachklamm

Partnach Gorge or Partnachklamm is located near the bavarian town Garmisch-Partenkirchen, about one hour south of Munich. You can easily reach it either by car or by train.
By Car: From Munich take the highway A95 direction Garmisch-Partenkirchen. You can park at the public parking lot at the Olympia Skistadion at Garmisch-Partenkirchen. From there you can walk about 25 minutes to reach the Partnachklamm or you take a ride on a horse carriage.



By Train: From Munich main train station (Hauptbahnhof) take a train to Garmisch-Partenkirchen. When you exit the train station, take the bus N1 or N2 and get off at Skistadion. Consider buying a Bavarian Ticket (Bayern Ticket) if coming with two people or more. This ticket is valid for all kinds of transportation in Bavaria for one day. You can have up to 5 adults on one ticket.


Tip:
Check out the Olympiahaus near the Olympic Station. It has very cozy restaurant with nice terrase and serve very yummy cakes. I went there after the hike for a coffee and a cake before taking the train back to Munich.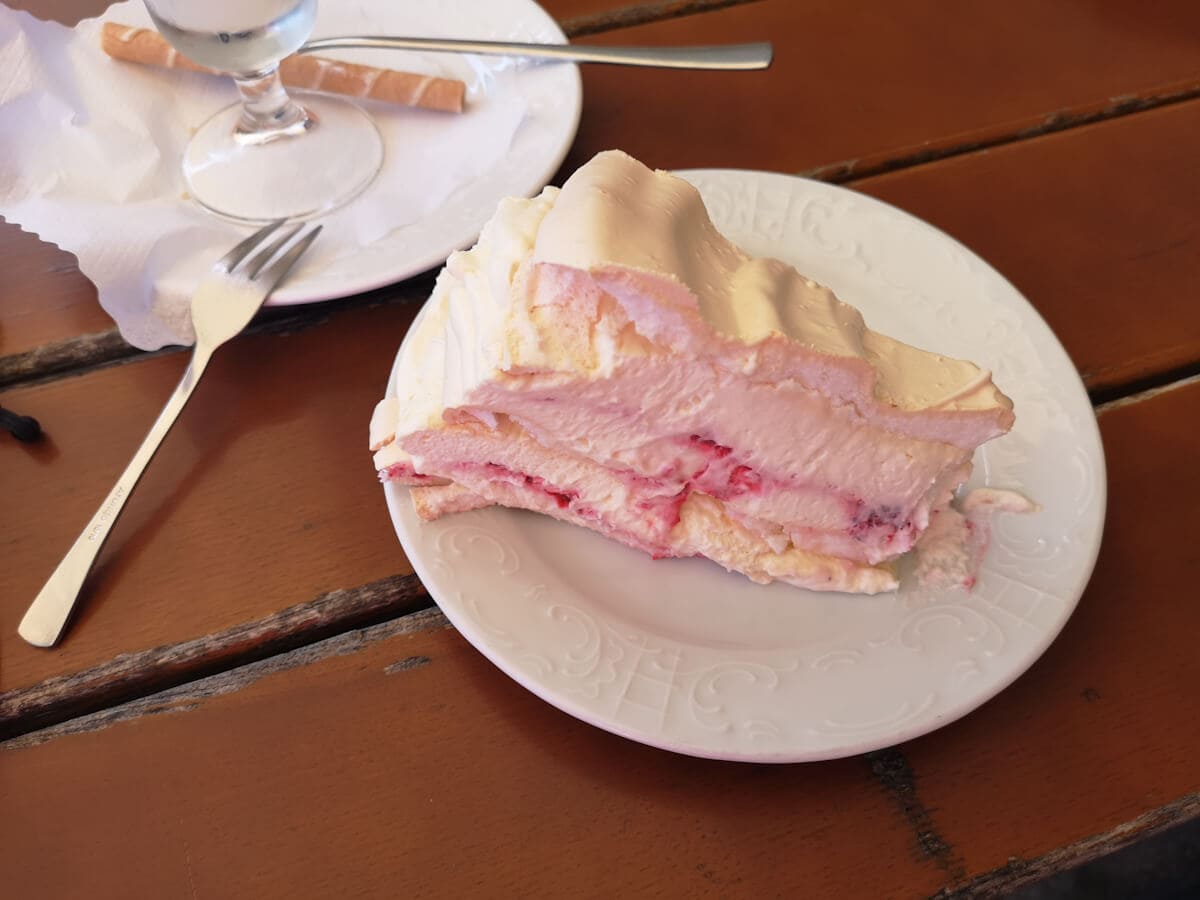 Partnachklamm opening hours and admission fees


Partnachklamm is open to visitors all year round. In wintertime, it gets closed a bit earlier.
June- September: 8:00 – 20:00 Uhr
October – May: 08:00 – 18:00 Uhr

Prices
Adults: 6,00 EUR
Children (6 – 17 years old): 3,00 EUR Groups (starting from 15 guests): 5,00 EUR per person.
I highly recommend checking out the official website before going to Partnachklamm. Sometimes it is closed for maintenance works or when it gets too icy and dangerous, especially in winter.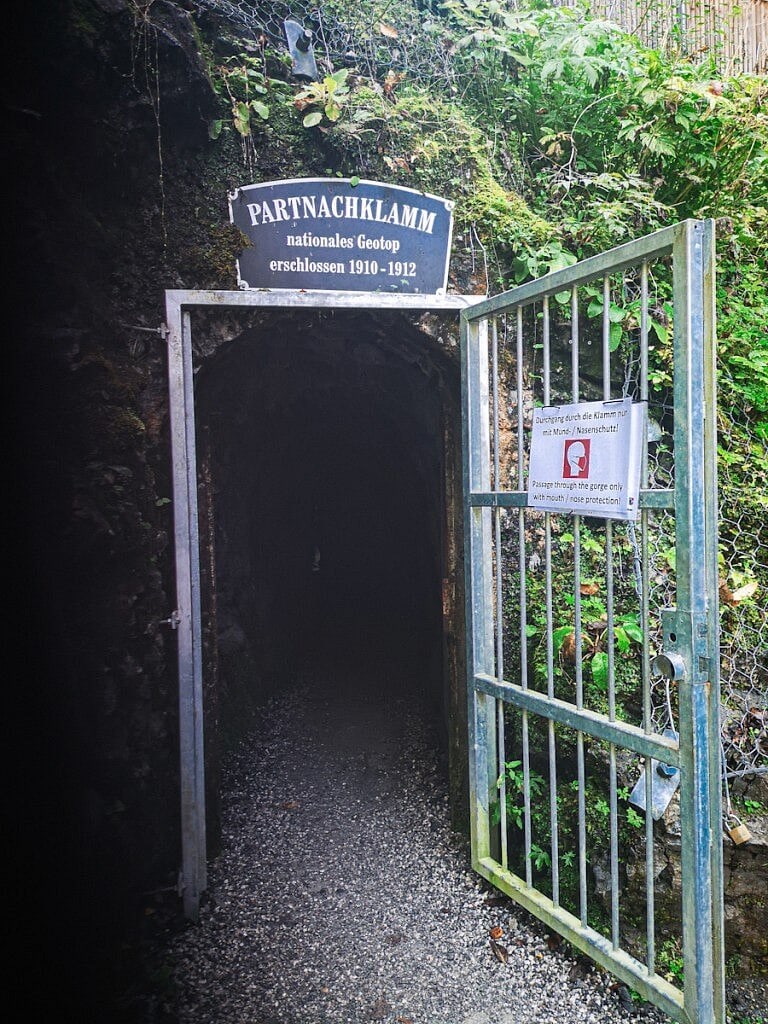 Important Notes:

You can buy the tickets not later than 30 minutes before the closure.
Consider coming early morning before crowds during the high season June-September to avoid queuing up at the ticket counter and in the narrow tunnels.
Dogs are allowed but should be held on a leash.
The roads in the tunnels are not suitable for strollers and wheelchairs.
Don't bother bringing an umbrella. Better bring a good waterproof rain-jacket.



Hiking through Partnach Gorge in Garmisch-Partenkirchen

Partnachklamm or Partnach Gorge is a starting point for many well known and popular hiking trails. Some of the trails are quite easy, for example, hiking to Mount Eckbauer or Hausberg. Others are much more demanding, for example, the tour to Zugspitze, Germany's highest mountain. For the lazy hikers who want to reword themselves with a glass of a cold German beer, I recommend the typical bavarian mountain hut on the way to Mount Eckbauer. It is only a short hike up from the gorge.


The Parthach Gorge itself you can walk through within an hour or so, depending on how many wow moments you will have on the way and the urge to pull out the camera. The total length of the tunnels of the gorge is only 247 m.


Die Eiserne Brücke" – The Tron Bridge


If you are curious and not afraid of heights, you could also check out the iron bridge overlooking the gorge. It is about 70 meters above the gorge in the middle of a green forest. It looks a bit like famous suspension bridges in Costa Rica.

Related Articles

Easy hikes near Munich
Most beautiful lakes in Bavaria

Safety in Partnach Gorge (Partnachklamm)

It can get very wet and slippery inside the rocky tunnels along the Partnach Gorge (Partnachklamm). So I highly recommend wearing a rain jacket and grippy water-resistant shoes for your safety. You should also take a flashlight or headlamp as parts of the tunnels are pretty dark.


Best time to visit Partnach Gorge (Partnachklamm)

Parthanchklamm is open throughout the year. Sometimes it is closed for maintenance work and for safety reasons during the winter-spring months. I highly recommend checking the official site for information before planning your trip to Partnachklamm.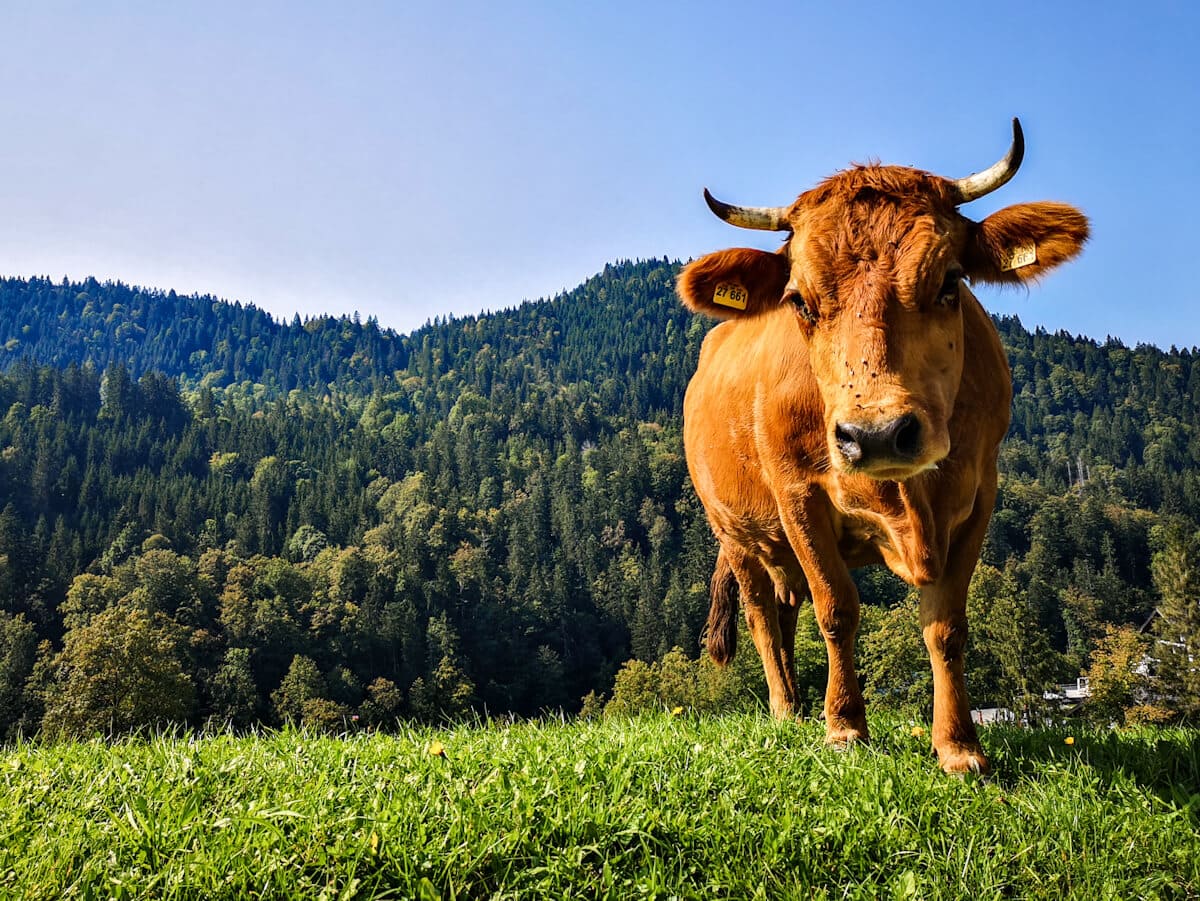 Partnachklamm in Summer

During the summer months, especially in July and August, the Partnachklamm offers a refreshing break from the summer heat. This is also the main season for all kinds of demanding hikes. During this period many people try to conquer German's highest peak, the Zugspitze. People usually start the tour early in the morning around 4 am, to manage to finish the hike within one day.



Partnachklamm in Winter

During the cold winter months, the Partnachklamm gorge becomes a real fairytale, a magical place of ice and snow formations. It's open daily from 8 a.m. to 6 p.m. from October to May, so dress warmly, wear your winter boots, and stay away from the edge of the path when it's icy. I highly recommend wearing ice grips on your shoes to be able to walk safely on the ice.

Conclusion

There many beautiful gorges in Bavarian Alps – Partnachklamm, Hollentalklamm, Leutascher Geisterklamm, etc. If you live close to Munich, I highly recommend visiting all of them. If you are in Munich just for a couple of days, then I would go either with Partnachklamm or Hollentalklamm. They are very similar and both located near Garmisch-Partenkirchen. The walkable area in Partnachklamm is a bit shorter than in Hollentalklamm, but it is more breathtaking and magical.


Please follow and like us: