9 Most Beautiful Cities Near Munich Reachable by Train
Thanks to its central location in Europe and Southern Germany, Munich is a great starting point for exploring Bavarian and Austrian famous cities and fairytale towns. It is also well-connected by an extensive train network helping you easily reach beautiful cities near Munich by train as a day trip or a weekend trip.
How to get a Cheap Train Ticket From Munich
In May 2023 Germany launched a so-called Deutschlandticket, which enables you to travel all over Germany with regional trains, buses and subways for only 49 Euros a month. You can either buy the ticket online on MVV or DB App or at any local ticket office. Be aware that Deutschlandticket is available as a subscription only, which means you must cancel it if you are not intending to use it in the future. Alternatively, purchasing a day-ticket such as Bayernticket is also an option, but in most cases Deutschlandticket is cheaper.
Most Beautiful Cities Near Munich
Let's explore the most beautiful bavarian and austrian cities near Munich reachable by train within 1-2 hours. Cities below are listed in no particular order. I recommend visiting them all if you have time, because each city has its own unique charm and interesting things to see and explore.
1. Garmisch-Partenkirchen

Distance to Munich – 89 Km
Travel time by train – 1 hour 23 minutes
Garmisch-Partenkirchen is the most famous alpine town in Bavaria. Located at the foot of the Zugspitze, the highest mountain in Germany at 2,962 meters (9,718 ft) , it can be a great base for exploring Bavarian Alps. In winter it turns into a prominent world-class ski resort and in summer it turns into a paradise for hikers, climbers and mountain lovers. Another reason to visit Garmisch-Partenkirchen is that it is a traditional Bavarian town with international flair. It's colorful historic buildings with painted facades called "Lueftlmalerei" make it one of the top fairytale towns in Germany. This kind of facade painting is widespread in the alpine regions of Bavaria and Austria.
Top Attractions in Garmisch-Partenkirchen
Hollental Gorge
Linderhof Palace
Mountain Alpspitze
Mountain Kreuzeck
Olympic Ski Jumping Hill


2. Mittenwald

Distance to Munich – 106 Km
Travel time by train – 2 hours
Mittenwald also known as "Village of a Thousand Violins" is another fairytale alpine town on my list with a very traditional Bavarian flair. It is known for its colorful painted houses and its violin-making history. Mittenwald is also a starting point for great hiking and climbing routes, mountain biking trails and beautiful lakes.
Top Attractions in Mittenwald
Historic old town
4th century St. Peter und Paul Church
Lake Lautersee
Leutasch Gorge (Leutaschklamm)
Karwendel Alps
Watch the Cows Come Home (Almabtrieb )


3. Tegernsee

Distance to Munich – 54Km
Travel time by train – 1 hour 6 minutes
Tegernsee town is one of the closest cute towns near Munich located at the shores of the lake with the same name. Tegernsee and its surrounding areas are famous for being home to German elite such as FC Bayern football players. Their luxurious villas and chalets are hidden behind the trees from curious eyes, but you can still see a traffic jam of ferraris, porsches and all kinds of weird looking motorcycles on the cute narrow roads around lake Tegernsee especially in summer.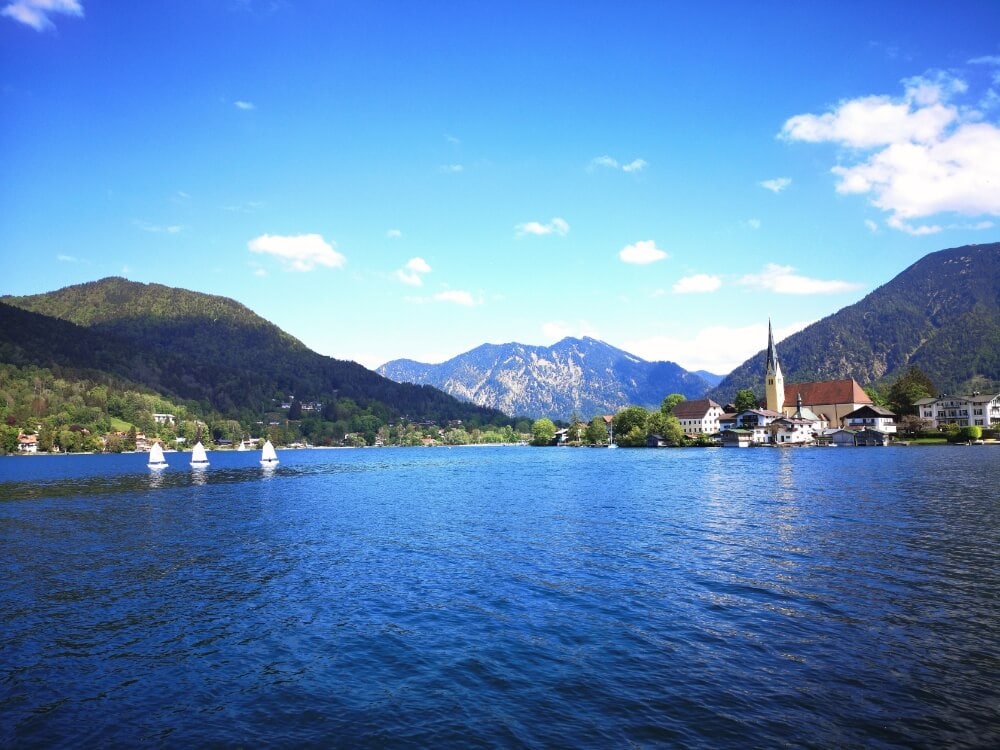 Top Attractions in Tegernsee
Have a traditional Bavarian lunch and a beer at the famous local biergarten with amazing lake views
Take a boat trip or go swimming in the lake Tegernsee
Go hiking. Some of the most beautiful hiking routes starting directly from Tegernsee are Prinzenweg and Neureuth


4. Regensburg

Distance to Munich – 140 Km
Travel time by train – 1 hour 30 minutes
Regensburg is the fourth largest city in Bavaria and with its rich history is one of the best preserved medieval cities in Europe. It used to be the northernmost city of the Roman Empire. Since 2006 Regensburg has been a UNESCO World Heritage Site and one of top attractions in Germany.
Top Attractions in Regensburg
Old town
Regensburg Cathedral (Dom) – most famous gothic architecture in Bavaria
Medieval stone bridge over Danube – the oldest surviving bridge in Germany
Regensburg Sausage Kitchen – the oldest continuously open public restaurant in the world.
Thurn and Taxis Palace


5. Burghausen

Distance to Munich – 110
KmTravel time by train – 2 hours 8 minutes
Burghausen is situated on the Salzach river near the Austrian border. It is famous for the Burghausen castle, which is the longest castle in the world and is over 1 kilometer long. The castle is built on top of a hill and hase panoramic views overseeing the downtown and the river. It was built in the 11th century and has a rich history.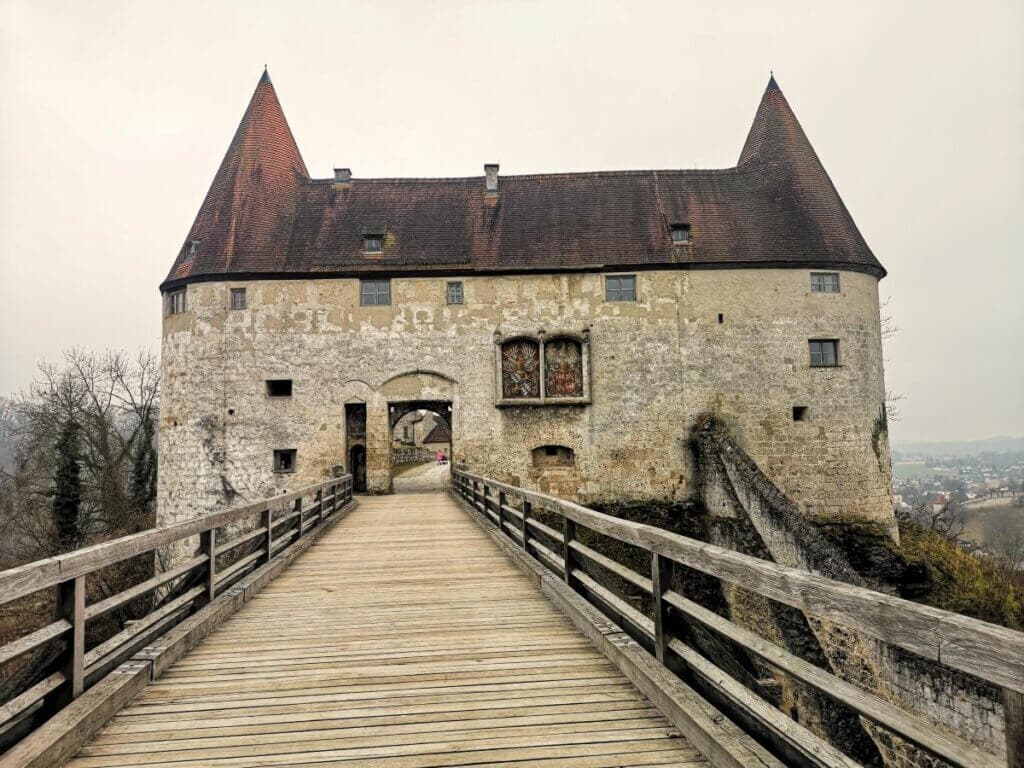 Top Attractions in Burghausen
Take a walk in Burghausen Old Town (Altstadt)
Explore Burghausen Castle and enjoy panoramic views
Colorful Town Hall
Take a swim in Wöhrsee lake and the pool


6. Salzburg (Austria)

Distance to Munich – 143 Km
Travel time by train – 1 hour 47 minutes
Salzburg is a beautiful Austrian city near Munich easily reachable by train. If you like varies Baroque churches, fairytale castles and fortresses then you should definitely visit Salzburg. It is also home to one of the most famous composers of all times Wolfgang Amadeus Mozart. The historic medieval center of Salzburg was declared a UNESCO World Heritage Site in 1996.
Top Attractions in Salzburg
Hohensalzburg Fortress
Mirabell Palace
Mozart's Birthplace
Salzburg Cathedral
Residenzplatz ( the main square)


7. Nuremberg

Distance to Munich – 170 Km
Travel time by train – about 1 hour by fast ICE train, much longer with regional trains
Nuremberg is the second-largest city in Bavaria and it is famous for its Christmas market and medieval castle Kaiserburg. The Christmas market in Nuremberg is one of the most famous in Europe and it is open from the end of November until January. Despite its old and rich history, Nuremberg is quite often linked to World War II and Nazis. So if you are particularly interested in this part of German history, you can visit some Nazi party rally grounds in Nuremberg.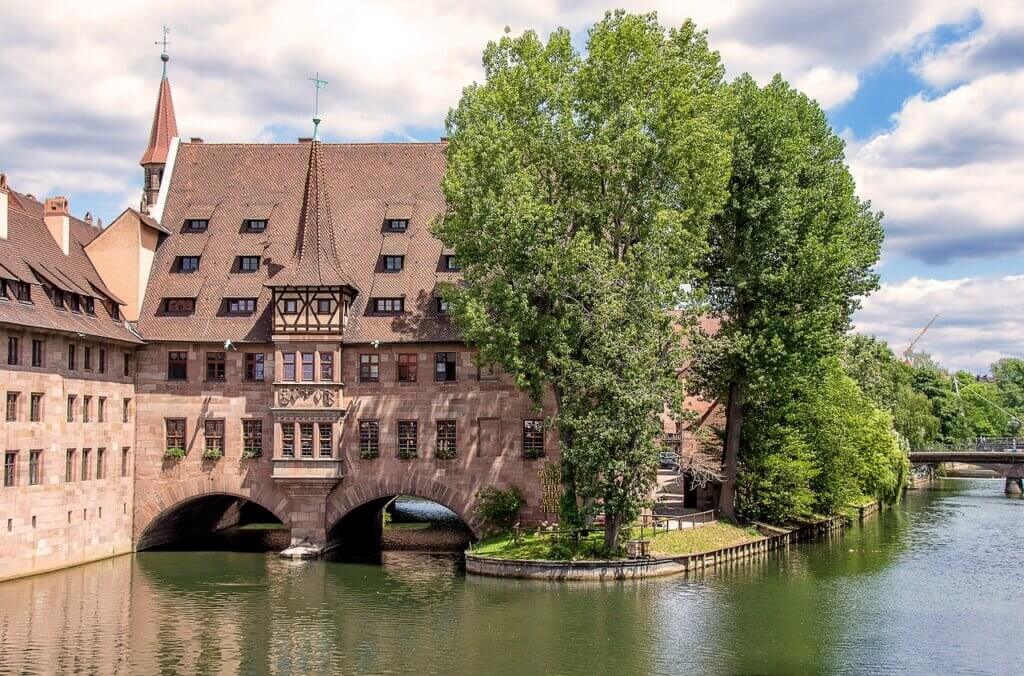 Top Attractions in Nuremberg
Old Town
Keiserburg castle
Nazi party rally grounds
Karolinenstrasse shopping street
Christmas market


8. Passau

Distance to Munich – 194 Km
Travel time by train – 2 hours 15 minutes
Passau is another cute Bavarian city bordering Austria and lying at the confluence of the Danube, Inn and Ilz rivers. The old town of Passau is known for its baroque architecture and 13th-century hilltop fortress.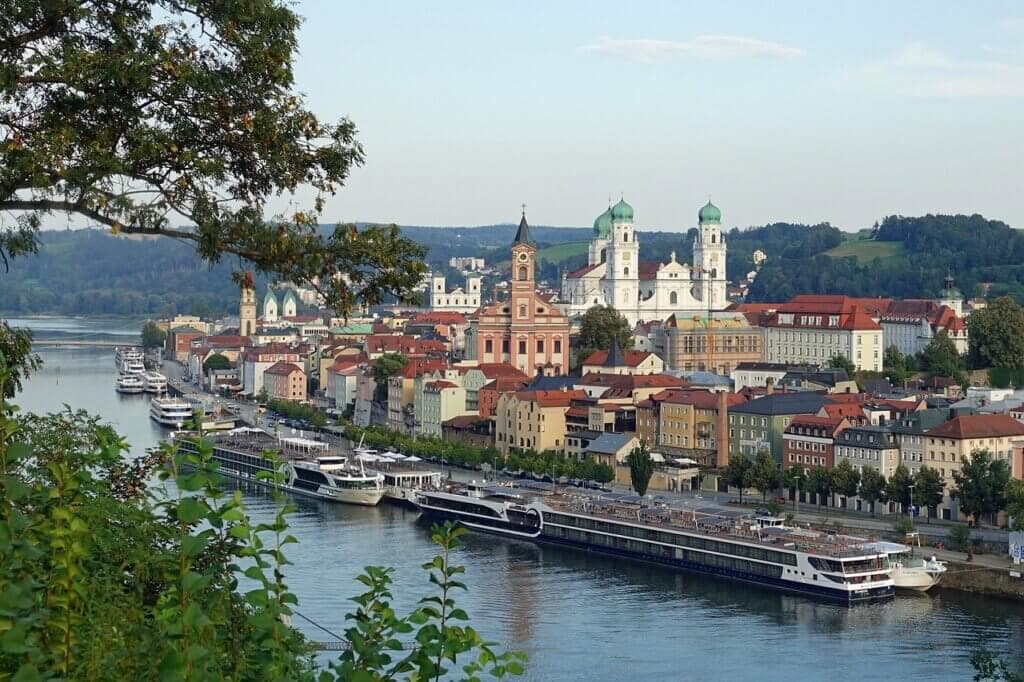 Top Attractions in Passau
View the Meeting Point of Three Rivers
See the Biggest Organ in Europe in St. Stephen's cathedral
Climb up to Veste Oberhaus fortress and enjoy the views
Walk around Passau old town (Altstadt)
Visit St. Paul Church
Visit Passau Glass Museum (Glasmuseum Passau) which holds the world's largest collection of European glass.
Take a cruise over Danube river


9. Lindau

Distance to Munich – 240 Km
Travel time by train – 2 hours 25 minutes
Lindau is a fairytale town located on the shores of the lake Constance (Germ. Bodensee). It is known for its old town on the Lindau island and the harbor. Lake Constance is one of the largest lakes in Europe and it is shared between Austria, Germany and Switzerland. I recommend visiting Lindau in summer months from May to September to enjoy the harbor and also visit nearby towns Meersburg, St. Gallen and Bregenz.
Top Attractions in Lindau
Lighthouse and Bavarian Lion Sculpture
Mangturm Tower also known as the Rapunzel tower with Rapunzel's hair hanging from a window.
Historic Town Hall
Old town and the harbor
Panoramic boat tour on the largest lake in Germany and Austria

Conclusion
Bavaria is home to some of the most beautiful and charming cities and towns in Germany. Most of those fairytale towns are easily accessible from Munich by train. While it is possible to see those towns just in one day, I do recommend staying overnight in order to enjoy each town fully without being in a rush. I often return to my favourite Bavarian cities few times a year, to experience their unique atmosphere in different seasons.
Related Articles
Easy hikes near Munich
Most beautiful lakes in Bavaria
Pros and Cons of living in Munich
Lake Konigssee
Please follow and like us: