Christmas in Bavaria: Must-Visit Christmas Markets
Christmas in Bavaria is truly unique and magical. Bavaria is famous for its Christmas traditions and beautiful Christmas markets, known as "Christkindlmärkte" or "Weihnachtsmärkte." These markets are set up in town squares, featuring wooden stalls selling handcrafted gifts, ornaments, and delicious treats like roasted chestnuts and mulled wine known as Glühwein. The Nuremberg Christkindlesmarkt is one of the most famous in the region while Munich offers the most diverse Christmas markets and various alternative activities in December.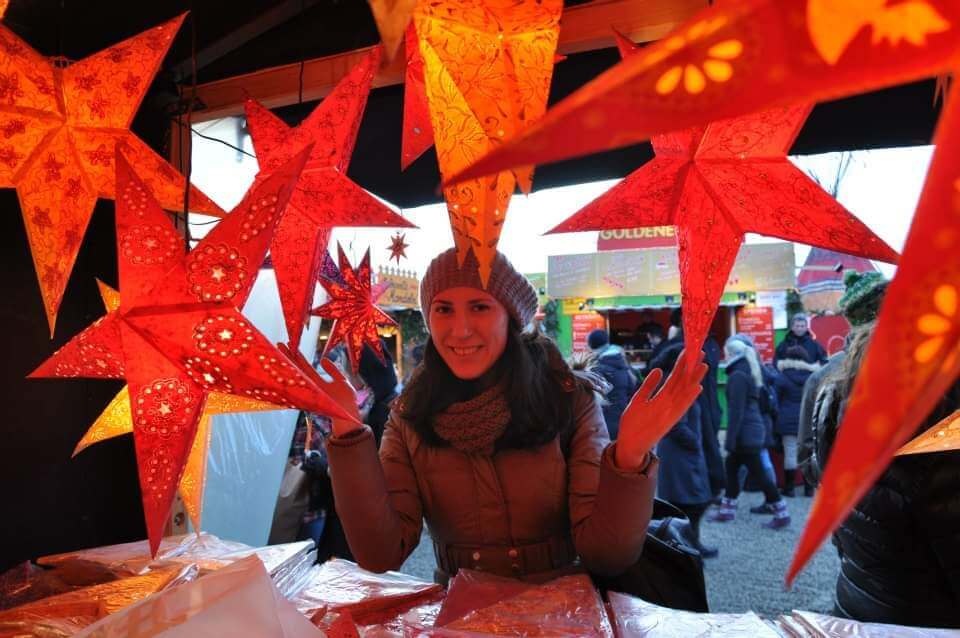 How do Bavarians prepare for Christmas?
Bavarian homes are beautifully decorated for Christmas. Most families have a Christmas tree, or "Christbaum," decorated with candles and ornaments. The Christmas gifts are usually placed under the Christmas tree and exchanged on Christmas Eve.
Baking is a big part of Bavarian Christmas traditions. Families often bake special Christmas cookies (Plätzchen) and traditional Christmas pastries like Lebkuchen (gingerbread), Stollen, and various types of bread. Nuremberg-style Lebkuchen is my favorite. I usually buy them in supermarkets when they start selling them in October. They are sooo yummy 🙂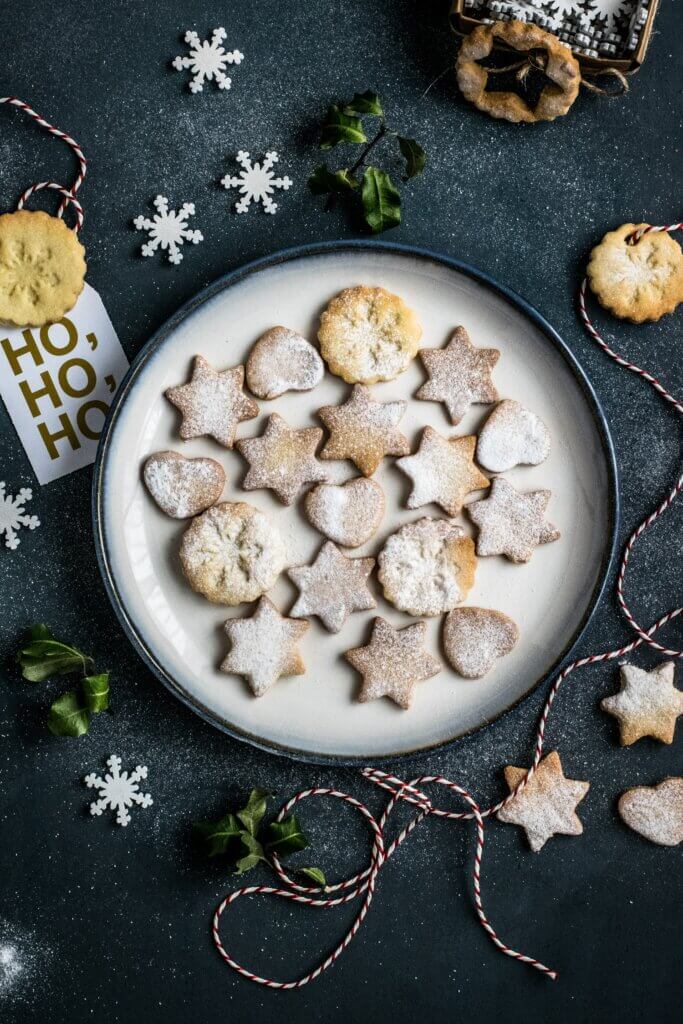 How is Christmas celebrated in Bavaria?
Christmas is the most important celebration in Bavaria. The Christmas season in Bavaria begins with Advent, which starts on the fourth Sunday before Christmas. Many Bavarians have an Advent wreath with four candles (Adventskranz), and they light one candle each Sunday leading up to Christmas. Children often have Advent calendars that they open each day in December until Christmas Eve. These calendars can contain small gifts or chocolates.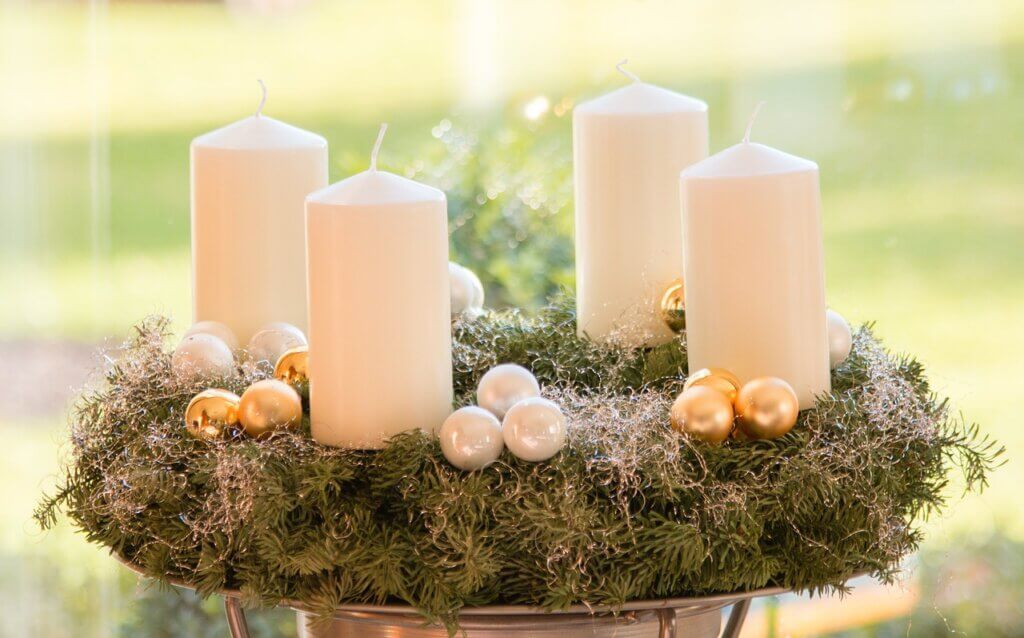 On December 6th, Bavarians celebrate Saint Nicholas Day, known as "Nikolaustag." Children put out their shoes, and Saint Nicholas (German Santa) leaves small gifts and treats for well-behaved children. Saint Nicholas is often accompanied by its dark twin, a devil-like horned figure called "Krampus". Krampus is believed to punish naughty children instead of giving them presents. Some regions in Bavaria have Krampus runs, where people dress as Krampus, and parade through the streets.
​​In Bavaria, Christmas Eve (Heiligabend) is celebrated on the 24th of December. Families gather for a festive meal, which typically includes dishes like roast goose or pork, potato dumplings, and sauerkraut. After dinner, it's common to exchange gifts. The Christmas celebrations continue until the New Year's Eve (Silvester).
Traditionally, the role of Santa Claus in Bavaria is played by Christkindl, an angel-like child girl with blond hair. She brings gifts to families on Christmas Eve.
Best Christmas markets in Bavaria you don't want to miss

In addition to shopping experiences and delicious street food, Christmas markets in Bavaria often feature cultural performances, live music, and activities for children, making them a popular destination for both locals and tourists.
There are many Christmas markets in Bavaria. In fact, each town in Bavaria has its own Christmas market. Alone in Munich, Bavaria's capital, there are more than 20 Christmas markets. If you have limited time and would like to know which are the best Christmas markets to visit in Bavaria, check below the list of my favorite Christmas markets that you shouldn't miss.

Disclaimer: The opening times of the Christmas markets mentioned below can change at any time. Please always double-check the opening times on official websites before planning your visit.
Nuremberg Christmas Market

The Nuremberg Christmas Market, also known as the "Nürnberger Christkindlesmarkt," is one of the most famous and traditional Christmas markets in Germany. It is held annually in the city of Nuremberg, the second largest city in Bavaria after Munich. It is one of the oldest Christmas markets in the world dating back to the 16th century and the birthplace of Christkind. Christkindlesmarkt could be translated word for word as "Christ Child Market".
Due to its popularity, the Nuremberg Christmas Market gets very crowded on weekends. If you want to avoid the crowds, try to go on weekdays during the day. Over 2 million people visit Nuremberg each year in December the see the largest and oldest Christmas market in Germany.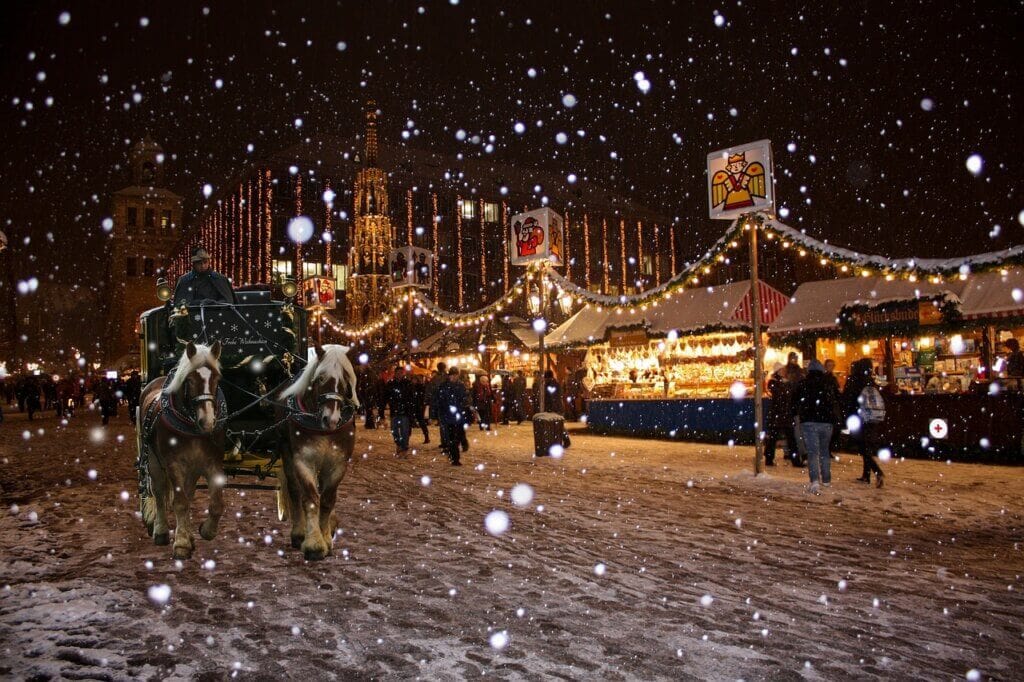 Location: Hauptmarkt Nürnberg (the central square in Nuremberg's old town)
Opening Dates in 2023: December 1 to 24.
Opening Dates in 2024: November 29 to December 24th.
Opening Hours: Open daily between 10 am and 9 pm ( 2 pm on Christmas Eve).
Local specialties to try: World famous Nuremberg gingerbread and Nuremberg sausages
Munich's Medieval Christmas Market at Wittelsbacherplatz

This is the one and only medieval-themed Christmas market in Munich, which definitely stands out.
Dozens of wooden huts are decorated in a medieval style and all the workers wear medieval dress to bring the Middle Ages back to life. Even the food and drinks are served with pottery, rather than the typical glass, plastic, or paper. I absolutely love the Feuerzangenbowle (traditional fire-tong punch) and salmon cooked on an open fire in Munich's medieval market.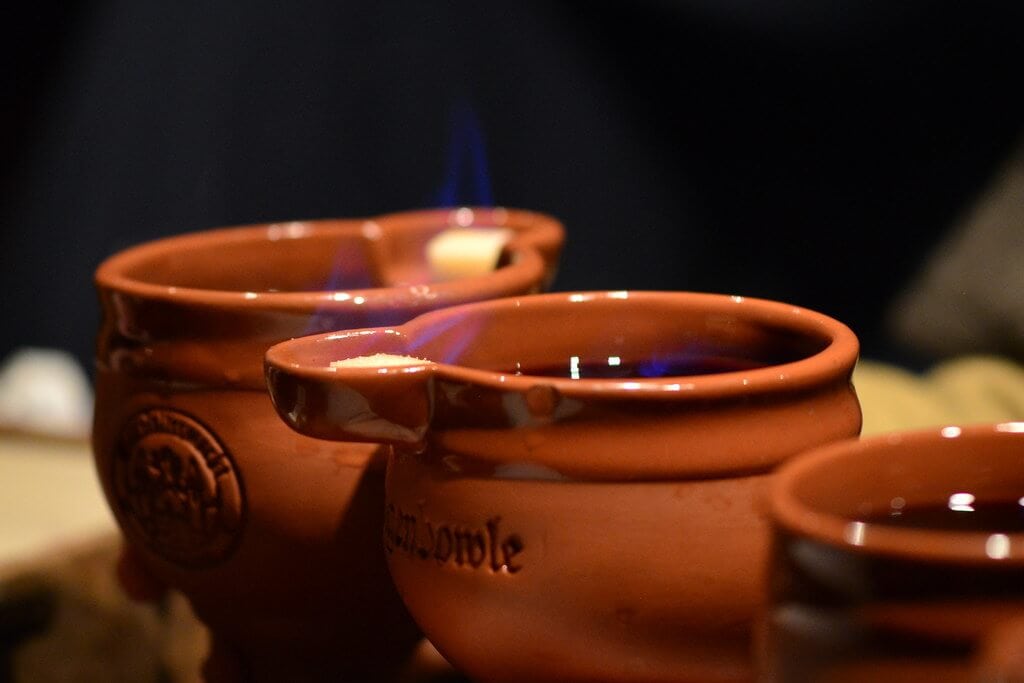 Location: Wittelsbacher Platz, Briennerstrasse 6-10 ( Subway Station Odeonsplatz)
Opening Dates in 2023: November 27 to December 23
Opening Hours: Open daily between 11 am and 9 pm
Local specialties to try: Feuerzangenbowle, wild boar roastling, grilled salmon
If you are staying in Munich for a few days, check out my post about great things you can do in Munich in December in addition to visiting Christmas markets.

Pro Tip: After fresh snow, when all the trees are covered in white, you should visit Neuschwanstein Castle from Munich, for a magical and fairytale atmosphere.
Romantic Christmas Market in Regensburg

Regensburg is located on the Danube River and it is one the most beautiful cities in Bavaria close to Munich. Its historic old town is a UNESCO World Heritage Site. Regensburg has a nice selection of different Christmas markets within walking distance of each other in the historic center, along with the beautiful sights and attractions that the city itself has to offer. Don't miss visiting Romantic Christmas Market in the backyard of Castle Thurn und Taxis less than 15 minutes walk from the city's main train station.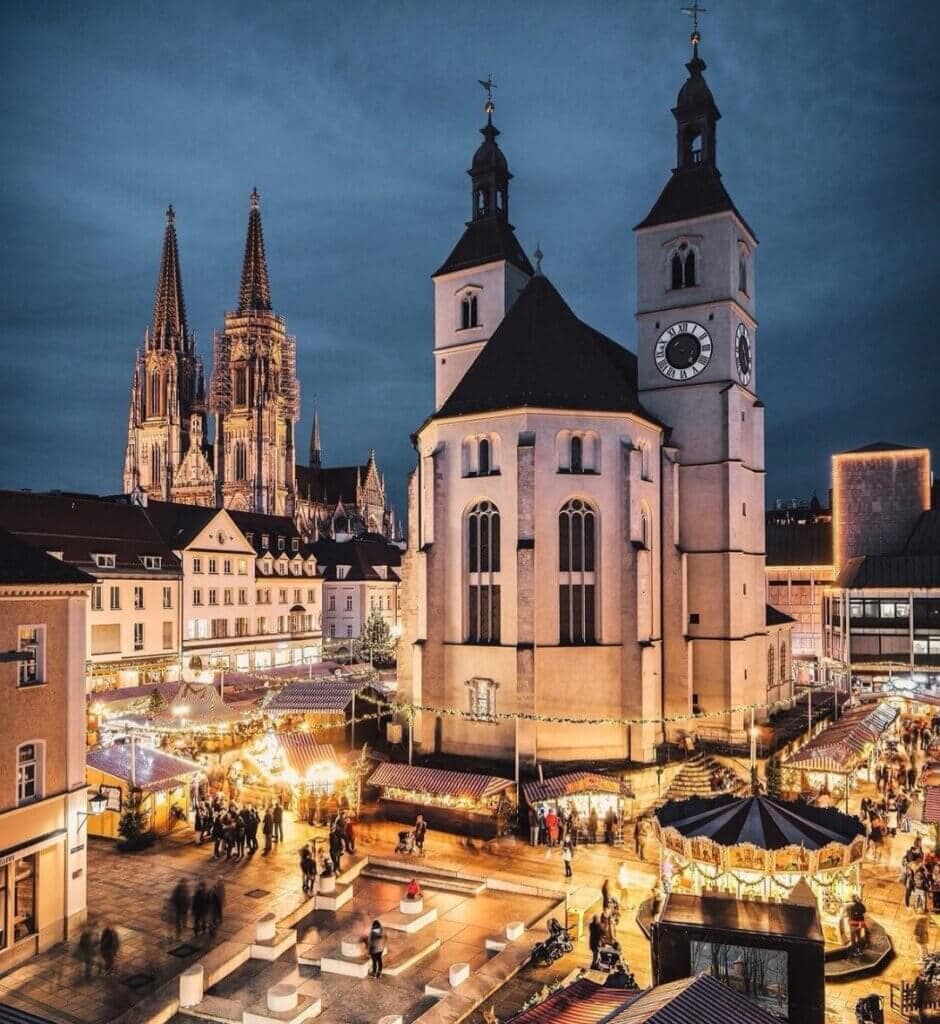 Location: Regensburg Old Town
Opening Dates in 2023: November 24 to December 23
Opening Hours: Open daily between 3 pm and 10 pm except a few exceptions
Local specialties to try: Baumkuchen (German tree cake), Regensburger Bratwurst (local sausage)
Christmas Market on the Fraueninsel/Chiemsee

This is the only island Christmas market in Germany. It is located on a real island on beautiful Lake Chiemsee right in the heart of the Bavarian Alps. The whole island is lit up with Christmas decorations and lights, creating a really special and traditional atmosphere. Over 90 stands on Fraueninsel, will entertain the visitors over 2 weekends prior to Christmas Eve.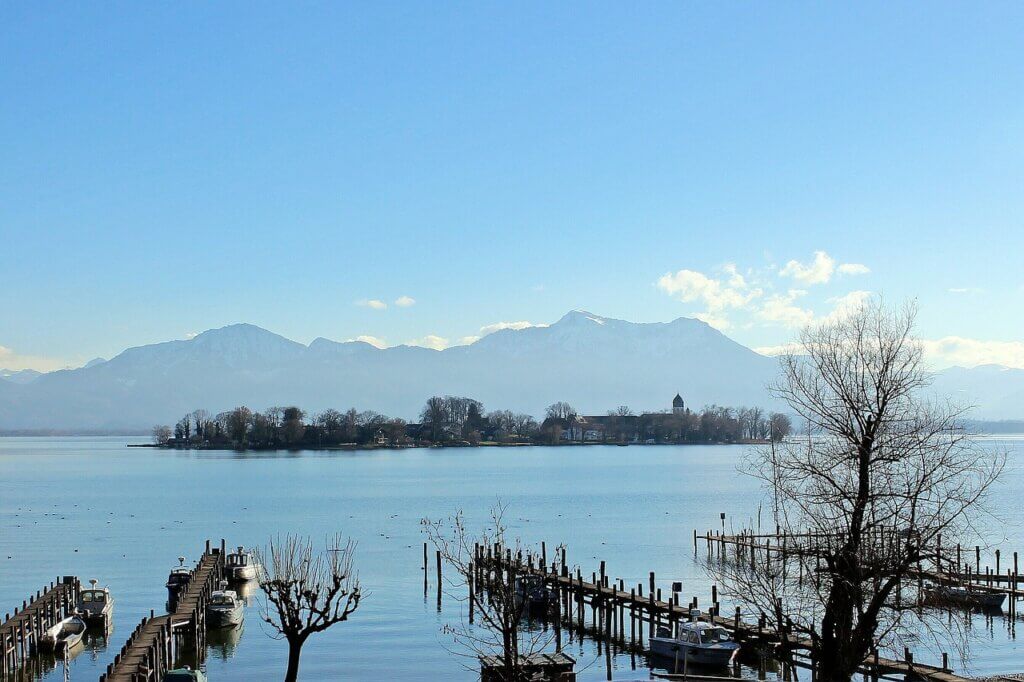 Location: Iseland Frauenchiemsee on Lake Chiemsee. You can get there with regular boat-trips from Prien am Chiemsee.
Opening Dates in 2023: November 30 to December 10
Opening Hours: Friday 2–7 pm, Saturday/Sunday 12–7 pm
Local specialties to try: Flammkuchen (German thin-crust pizza)
Pro Tip: It is very cold and windy on Fraueninsel in winter. Much colder than in Munich or other Bavarian cities and there are not so many places where you can hide to warm up because it is just a small island. That's why it is essential to wear very warm clothes including a hat, gloves and a windproof jacket.
Christmas Market in Waldwipfelweg Sankt Englmar

The treetop trail (Waldwipfelweg) in Sankt Englar is beautiful all year round. The treetop trail leads to the forest tower, where you can enjoy spectacular views over Bavarian Forest and a beautiful sunset at the height of 52 meters.
In winter, especially in December, Waldwipfelweg turns into a real winter wonderland, enchanting with its sparkling sea of lights. At the wooden stalls, everyone will find creative gift ideas, as well as mulled wine and delicious treats while enjoying panoramic views of the winter landscape. The program includes juggling, a spectacular fire show, storytelling, and music. There are also a lot of activities for children.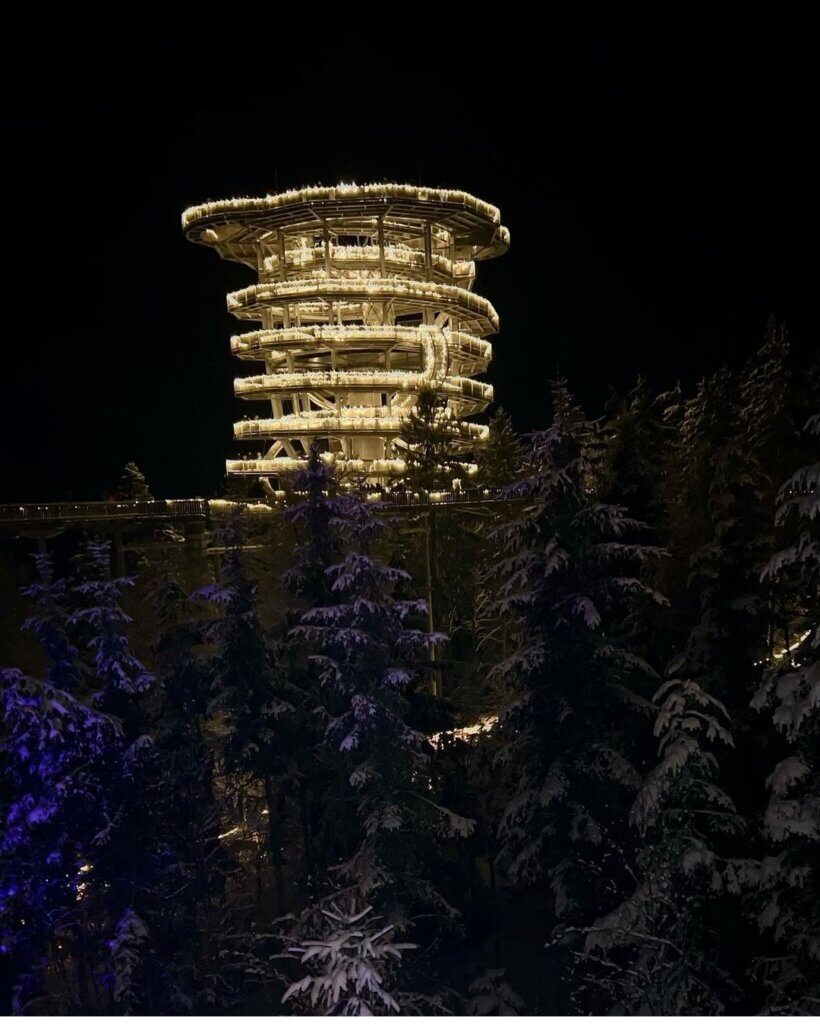 For more information visit the official website. There is parking available free of charge.
Location: Maibrunn, Sankt Englmar
Opening Dates in 2023: weekends between November 24 and December 23
Opening Hours: Friday 3–8 pm, Saturday/Sunday 12–8 pm
Entrance Fee: 12 euros for adults and 6 euros for children
Harbour Christmas in Lindau

Lindau Habour Christmas market is unique in many ways. Located on the waterfront of Lake Constance, with snow-capped Alpine peaks in the background, it is one of the most beautiful Christmas markets in Bavaria and the entire Germany. The romantic Christmas market offers a wide variety of activities, which range from a varied musical program at the harbor to special boat tours. More information can be found on the official website of the city of Lindau.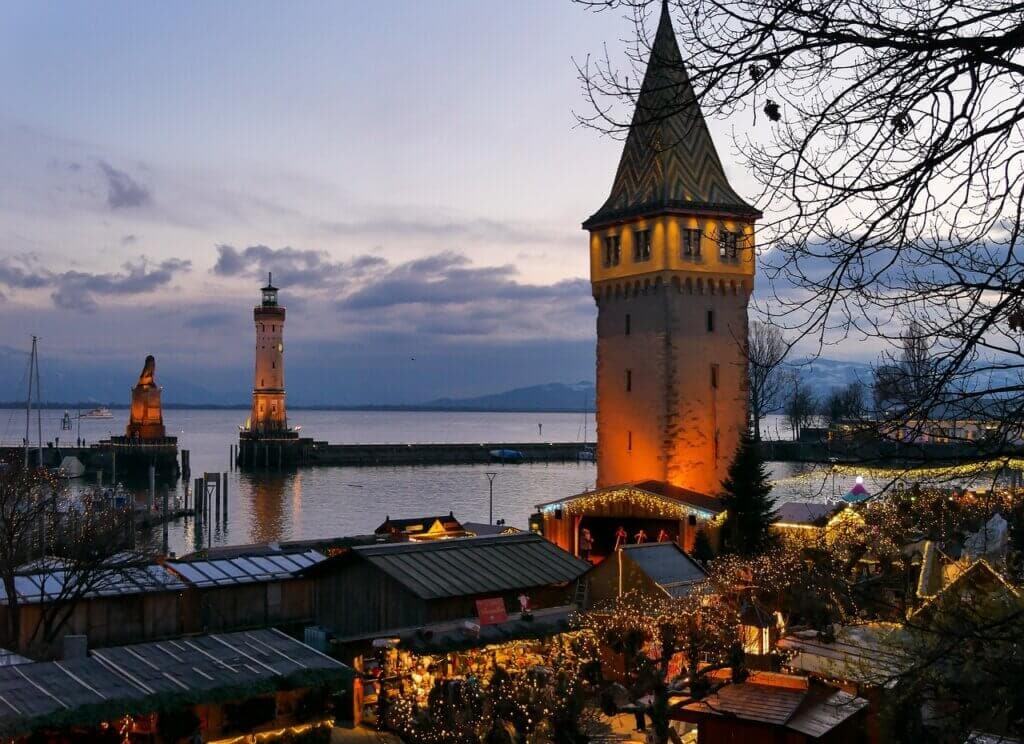 Location: Lindau Old Town / Harbour
Opening Dates in 2023: November 25 to December 18
Opening Hours: Thursday to Sunday, 11 am to 9 pm
Local specialties to try: Schupfnudeln (finger-shaped dumplings), Winzerglühwein (hot mulled wine)
Rothenburg ob der Tauber Christmas Market

Once a year the medieval town of Rothenburg turns into a fairytale winter wonderland. The Reiterlesmarkt Christmas market in Rothenburg is one of the oldest and most beautiful Christmas markets in Germany with over 500 years of history. Many cultural events take place throughout the duration of the Christmas market. However, the most important event is the arrival of the "Rothenburger Reiterle" (Rothenburg Horseman) which also gave the market its name. For more information check the official website.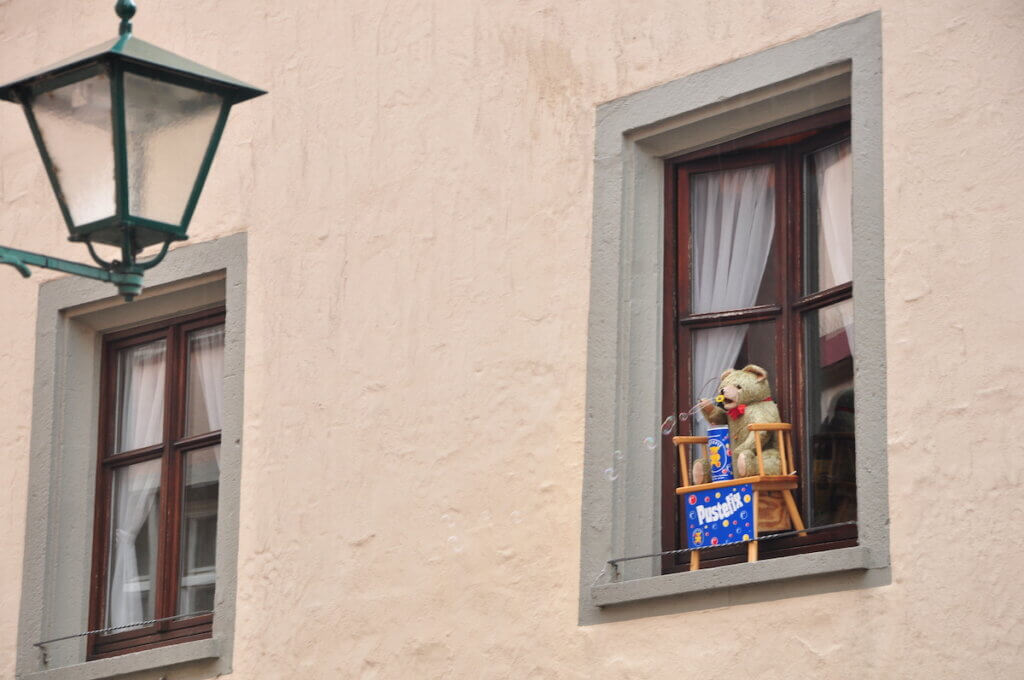 Location: Reiterlesmarkt, Rothenburg
Opening Dates in 2023: December 1 to 23
Opening Hours: Open daily 11 am to 7 pm
Local specialties to try: Schneeballen (deep-fried pastry)

Typical Bavarian Christmas foods and drinks

No matter which Bavarian Christmas market you choose to attend, you will always find delicious treats and Christmas local specialties of the region. There are certain foods and drinks that can be found everywhere in South Germany during the Christmas period and I highly recommend trying them.
Glühwein (mulled wine)
This is a popular hot mulled wine, often flavored with spices like cinnamon, cloves, and star anise. There is also a non-alcoholic version of it available for kids called Kinderpunsch. You can also find variations like white mulled wine or "Feuerzangenbowle," which involves flaming a sugarloaf soaked in rum over the wine.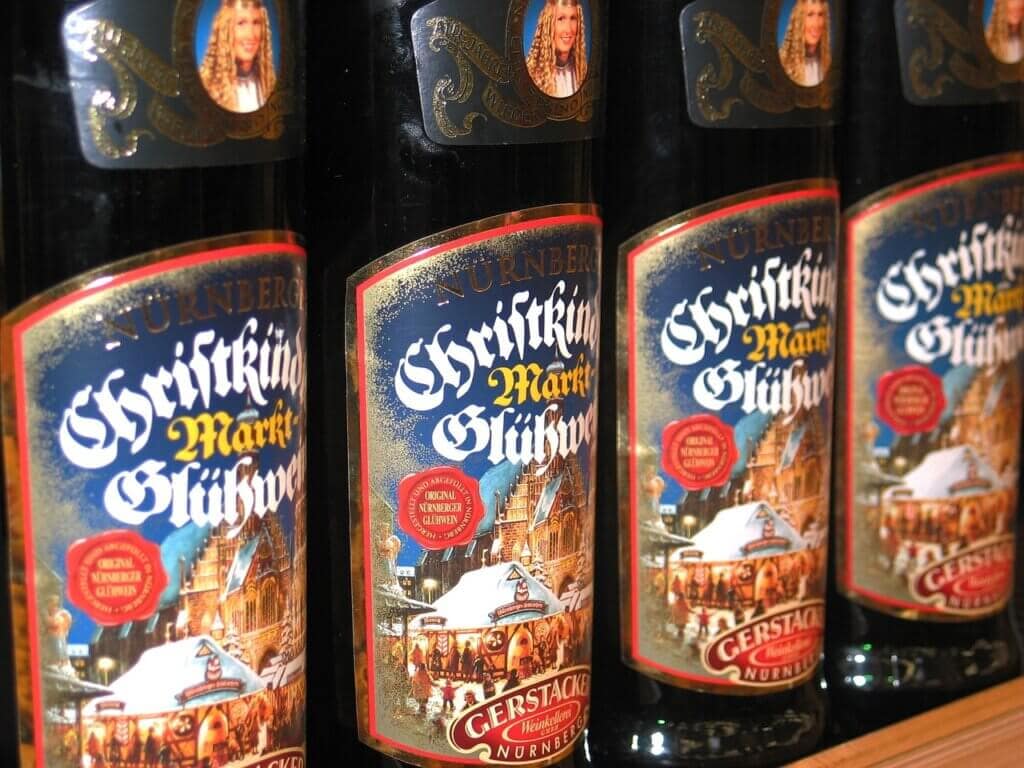 Baumkuchen (German tree cake)
Baumkuchen is a traditional German cake. It is baked on a stick, layer by layer while turning. The characteristic rings of the cake resemble tree rings giving the cake its German name, Baumkuchen, which literally translates to "tree cake" or "log cake". German tree cake is usually topped with cinnamon and sugar but on Chrismas markets, you can find different variations of it. My favorite topping for the Baumkuchen is coconut and sugar. Especially when the tree cake is still warm. I love enjoying it layer by layer. Mmm, so yummy.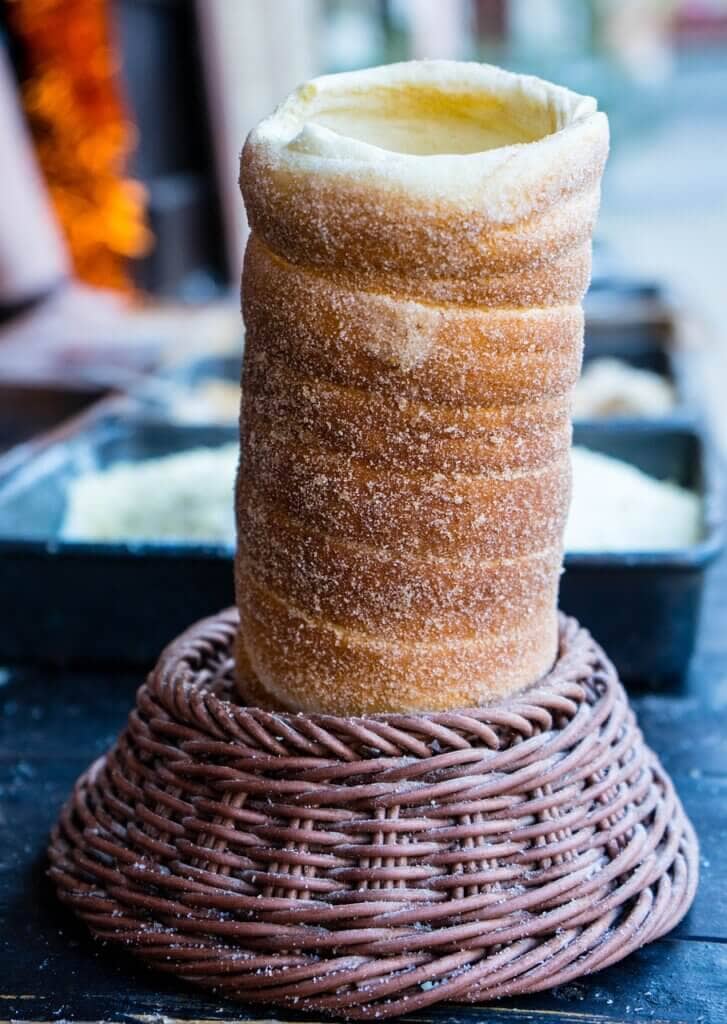 Bratwurst
Sausages, especially the classic Bratwurst, are a must-have at Bavarian Christmas markets. They are often served in a fresh Kaiser roll (Semmel) with mustard or ketchup.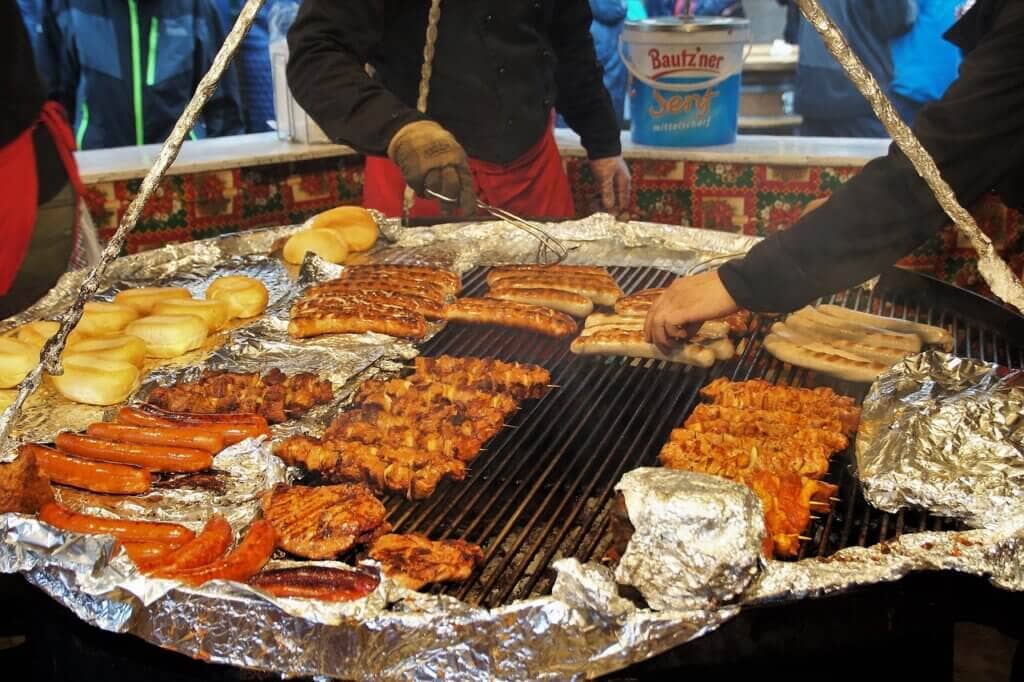 Roasted chestnuts and sweet almonds
Roasted chestnuts, known as "heisse Maroni" in German, are a warm and comforting snack. They are usually sold in 100 or 200-gram paper bags.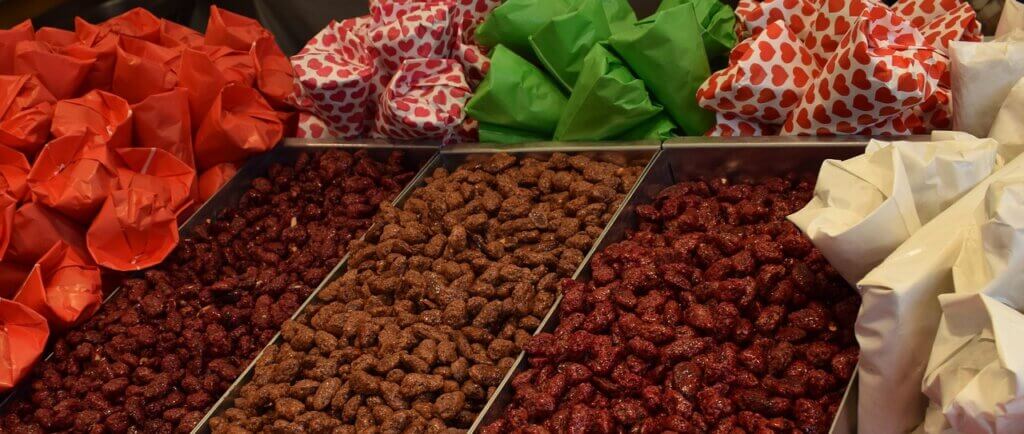 Flammkuchen
Flammkuchen is a thin-crust pastry also known as the "German pizza", traditionally topped with crème fraîche, bacon, and onions. While this is the most popular version of Flammkuchen, you'll find other varieties as well. Including vegan options!
Useful German Words and Phrases for the Christmas Period
Germans and especially Bavarians are absolutely obsessed with Christmas and it is the most important celebration of the year for them. If you are visiting Bavaria during the Christmas period, it will be useful to know a couple of German words related to Christmas and the New Year.

There are at least 6 ways to say "Merry Christmas" in German:
Frohe Weihnachten! — Merry Christmas!
Fröhliche Weihnachten! — Joyous Christmas! This is another common and slightly more formal way to wish someone a Merry Christmas.
Schöne Weihnachten! – This means "Beautiful Christmas"
Schöne Feiertage! — Happy Holidays!
Frohes Weihnachtsfest! — A joyous Christmas celebration!
Frohe Weihnachten und alles Gute für das neue Jahr! — Merry Christmas and all the best for the new year!
Other useful German words related to Christmas:
Weihnachten – Christmas
Weihnachtsmann – Santa Claus
Weihnachtsfest – Christmas celebration, usually celebrated between December 24th and 26th
Heiligabend – Christmas Eve, celebrated in Germany on December 24th
Adventszeit – the period between December 1st and 24th
Weihnachtsbaum or Christbaum– Christmas Tree
Weihnachtsmarkt or Christkindelmarkt – Christmas market
German words and phrases related to the New Year celebration:

Silvester – New Year's Eve on December 31
Ein frohes Neues Jahr! – Happy New Year!
Guten Rutsch! – The greeting literally means "a good slide" in English, but the meaning is "a good start to the new year."
Weather in Bavaria in December
The weather in Bavaria in December varies a lot and temperature during the day can fluctuate. It might be warmer during the day and get very cold in the evening. It can be also very windy in Bavaria during this time of the year while temperatures quite often go below zero degrees. Don't forget a scarf, hat, and gloves to keep you warm and comfortable boots which are good for icy roads and snow. Most locals wear different layers that they can take out or put on whenever the temperature changes.
Conclusion
Bavaria is a must-visit destination for Christmas enthusiasts, known for its charming Christmas markets, rich traditions, and delicious seasonal specialties. With its world-famous Christmas markets, traditional celebrations, and picturesque settings, Bavaria provides a magical and immersive experience for those looking to celebrate the holiday season.
If you are staying in Munich as your base to explore Bavaria, check out my post about the most beautiful Bavarian towns close to Munich and how to reach them.
Please follow and like us: