Locals' Secret: How to Spend 2 Days in Munich 
Munich or München in German, is the capital and the largest city of the German state Bavaria and a major tourist attraction in Germany. The city is known for its annual Oktoberfest beer festival and its beer halls (Beargartens), including the world-famous Hofbräuhaus. Munich is also known for Disney's Cinderella Castle, the Neuschwanstein, and other fairytale castles. So is it possible to see Munich in 2 days you might ask yourself? Let's find out.
How Many Days Do You Need in Munich?

Answering this question depends on what you want to see and do in Munich. For some people, 1 day might be enough to see Munich and for others, the entire week might not be enough. That being said, most visitors will be able to explore the main sights and attractions of Munich within 2-3 days. Spending 2 days in Munich (3 nights) is an ideal amount of time to get a good idea of the city and feel its atmosphere.
Getting from Munich Airport to City Center

There are 2 airports near Munich: Munich Franz Josef Strauss International Airport (MUC) or Flughafen München in German and Memmingen Airport(FMM).
Munich Franz Josef Strauss International Airport is the main airport of Munich serving many international destinations including transatlantic flights. Getting from the main Munich airport to the Munich city center is very easy. There are 2 train lines connecting the city center with the airport: the S1 train line and the S8 train line. Both train lines can take you from Munich main airport to the Munich main train station (Hauptbahnhof or Hbf) or to the Marienplatz within 40 minutes. Trains leave daily every 10 minutes from the train station but I do recommend checking the schedule on the DB App in case of some changes or disruptions.

Memmingen Airport (FMM) or Allgäu Airport Memmingen is the second international airport near Munich serving mostly low-cost airlines such as Ryanair or Wizzair. It is located near the Bavarian town Memmingen approximately 112 kilometers from Munich central train station. There is a regular bus called Allgäu Airport Express
which takes you from Memmingen Airport to Munich city center (Hauptbahnhof Nord). The bus schedule is adapted to arrival times so that you don't have to wait too long. Driving time is approx. 1 hour and 20 minutes (non-stop).
You can check the bus schedule or buy your ticket online on the official website of the Airport Express. Please note that the last bus leaves at around 22:45.
Getting Around Munich
Munich has a well-developed public transportation system. There are eight subway lines (U Bahn) and seven suburban train lines (S Bahn) in Munich and the stations are located very close to each other. You can buy your tickets online and check the timetables on the official MVV or DB Apps. Additionally, you can also take blue trams to have a panoramic ride in the city center. You can buy an unlimited day ticket which will be valid for all means of public transportation during your 2 days in Munich. Unfortunately, the public transportation in Munich is quite expensive and the infrastructure is pretty old, that's why there are frequent disruptions due to ongoing infrastructure modernization.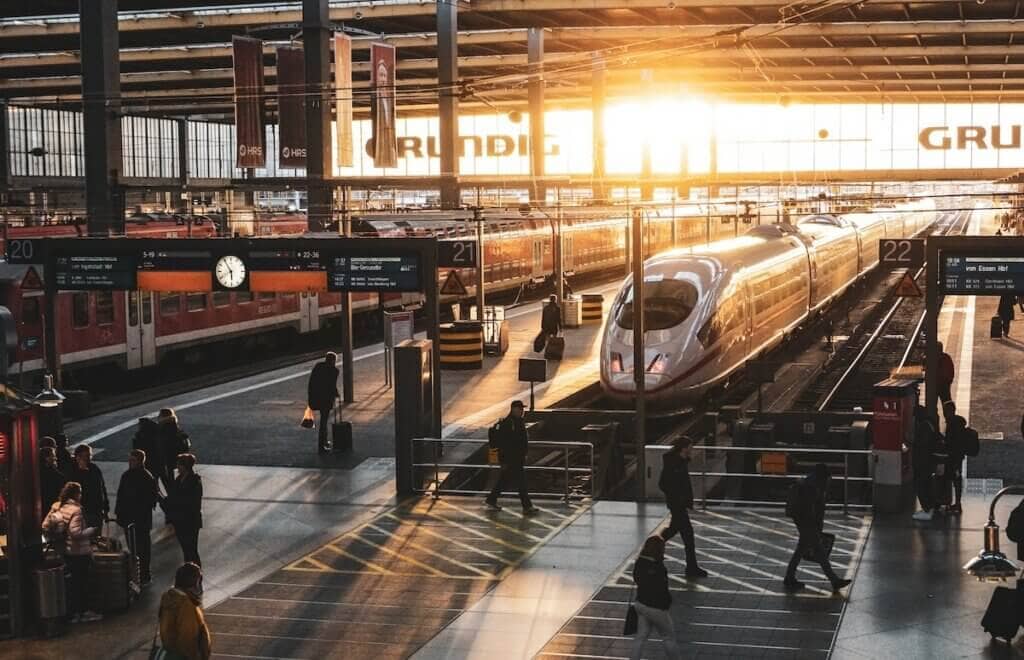 The good news is that Munich is one of Europe's most walkable cities. In fact, you can explore the historical center in 2 days in Munich all on foot or by bicycle which you can easily rent via MVV App and take directly from the many rental points located in the city center.
An alternative option during your 2 days in Munich is the Hop On, Hop Off bus pass. You can choose to purchase a 1 or 2-day pass which gives you access to get on and off the bus as many times as you like.

Top Things to do in Munich: 2 Days in Munich Itinerary


2 Days in Munich: Day 1
Visit Frauenkirche: The Symbol of Munich

Frauenkirche or Church of Our Lady is Munich's most famous church and the symbol of the city. You can probably recognize its two towers from various postcards picturing Munich. You can easily get to Frauenkirche by walking from Munich central station or Marienplatz. Frauenkirche dates back to the 15th century and its two characteristic towers are almost 100 meters. The southern tower is open to visitors and offers a panoramic view over the entire city plus 7 gigantic bells and the so-called "Devil's Footstep".
Opening hours are daily from 10 a.m. to 5 p.m. (Sundays and holidays from 11:30 a.m.). Admission costs 7.50 euros for adults and 5.50 euros for children over 7 (prices in 2023).


Visit Marienplatz and St. Peter's Church

Marienplatz is the central square in the city center of Munich and the starting point for exploring Munich's old town. Here you can find Munich's New and Old Town Halls and the famous Glockenspiel (carillon) on the tower of New Town Hall. Visitors can watch the figures dance daily at 11 am and 12 pm, and between March and October, the carillon also takes place at 5 pm. In front of the New Town Hall, you will find a small fountain called Fischbrunnen where locals like to meet and socialize. You can also throw a coin and make a wish here.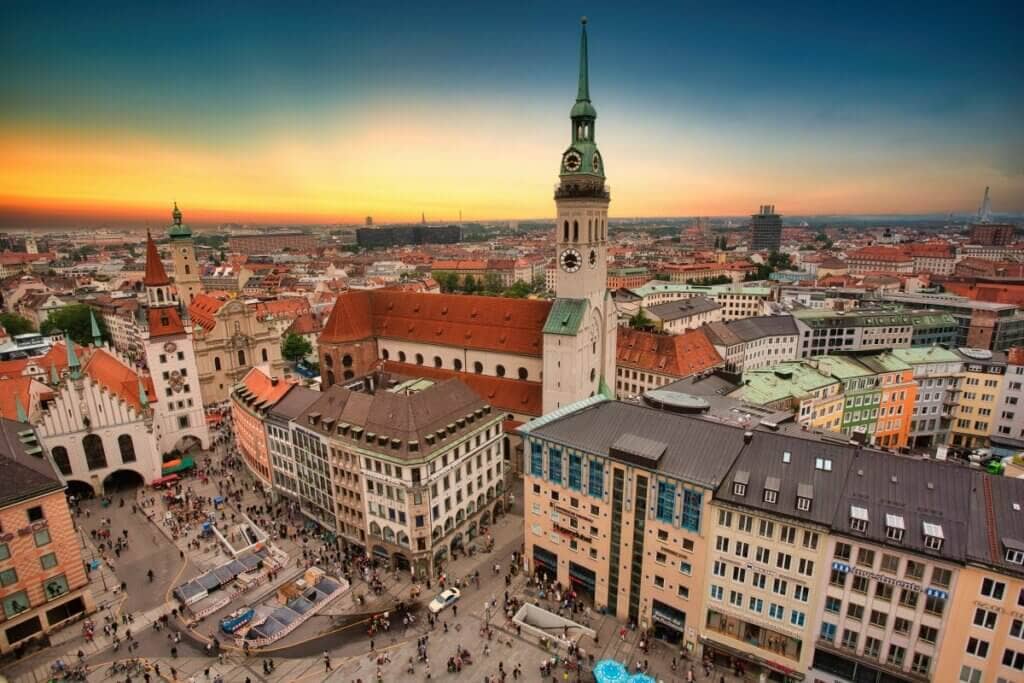 Another famous landmark located on Marienplatz is St. Peter (Alter Peter) church, Munich's oldest parish church dating back to the 12th century. It offers a great panoramic view over the Old Town of Munich from its 91-meter (299 ft) tower. The viewing platform is located at 56 meters and offers the best 360 views over Munich's historic center. Unfortunately, I have to warn you that there is no elevator in the church, and if you want to enjoy the views you will have to climb 300 steps all the way up to the viewing platform. But I can promise you that it is absolutely worth it. The tower is open to visitors daily from 12:00 am to 4:30 pm except on Easter Friday, Shrove Tuesday, and New Year's Eve.
Go to Viktualienmarkt: The largest market in Munich

Viktualienmarkt located next to Munich's central square (Marienplatz) is Munich's largest market and one of the top attractions of the city. Here you can buy fresh fruits and vegetables, fish, meat and cheese and even souvenirs. The market is open Monday through Saturday from 8 a.m. to 8 p.m. You can grab yummy local snacks while you explore the market such as Bratwurst or Leberkäse. You can also opt for a more fancy option and get a cappuccino or a real Italian pizza in the famous Italian shop Eataly. I personally used to shop here quite often and buy the highest quality pasta and mozzarella.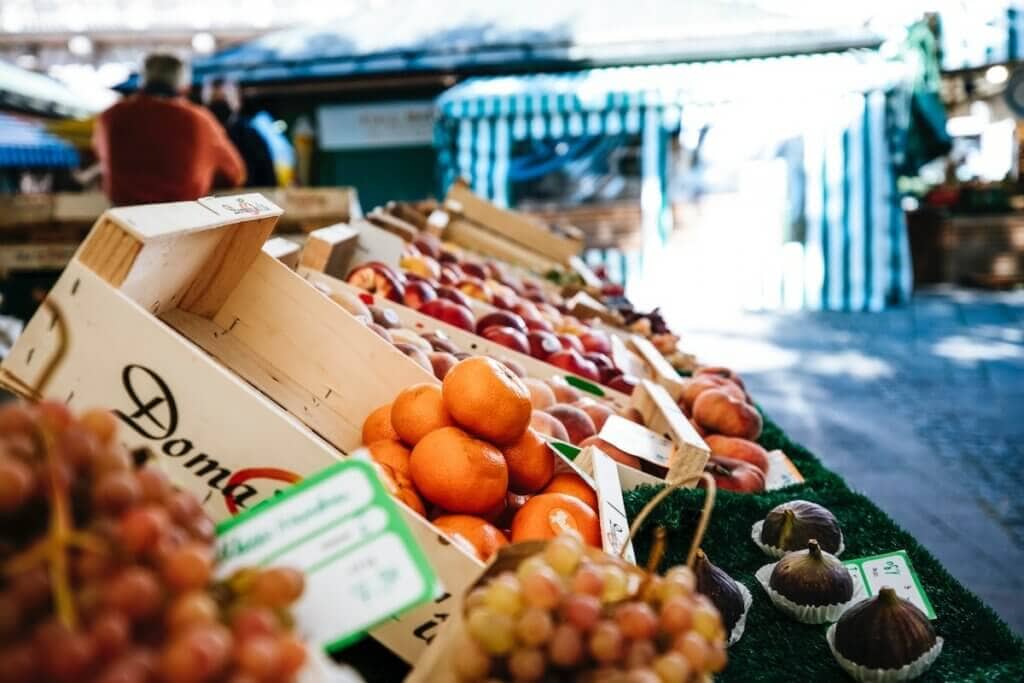 Have a Dinner in Hofbräuhaus at Platzl

Hofbräuhaus is the most famous beer hall (germ. Biergarten) in Munich and probably in the entire world. It is a must-visit attraction in Munich. Here you can try typical Bavarian specialties such as roast pork or knuckle of pork served by waiters and waitresses in traditional Bavarian costumes. Of course, you shouldn't miss a mass of the highest quality Hofbräu beer (1 liter) which has been brewed in the Hofbräuhaus since 1589 in accordance with the Bavarian Purity Law. The Hofbräuhaus building can accommodate up to 3000 visitors, plus additional 400 guests outside in the beer garden. An Interesting fact about the Hofbräuhaus is that all rooms except the historic beer hall ("Schwemme") were destroyed in the World War II bombings and later were rebuilt like many other important buildings of Munich. 


2 Days in Munich: Day 2
Visit Munich Residenz and Hofgarten
Munich Residence (germ. Residenz) is the largest city palace in Germany which served as the seat of government and residence of the Bavarian dukes and kings between the 16th and 20th centuries. Like many other historic buildings, Munich Residence was destroyed during WWII and later gradually reconstructed. Today it serves as one of the largest museum complexes in Bavaria. The complex consists of the museum itself, Cuvilliés Theater, and the Treasury. You can easily reach Munich Residence from Odeonsplatz train station (germ. Ubahn) or walk from Marienplatz. The Residenz Museum is open daily from May to October from 9 am to 6 pm, and from October to March from 10 am to 5 pm. More information can be found on the official website.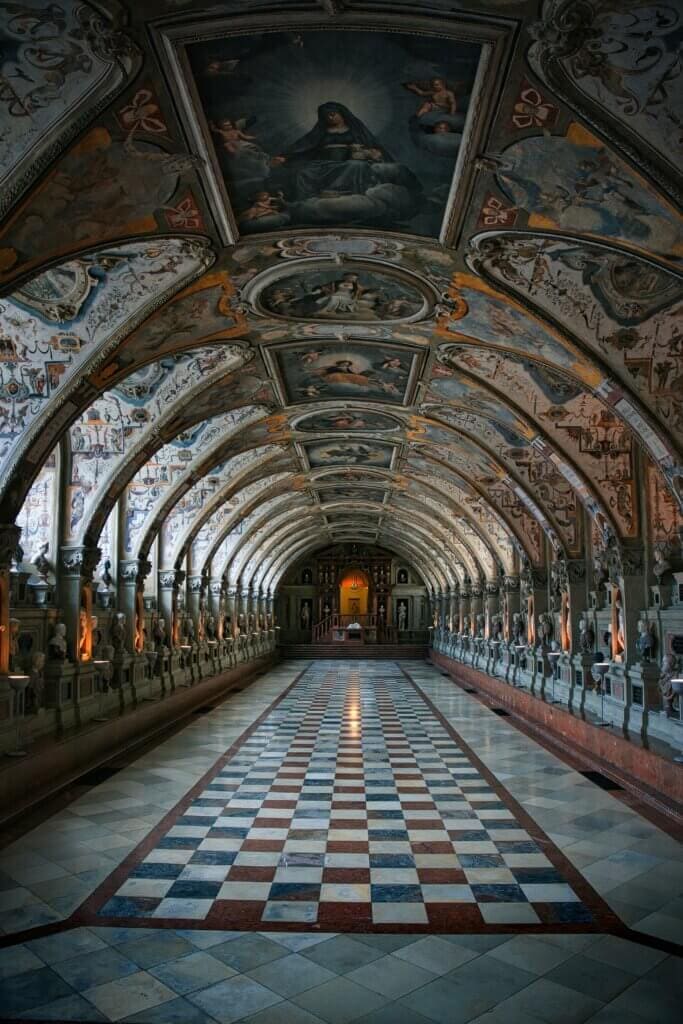 Next to the Munich Residence is Hofgarten, the Court Garden of Munich. In the middle of the Hofgarten, you will find the Diana Temple, a twelve-sided gazebo from the Renaissance period with eight open and four closed round arcades.  If you are lucky, you can enjoy some street music or tango dance in the Diana Temple. It is one of the favorite meeting points of locals. 


Check out River Surfing on Eisbach
If you walk all the way until the end of the Hofgarten and pass by the famous Haus der Kunst art gallery you will reach the entrance to the Englischer Garten park, the largest park in Munich. Here are located famous artificial waves of the Eisbach River (Eisbachwelle) which attract surfers and tourists from around the world. Eisbachwelle is famous throughout the world for being the largest, best, and most consistent spot for river surfing in the city center. You will find surfers here all year round even in winter.


For the rest of the afternoon you can chill in Englischer Garten, visit the famous Biergarten at Chinese Tower (Chiensischerturm) in the middle of the Englischer Garten, or take a dip in the refreshing waters of Eisbach. Alternatively, you can climb up to the hill where the temple Monepterus is located. It offers a great view over Englischer Garten and many parts of Munich.

Visit Olympiapark and BMW Welt + the Museum
If you are an automobile admirer then probably you have heard of one of the world's most famous German car manufacturers, BMW.  Did you know that the headquarters of BMW is located directly in the heart of Munich in Munich's Olympic Park? 
One of the top attractions of Munich which I can definitely recommend is BMW Welt and BMW Museum. It is an exhibition, museum, and event venue. Here you will find the latest models of BMW and exciting stories about the BMW brand and its history. The building itself is very modern and quite outstanding. The BMW Museum is located on the opposite side of the BMW Welt. Here you will find vehicles from different times, historic prototypes which marked important periods of the history of the brand and much more.

BMW Welt has free admission and is open from Monday to Saturday from 7:30 am until 00:00 midnight and on Sundays and holidays from 9:00 am until  00:00 midnight. The BMW Museum requires an admission ticket and is open from Tuesday to Sunday from 10:00 am until 6:00 pm (last admission at 5:30 pm). You can buy the tickets online from the official website or at the ticket counter.
After visiting BMW Welt and the Museum I recommend climbing up Olympiaberg to watch the amazing sunset over Munich. You can finish your day having dinner on top of the famous Olympic Tower (germ. Olympiaturm) located in the heart of Olympic Park not far from The BMW Museum.

Alternative Itinerary for Spending 2 Days in Munich
If you are more interested in the historical and cultural heritage of Munich and Bavaria, I have prepared an alternative itinerary for you to explore Munich in 2 days.
Deutsches Museum

If you are into science and engineering then you should definitely visit Munich's Deutsches Museum, the world's largest museum of science and technology and largest museum in Munich. The museum features 28,000 exhibited objects from 50 fields of science and technology and receives about 1.5 million visitors per year. I recommend spending at least an entire day in Deutsches Museum in order to see most of the items of the exhibition. It is especially attractive for engineering students or for kids who are interested in science and technology. The main site of the Deutsches Museum is located on a small island (the Museuminsel) in the Isar River, which has been used for rafting wood since the Middle Ages. The other site, the Deutsches Museum Verkehrszentrum, is located at Theresienhöhe in Munich and focuses on transportation technology. There are also branches of the Deutsches Museum located in Nuremberg and Bonn. 

The opening times of the main site of the Deutsches Museum are daily from 9 am to 5 pm latest admission being at 4:30 pm. 
Entrance Price (2023)
Single price per adult – 15 euros
Single price per child up to 17 years old – 8 euros
Family ticket (2 adults and children up to 17 years old) – 31 euros
Holders of the Munich Pass get a 50% discount on the entrance fee to the Deutsches Museum.
Nymphenburg Palace and Park
Nymphenburg Palace in the south of Munich ( germ. "Schloss Nymphenburg" in German) served as the summer residence for Bavarian royalty in the 18th century. Today, Nymphenburg palace is open to the public but also continues to be a home for the head of the House of Wittelsbach, Franz Duke of Bavaria. It is one of the largest palaces in Germany and one of the most important in Europe. Nymphenburg Palace is mostly built in baroque style with some rococo and neoclassical elements. It is surrounded by a beautiful palace park with its royal fountains, an extensive selection of sculptures, and canals. Today Nymphenburg Palace and its park is the second-largest green space in Munich after the Englischer Garten and an important recreational area for locals and visitors. I highly recommend visiting Nymphenburg Palace and its park as part of your 2 days in Munich itinerary. You can visit it from Munich central train station by taking tram number 16 towards Romanplatz or tram number 17 towards Amalienburgstrasse.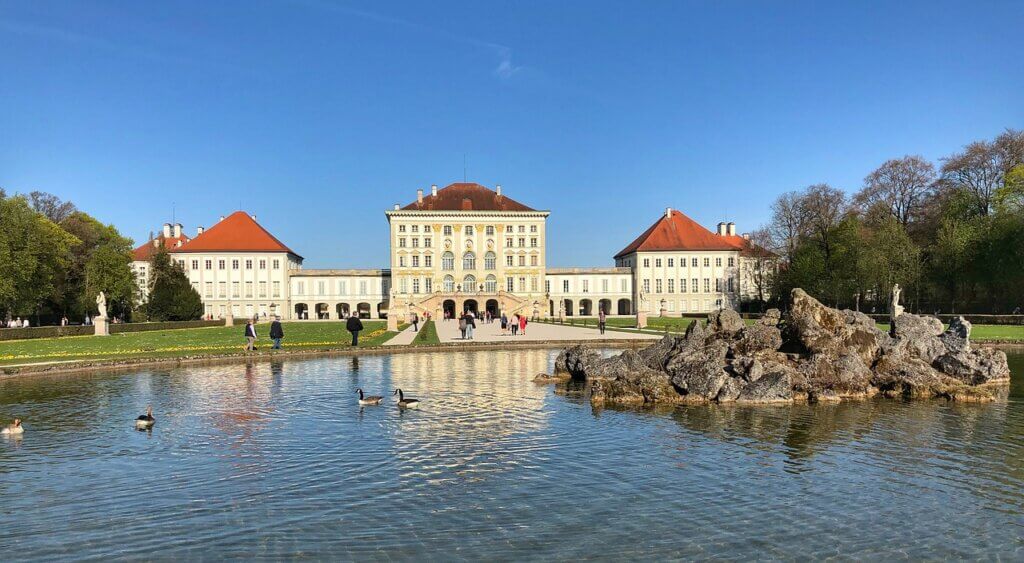 Dachau Memorial Site
If you want to learn more about the dark part of German history associated with WWII, I highly recommend visiting the Dachau Memorial Site in the outskirts of Munich built on the grounds of the concentration camp which existed here during WWII. The Dachau concentration camp was built in 1933 and served as a model for all later concentration camps and as a "school of violence" for the SS men. In its twelve years of existence over 200.000 prisoners from all over Europe were kept here out of which 41.500 were murdered. The camp existed until 1945 when American troops liberated the survivors.
The Memorial Site is open daily from 9:00 am to 5:00 pm. The entrance to the Dachau Memorial site is free and no prior appointment is necessary. There is an option to take a guided tour which will take about 2,5 hours and cost only 4 euros. The guided tours in English start daily at 11 am and 1 pm. You can find more information regarding the guided tours on the official website.
You can reach Dachau Memorial Site from the Munich city center easily by public transportation. From Munich's Central Station (Hauptbahnhof) or Marienplatz take the S2 train towards Dachau/Petershausen until you reach the Dachau station. The train ride takes approximately 25 minutes. Once you have arrived at the Dachau train station, take bus 726 towards "Saubachsiedlung" to the entrance of the Memorial Site (stop: "KZ-Gedenkstätte"). Alternatively, you can walk about 30 minutes from the train station.


If you are traveling by car, there is parking available directly at the Dachau Memorial Site which will cost you 3 euros parking fee.
Useful Tips for the First Time Visitors

I recommend always carrying a small amount of cash with you in Munich. Especially coins and 5-10 Euro notes. Small shops, cafes, and bakeries in Munich and other Bavarian cities quite often don't accept credit cards.
If you want to go luxury shopping in Munich you can go to a fancy street in Munich called Maximilianstrasse. It is full of luxury Boutiques, 5-Star hotels and fine dining spots. 
Useful Phrases in German / Bavarian

While most Bavarians understand some English, especially in the most touristic places of the city it is still useful to be able to say a few words in German. Here are some of the most useful phrases you might need during your trip to Munich.

Hello: "Hallo" or bavarian "Gruss Gott"
Thank you: "Danke"
Excuse Me: "Entschuldigung"
Asking for the Bill: "Zahlen bitte" or "die Rechnung bitte"
Best Time to Visit Munich

Munich is beautiful all year round and there is no best month or time of the year when you should visit the city. However, depending on what you want to do or see in Munich, some months might be better than others. For example, if you want to visit Munich's famous bear festival, Oktoberfest, then you should plan your visit at the end of September or the beginning of October when the bear festival is usually held. I must warn you that hotel prices and airplane tickets are the most expensive during this time of the year and the city is overcrowded, so if you are not into huge bear festivals such as Octoberfest, I recommend avoiding coming to Munich during this time of the year. 
If you want to see famous German Christmas Markets in Munich then you should visit Munich from the end of November until the end of December. If you are more into hiking and sightseeing then you should visit Munich between May and August.


Suggested Day Trips from Munich

If you have more than 2 days in Munich to spend, I highly recommend doing some day trips. Below you will find top day trips from Munich and suggested itineraries.
Berchtesgaden National Park and Lake Königssee

Garmisch-Partenkirchen and the Partnach Gorge

Zugspitze and Lake Eibsee

A half-day getaway to locals' favorite lake Starberg

Fairytale Castles of the Bavarian King Ludwig II
Please follow and like us: