11 Fairytale Castles Near Munich Recommended by Locals
Munich, the capital of Bavaria and its surroundings are famous for some of Europe's most beautiful castles and palaces. Did you know that Disney's famous castle is a real castle near Munich ? There are several world class palaces located directly in Munich and many castles can be visited easily as a day trip from Munich. Most Bavarian fairytale towns have their own medieval castles and great palaces which can easily be reached from Munich by public transportation. Below you will find a list of my favorite castles and palaces in and around Munich which I visited personally when I lived in Munich.
Map of the Beautiful Munich Castles



Most Famous Castles near Munich Full List

Neuschwanstein

Neuschwanstein is the most famous castle near Munich and in the entire Germany. You probably know it from the Disney movies and all kinds of posters. Did you know that Disney's Sleeping BeautIe's and Cinderella's castle was inspired by Neuschwannstein castle in Germany located close to Munich ? The castle was built by order of Bavarian King Ludwig II, but the construction was unfortunately never finished. The interior of the castle is not so spectacular but the exterior is absolutely worth visiting. It is located on top of a steep slope which you will have to walk uphill by foot for approximately 40 minutes. Alternatively you can sit comfortably in a horse carriage like a king or queen and be carried up closer to Neuschwanstein castle, after which you will still have to walk for approximately 15 minutes.The horse carriages run the whole year around.


Neuschwanstein is located near the beautiful Bavarian town Füssen about 120 kilometers from Munich and easily reachable by regional puplic transportation and by car. Be aware that you can't park directly at Neuschwanstein.

Neuschwanstein Castle Tour from Munich

You can visit Neuschwanstein castle only as part of a guided tour. The tour itself lasts about 30 minutes after which you can explore the castle by yourself. The castle tour costs 17,50 euros for adults and free for children (prices in 2023). If you buy a tour directly from Munich, it will be a bit more expensive but it will include the transportation and save you time on bus and train transfers. I highly recommend buying your ticket online in advance, in order to avoid standing in a huge line at the ticket counter.You should also check opening times at the official website and possible closings due to renovation.
After the tour make sure to hike (10 minutes) to the Marienbrücke where you can see the classic panorama of the castle. But be aware that it might be overcrowded during the high season in summer months.

Hohenschwangau Castle

Hohenschwangau castle is a 19th century castle and it used to be a summer residence of Bavarian Kings including Ludwig II and his father Maximilian. It is located walking distance from the famous Neuscwanstein castle and considered to be its sibling castle. Usually people visit both castles in one day because they are located very close to each other. Hohenschwangau castle was built on a hill above lake Alpsee. It has an alpine garden with plants gathered from all over the alps with beautiful views over the Alps and lake Alpsee. If you don't manage to go inside the castle, I highly recommend at least having a walk around its cute little garden with great views.


Linderhof Palace
Linderhof palace is another creation of Bavarian fairy tale king Ludwig II. It is one of 3 palaces built by King Ludwig II and the only one completed while he was still alive. The palace is surrounded by formal gardens and landscape gardens which are exquisite, so take the time to enjoy them. Another thing Linderhof palace is famous for is its Venus Grotto, the artificial dripstone cave with its lake and waterfall.The Venus Grotto features a "royal seat", a Lorelei rock and a gilt boat in the shape of a shell. Getting inside the Linderhof Palace is only possible as part of a guided tour. Tours with a maximum of 40 guests take place every 5-10 minutes. You can buy the tickets online or directly at the cash desk.The guided tours are in German and English and last about 25 minutes.

Herrenchiemsee Palace

Herrenchiemsee palace also known as "Bavarian Versailles" is one of the craziest and most expensive creations of King Ludwig II, constructed based on the model of Versaille. He admired King Louis XIV of France and decided to build his own version of Versaille. Unfortunately King Ludwig died while the place was incomplete and most sections of the Herrenchiemsee palace stayed unfinished.
The palace is located on Herreninsel, the largest island on beautiful lake Chiemsee of the most beautiful lakes near Munich. It is neighboring a smaller island, Fraueninsel, with its famous monastery . You can visit both islands in one day by boat which leaves regularly from Prien am Chiemsee. I highly recommend visiting both Herreninsel and Fraueninsel, and even taking a swim in the clean and refreshing waters of beautiful lake Chiemsee.


Burghausen

Burghausen castle is the longest castle in the world and it is over 1 kilometer long. It is located in a Bavarian town with the same name. Burghausen castle is built on top of a hill and has panoramic views overseeing the downtown and Salzach river. It is a typical medieval castle built in the 11th century with a rich history. To get to the castle from Burghausen old town, you need to walk up the hill a bit. The complex is divided into five large courtyards with their fortified walls, gates and towers.


Nymphenburg Palace

Nymphenburg is one of the largest palaces in Germany and one of the most important in Europe. It served as the summer residence of Bavarian Kings. The palace with its large royal park occupies a whopping 180-hectares, making it the second largest green area in Munich. It is one of the top attractions of Munich. You can even ride a gondola on the royal canals or have a royal coffee with a cake at a cute little cafe located in the heart of Nymphenburg park. I highly recommend it if you have enough time when visiting Munich.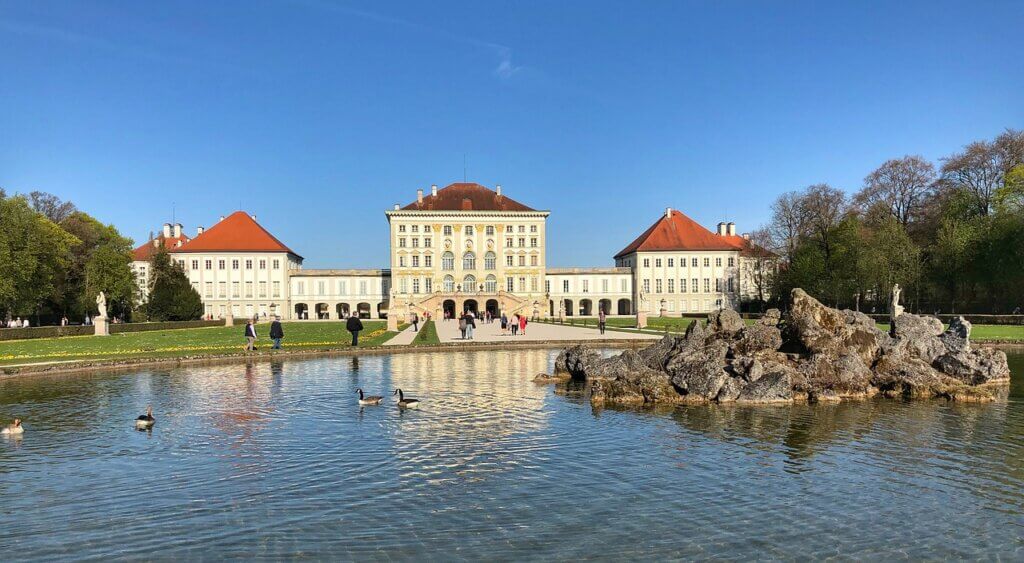 Munich Residence (Residenz)

Munich Residence is the largest city palace in Germany located directly at the heart of Munich in the city center. The palace served as the seat of the Bavarian government and residence of local royalty. Much of the Munich Residence was destroyed during World War II and later reconstructed. I highly recommend taking one of the free walking tours to learn more about beautiful corners of Munich Residence and some interesting facts. The palace is huge with 10 courtyards and 30 rooms and one of the largest museum complexes in Bavaria. It features the Residence Museum itself, the Treasury and the Cuvilliés Theatre.
Residence is surrounded by Hofgarten (Court Garden) where you can have a nice walk and even take a beer. Locals gather here sometimes to dance salsa or play some music.


Schleissheim Palace

Schleissheim palace comprises three individual palaces with extensive baroque gardens in Bavarian village Oberschleissheim in the outskirts of Munich. It is a hidden gem of Munich and mostly only known by locals. Schleissheim park with its pools, fountains and cascades is one of the most important baroque gardens in Europe. In summer you can even take a gondola ride on a canal of the court garden. Schleissheim palace was founded by Duke Wilhelm V of Bavaria in the 16th century and later became the summer residence of the Bavarian rulers of the House of Wittelsbach.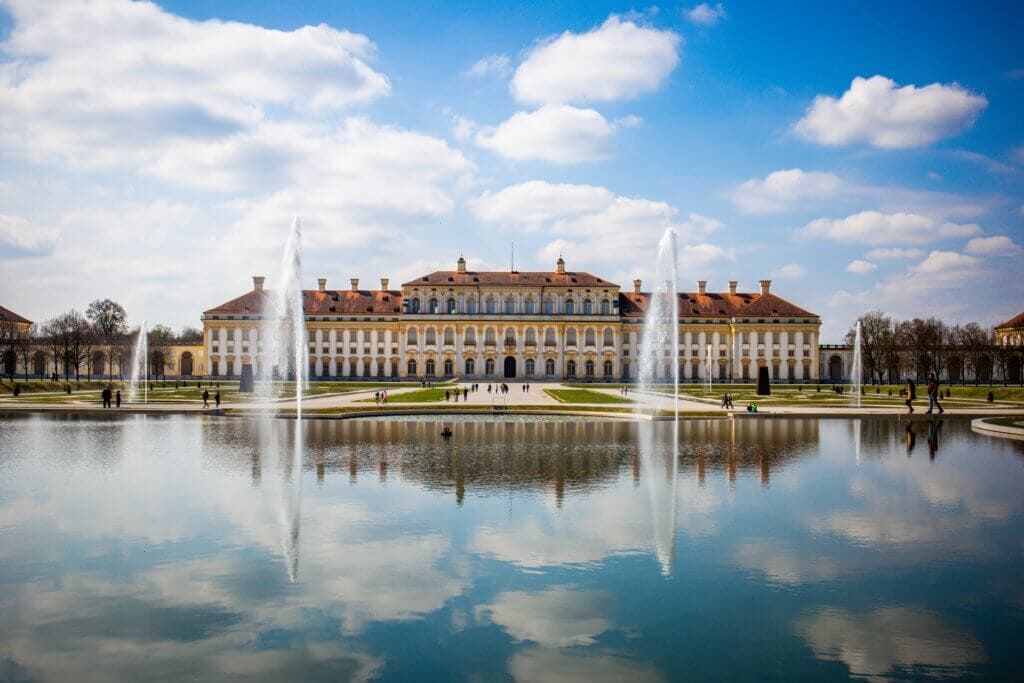 Nuremberg Castle

Nuremberg castle together with city walls is a medieval construction in the heart of Nuremberg, the second largest city in Bavaria. It represented the power and importance of the Holy Roman Empire and the big role the Imperial City of Nuremberg played during Roman times. For centuries the Nuremberg castle played an important role in European history and was a secure base and prestigious residence for the Roman Empire's head of state. From the observation platform of the Sinwell Tower at a height of 385 meters you can enjoy a panoramic view of the entire city of Nuremberg.


Hohensalzburg Castle

Hohensalzburg castle (germ. ""High salt castle"), located in Austrian city Salzburg, is a large medieval castle on top of a hill at an altitude of 506 m overlooking Salzburg and its surroundings. The fortress is 250 m (820 ft) long and 150 m (490 ft) wide making it one of the largest medieval castles in Europe. It is the most famous landmark of Salzburg and a major tourist attraction. In the medieval ages it was used by powerful bishops of Salzburg and later used as a prison during WWI. I highly recommend visiting Salzburg and its castle. It is definitely one of my favorites. Salzburg is easily reachable from Munich by regular regional trains and is one of the most popular day trips from Munich. You can definitely visit it in one day if you start early enough. The historic center of Salzburg was declared a UNESCO World Heritage Site and it is also the birthplace of Mozart.


Mirabell Palace

Mirabell palace is another top attraction in Salzburg. The palace and its gardens are listed as a cultural heritage monument and a UNESCO World Heritage SIte. The original name of the palace was "Altenau" which was later renamed to "Mirabell" (from Italian mirabile – "admirable" and bella – "beautiful"). In the 19th century when Salzburg was under Bavarian rule, the Mirabell palace became the residence of the Bavarian crown-prince. Did you know that the Marble Hall in Mirabell Palace is considered to be one of the most beautiful wedding halls in the world. So if you are looking for a romantic and exclusive place for your wedding, you can get married in Mirabell Palace and feel like a European royalty.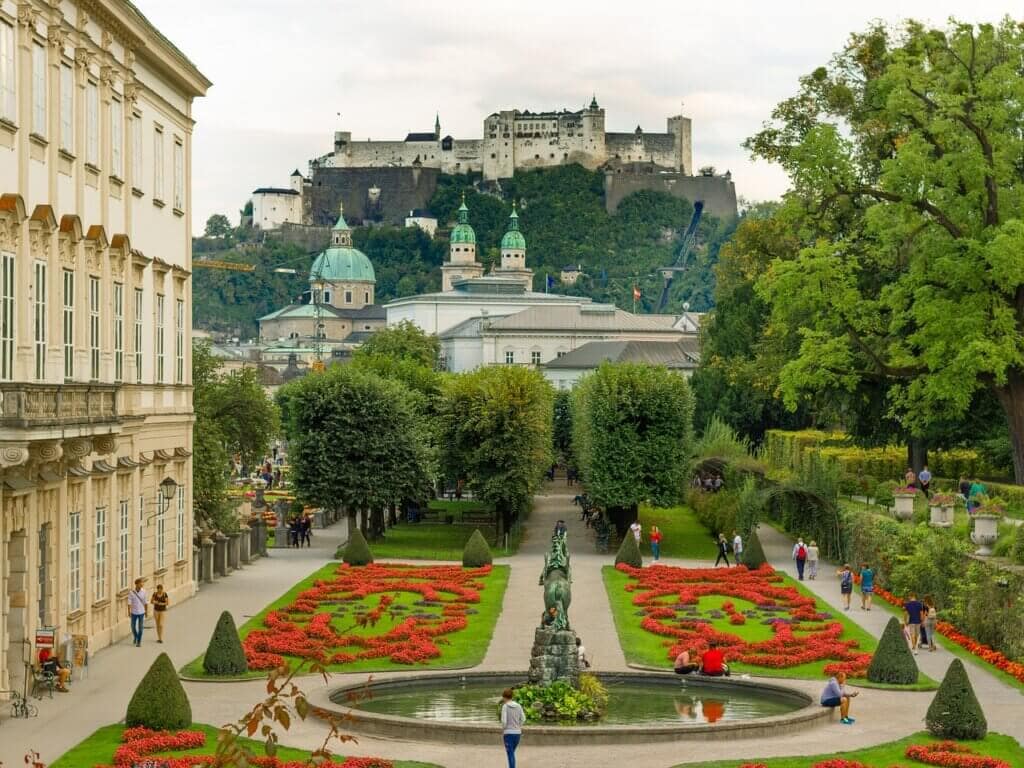 If you are staying longer in Salzburg or nearby area you can visit most famous national park in Germany, the Berchtesgaden National Park and Lake Königssee.
Conclusion
Munich has definitely a lot to offer when it comes to historical and cultural heritage. It is surrounded by world famous fairytale castles, beautiful gorges and the majestic Alps. I had the opportunity to live in this beautiful city for several years and explore the area. If you are thinking to move to Munich check my post about advantages and disadvantages of living in Munich.
Please follow and like us: