Castle Neuschwanstein from Munich Day Trip
Neuschwanstein Castle also known internationally as the Disney Castle or Cinderella's Castle, is one of the most popular day trips from Munich. It is one of the most iconic castles in the world. You can visit it from different cities in Germany, but taking a day trip to Neuschwanstein Castle from Munich is by far the easiest and most popular option. If you are staying in Munich for 2 days or more, you should definitely go to Neuschwanstein.
There are three ways to get from Munich to Neuschwanstein Castle. You can rent a car and drive there yourself. This will be by far the fastest and the most flexible option. If you don't want to drive yourself you can join a tour from Munich to Neuschwanstein or go there by public transportation. The letter is the cheapest option to get from Munich to the famous Disney Castle. If you take a train to Neuschwanstein you can save a lot of money, especially with my local tips which I will share below.
I have been several times to Neuschwanstein and learned a couple of tricks on how to skip the lines, save a few euros, and enjoy this fairytale castle in the best way possible. In this article, you will find detailed information about different options on how to get to Neuschwanstein Castle with pros and cons as well as a few useful tips.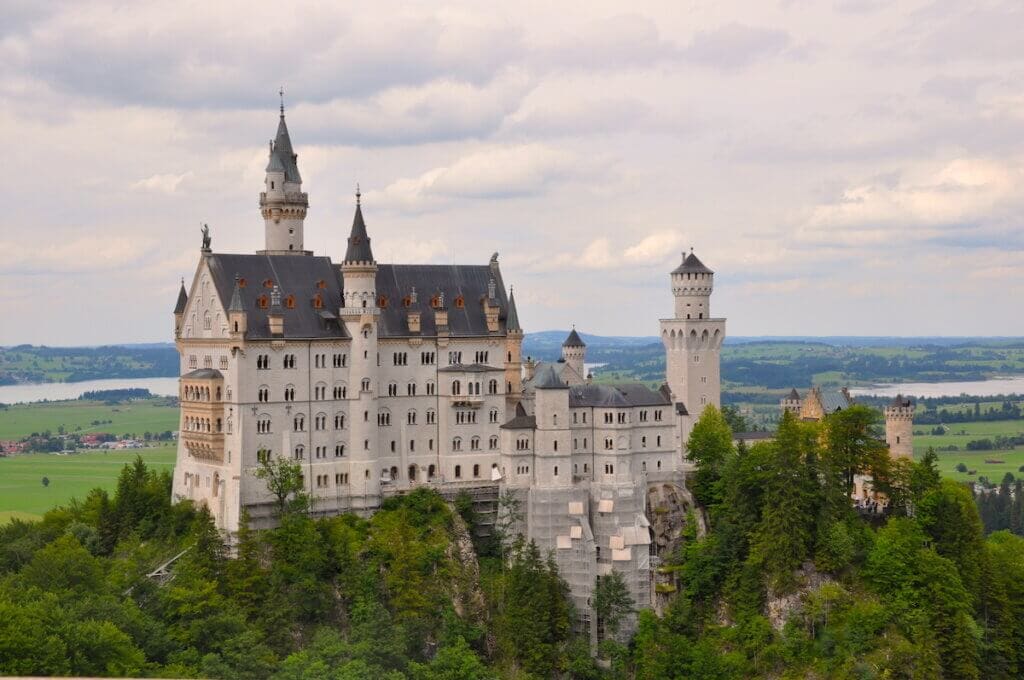 Distance from Munich to Neuschwanstein Castle

Figuring out how long it will take you to get from Munich to Neuschwanstein can be a deciding factor for planning your trip and choosing the right option suitable for you. The land distance from Munich to Neuschwanstein is 125 kilometers (77 miles). This is not the shortest but the fastest route via the autobahn ( German highway). If there is not much traffic jam on the roads, you can get there by car in about 1.5-2 hours. Going with public transportation on the other hand will take you 3-3.5 hours because of changing from train to bus plus waiting times. That's why I highly recommend starting your trip as early as possible and being prepared to spend a good part of the day on the road. There are some many things to do in Neuschwanstein that will keep you busy the whole day. After seeing Castle Neuschwanstein itself, you can visit neighboring Hohenschwangau Castle, walk around Alpsee Lake or hike to some nice waterfalls and viewpoints.
Munich to Neuschwanstein by car
Public transportation from Munich to the village where the Disney Castle is located takes a lot of time because there is no direct connection. That's why renting a car and driving to Neuschwanstein yourself can be a better option if you don't want to waste too much time on the way. The Castle is located on the hill in Hohenschwangau village. So you should set your navi to the direction of "Hohenschwangau" or you can also use the GPS coordinates 47.5576° N, 10.7498° E. Another advantage of taking a car is that you can make a few stops on the way such as Linderhof Palace which is considered to be another masterpiece built for King Ludwig the II of Bavaria. Bother Linderhof and Neuschwanstein belong to the most beautiful castles near Munich.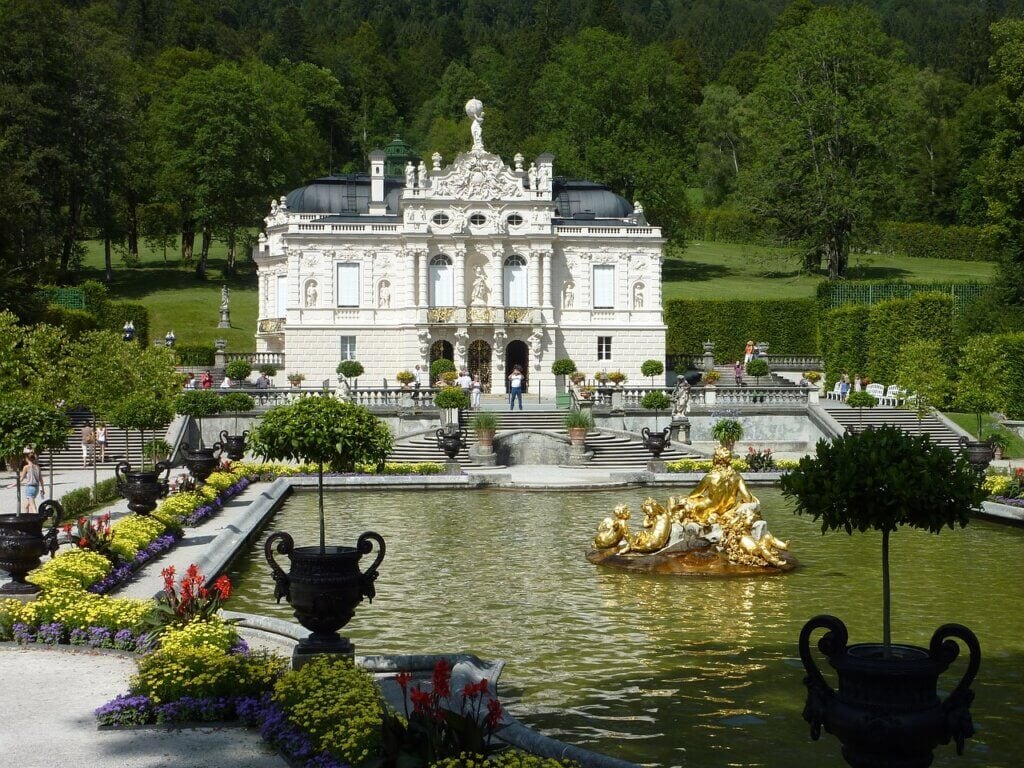 How is it to drive in Germany?

Driving in Germany is fairly easy and straightforward. The roads are well-marked and taken care of. Drivers stick to the rules and drive carefully. There are usually no speed limits on autobahns (highways) but inside the towns, it is usually a 30 km/h limit.
The route from Munich to Neuschwanstein

There are three main routes from Munich to direction Neuschwanstein: route 95, 96, and 17. Depending on the traffic situation your navigator will show you the fastest route. If you want to make a stop at Linderhof Palace or Lake Ammersee, take route 96 and then 17.
Renting a car in Munich

The most convenient option is to rent a car directly at Munich airport. At the arrival hall, you will find a stand with many rental providers. But if you want to save some money you can rent a car outside of Munich city and the airport in the surrounding towns. Often booking care rentals in advance and for more than just a day can save you some money too. It might be also worth checking and comparing a few rentals near your hotel.
Parking at Neuschwanstein
Once you arrive at Hohenschwangau village you will find 4 parking lots marked as P1, P2, P3, and P4. The parking fee for the whole day is 10 euros (price in 2023). There is no parking directly at the ticket office so you will have to walk a bit. Once you buy your tickets you will have to walk about 40 minutes uphill to get to the castle. If you don't want to walk that distance you can take a horse carriage or a shuttle bus. The details on each option you will find below. 
Munich to Neuschwanstein tours

The easiest option to visit Neuschwanstein is taking a day tour from Munich. There are many reputable tour operators offering this tour online. This way you will not have the stress of getting there, finding your way around, buying entrance tickets, etc. Make sure to choose a tour that offers a private transfer with a comfortable bus. Traveling by public transport is gonna take a much longer time and be stressful. Skipping this stress and traveling comfortably is usually the main point of booking a tour.
Which tour to chose
Many tour companies combine visiting Neuschwanstein and Linderhof castles on the same day. If you are short on time and want to see as many castles as possible, then that is the best option for you. If you have more time, it's better to visit Neuschwanstein and Linderhof separately. Each of these King Ludwig castles is worth taking a full day to explore. You can walk around the surrounding lakes and viewpoints. If you are not limited by budget, then taking a private tour might be the most flexible and comfortable option for you. You will be able to customize the tour according to your personal preferences and be able to travel without a large group.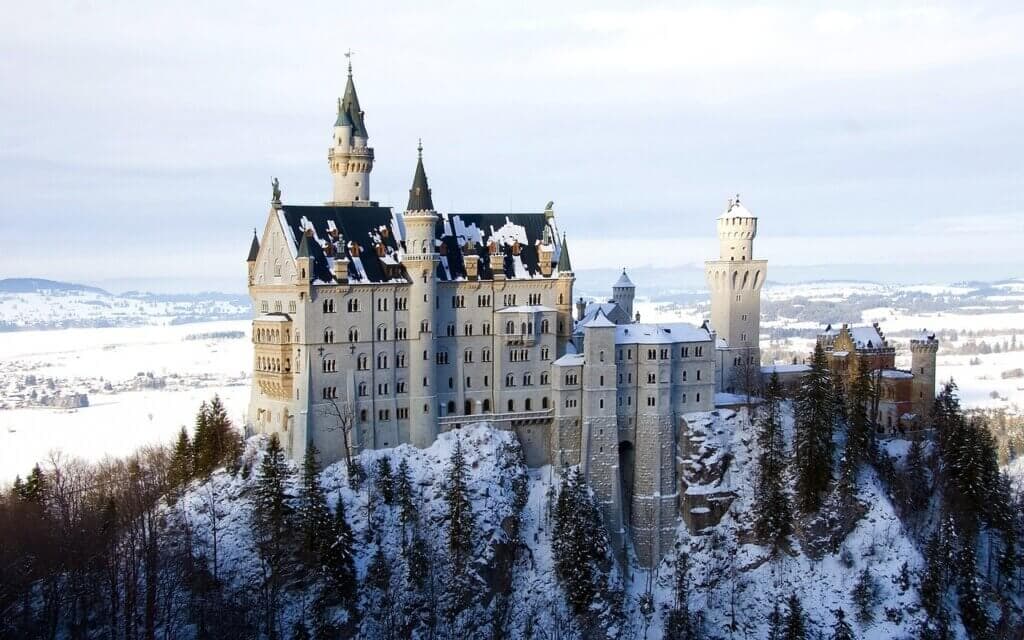 Munich to Neuschwanstein by public transport

Unfortunately, there are no direct trains going from Munich to Neuschwanstein. At some point, you will have to switch from a train to a bus. That's why the total travel time can take 3-3.5 hours. So if you opt for traveling by public transport, prepare for a long day. I have done this several times so it's totally doable.
Getting from Munich to Neuschwanstein Castle by Train & Bus

As mentioned earlier, unfortunately, there are no direct trains from Munich to Neuschwanstein Castle. You will need to take a train to a beautiful Bavarian town called Füssen. Then you need to get out of Füssen train station and go to the nearby bus station to catch a bus to Hohenschwangau village where Neuschwanstein is located. Unfortunately, there are only a few direct trains from Munich to Füssen per day so you might have to change trains in Buchloe or other train stations.
So how do you get from Munich to Neuschwanstein by train?
Step 1: Munich Main Train Station (Hbf) to Buchloe train station (train 1)
Step 2: Buchloe to Füssen train station (train 2)
Step 3: Bus 73 or 78 from Füssen to Neuschwanstein Castle, Schwangau (bus)
Step 4: Walk to the ticket office in Hohenschwangau
Step 2 can be skipped if you find a direct connection to Füssen. The bus stop in Füssen is just a 3-minute walk on the opposite side of the train station. Just follow the crowd. It's fairly easy to find. The bus goes every 30 minutes and takes about 10 minutes to reach the castle.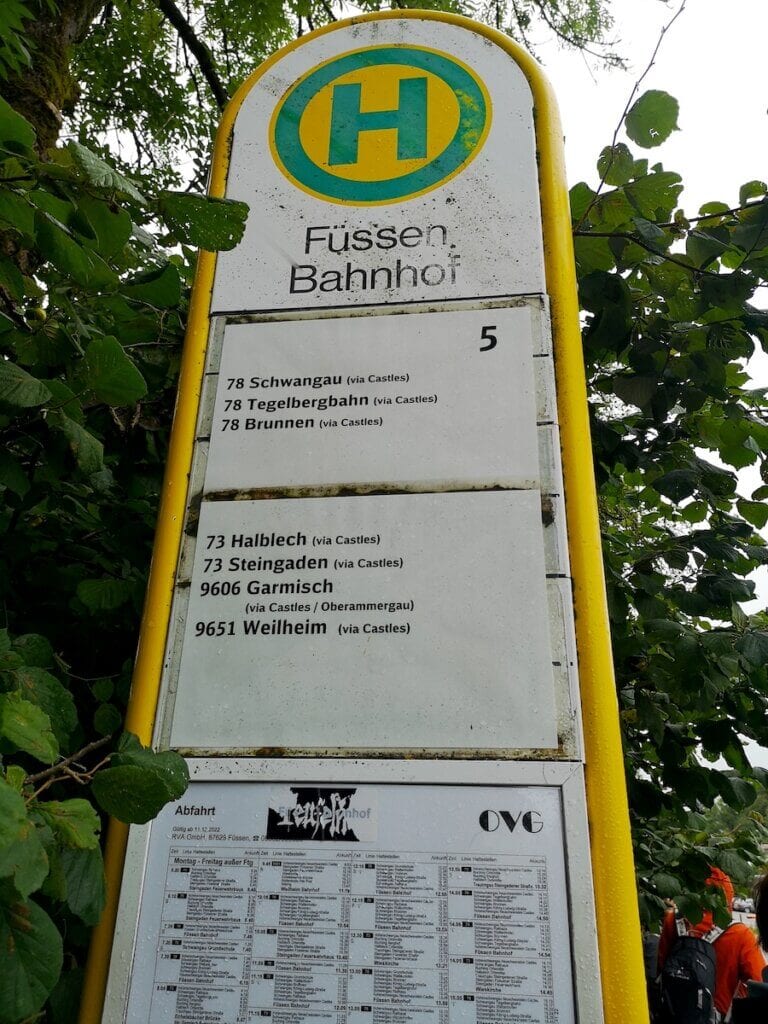 Insider Tip: I know German public transportation can be confusing sometimes. If you don't want to miss your connections and have an easier time getting around, download the official DB App. It is a free app which shows you the fastest connection to your destination. You can also buy your tickets on the App and store them online on your phone. If there are some delays, the DB App will warn you about it. In my experience, the screens in German train stations do not always show up-to-date information and delays are announced only in German.  
How to buy a train ticket from Munich to Neuschwanstein
If you want to save some money on tickets, the best option is to buy the Bayern Ticket. With this ticket, you can travel all over Bavaria in any direction with all kinds of transportation for one day. The ticket is only valid for regional trains and buses (excludes ICE fast trains and buses from private companies). Moreover, it is also valid for the subway (U-bahn), S Bahn, trams, and city buses. If you are traveling with a group, you can save even more money by sharing the ticket with a maximum of 5 people. The more people are sharing the ticket, the cheaper it gets.
The Bayern Ticket, at the time of writing, costs 27 euros for one person plus 8 euros for any additional person in the group. You can buy your Bayern Ticket online or on a vending machine in any train station in Bavaria. 
Step 1: Open DBB App or website
Step 2: Select "Tickets & offers" > "Regional Offers"
Step 3: Select "Regional day ticket for Bavaria"
Step 4. Select the number of passengers and pay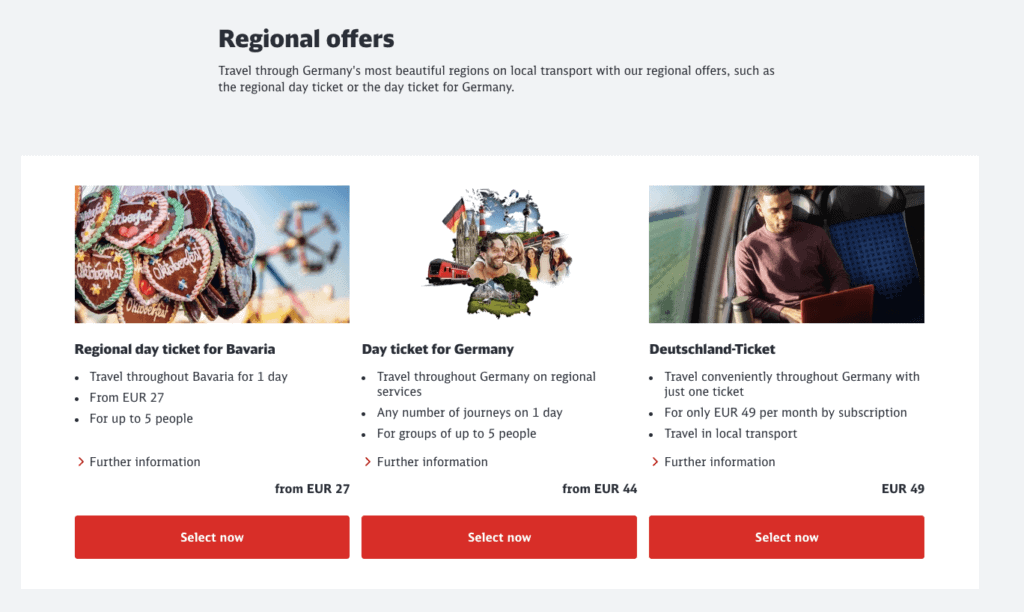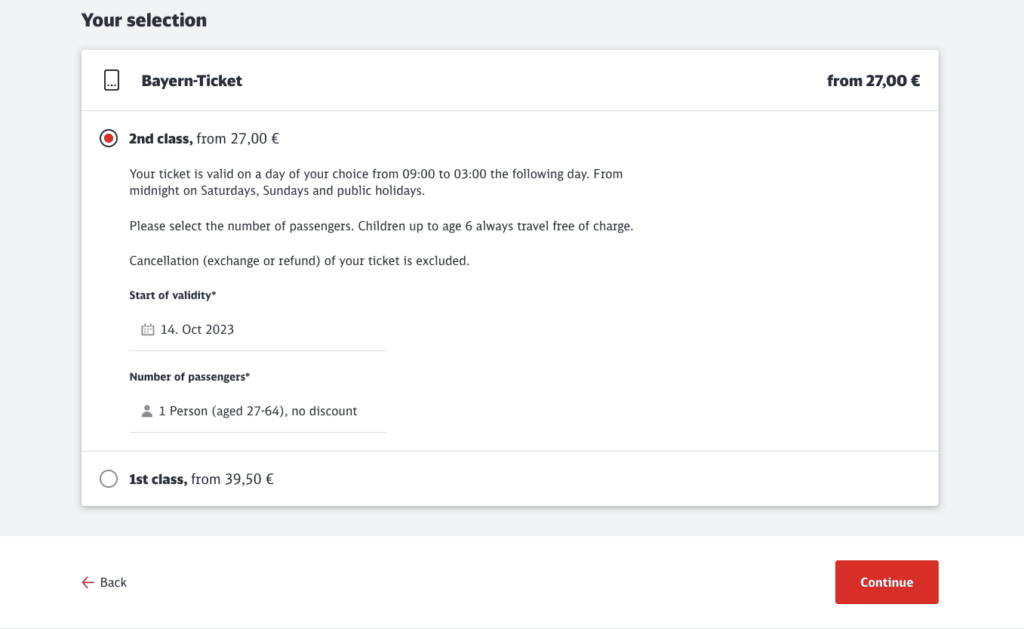 How to get to Hochenschwangau Castle
Hoheschwangau Castle is located in the same area just about 2 kilometers away from the Neuschwanstein castle. So basically you are going to take the same trains and buses to get there. It is located much closer to the ticket office and bus station. But I recommend first visiting the Neuschwanstein Castle, and then if you have enough time left you can visit Hohenschwangau Castle on the way back.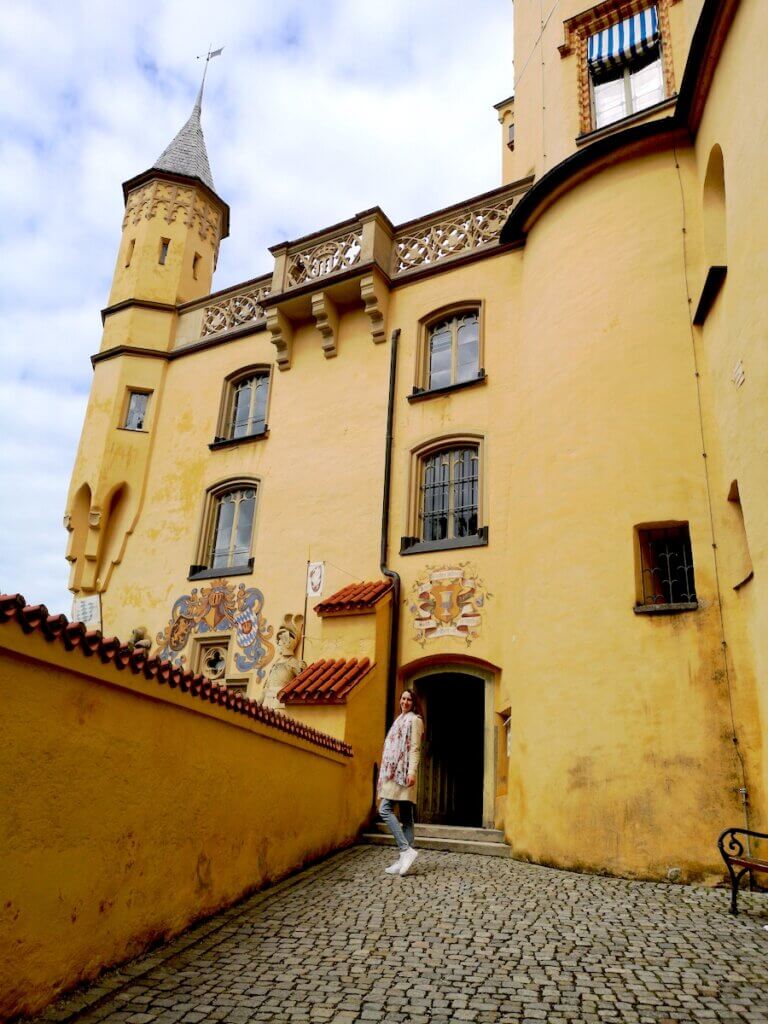 How to buy tickets to Neuschwanstein Castle

There are two ways to buy entrance tickets to Neuschwanstein and Hohenschwangau castles. You can either buy it directly at the ticket office or online. I highly recommend buying your tickets in advance, especially during the high season between May to October. Neuschwanstein Castle is a very popular destination in Germany and entrance tickets are sold out fast. You can reserve your tickets online on the official site.
Tip: How to skip the line at Neuschwanstein Castle

Even if you purchase your ticket online, you still have to validate it in the ticket office. It's very important to know that you have to validate it 1.5 hours before the start of your tour. The line for validating a ticket is shorter than for buying a ticket. If you want to skip waiting in lines together, better to visit Neuschwanstein Castle during the main season. In winter and autumn, Neuschwanstein can be even more beautiful than in summer.
Do you really need a ticket to visit Neuschwanstein?

If you didn't manage to buy the entrance ticket or a guided tour to visit the Neuschwanstein Castle in advance, it is still totally worth going there. Walking around the castle and visiting the best viewpoints is totally free. You can do several nice hikes in the area. Honestly, walking inside the castle was not so special for me. I found it to be more fascinating from the outside than inside. But of course, if you want to learn more about the history of the famous Disney Castle and Kind Ludwing the II, you should try to book a guided tour.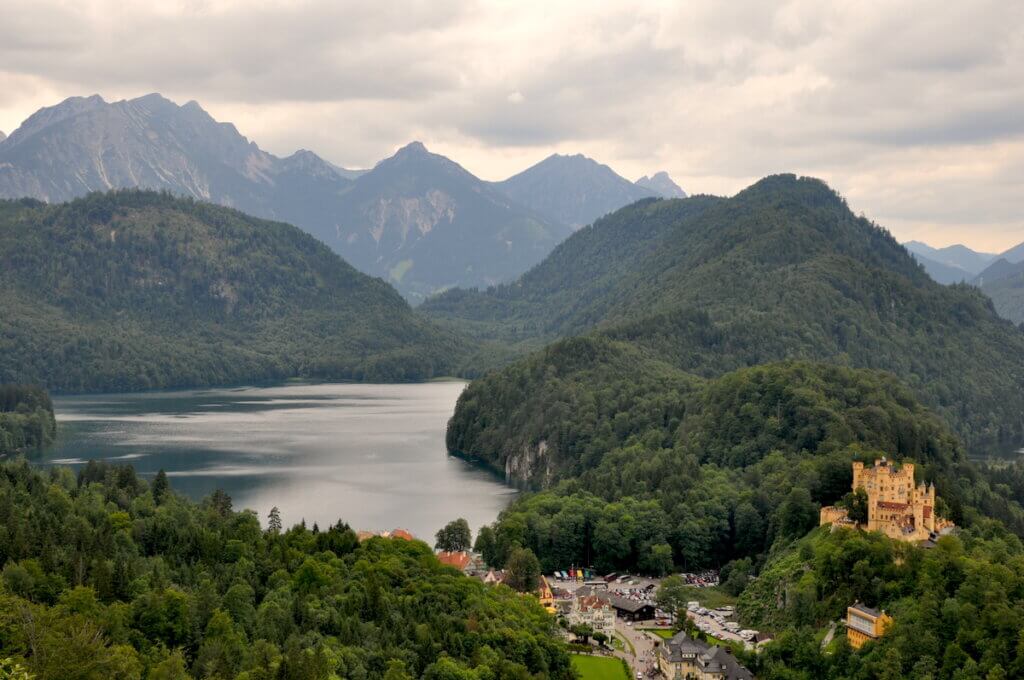 Walking up to Neuschwanstein Castle from the ticket office
There are three ways to get from the ticket office or parking to Neuschwanstein Castle.
Option 1: Walking
Walking time to Hohenschwangau Castle is about 20-30 minutes and to Neuschwanstein Castle is about 40 minutes. If you plan your time well you can visit both castles in one day.
Option 2: Horse Carriage
Probably the most romantic way to go up to the Disney castle is by horse carriage. If you turn on your imagination you can easily be teleported to the past and imagine yourself being the king or the queen of Bavaria on the way to your fairytale castle. The carriage ride is about 15-20 minutes. It cost 5,5 euros to go up and 3 euros to go down. You will pay directly to the carriage driver. The carriage will stop below the castles so you will have to walk a bit. 
Option 3: Shuttlebus
The shuttlebus goes every 20 minutes and the ticket for the one way is 3 euros and for both ways 3.5 euros. It starts from the parking lot P4. You can buy your tickets at the ticket shop or directly from the bus driver. Unfortunately, the popular Bavarian Ticket and Deutschland Ticket are not valid for this shuttle bus. It is important to know that the shuttle bus doesn't stop directly at the Neuschwanstein castle but a view hundred meters below it. You will have to walk approximately 10-15 minutes to reach the castle from the final bus stop. On the way you can stop for a nice viewpoint called "Jugend".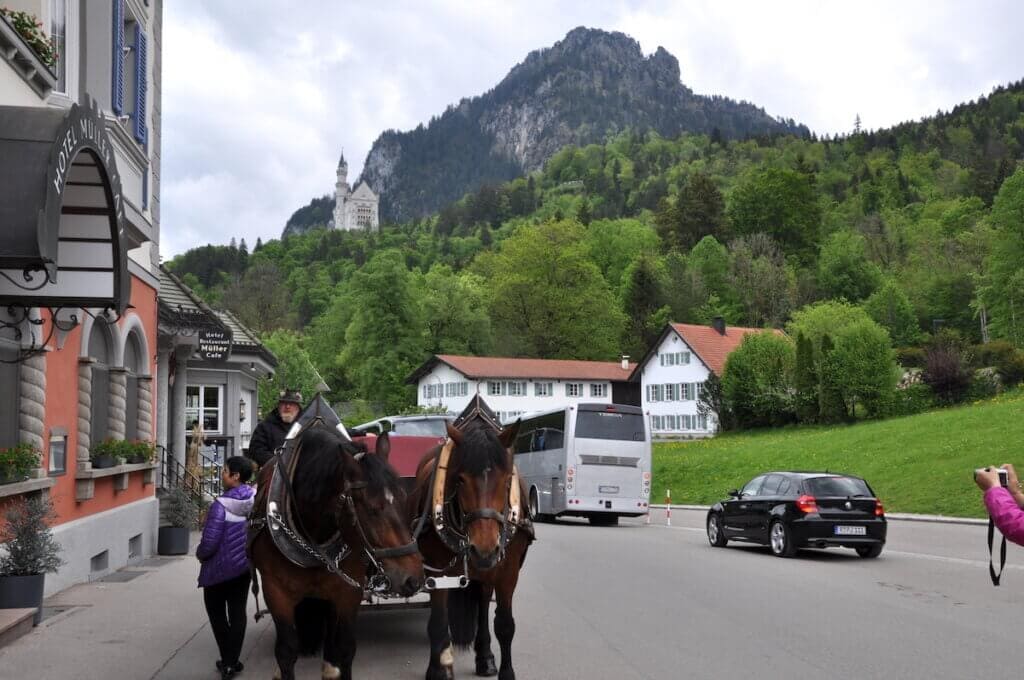 Conclusion

There are 3 options to get from Munich to Neuschwanstein Castle, each having its own advantages and disadvantages. So it's up to you which option you will choose. The most flexible and fastest option is renting a car. Driving in Germany is very safe and easy. The second, and most popular option, is taking public transport from Munich to Neuschwanstein. This option is also the longest, as it will take you 3-3.5 hours to get there. Third and the most convenient option for visiting Neuschwanstein Castle from Munich is booking a tour. The advantage of this option is that everything will be arranged for you plus you will have the option to visit another famous Bavarian Castle, the Linderhof Palace.

FAQ
Is it Worth Going to Neuschwanstein Castle from Munich?
Neuschwanstein Castle is one the most beautiful fairytale castles in Germany and the most popular day-trip destination from Munich. It is absolutely worth visiting especially during the low tourist season in Autumn and Winter.
How Much Time You Should Spend at Neuschwanstein Castle?
While the official tour inside the castle lasts about 30 minutes, you will need at least 4-5 hours to explore the exterior of the castle and walk to the main viewpoints. You should plan additional time if you also want to visit the Hochenschwangau Castle. The tour inside Hochenschwangau is about 45 minutes.
Is it worth going inside Neuschwanstein Castle?
The tickets for Neuschwanstein Castle are often sold out fast. So you will have to purchase them in advance during the high season. But don't worry, if you didn't manage to book your ticket in advance it is still worth visiting this fairytale castle. Many visitors, including myself, consider Neuschwanstein to be much more beautiful from the outside than inside. Plus you can go to all the viewpoints for some nice pictures absolutely for free.
More Day Trips from Munich
How to visit Partnach Gorge from Munich
Munich to Lake Eibsee and Zugspitze
Day trip to Berchtesgaden National Park
Ultimate guide to hiking near Munich
Day trip from Munich to Starnberg
Please follow and like us: