Munich vs Berlin: Best German City
Germany is one of the most visited countries in Europe due to its rich culture and history. It is also one of the top destinations in Europe and in the world for qualified expats due to its economic strength and abundance of jobs in engineering and technology.  Both Berlin and Munich are the most popular German cities for living and traveling. Berlin is the capital of Germany while Munich is the capital of Bavaria, the largest state in Germany and the birthplace of Oktoberfest, the largest beer festival in the world. I can imagine that it can be hard to choose which city to visit, Munich or Berlin. It can be even harder to choose if you want to live in Munich vs Berlin. That's why I have created a comprehensive guide with pros and cons when choosing Munich or Berlin based on my experience. I will discuss which city you should visit as a first-time visitor. Then we will talk about how to choose which city you should move to live in based on the cost of living, employment, safety, and other important criteria. And finally, we will talk about which of the two top German cities is better if you decide to come to Germany to study. I hope you will find it useful. Let's first go through the main differences between Munich and Berlin.
Munich vs Berlin Main Differences
The North and South of Germany are very different both culturally and historically. Munich and Bavaria are culturally and historically closer to Austria rather than northern Germany including Berlin. Even the Bavarian dialect is so different from high German (Hochdeutsch) which most Berliners speak, that people from Munich and Berlin have a very difficult time understanding each other. They also often make jokes about each other. Berlin generally has a more laid-back and open culture, while Munich has a more work-oriented and conservative vibe. In Munich, it is very important to demonstrate material success and social status compared to Berlin. This phenomenon is easily explainable by the fact that Munich is the richest city in Germany and it attracts wealthy German families and qualified expats with high-earning potential. Berlin for many years has been divided between East and West Germany and didn't get the investments that Munich got.
Munich vs Berlin: Location and Geography
Munich is located in the south-west of Germany close to the Austrian, Swiss, and Italian border. Whereas Berlin is located in northwest Germany close to the Polish and Czech border.

Munich vs Berlin for Safety
The crime rate in Berlin is much higher than in Munich. The city has a lot of problems with drugs and drug addicts, but violent crime including murder is not so common. Both Munich and Berlin are generally safe for most visitors. The most common issues that tourists experience include pickpocketing and scammers who are mainly active in crowded popular areas. If you practice common sense and be careful, then having any problems is unlikely.

Areas and districts to avoid in Berlin at night include but are not limited to Neukölln, Friedrichshain-Kreuzberg, and Alexanderplatz.

There are no areas or districts that are particularly dangerous in Munich, but the area around the Munich Central Train Station is pretty unpleasant with a lot of drunk people on weekends.
Conclusion: Munich is generally safer than Berlin both for visiting and living.
Munich vs Berlin for Tourism
Both Munich and Berlin are popular travel destinations in Germany, attracting millions of visitors every year. Munich is known for Oktoberfest, the largest beer festival in the world, traditional Bavarian costumes (Lederhosen and Dirndl), beer gardens, its old town, fairytale castles, BMW museum, and its proximity to the Alps and beautiful lakes. Berlin, on the other hand, is a much younger city than Munich and suffered a lot during and after WWII. You can still find the remains of the Berlin Wall as a reminder of the city's history. Berlin is the capital of Germany where the Bundestag is located. It is open to visitors and I highly recommend visiting it. Other attractions of Berlin are the Brandenburg Gate, the famous Museum Island, and the TV tower on Alexanderplatz.

If you have enough time, I recommend visiting both Berlin and Munich as they are completely different cities and both have a lot to offer. You can start by staying a couple of days in Munich, and then continuing to Berlin. It is very easy to get from Munich to Berlin and below I will explain how and provide step-by-step instructions.
How to Get from Munich to Berlin

The distance between Munich and Berlin is around 590 kilometers. The fastest and the most convenient option to go to Berlin from Munich is by taking a high-speed train. Not only you will have a scenic ride from the south to the north passing by beautiful landscapes and cities like Nuremberg and Bamberg but you also will have a very comfortable hassle-free 4-hour ride on a modern high-speed train called ICE. The train leaves daily once an hour from Munich Main Train Station. I recommend buying your tickets online beforehand in order to get the best possible price.
Munich vs Berlin for Living
Munich is a very clean, safe, and expensive major city in Germany and is frequently listed as one of the most liveable cities in the world. It has a lot of green space, well-connected public transportation, good healthcare, and opportunities for career and education. You can check my detailed post about the advantages and disadvantages of living in Munich if you want to know more and decide if Munich is the right choice for you.
Berlin is a very liberal and vibrant city. After the Unification of Germany in 1989 Berlin became a popular place for artists, musicians, free thinkers, and expats and one of the most international cities in Germany.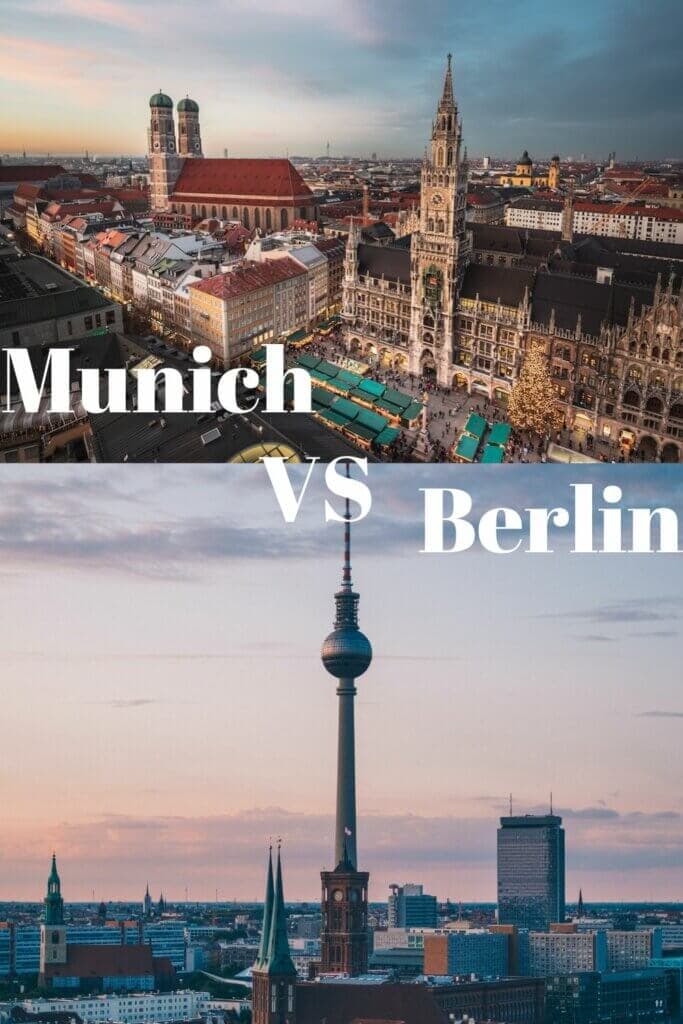 Munich vs Berlin Cost of Living
According to Numbeo a family of four estimated monthly costs in Berlin are 3,404.2€ and a single person would need around 1,015.7€ (both without rent). While the average (median) monthly salary in Berlin after tax is around 3050 euros.
In Munich, a family of four estimated monthly costs are 3,572.8€, and a single person estimated monthly costs are 1,041.0€ (both without rent). The average median net salary in Munich is 3440 euros.
Average rent prices in Berlin are 6% lower than in Munich while restaurant prices are on average 14% lower. However, it is still possible to find very cheap apartments in Berlin, while in Munich it is only possible if you get support from the government. Also buying real estate in Munich will be at least 50% more expensive than in Berlin.
Overall if you manage to get a good paying job in Berlin you can afford to buy more things compared to Munich and have a higher standard of living.
Conclusion: In terms of the Cost of Living Berlin is much cheaper than Munich both for living and visiting as a tourist.

Munich vs Berlin for Raising a Family
As I mentioned earlier, Berlin has a serious problem with crimes related to drugs. There are also many poor districts and robbery is quite common. That being said, there are also some nice areas and districts to raise a young family in Berlin such as Tempelhof-Schöneberg, Charlottenburg, and Prenzlauer Berg. Berliners are generally child-friendly and it is relatively easy to raise a family here.
Munich, on the other hand, is safer and cleaner than Berlin and has a lot of green areas and world-class universities. But this comes with a high cost of living and limited options for child care. Attractions such as Munich Zoo and Sea Life Aquarium are popular among young families in Munich and tourists with kids.
Conclusion: For raising a family, Munich is a better city than Berlin if you can afford it.

Munich vs Berlin for Employment
Munich is home to large and famous German and international corporations such as BMW, Siemens, Allianz, Google, Microsoft, etc. If you are an expert in technology or engineering, then you will have no problem finding a job in Munich and building a career. However, many companies in Munich, especially traditional and conservative ones, still require candidates to speak fluent German. So it might be easier for you to first try applying to international companies or finding an English-speaking position.

Berlin is the startup hub of Germany and Europe. It attracts founders and investors from all over the world. The creative and liberal atmosphere undoubtedly plays its role in making Berlin a hub for startups and creative minds.

Conclusion: For employment and career both Munich and Berlin are great cities. Munich is a better choice if you want to work for a large corporation, whereas Berlin is a better choice if you are eager to start a startup.

Munich vs Berlin for Entertainment & Nightlife
Berlin is a much larger city than Munich and of course, it has more nightclubs and entertainment than Munich. The night scene stays relatively constant and doesn't change a lot in Munich while in Berlin almost every week a new club or bar pops up. Berlin is less conservative and has a younger population than Munich. Many clubs and bars in Munich are quite fancy while the nightlife in Berlin is much more casual. You won't find crazy naked parties in Munich similar to the ones in Berlin. There is a party every day in Berlin, while in Munich mostly only on Friday or Saturday night.
Conclusion: Berlin has more entertainment and vivid nightlife compared to Munich.
Munich vs Berlin for Culture
The Bavarian State Opera in Munich is listed as one of the top 10 operas in the world. Munich is world famous for classical music. There are also many theaters in Munich, every corner of Munich literally has a theater.
Berlin on the other hand with its Berlin Philharmonic Theater hosts some of the most famous orchestras in the world.
Both cities have world-class museums and galleries, Berlin being a bit more open to contemporary art and street art.
Conclusion: Munich overall is a better choice if classical music, operas, churches, and palaces are important to you.
Munich vs Berlin for Students
Munich has numerous world-class universities and research centers. Two universities in Munich, LMU and TUM, have been consistently ranked as top universities in Germany and worldwide. TUM is the number one university in Germany followed by LMU. Both universities are ranked among the top universities in the world. The city puts a lot of emphasis on research and education especially in STEM fields so if you or your child is interested in studying those fields, then Munich is the best city in Germany for that.
Berlin also puts a lot of emphasis on education. The top universities in Berlin are the Humboldt University of Berlin, the Free University of Berlin, and the Technical University.
Conclusion: Munich is better for students than Berlin.
Please follow and like us: