Ultimate Guide to Lake Starnberg
Lake Starnberg (Starbergersee) Overview
Lake Starnberg (germ. Starnbergersee) is the second largest lake in Bavaria and one of the largest lakes in Germany. The length of lake Starnberg is about 20.2 km (12.6 mi) and the deepest point is at 127.8 m (419 ft). It is one of the favorite lakes of German elite and royal families. It is associated with the King Ludwig II and Wittelsbach royal family, that's why lake Starnberg is also called Fürstensee (Prince's Lake).

How to get to Lake Starnberg from Munich
Lake Starnberg is situated about 27 Kilometers from Munich Center and is easily reachable by public transportation. Main stations on lake Starnberg are Starnberg, Possenhofen and Tutzing.

Munich to Starnberg By Car
Lake Starnberg is easily accessible from Munich by car. The journey will take about 30-40 minutes depending on the traffic. There are many parking lots at lake Starnberg. Most of the parking spaces are located close to the town of Starnberg. One hour of parking will cost you 1,50 euros.

Munich to Starnberg By Train
There are regular trains called S Bahn in German, going to different towns on lake Starnberg. From Munich Central or East Station you can take train S6 towards Tutzing. It goes every 20 minutes from Munich to Starnberg. The journey takes about 30 minutes (shorter if you start from south of Munich). Be aware that with the train you can go only to Tutzing. If you want to go to the very south of lake Starnberg you need to go either by car or take a ferry.

Munich to Starnberg By Bicycle
Another way to go to Starnberg from Munich is by bicycle. It is one of the favorite ways for locals to get to the lake in summer. From south of Munich it will take you only one hour to get to lake Starnberg by bicycle.

Can you Swim in Lake Starnberg ?
Lake Starnberg is one of the favorite lakes of locals and tourists. Many people come here to take a refreshing swim on a hot summer day. With a shore length of about 49 kilometers and a depth of up to 128 meters, it offers a lot of beaches to relax and sunbathe.

Public Beaches in Lake Starnberg
Most of the beaches at lake Starnberg are private property, but there are enough beaches available for the public for free. The largest public beach at lake Starnberg is located at Percha about 3 kilometers walking distance from Starnberg train station.Other popular public beaches are located at Possenhofen, Tutzing, Seehaupt and Berg. Best Things To Do in Lake Starnberg(Starnbergersee).

Related Articles
Most Beautiful Lakes in Bavaria
Lake Eibsee at Zugspitze
Lake Königsee and Berchtesgaden National Park

Best Things to do on Lake Starnberg
Boat Tour on Lake Starnberg
One of the best ways to explore lake Starnberg is by boat. There are regular boat tours available which will take you to the main cities at the lake. Before you plan your boat tour, you should check the timetable and availability. There are four types of tours available with prices ranging between 12,60 and 24,20 euros.
Sailing on Lake Starnberg
Sailing is one of the main activities on lake Starnberg. On a sunny summer day, you will see a lot of sailing boats and catamarans on the lake. You can rent a sailing boat directly at the lake.There are various boat rentals in Starnberg, Tutzing, Seeshaupt and Berg.

Standup Paddling (SUP) on Lake Starnberg
Stand up paddling(SUP) is a very popular activity on lake Starnberg. To avoid the crowds, I recommended coming here during the week. There are various locations for stand up paddle board rental and lessons. One of the popular rentals is the SUP club at Seebad, 10 minutes walking from the Starnberg Train Station. The prices for board rentals may vary, but you can expect to pay around 16 euros per hour for the board rental. The SUP club is open between May and September. If you want to come here out of the main season, you should bring your own paddle board and neoprene suit.

Standup Paddling on Lake Starnberg
Hiking around Lake Starnberg
Another popular activity is hiking around lake Starnberg. My favorite hiking route is hiking from Tutzing to Starnberg. The route is 12 kilometers and will take you about 2.30-3 hours to complete. It is a very panoramic hike and you can alway sit at the lake to enjoy the view.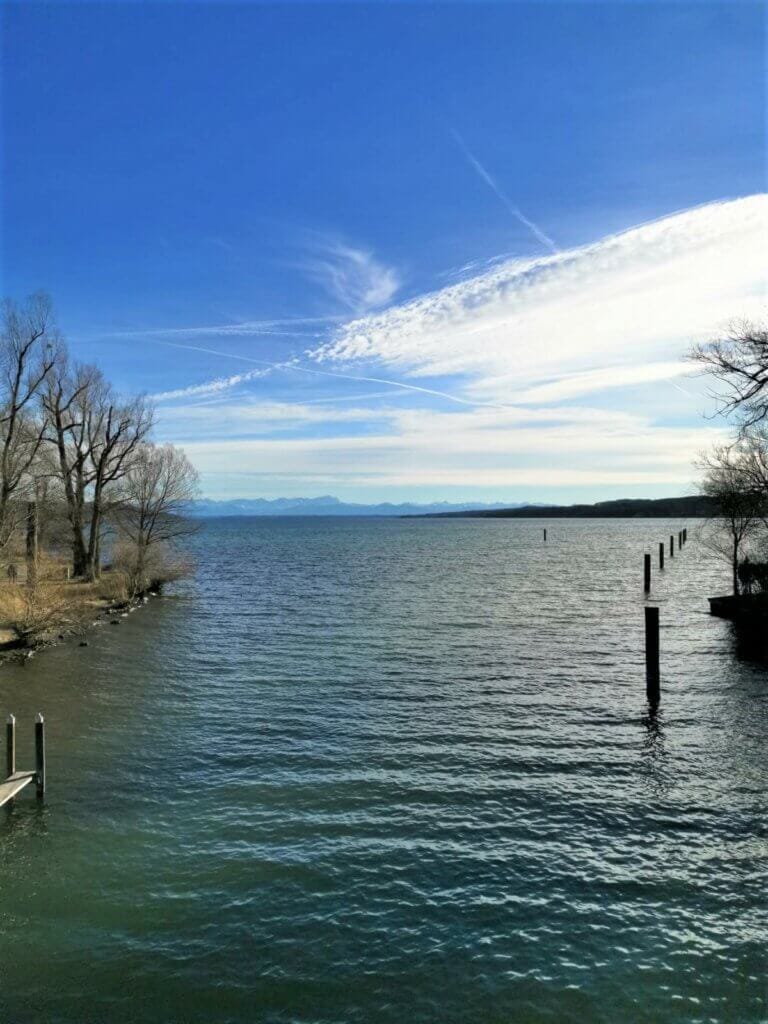 Having a Barbeque on Lake Starnberg
Having barbeque on lake Starnberg is generally not allowed except special barbeque zones (ger. Freizeitgelände ). On the western side of the lake close to the train station Possenhofen, you can find a relaxation zone called "Paradies" at PossenhofenIn the south of the lake Starnberg, you will find another barbeque zone at Ammerland.

Spa and Wellness on Lake Starnberg
Lake Starnberg is a popular recreational destination. Its SPA and Wellness center is very popular among locals and visitors.It is located directly in the town of Starnberg. It has a 45 meter long indoor pool, saunas, private beach and outdoor pools.

Rose Island, King Ludwig II and Bavarian Royalty
Despite its size, lake Starnberg has only one island. This island is called Rose island and it is famous for the royal villa of Bavarian fairytale King Ludwig II and it was declared a UNESCO world heritage site. Rose island has a beautiful rose garden. Roses blossom here usually in the mid of June and mid of August.Lake Starnberg is famous for the tragic death of Bavarian King Ludwig II who drowned under mysterious circumstances near the village of Berg.

Lake Starnberg Castles
There are several castles and palaces around lake Starnberg but they are not particularly beautiful or impressive compared to other famous Bavarian castles near Munich. Empress Elisabeth of Austria (Sisi) spent a large part of her childhood at Possenhofen Castle. Berg palace was a residence of King Ludwig II. Today it is the residence of Franz, Duke of Bavaria.

Best Restaurants and Cafes at Lake Starnberg
There are many great cafes and restaurants near lake Starnberg. My absolute favorite is Hugo's Udosa Italian restaurant and beach club. I love their truffle Pizzas and the atmosphere. I also love their white and latino parties in summer. Next to Hugo's beach club is a nice cafe with great cakes and ice cream.If you like fish and sushi, then Fisherman's Sushi and Bar will be a great choice for you.
Best Time to go to Lake Starnberg
Lake Starnberg is a great place to relax all year round. However, if you want to go swimming in the lake, then summer is the best time to do that, when water temperature gets a bit warmer. For hiking and cycling, spring and autumn are a better option when it is not too hot.
Please follow and like us: