How to Get From Petra to Wadi Rum
Both Petra and Wadi Rum are must-see attractions in Jordan. Petra is an ancient city carved into the rocks and one of the new 7 wonders of the world, while Wadi Rum is one of the most iconic and majestic deserts in the world. If you arrive in Amman you will probably first visit Petra before heading towards Wadi Rum to the south. The good news is that getting from Petra to Wadi Rum is very easy. You can either take a bus, rent a car, book a private transfer or simply take a tour. Let's discuss each option in more detail.
Petra to Wadi Rum General Information

Distance from Petra to Wadi Rum is about 112 kilometers. Driving time is about 2 hours. Petra is situated between Amman and Wadi Rum, so when planning your Jordan itinerary you should first visit Petra and then continue to the south to Wadi Rum and eventually to Aqaba.
Getting from Petra to Wadi Rum

Petra to Wadi Rum by Car

If you are comfortable driving yourself, then renting a car is a very popular and the most flexible way to travel in Jordan. You can rent a car and drive from Petra to Wadi Rum easily. The ride will take approximately 2 hours on a scenic road along the King's and Desert Highways toward Wadi Rum. Along the way you can stop to stretch your legs, buy some souvenirs or grab a local snack. There is not much traffic on the roads of Jordan (except in Amman or Aqaba), so driving should be fairly easy. However, be aware that roads are partially destroyed in some places and not very clean so I don't recommend driving fast there for your own safety.
Renting a car in Jordan is fairly affordable, ranging from 30-46 JD (approximately 40-65 USD) depending on the season. Drivers need to be at least 21 years old and have an International Drivers' License.
Rental cars are not allowed in the Wadi Rum Protected Area. You will have to leave them at Wadi Rum Visitor Center and take a 4×4 Jeep with a guide to your camp in the desert or take a tour.

Petra to Wadi Rum by Bus
Taking a bus is the least comfortable way to travel from Petra to Wadi Rum. If you are in a group of 3-4 people, then taking a taxi might be a cheaper and much more comfortable option for you. However if you are traveling alone on a budget and have enough time, then taking a bus might be the right option for you. Luckily there are 3 options to travel from Petra to Wadi Rum by bus.

Option 1: Local Bus
You can take a local bus leaving from Petra once a day very early in the morning around 06:00 o'clock and arrive at Wadi Rum village. It will cost you about 7-10 JD and will take about 2.30-3:00 hours. You should ask your hotel or information center for the seat reservation and departure location, because local buses get full very quickly. Please be aware that this bus is not very reliable, leaving or arriving on time is not guaranteed because the bus leaves only when all the seats are fully occupied. Be aware that you might be asked to pay extra for a large bag and there is no air-conditioning.

Option 2: JETT Bus
Another more reliable and comfortable option is taking a JETT bus (Jordan Express Tourist Transportation) leaving from Petra Visitor Center to Wadi Rum Visitor Center once a day at 5:00 pm. It will cost you 15 JD and take about 1.5-2 hours. The JETT buses are modern buses with comfortable seats, air-conditioning, and bathrooms. The only disadvantage of taking a JETT bus is that you will arrive only in the evening to Wadi Rum.
Option 3: Detour via Aqaba

The third and last option to travel to Wadi Rum from Petra, is first taking a bus to Aqaba and then another bus from Aqaba to Wadi Rum. The distance from Wadi Rum to Aqaba is about 60 kilometers. The bus from Petra to Aqaba leaves once a day at 17:00 o'clock. You can spend 1-2 days in Aqaba and then go to Wadi Rum or the other way around. I highly recommend spending 1-2 days in Aqaba to refresh and go snorkeling in the red sea after sweating in the dusty desert. There is one JETT bus going from Aqaba to Wadi Rum daily at 8:00 am in the morning and takes about 1 hour.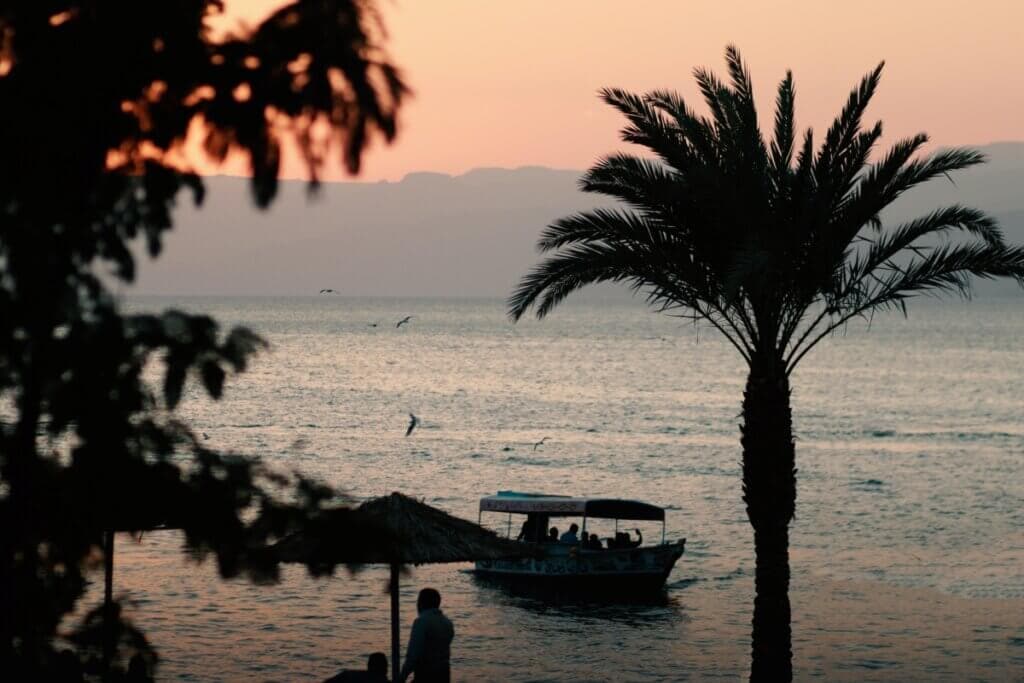 Related Posts
Best hiking trails in Petra
Wadi Rum 2 days itinerary
Petra to Wadi Rum by Taxi
Taking a taxi or a private transfer is a more comfortable option to travel from Amman to Wadi Rum. There are many taxes available at Wadi Musa. You can either pre-arrange a taxi with your hotel or catch one directly on the road or from Petra Visitor Center. Hotels sometimes charge extra for the service so you might consider the option of arranging a taxi by yourself and trying to negotiate the price.Alternatively you can arrange a private transfer from Petra to Wadi Rum which combines flexibility and comfort.

Petra to Wadi Rum Taxi Cost

The official price for the taxi from Petra to Wadi Rum is currently 40 JD. If your hotel asks you for much more, then it might be not the best option. Alternatively, you can split the cost if you find other travelers willing to join you.



Petra to Wadi Rum by Private Transfer

If you don't trust taxis or prefer a more comfortable and stress-free option, you can book a private transfer from your hotel in Petra to Wadi Rum. You can book a transfer easily online and enjoy a comfortable ride on a licensed vehicle with air conditioning and probably even with wi-fi. Pricing is starting from 119 USD per vehicle and per group. It is undeniably a more expensive option than taking a taxi or renting a car, but also the most relaxed and hustle free option. You can stop whenever and wherever you want and don't have to worry about anything.


Taking a Guided Tour from Petra to Wadi Rum

There are many guided tours available in Jordan and most of them of course include both Petra and Wadi Rum as must-see attractions in Jordan. These tours usually include accommodation, transportation and even a guide during the entire duration of the tour. I recommend booking your tour in advance especially during the high season. I personally recommend G Adventures. Currently they are offering two tours which cover exclusively Jordan:

Tour 1. Highlights of Jordan
Tour 2. Jordan Multisport

Both tours take you to top attractions in Jordan such as Petra, Wadi Rum, Dead Sea, but these tours are fundamentally different. First tour is more relaxed and doesn't require physical fitness and attracts mostly older people or families or people who just want to see all the cultural attractions in Jordan. Second tour is more active and requires a certain level of physical fitness. The emphasis of the Jordan Multispot tour is the nature of Jordan, that's why you will have lots of hiking in nature. These types of tours mostly attract younger and physically active people. But don't worry, hikes are not so long and not so difficult so it should be doable. If you like adventure then this tour is definitely for you.

Please follow and like us: