4 Days in Jordan: Efficient Itinerary for Short Stay
This short 4-day Jordan itinerary will guide you on how to see must-visit places like Amman, Petra, Wadi Rum, and the Dead Sea with very limited time. To make the most of this custom itinerary, consider practical tips such as getting a Jordan Pass to save on entry fees and choosing efficient transportation options like renting a car.
From exploring the historic Citadel in Amman to experiencing the magical landscapes of Wadi Rum, this article offers a detailed guide for maximizing your short yet unforgettable trip in Jordan. It ensures a smooth and memorable experience, making it accessible and enjoyable for all travelers.
Visa and Arrival
Most visitors require a visa on arrival when entering Jordan. The fee for a single-entry visa is 40 JD (about 56 USD) and you can get it in all the airports of Jordan.
If you are staying minimum 3 nights and 4 days in Jordan, it might be beneficial to buy the Jordan Pass before arrival which will waive your visa fee. The Jordan Pass can be used in over 40 attractions and museums including Petra. There are 3 packages offered with Jordan Pass providing different options. The cheapest package starts at 70 JD and offers 1-day entry to Petra, plus entry to an additional 40 sites and attractions.
If you staying only 4 days in Jordan and planning to go to Petra, it is cheaper to get the Jordan Pass instead of paying for the visa and entrance to Petra separately. Currently, a day entrance fee to Petra costs 50 JD. Together with the visa fee (40 JD), it will cost you 20 JD more compared to Jordan Pass.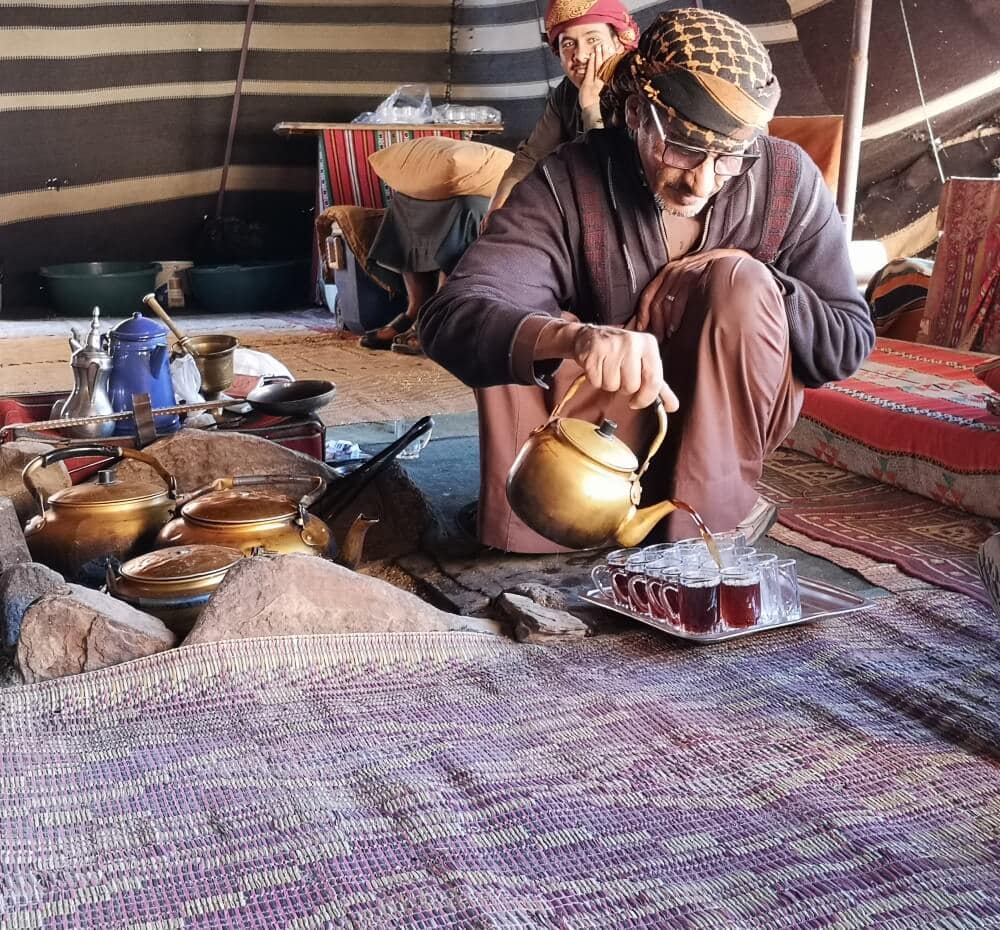 Transportation in Jordan

The cheapest option to get around Jordan is by public transportation. There are public buses called JETT leaving once or twice a day and connecting major cities in Jordan. However, if you are staying only 4 days in Jordan, using public transportation will limit you a lot and you won't be able to see many things and make good use of your time. The best option in terms of efficiency is either renting a car or taking a tour.
Jordan is relatively safe for driving especially outside of the busy streets of Amman. In order to be able to rent a car you need to be a minimum of 25 years old and hold a valid driver's license for at least a year. The rental price depends on the time of the year and the duration of the rental. During the low season, a 4-day car rental will cost you a minimum of 54 JD (77 USD). It is cheaper to pick up and return the rented car from the same location. In this 4-day itinerary, you will start and finish your trip in Amman, the capital of Jordan.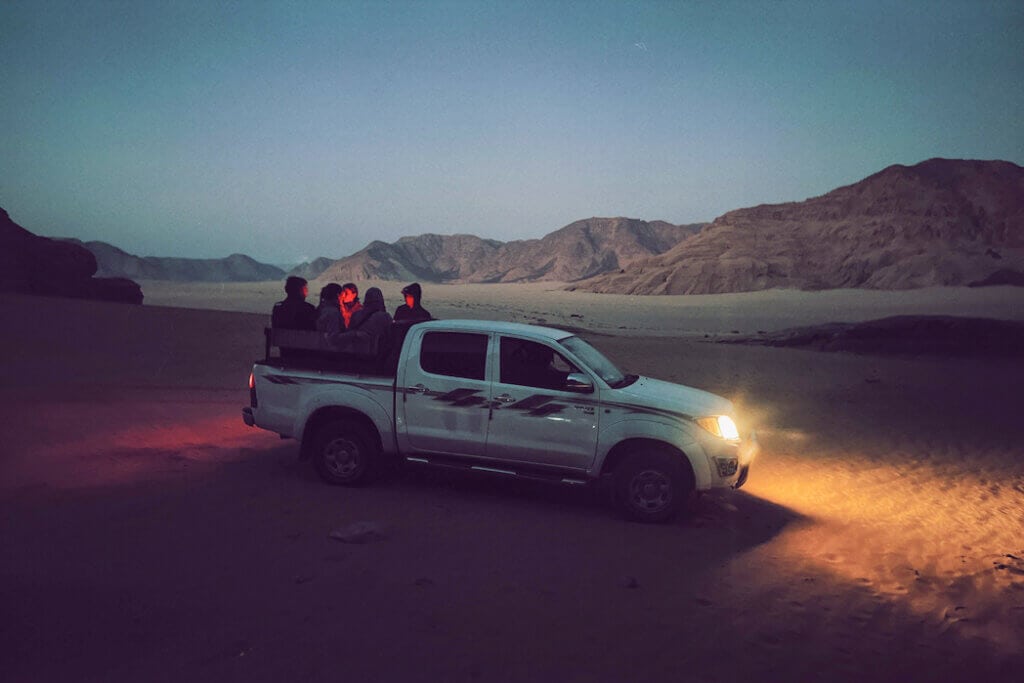 4 Days in Jordan Itinerary


Day 1: Arrival in Amman & Petra
All the main attractions in Amman are concentrated in the city center within walking distance.
Queen Alia International Airport (QAIA) is located about 35 kilometers south of Amman. If you take a taxi, it will take about 35-50 minutes depending on the traffic to get to the city center, and costs about 22 JD. If you are planning on renting a car for a short 4-day road trip in Jordan, you can rent one on arrival directly at the airport.
Start your day by exploring the historic Citadel, perched on a hill offering panoramic views of the city. Visit the Roman Theater, an ancient amphitheater dating back to the 2nd century, and then wander through the vibrant streets of downtown Amman, known for its bustling markets and traditional handicraft shops. Enjoy a delicious Jordanian meal at one of the local restaurants, and try local specialties like Mansaf or Falafel.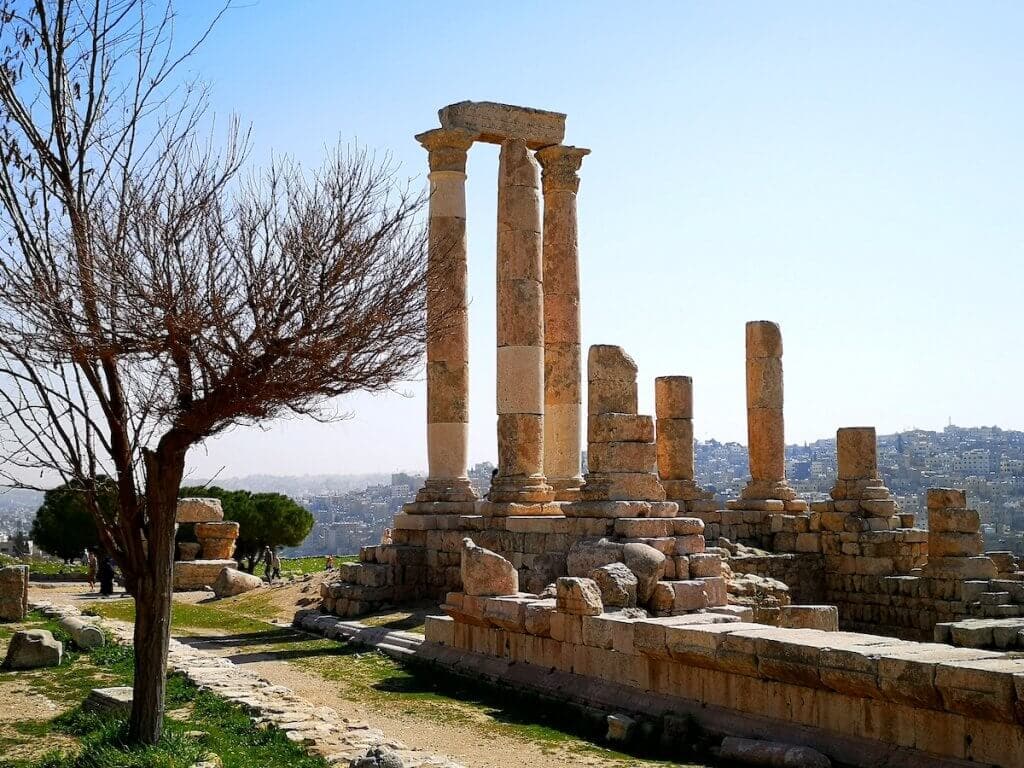 You can find more information on things to do in Amman on my dedicated post on how to spend one day in Amman.
In the late afternoon head towards Wadi Musa, where the ancient city of Petra is located. It will take you about 3 hours to arrive in Wadi Musa. If you arrive before 20:00 o'clock and check in to your hotel, you might have a chance to visit Petra by night. Every Monday, Wednesday, and Thursday Petra gets illuminated by 1500 candles and turns into a real fairytale.
Day 2: Petra & Wadi Rum
If you want to enjoy Petra with fewer crowds and more comfortable temperatures, I highly recommend going to Petra very early in the morning. Petra is huge and it will require you to walk long distances to see all the main structures of this archeological site.
There are several hiking trails in Petra, with varying duration and requiring different fitness levels. Most visitors opt for the shortest and easiest hike via the Siq trail to the Treasury, but in my opinion, this is the most crowded hike and you will see only 1/10th of what Petra has to offer. You should at least get to the Monastery either via the Ad-Deir Trail or Back Door Entrance Trail. On these trails you will see most of the structures and buildings of Petra and of course the magnificent Monastery.
There are two main entrances to Petra:
Entrance 1: main entrance via the Visitor Center in Wadi Musa
Entrance 2: back door entrance from Little Petra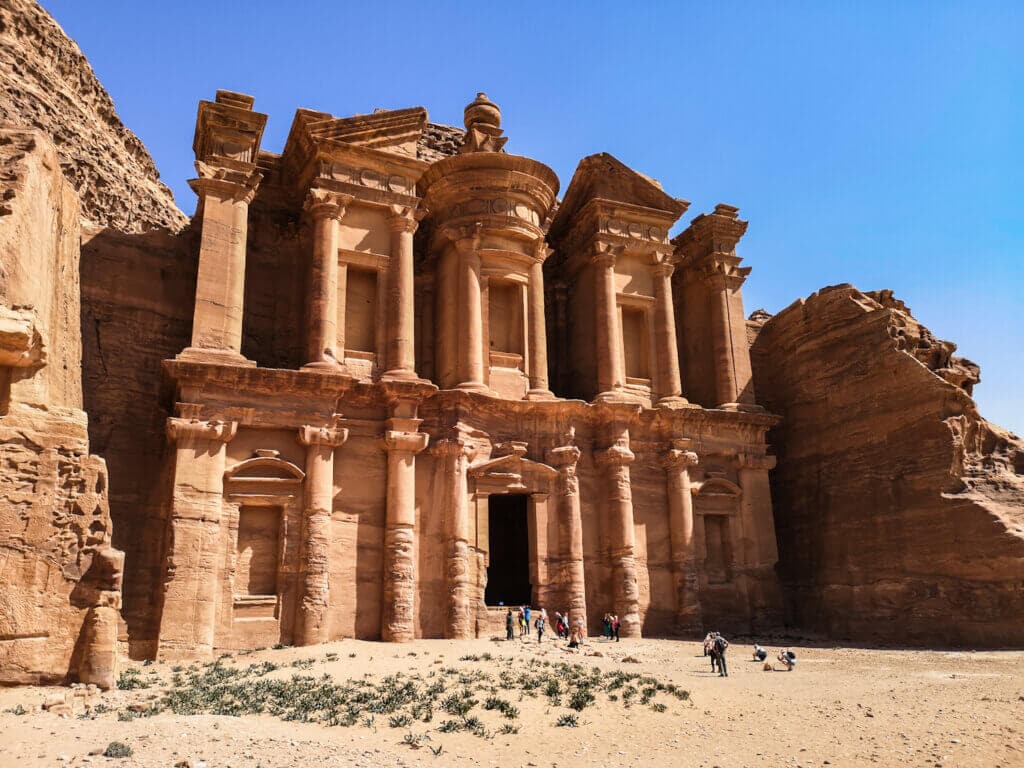 In the late afternoon after visiting Petra, head towards Wadi Rum Visitor Center. The ride will take about 2 hours depending on traffic.
More information for further reading: How to get from Petra to Wadi Rum
Rental cars are not allowed in the Wadi Rum Protected Area. You will have to leave your car at the Wadi Rum Visitor Center and take a 4×4 Jeep with a guide to your camp in the desert or take a tour.
Wadi Rum desert is the most beautiful during sunset and sunrise. Try to get there before the sunset and take a short tour to the best location near your accommodation to watch the sunset.
There are so many things to do in Wadi Rum, but if you are staying in Jordan for only 4 days, then you will not be able to see much. Nevertheless, you will still be able to get the first unforgettable impression of this moon-like landscape and hopefully return one day to explore it more.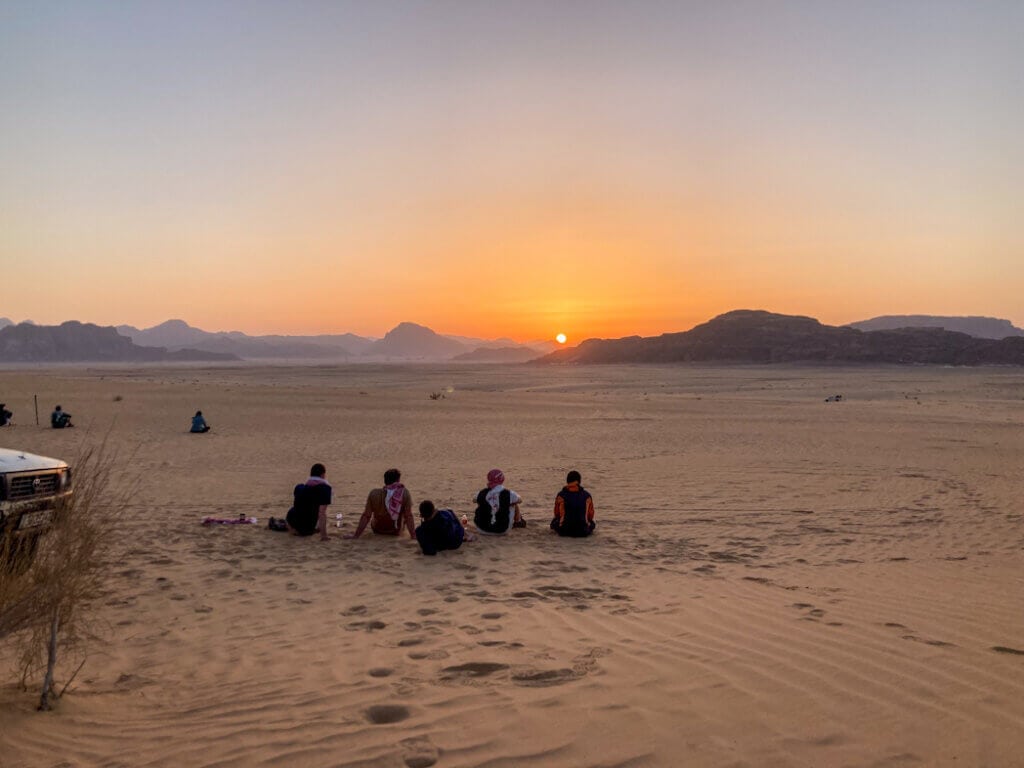 Good to Know
Book your sunset 4×4 tour in advance with your Wadi Rum camp.
Book your sunset camel ride in advance with local Beduins. Your camp manager can help with it.
Take warm clothes. It can get quite cold at night in the desert.

Day 3: Wadi Rum & Dead Sea
Get ready for day 3 in Jordan, full of adventures. Be prepared to start your day very early before sunrise when it is still dark. Take a special camel tour to catch one of the most beautiful sunrises in your life. The caravan will be waiting for you at your campsite one hour before sunrise.
Enjoy a peaceful camel ride across the desert as the sun rises. The tour usually takes about 2 hours. So you will be back to your accommodation pretty early and still have the entire day ahead.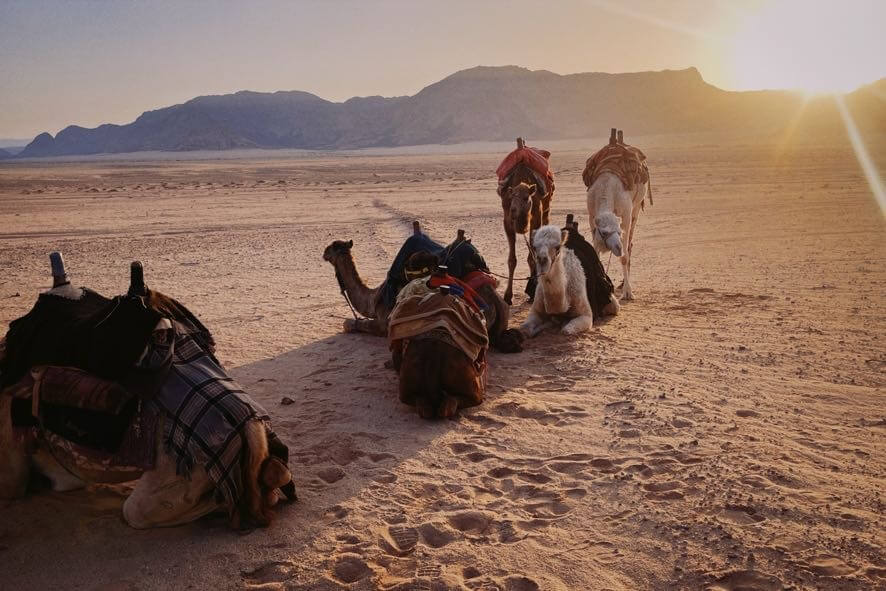 After having your breakfast and checking out, drive to the Dead Sea. If your flight the next day is not too early, you can stay overnight in one of the luxury resorts at the Dead Sea. It will take you about 4 hours to get there by car from Wadi Rum desert.
Most of the Dead Sea resorts have their own private beach and a shuttle to take you to the beach. After check-in, catch the last sunny hour and go floating on the dead sea.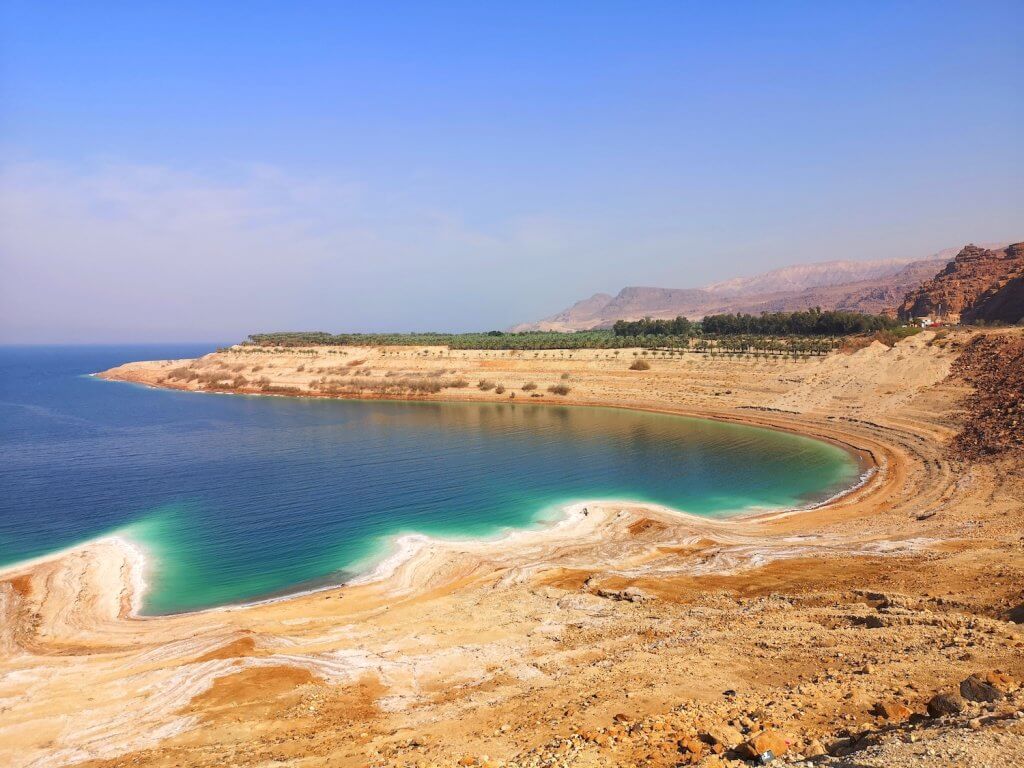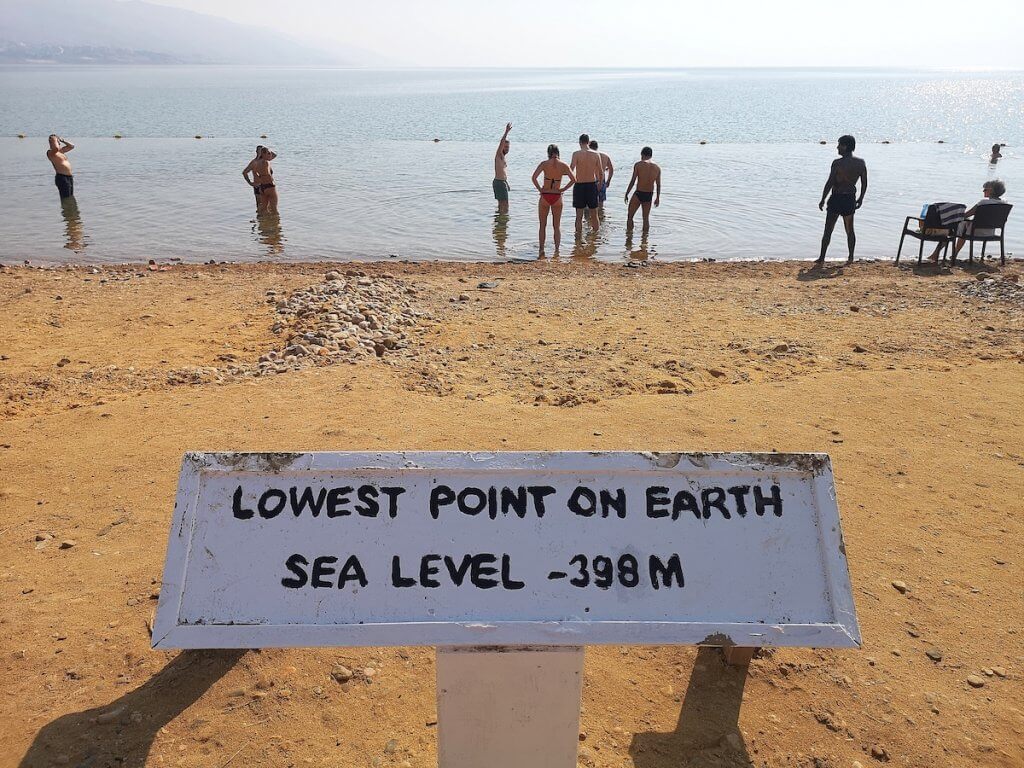 Day 4: Amman Departure
Start your last day in Jordan by enjoying aromatic and spicy Arabic coffee and a typical Arabic breakfast with hummus. If you have enough time before your flight, buy some souvenirs such as a Dead Sea mask or some yummy Dates. Head toward the airport to catch your flight.
Conclusion
4 days in Jordan is not enough to explore this beautiful country but it is enough to see the main highlights such as Amman, Petra, Wadi Rum, and the Dead Sea. This is only possible if you book everything in advance and plan carefully. Although it will be a fast-paced short trip, your stay in Jordan will be unforgettable and you will want to come back. Let me know if you have any questions in the comment section. I will be happy to share my knowledge and help as much as I can.
Please follow and like us: