Hiking in Petra: Discover the Best Trails in Petra
If you love hiking and history, then Petra is an ideal destination for you. There are several well-marked trails in Petra for each fitness level.  There are many stairs on the trails and some large stones, therefore I recommend wearing very comfortable shoes, preferably real hiking boots. To avoid crowds and heat, I recommend starting your hike very early in the morning, ideally with sunrise. Don't forget to cover your head and take enough water and sunscreen. It can get really hot and dry in the desert.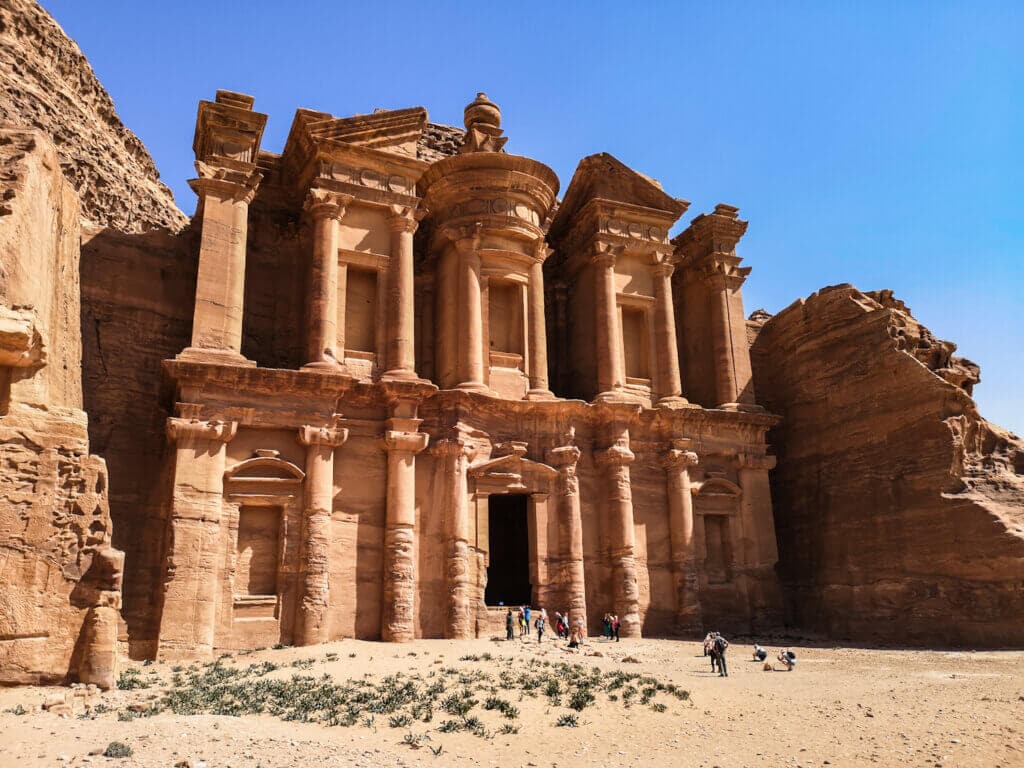 On the way, you will see a large number of donkeys, goats, camels, and surprisingly cats. Locals abuse the donkeys and camels to transport the tourists who are too lazy to walk the stairs themselves. Be careful, sometimes they make the donkeys run too fast down the narrow stairs full of people and you will have to step aside very fast. I witnessed an old lady getting pushed to the side of the stairs and almost falling down because she didn't hear the donkey coming behind her with its master.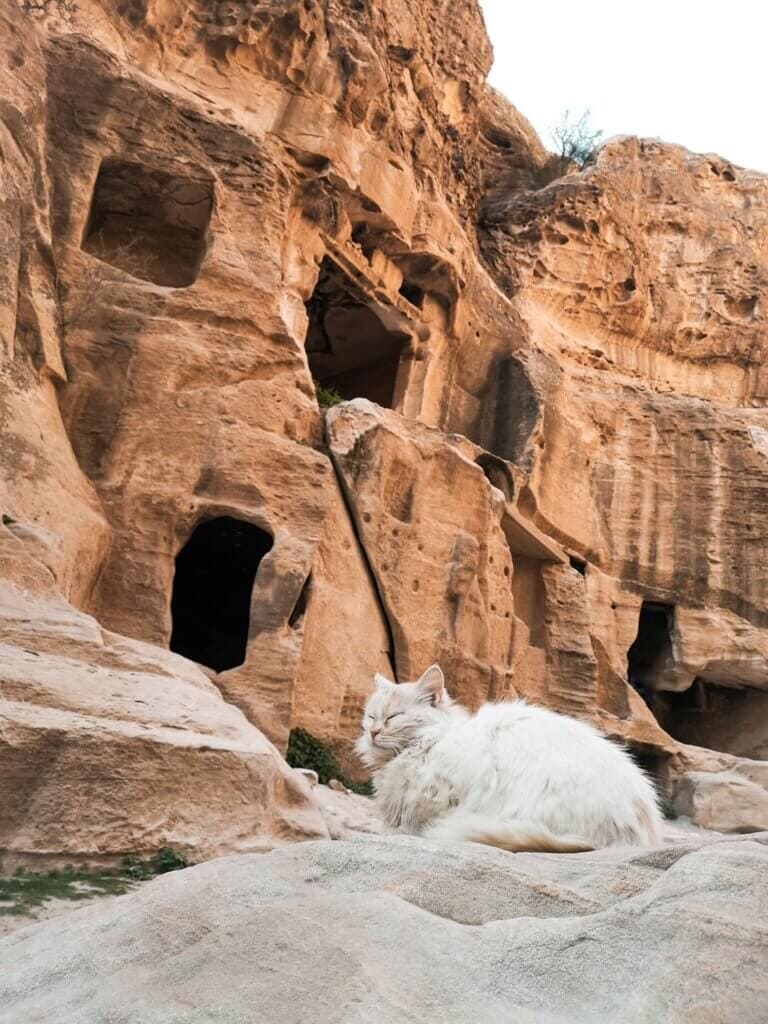 You will most probably combine several trails into one to save some time and see as much as you can within one or two days. All the official trails start from the visitor center where you can purchase your ticket. You will have to pay 50 JD, 55 JD, or 60 JD for 1, 2, or 3 days pass respectively. To save some money, I recommend getting the Jordan Pass which covers the visa cost and tickets to most attractions of Jordan including Petra. 
In this post, I will write about some of the main trails as well as the lesser-known backtrail from little Petra to Petra which is not covered in official media. This is one of the longest and hardest trails in  Petra but it is totally worth it. If you dare to hike his trail, you will discover things that the majority of tourists won't see and feel like a real adventurer.
Petra Hiking Trails Overview

Petra covers a whopping 264 square kilometers but not all the area is easily walkable. Below you will find an overview of the official hiking trails available in Petra. I recommend hiring a local guide for some of the trails and supporting the Bedouin community. 
The Main Trail (incl. the Treasury) – 4 km
Al Khubtha (Treasury Viewpoint) Trail – 2.5 km (2.2 miles)
High Place of Sacrifice Trail – 3 km (1.9 miles)
The Main Trail to Ad Deir (Monastery) – 6.5 km
Umm Al-Biyara Trail – 4 km (2.5 miles)
Jabal Haroun Trail – 7.5 km (4.7 miles)
Sabra Trail. Strenuous Petra Hikes – 10 km (6.2 miles)
Al-Madras Trail – 1.5 (0.7 miles)
You can find more information about the trails here.
Map of Petra's Hiking Trails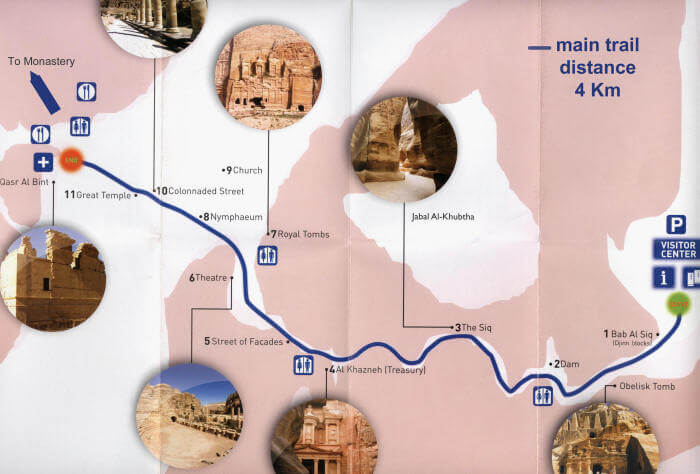 Interesting Facts About Petra

Petra is an ancient city carved out of sandstone cliffs located in southern Jordan, near the border with Saudi Arabia. It is a UNESCO World Heritage Site and named one of the 7 Wonders of the World. The city was established by the Nabateans in the 4th century BCE as a trading hub and a center for cultural exchange between the East and West. The city has faced various conquerors such as the Romans and the Byzantines throughout its history. After the large earthquake in 363 CE many structures were destroyed and Petra gradually lost its importance. Petra was largely forgotten and inhabited only by desert nomads, the Bedouins until it was rediscovered by the Swiss explorer Johann Burckhardt in 1812. After that, it became a major tourist attraction visited by millions of people from around the globe. 

Best Hiking Trails in Petra


Petra Main Trail

This is the easiest hike in Petra and the most popular one.
Duration: 2.5 hours, plus time for photo sessions and selfies
Distance: 4 km
Difficulty: easy
The main trail is simply a flat path through the Siq, a narrow slot canyon, which leads straight to the Treasury. It continues then to the royal tombs, the colonnaded street, and finally ends at the girl's palace.  This trail involves no climbing or scrambling and can be done by anyone. The trail starts at the visitor center and is the starting point for other trails (except the backtrail from Little Petra). Basically, you will do this trail anyway no matter where you start your hike and which trails you combine.
Petra by Night Trail

Duration: 2 hours including the show at the treasury
Distance: 3 km
Difficulty: easy
You have probably heard about the magical Petra by Night show. It gives you the opportunity to experience the magical Siq Canyon and the treasury by candlelight. The walk starts at the visitor center and ends at the treasury. This is a bit shorter version of the main trail. All the way will be illuminated by over 1,500 candles. This will provide spectacular views and a bit of a mysterious atmosphere (only if not overcrowded).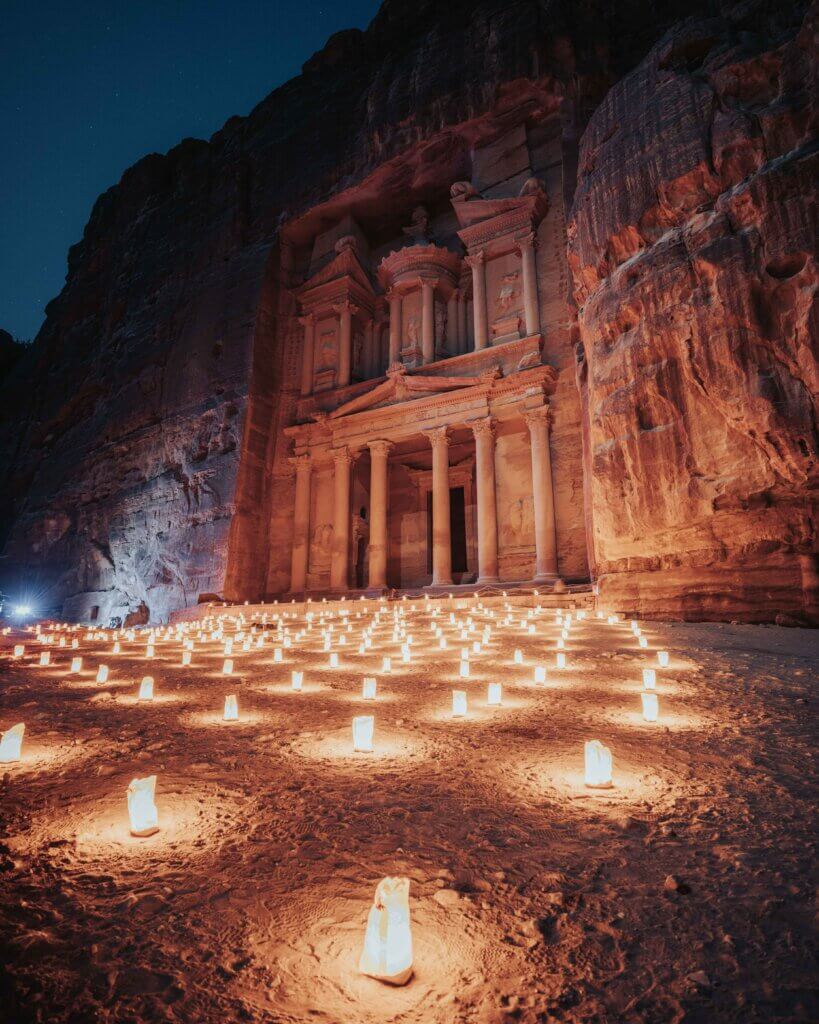 The show takes place on Mondays and Wednesdays and sometimes on Thursdays at 08:30 o'clock and costs 17 JD. 

Pro Tip: If there are more than 600 visitors at Petra by Night show, the chances are high that you will not enjoy it and the walk will not be as magical as expected. 

Related Articles
Is Aqaba and the Read Sea Worth Visiting?
Wadi Rum 2-Day Itinerary
How to Spend 4 Days in Jordan
Ad Deir Trail: The Main Trail to Ad Deir (Monastery)

Duration: 4,5 hours
Distance:  6.5 km
Difficulty: moderate
Ad Deir Trail is tougher and longer than the main trail. It starts at the visitor center and continues through the main trail further to the monastery. The monastery is the second most popular structure after the treasury in Petra. It has this beautiful viewpoint where you can take stunning Instagram shots. To get there you will have to sweat a bit and climb up hundreds of steps. Around 800 steps to be more specific. A good fitness level is required for this hike and to make it up to the top. The good news is that there is a nice cafe near the monastery where you can get a rest and buy some drinks or an ice cream. If you don't want to do a round trip to the monastery and climb up 800 stairs you can opt to visit the monastery via the back door route.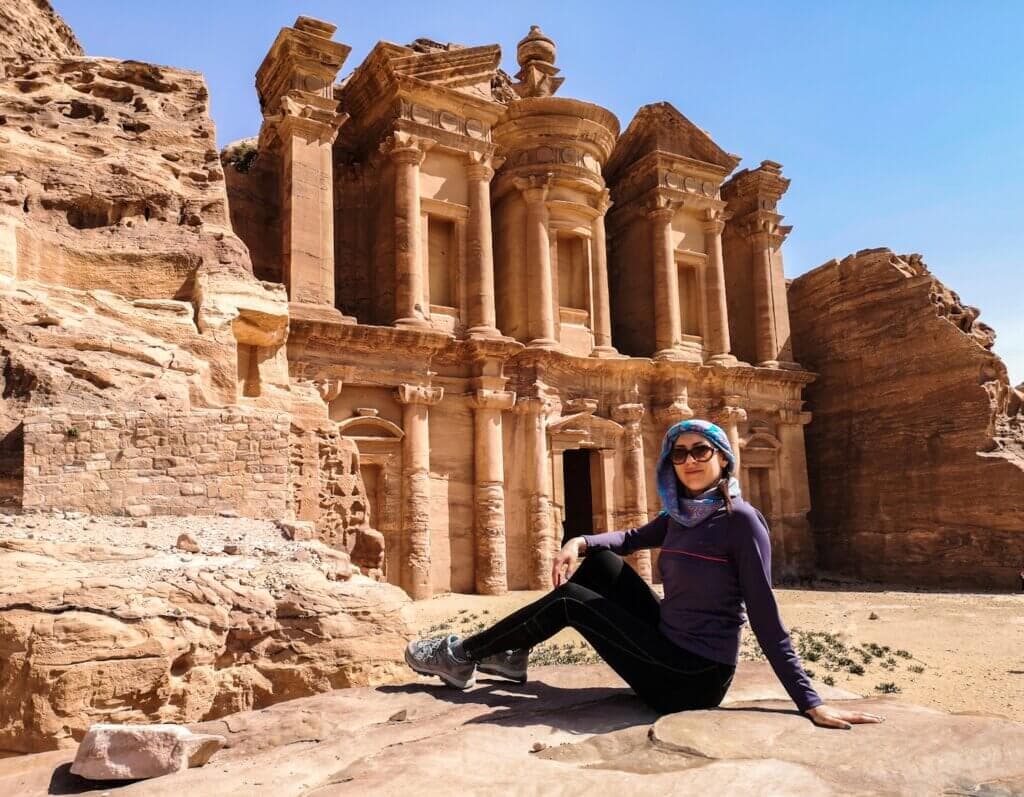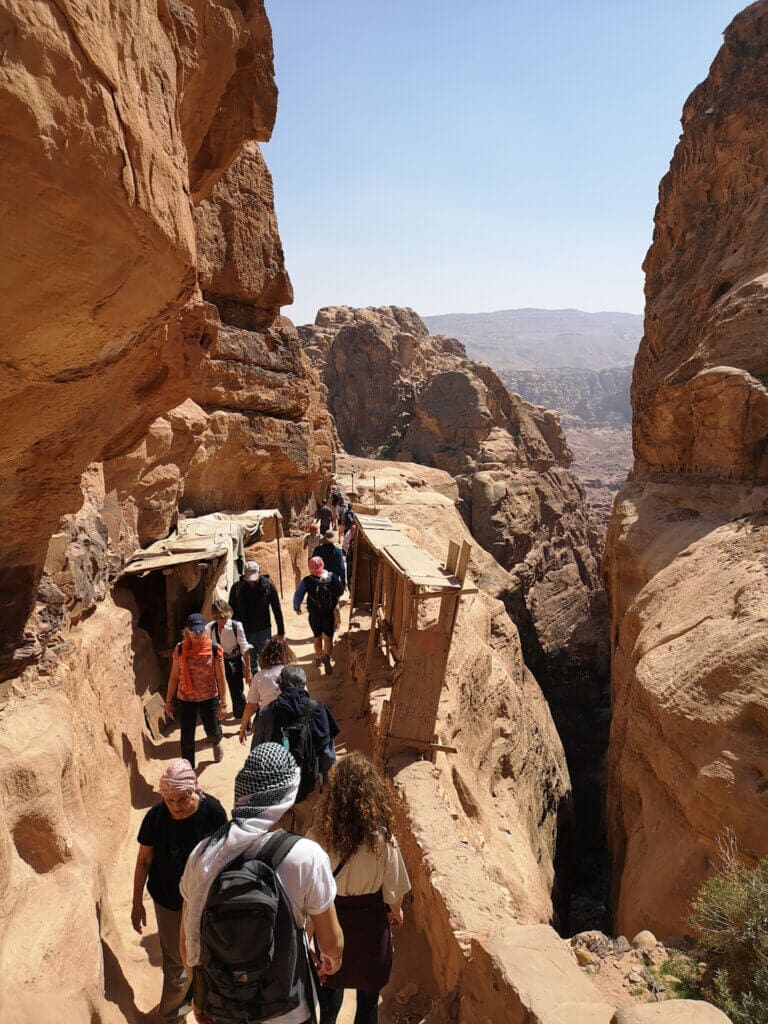 The Little Petra to Petra Backtrail (expert-level hike)

Duration: 4-5 hours
Distance: 12,5 km
Difficulty: hard
This is the hardest and longest hiking trail in Petra and you should hire a local guide to get you through. This hike is not mentioned on official websites about Petra due to its length but in my opinion, this is the best way to explore Petra and see things that the majority of visitors miss. I find this trail more authentic than the popular main trail because you will see local Bedouin camps on the way and see how these people live. This is also a good way to avoid crowds and have a real authentic experience.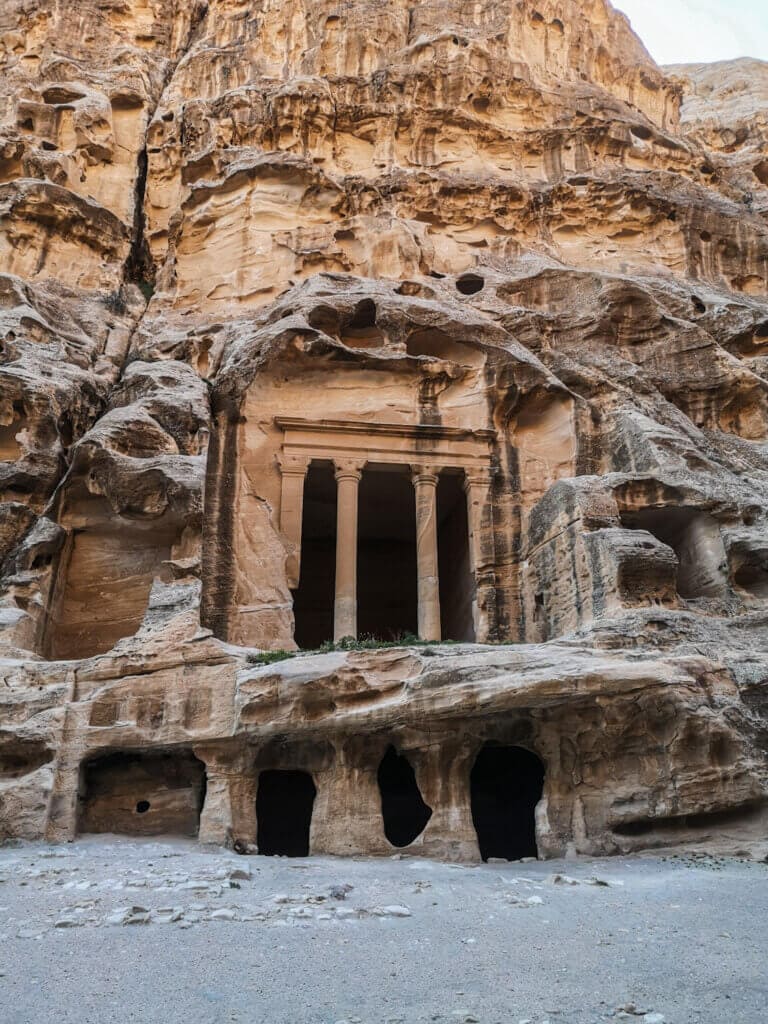 The little Petra to Petra trail starts at the left of the car park, behind the souvenir shops. From there the track goes out into the desert following jeep tracks. The beginning of the trail is not marked and it might be difficult to spot it. The rest of the trail is also not marked well, that's why having a guide is a mandatory safety measure. On the way you can do a small detour on the right, to explore an ancient village called Al Beidha. It is a Neolithic village that was occupied from 7200 BC until 6500 BC when it was burnt down. Beidha village is one of the first inhabited villages in the world and one of the oldest sites in the Middle East.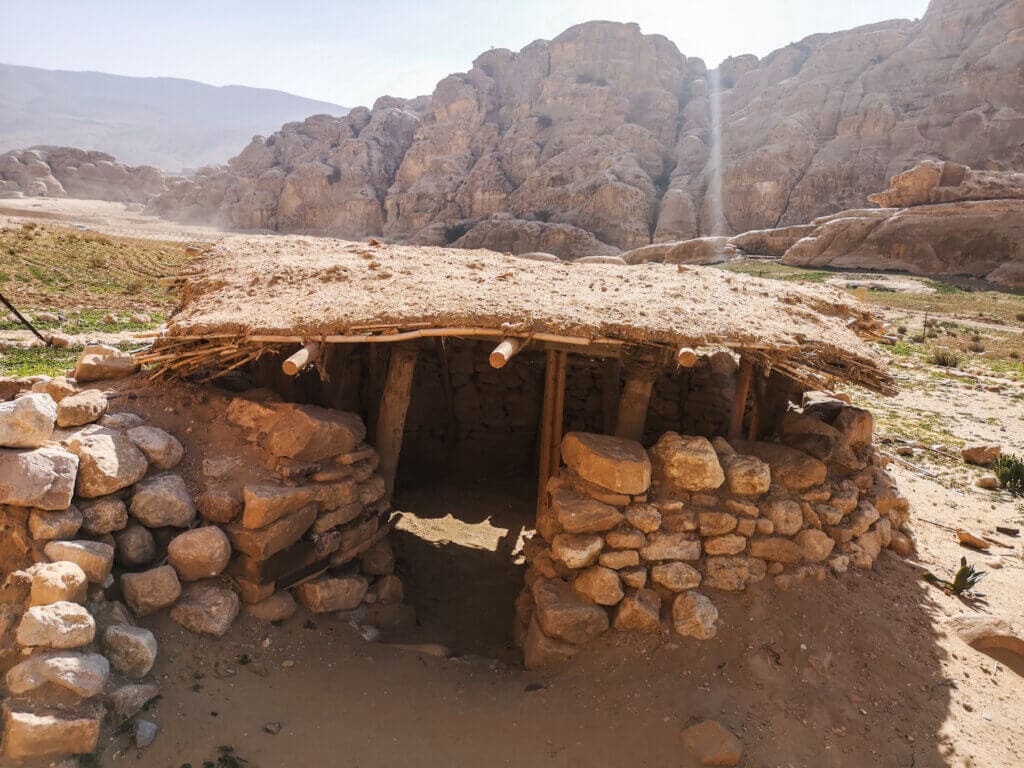 When you continue you will pass by Bedouin tents, goats, camels and the occasional stray dog. There will be a possibility to stop by at one of the Bedouin camps to have a cup of real Bedouin tea. Bedouin tea is typically made of strong black tea, sage, and a lot of sugar. Sometimes they add spices such as cardamom or cinnamon sticks.
If you continue the trail, in about an hour you will reach the base of the climb (where the jeeps stop). Here you will start scumbling and walking the stairs but not a real climb, so special equipment is not required. On the way, you will see spectacular landscapes and majestic cliffs. In about 1,5 hours you will reach the monastery where you can get some rest. After the monastery, the trail is marked better, but packed with souvenir stands and more crowded. The trail will take you to the treasury and further through the narrow canyon to the main entrance and the visitor center. You can find more details about this hike here.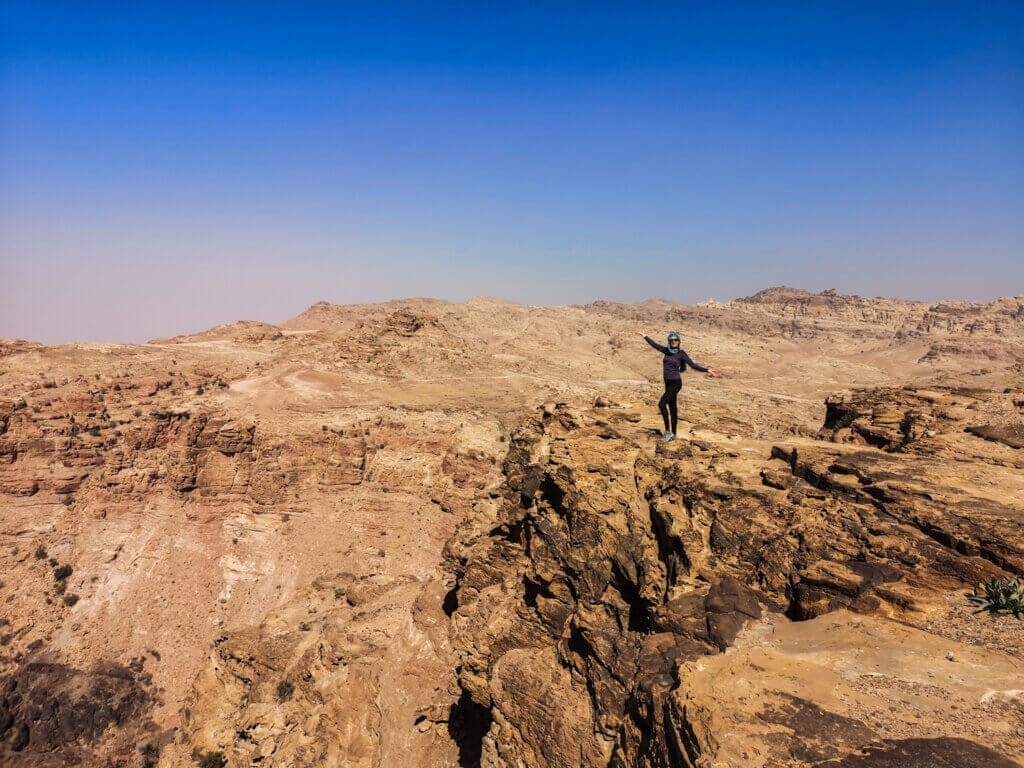 Important Note:
Entry to Petra requires a pass, which can only be purchased at the front entrance. This route starts from little Petra which doesn't have ticket counters, so a pass must be purchased in advance.

Try Hammam after Hiking

After sweating and hiking the entire day, you get a lot of sand in your shoes, and clothes in your hair and face. The best way to finish such a long sweaty hiking day is relaxing at a local " spa" called hammam also known as Turkish bath. The procedure starts with staying about 30-50 minutes in a hot steam bath (a type of sauna) to soften your skin, then getting a full body massage and finally getting peeled off your dead skin and showering. It all feels a bit weird at the beginning but at the end, it is totally worth it and you will feel very relaxed and clean. There is a Turkish bath about 5 minutes away from the visitor center on the main street. It costs about 20 JD (with a discount which has to be negotiated) and you get a towel and even flip flops.

Best Time To Visit Petra

Petra is generally one of the destinations that can be visited all year round but in summer it can get uncomfortably hot and in winter get some rain showers. Most people visit Petra in Spring from March to May and in Autumn from September to November. For me personally May and September are still too hot in the Middle East, therefore I consider the best time to visit Petra from the end of February to mid-April.
Please follow and like us: