What to do in Wadi Rum: Ultimate 2-Day Itinerary
Wadi Rum scenic desert is located in south Jordan close to the border with Saudi Arabia. Since the release of the infamous movie "Lawrence of Arabia", it has become a very popular tourist attraction and one of the top destinations in Jordan. The landscape of Wadi Rum resembles the surface of the moon or the planet Mars that's why it is probably also called Valley of the Moon. If you are wondering what to do in the Wadi Rum desert, I can assure you that there are plenty of unique things you can do and experience in Wadi Rum. I personally enjoyed watching sunsets and sunrises, stargazing(a clear night sky is almost always guaranteed), camel riding, taking a jip tour, and having traditional Arabic tea in a Bedouin camp. Staying two days in Wadi Rum was one of the best experiences I ever had in life and I highly recommend it.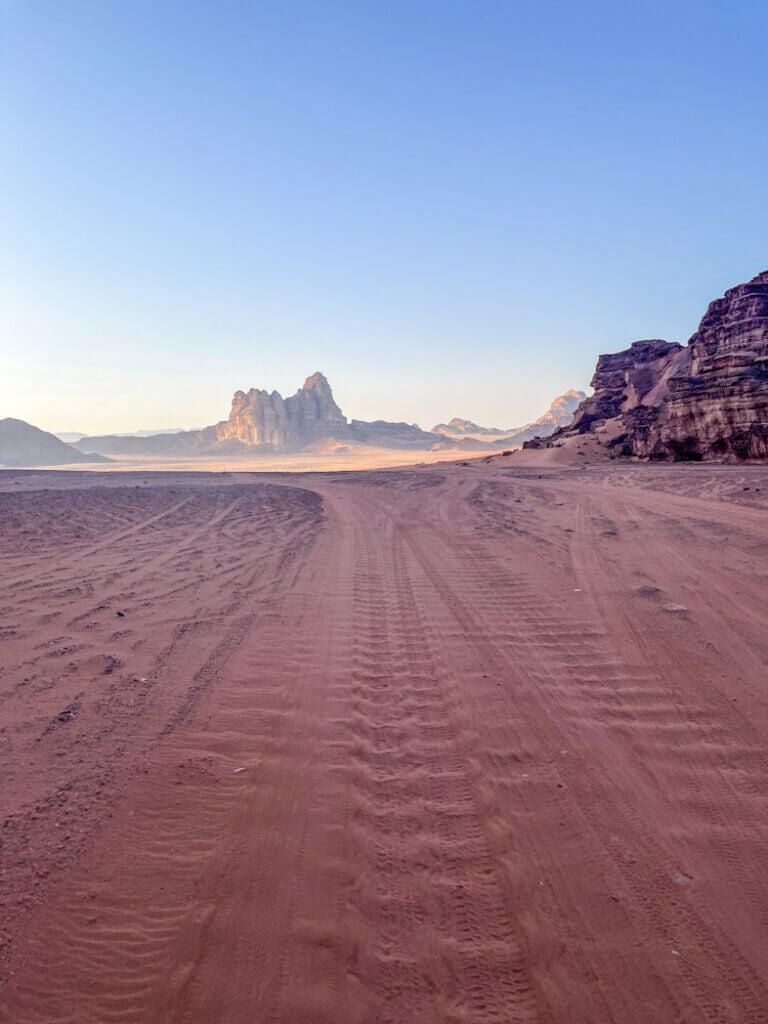 How to get to Wadi Rum?
Wadi Rum is located in the south of Jordan and is most easily reachable from Aqaba or Petra. However, if you want to get to Wadi Rum directly from Amman, it is also doable. Jordan is a relatively small country, so you can reach any point in the country within a few hours. There are several ways to get to Wadi Rum. Public infrastructure is not that developed in Jordan so the easiest way to get around is renting a car or taking an organized tour. To get a detailed description of how to get to Wadi Rum from Petra check my other blog post. Below you will find more details on how to reach Wadi Rum from Amman.

Amman to Wadi Rum
The distance from Amman to Wadi Rum is about 320 kilometers. The driving time is about 4 hours. There are several ways to get from Amman to Wadi Rum. You can take a bus(not recommended), a taxi, a private transfer, or join an organizer tour.
Amman to Wadi Rum by Bus
There is a JETT bus from Amman to Wadi Rum once a day. Here you can find the bus schedule and the price. However public transportation in Jordan is not reliable and there used to be no direct bus connection between these two locations until recently. Another option is to take a bus to Aqaba and then a taxi to Wadi Rum.
Amman to Wadi Rum by Taxi
Taking a taxi or a private transfer is a more comfortable option to travel from Amman to Wadi Rum. Price varies but you can expect to pay anywhere between 110-130 JD. If a taxi driver asks for more then you should try to negotiate or look for another one.

Wadi Rum Visitor Center
Wadi Rum Visitor Center is the main getaway to the protected area of Wadi Rum. Entrance to Wadi Rum is not free and costs around 5 JD for adults and free for children. You can pay your entrance fee and book a tour to Wadi Rum directly at the Visitor Center.
What to do in Wadi Rum: List of Activities
Deserts usually have nothing but endless sandy dunes and rocks. You might first ask yourself what to do in Wadi Rum and how you can spend 2-3 days in a desert. What if I tell you that you will see one of the most beautiful sunsets and sunrises in your life in Wadi Rum, you will feel like a hero from "Star Wars" on another planet, you will see very cute little baby camels, you might get invited to a Bedouin camp for a cup of tee and much more.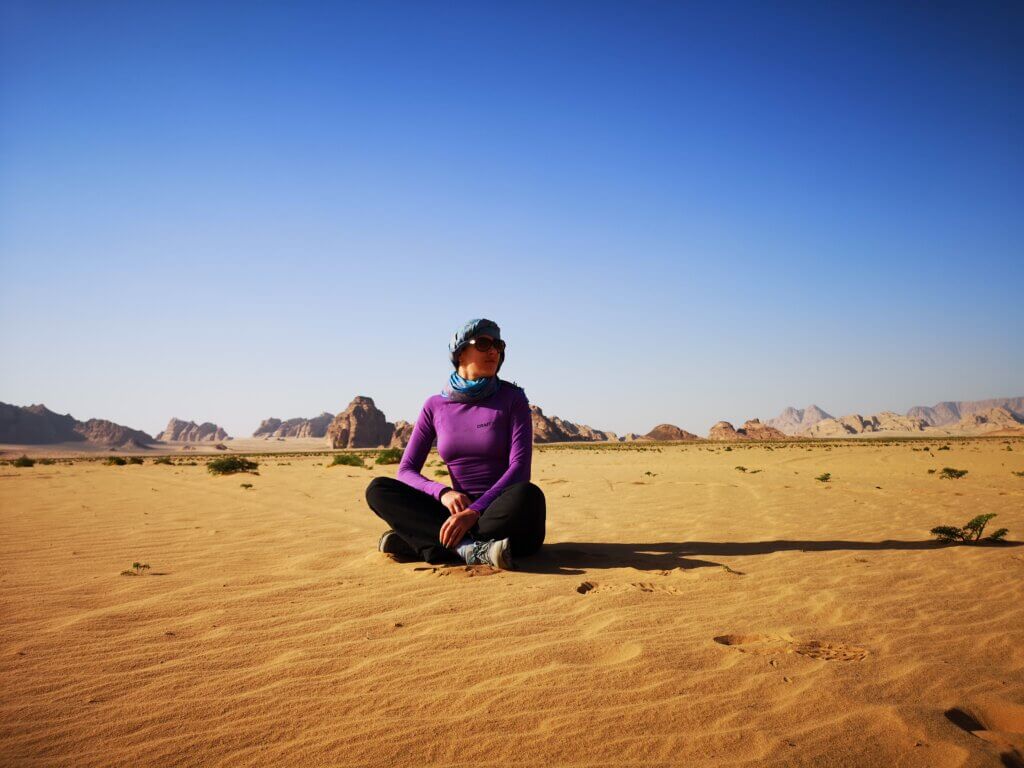 Enjoy the Night Sky in Wadi Rum
Deserts are known to have a clear night sky and Wadi Rum is not an exception. If you love watching stars, I recommend going a bit outside of your camp to have less artificial light around in order to have the best stargazing experience. Wadi Rum desert is totally safe at night, however, it is very important to not go too far away from your camp. It is easy to get lost in the desert, especially at night. There are no dangerous animals in Wadi Rum, just a few curious foxes can come closer but they are absolutely harmless. I had the pleasure to meet these little fellows at night when I went stargazing alone. At first, I got a bit scared when I saw them, but soon I realized that they were just curious and came to say "hello".
Drink a Tea in Bedouin Camp in Wadi Rum
Bedouins are nomadic Arab tribes and indigenous people of the desert of the Arabian Peninsula and North Africa. They have their own unique culture and traditions. They are usually very tall, a bit skinny but very strong, with fine facial lines, and generally good-looking people. It was a pleasure for me to get invited to a traditional Bedouin tent, and listen to traditional Bedouin Music while enjoying my cup of spicy Arabic tea.
Ride a Camel in Wadi Rum
It's difficult to imagine a desert without camels and in Wadi Rum you will see a lot of them. Most of the camels you see in Wadi Rum belong to local Bedouin tribes. For Bedouins camels are regarded as a "gift from God" and for a very long time they have been the main source of food and transportation in the desert. Nowadays Bedouins rely less on camels as a source of food but they are still a very important part of Bedouin culture and day-to-day life. If you decide to ride a camel in Wadi Rum, I recommend arranging it in advance and taking an early morning tour to see the sunrise.
Wadi Rum Camel Ride Price
You can expect to pay anywhere between 17-21 JD for riding a camel depending on your negotiation skills and the size of the group. The tour will last about 1-2 hours. There are also half-day camel tours, but I do not recommend taking them because first of all, the animals will get tired and stressed and second, you will have very sore legs after riding a camel for so many hours.
Take a 4×4 Jeep tour in Wadi Rum
Taking a jeep tour in Wadi Rums is the main way to see the top attractions of this magical desert and take those stunning "Lawrence of Arabia" style photos. You will not be able to drive through the desert with a normal car. Driving in a desert alone can be extremely dangerous, that's why you should take a guided 4*4 car tour. Most of the Jeep tours in Wadi Rum last between 2 and 4 hours. However, in my opinion, it is too short and not long enough to see all the main attractions of Wadi Rum such as the mushroom and the arch. The desert is huge, so you should plan more time to explore it. It is also very important to plan your Jeep tour in such a way that you can have a nice spot to watch the sunset.

Wadi Rum Jeep Tour Price
The price of the jeep tour in Wadi Rum depends on the length of the tour, the number of people taking the tour, and of course the tour company itself. Usually, you can choose one of the following options:
2-hour jeep tour
3-hour jeep tour
4-hour jeep tour
6-hour jeep tour
I do not recommend taking a Jeep tour which lasts less than 4 hours, because you will not be able to experience the true beauty of the Wadi Rum desert in such a short time. The exact price will depend on the number of people in the group and your negotiation skills. Children under 12 years old usually get a 50% discount. Below are some examples to give you an idea.
| | | | |
| --- | --- | --- | --- |
| | 1 person | 2-4 persons | 5+ persons |
| 4 hours | 50-65 JD | 25-35 JD | 15-25 JD |
| 6+ hours | 70-90 JD | 30-45 JD | 20-40 JD |
Watch the Sunset in Wadi Rum
As I mentioned earlier deserts are all about sunsets and sunrises. Depending on the time of the year, the sunset in Wadi Rum can be at different times. That's why it is very important to plan the start and end of your Jeep or Camel tour so that it includes watching the sunset from a nice spot and doesn't finish too early. If you are lucky and the camp where you are staying has a nice sunset view, you can, of course, skip it, however watching the sunset in the middle of nowhere in the desert is just a unique experience you shouldn't miss.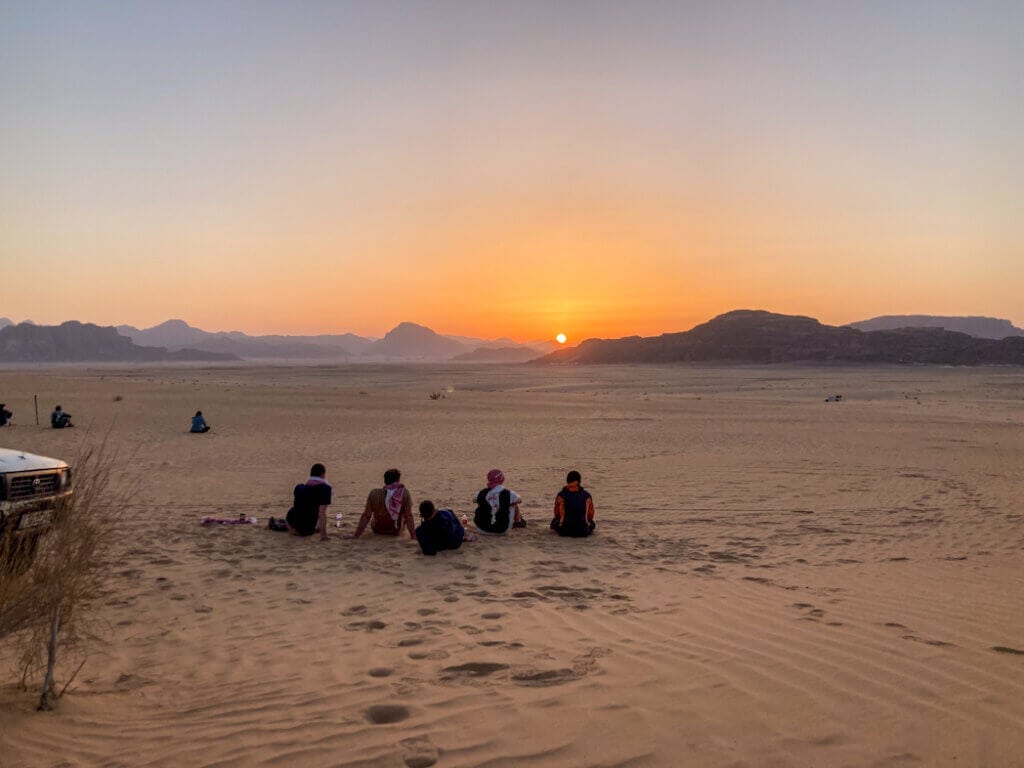 Take a Hot Air Balloon Ride
A great way to start your day in Wadi Rum is to take a hot air balloon ride so that you can take a bird's eye view of the wonderful scenery, observe all the shades of multi-color mountains and feel that morning breeze on your face. The tour starts early in the morning before sunrise and lasts about 2 hours. As there is only 1 flight per day, I recommend booking your tour online at least a few days in advance. It costs about 130 JD per person and is organized in small groups (max. 8 people). It is a once-in-a-lifetime opportunity and I hope you will not miss it.
Go Hiking in Wadi Rum

Hiking in Wadi Rum can be an unforgettable experience but you should be very careful. It is easy to get lost in a desert. To be on the safe side, you can hire a local Bedouin guide or join a hiking tour. I personally went hiking with fellow travelers staying in the same camp. We did a small tour around our camp in the evening when the temperature was not so high.

Check out Steam Train in Wadi Rum
Al Hijaz railway was constructed in Wadi Rum by Ottomans in the 1900s to help pilgrims to reach Muslim holy places. Nowadays Al Hijas steam train is one of the main attractions in the Wadi Rum desert. It is located next to the Wadi Rum visitor center. Visiting the Al Hijaz railway will help you to learn a bit about Arab history and the Arab Revolt in 1917 on board the original Hijaz steam train.
What to do in Wadi Rum: Q&A
Best Time to Visit Wadi Rum
Wadi Rum is one of those destinations that you can visit year-round, however, the summer months are very hot and the temperature in the desert can reach 40°C (104°F) degrees. Autumn and Spring are the best times to visit Wadi Rum weatherwise but if you want to have less crowds and don't mind a few drops of rain, then winter is also an excellent time to visit Wadi Rum. I personally preferred the end of February and the beginning of March and had a very good time in Wadi Rum.

What to Pack for Wadi Rum
When packing for Wadi Rum it is very important to know that at night it can be much colder in the desert than during the day. It's very normal to start sweating during the day and later start freezing at night. That's why it is very important to pack accordingly. You also need to wear a head scarf to cover your mouth, nose, and head to protect it from sun and sand.
How Many Days you need in Wadi Rum
If you want to do all the activities available in Wadi Rum, then you should book at least two nights and three days. However, if you are short on time, staying just one night and two days in the desert should be enough.
Please follow and like us: