How to Spend One Day in Amman
Amman is the largest city and the capital of Jordan. Many travelers start exploring Jordan and the Middle East from Amman because it is home to the largest international airport in Jordan after Aqaba. So did I. Before starting my road trip through Jordan, I spent one day in Amman and would like to share with you my experience and some tips.
Is Amman Worth Visiting?
For most travelers, Amman may be a pit stop on the way to Petra, the desert landscapes of Wadi Rum, and the Dead Sea, but you will be surprised to know that Amman is home to ancient Roman ruins and has a very rich history and culture dating back thousands of years. Amman's rich history, delicious food, and ancient ruins make it absolutely worth visiting. The city is situated on several hills, providing stunning panoramic views of the surrounding landscapes.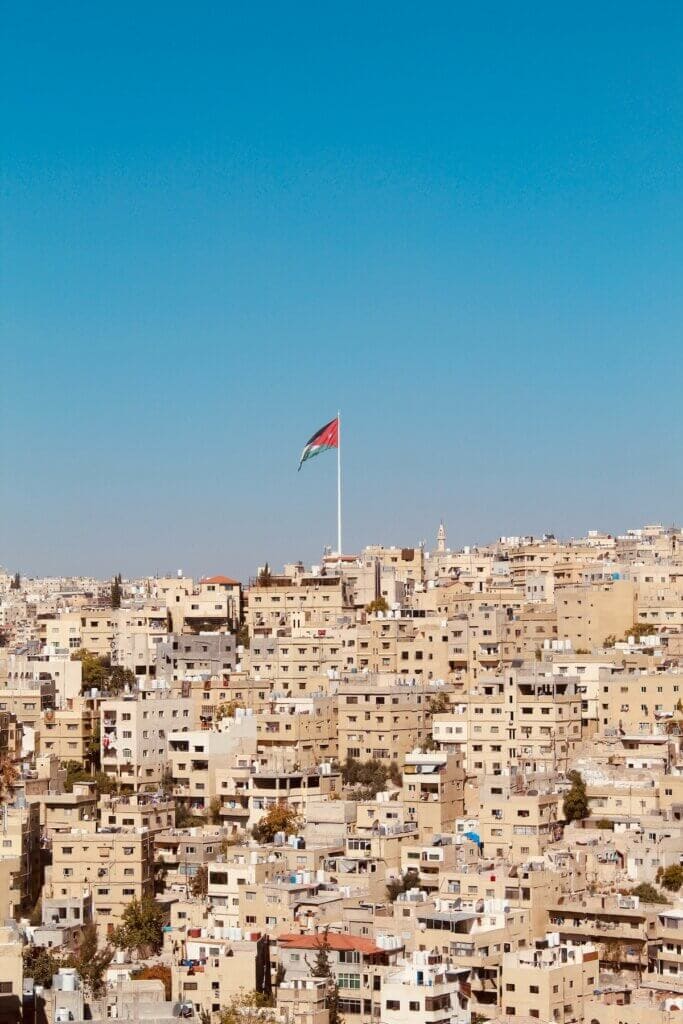 Is One Day in Amman Enough?

When planning your Jordan itinerary, you might be asking yourself how long you should stay in Amman. If you have a tight schedule, one day in Amman is enough to so see the main highlights and the sites of the capital of Jordan. But like many popular cities in the world, you would need at least 2-3 days in Amman to spend enough time in each attraction and feel the atmosphere of the city.
How to get to Amman City Center from the Airport

Queen Alia International Airport (QAIA) is located about 35 kilometers south of Amman. The easiest way to get to Amman city center from the Airport is by taxi. The ride takes about 35-50 minutes depending on the traffic and costs about 22 JD (in 2023). Although there will be a number of unofficial taxi drivers "hunting" for customers at the entrance, I highly recommend booking your taxi with official Amman airport taxis with registered and traceable drivers and a fixed price list. They are pretty easy to find. Just look for the big yellow "Airport Taxi" sign and you will find a small kiosk where you can book your taxi to the city center of Amman.
Another way to get to Amman city from the Amman airport is by taking an express bus. The Sariyah Express Airport Bus is the cheapest way to get to the city if you are not in a rush. Check out the latest bus timetable here.
Tip: All the ATMs in Jordan charge a fee for taking out cash. In 2023 it was 5 JD and I suspect it will get even more expensive. I recommend taking as much cash as you think you might need for your stay in Jordan right at the airport. You can also exchange your currency for JD at the airport. The fee will be similar to taking money from an ATM.
Things to do in One Day in Amman
Most of the top attractions in Amman are located very close to each other making it easy to explore Amman in one day. You can simply walk from one attraction to another or take a short break in one of the local cafes to taste delicious Jordanian food.
Visit King Abdullah I Mosque

The King Abdullah Mosque is one of the largest mosques in Jordan. This picturesque mosque is often referred to as the Blue Mosque, because of its magnificent blue mosaic dom.
Tourists are allowed to visit the mosque through a gift shop. Men must have long trousers on and women must cover their head, arms, and legs.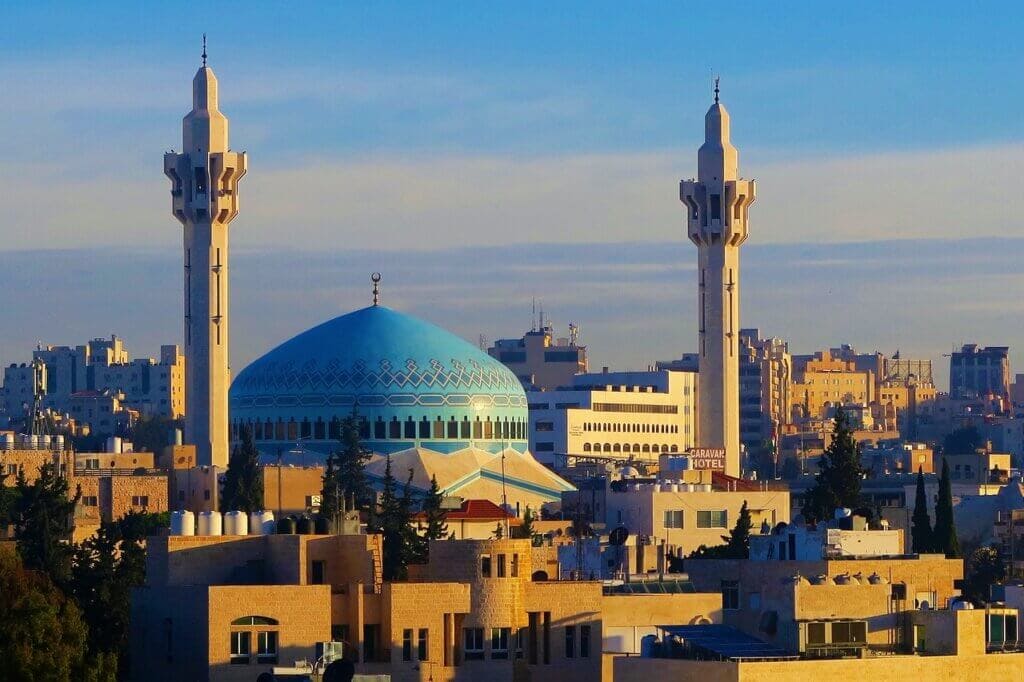 Tip: The gift shop in the mosque is heavily overpriced, so keep that in mind if you decide to shop here.
Watch Sunset at Roman Theater
Roman Theater with its 6000 seats is a great reminder of Amman's glorious past when the city was known as Philadelphia during the Roman period. Build in the 2nd century, the Roman theater is a true masterpiece from antiquity and one of the most impressive sites in Amman.
I recommend visiting the amphitheater in the evening. Find a spot on the ancient steps and witness the sun setting over the city's horizon, casting a warm golden glow on the well-preserved amphitheater.
If you're holding a Jordan pass, the entrance is free. Otherwise, the entrance costs 2 JD per person.
Embrace the Past at the Citadel

The Citadel is a large archeological site from the Roman period located on top of the Jebel al-Qala hill in the heart of Amman. The highlights of the site are the Temple of Hercules, built during the reign of Roman Emperor Marcus Aurelius, the Umayyad Palace, the Byzantine Church, and breathtaking views of the city below. Amman citadel was my favorite landmark in Jordan and I have spent almost half a day here. I recommend going to the citadel early in the morning to beat the crowds and enjoy this historical gem.
Tip: Don't forget to wear comfortable shoes, as there's a bit of walking involved.
Buy Some Suveniers at Local Soaks

Soaks are the middle eastern version of open markets. They play a very important role in Arabic culture. Here you can find a wide variety of goods ranging from souvenirs to exotic spices and traditional handmade products. Keep your eyes open, explore and you might find some hidden treasures. Some local soaks worth visiting are Soak Jara and Soak Bukharia.

Tip: Bargaining is a common practice in middle eastern soaks and markets. Have fun negotiating the price, but remember to do it with respect and a sense of humor!
Stroll Through the Rainbow Street
After immersing yourself in history and exploring ancient ruins, take a walk to Rainbow Street, the epicenter of Amman's nightlife. Lined with colorful buildings, trendy cafes, and art galleries this vibrant street attracts many visitors. Try local street food or delicious traditional meals. Falafels are my favorites.

What to Wear in Amman
Whenever you visit a new county, it is very important to respect local customs and dress accordingly. Jordan is a conservative Muslim county that's why it is important to dress modestly especially if you plan to visit religious sites or more traditional neighborhoods of Amman.
For both men and women, I recommend avoiding revealing clothing like shorts, tank tops, and sleeveless shirts. Clothing should cover the shoulders and go below the knee.
Here are more clothing tips:
Wear light and breathable fabrics: Amman can get quite hot, especially in the summer months. Choose lightweight and breathable fabrics like cotton to stay comfortable.
Comfortable shoes: Amman has some hilly areas and uneven streets, so comfortable walking shoes are essential.
Layers: Depending on the time of year, temperatures can vary significantly between day and night. It's good to have layers you can add or remove as needed.
Where to Eat in Amman
Amman's food scene is very diverse and both modern and traditional. Thanks to a large population of Palestinians and the influence of Beuine culture, local food reflects that mix of cultures. The flavors, aromas, and variety of dishes will leave you wanting to try more. From street, food to fine dining, Amman has something to satisfy every palate.
Rooftop Dining: Many restaurants in Amman offer rooftop dining with beautiful city views. Consider visiting Shamsa and Jubran for the best views and the best fine dining experience in Amman.
Jordanian Street Food: Explore the lively street food scene in downtown Amman, especially around Hashem Restaurant and Rainbow Street. Try different types of pastries, hummus, and falafel.
Conclusion
Amman serves as a convenient gateway to explore the rest of Jordan's wonders and offers a unique blend of history, culture, hospitality, and modernity. Whether you're a history enthusiast, a food lover, or an adventurer seeking new experiences, Amman has something to offer and will leave you with great memories of a vibrant and welcoming city.
Please follow and like us: