How to Visit Lake Eibsee and Zugspitze from Munich
Lake Eibsee with its crystal clear turquoise waters is one of the most beautiful and famous lakes in the Bavarian Alps. Lake Eibsee is located at the foot of Germany's highest mountain Zugspitze (2,950 meters (9,680 ft)) in the municipality of Grainau at an altitude of 1,000 meters. Eibsee is not a big lake. Its maximum length is only 2450 meters and its maximum width is approximately 850 meters. It has developed infrastructure surrounded by luxury hotels and restaurants. Lake Eibsee is a privately held lake that belongs to the Eibsee Hotel.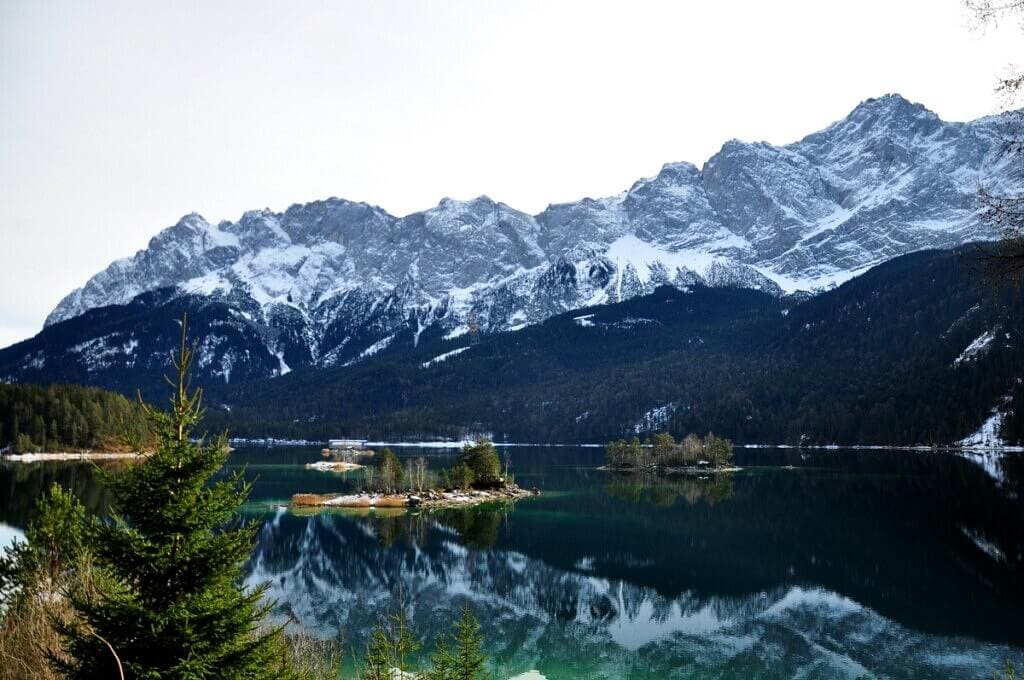 Table of Contents


How to get to Lake Eibsee from Munich

Lake Eibsee is located about 9 Kilometers southwest of the famous Bavarian town Garmisch-Partenkirchen and about 100 Kilometers southwest of the Bavarian capital Munich. It is easily accessible both by car and by public transportation.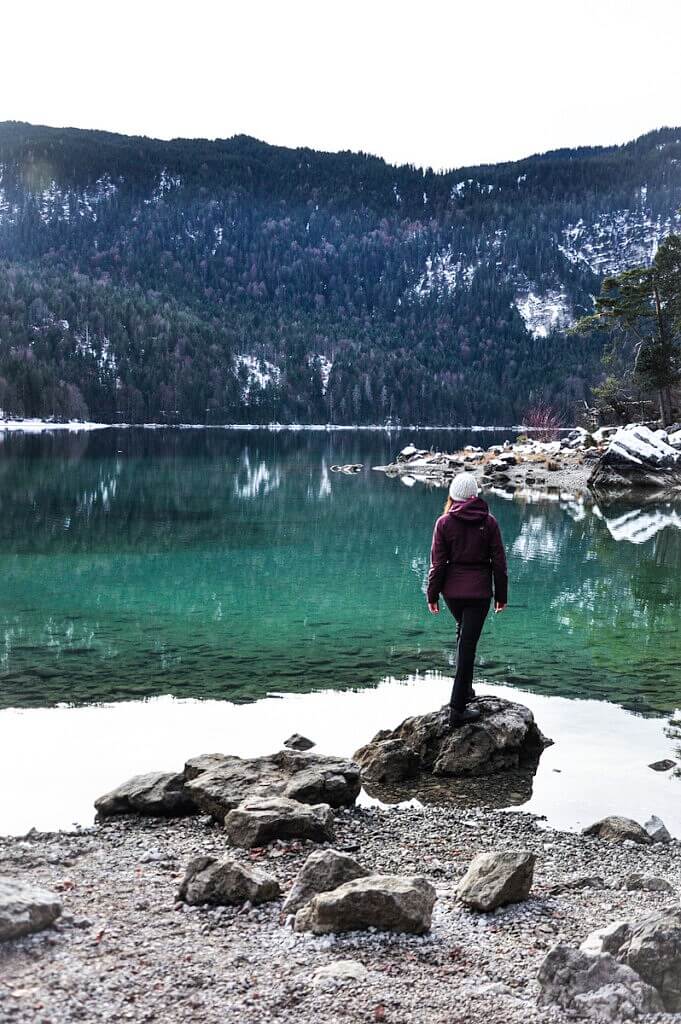 From Munich to Lake Eibsee by Public Transportation

The most convenient way to get to Lake Eibsee from Munich is by train. Just take a regional train from Munich central train station (München Hauptbahnhof) to Garmisch-Partenkirchen. Trains are generally available at hourly intervals. The cheapest way to travel by regional trains in Bavaria is either with Bavarian Ticket or Werdenfels Ticket.
After you arrive at Garmisch-Partenkirchen, there are two options available to get to Lake Eibsee at Grainau. You can get to Grainau either by a cogwheel train (Zugspitzbahn) or a white-blue bus EIBSEE-Bus. Click here for the bus timetable.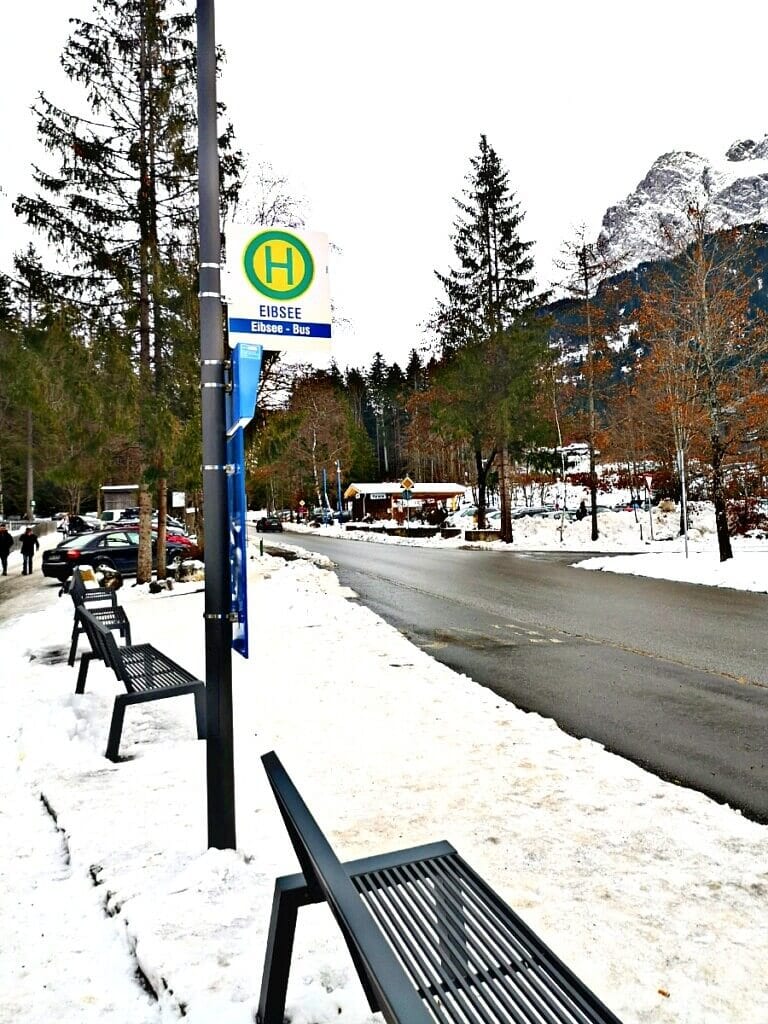 Options1: Munich to Eibsee by train and bus
Stations: München Hbf >Garmisch-Partenkirchen > Eibsee Bushaltestelle Grainau
Duration: The journey will take about 2:30 to 3 hours
Transfers: 1

Options2: Munich to Eibsee by train and Zugspitzebahn
Stations: München Hbf >Garmisch-Partenkirchen >Eibsee Zugspitzbahn Grainau
Duration: The journey will take about 2 hours
Transfers: 1
If you have a Bavarian ticket you can travel up to Grainau from Garmisch-Partenkirchen with the Zugspitze cogwheel train (Zugspitzbahn). From Grainau train station it is about one hour walk to Lake Eibsee. Alternatively, you can pay extra and travel directly to Eibsee.
From Munich to Eibsee by Car

Eibsee Lake is located about 100 kilometers from Munich and it is easily accessible by car. Thanks to the German autobahn, this journey will take only about one hour depending on the traffic and your car. If you are traveling by car on a sunny weekend, especially on Sunday, chances are pretty high that you will be stuck in a traffic jam. In that case, taking a train might be a better option.

Lake Eibsee Parking

There is a big parking lot directly at the Zugspitze Cable Car near Lake Eibsee. It costs about 6 euros for 4 hours, and 1 euro for an additional hour. Be aware that you can not pay by card. You must have some coins and cash.  Night tariffs are a little bit higher but if you are staying in the area you could ask for a free parking slot at your hotel.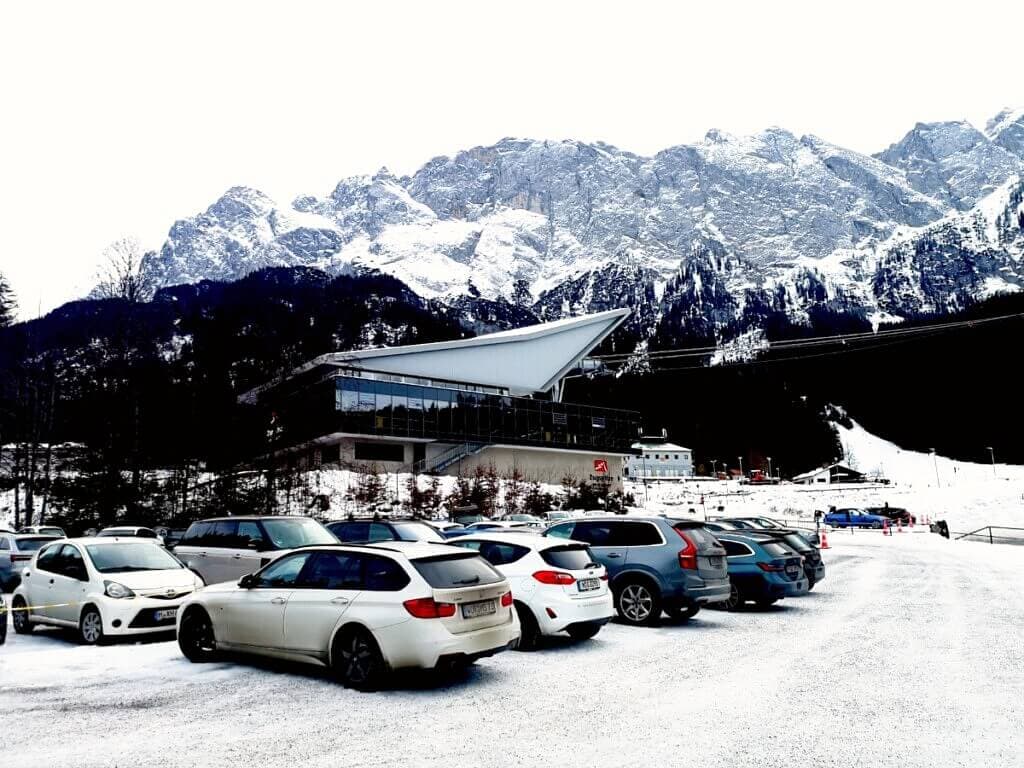 Opening Times
Daily 05:00-22:00 O'clock
Restrictions
There's a height limit of 2,10 meters for vehicles. Overnight parking is not allowed.

Parking Timetable

Early bird package 05:00 to 09:30
4-hour package (after 09:30)
Every additional hour maximum until 22:00
Fee for parking after 22:00 p.m. ( is prohibited )
Price

2.00 Euro
6.00 Euro
1.00 Euro
50.00 Euro

Related Articles

Lake Königssee and Berchtesgaden National Park
Ultimate Guide to Lake Starnberg
Best Hikes near Munich
Top 8 Lakes near Munich
2 Day Munich Itinerary


Walk around the lake Eibsee

The path around Lake Eibsee is very relaxing and beautiful. The walking distance is about 7 kilometers which you can walk in about  2-3 hours depending on your speed and amount of photo-breaks. It took me longer because I was literally stopping at every bush to capture another photo with an amazing view with Zugspitze in the background. The path starts directly in front of the Eibsee Hotel on the opposite side of the parking slot. You can start walking either to the left or to the right. There are also some bunches on the way where you can sit to relax and enjoy the views.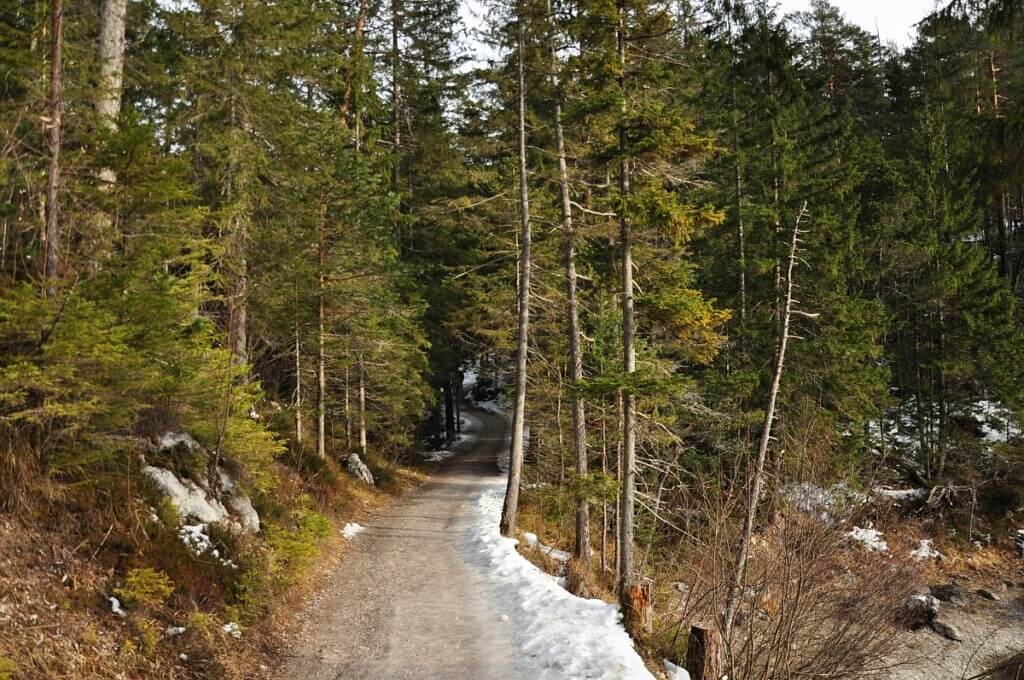 Lake Eibsee has about 8 small islands and it is surrounded by a few mini-lakes hidden in the forest. In summer you can rent a motorboat or pedal boat to explore the lake. 
Lake Eibsee Day Trip Budget

When planning a day trip to Lake Eibsee the following costs should be taken into consideration:
Bayern ticket – 25 euros, plus 8 euros for any additional person (up to 5 people total per ticket)
Food and drinks – 3-5 euros for a non-alcoholic drink, 10-20 euros for food
Car – 6 euros for 4-hours parking plus for fuel.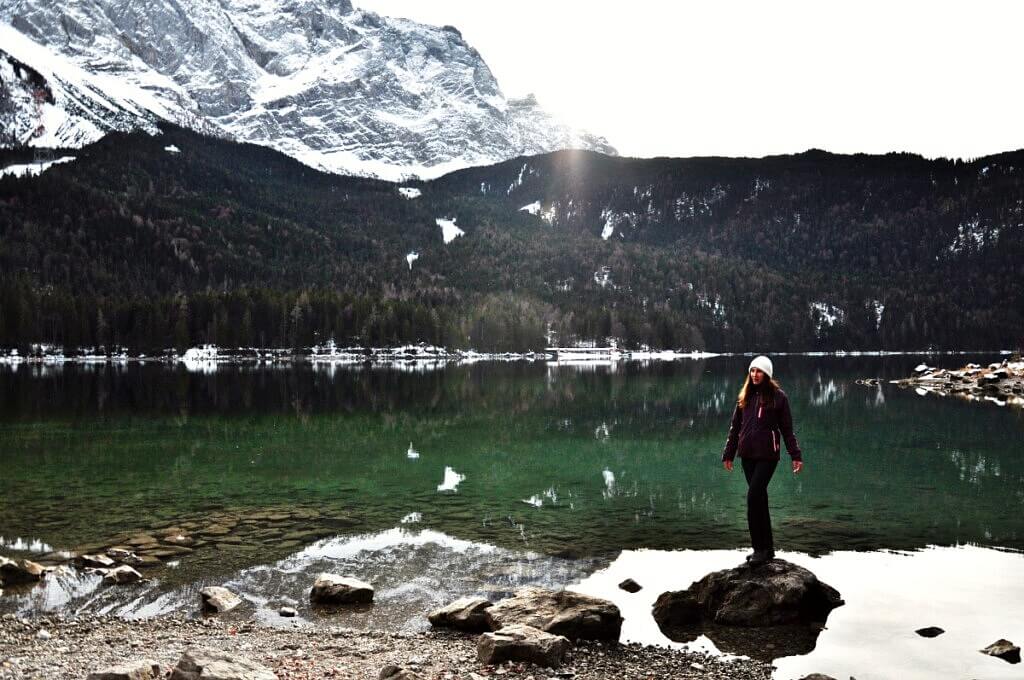 Eibsee Accommodation

Eibsee Hotel, located directly at the foot of Mount Zugspitze, is one of the oldest lake-front hotels in Bavaria. It was built in 1884. This luxury wellness hotel offers a lake spa with a beautiful panorama and a traditional Bavarian restaurant.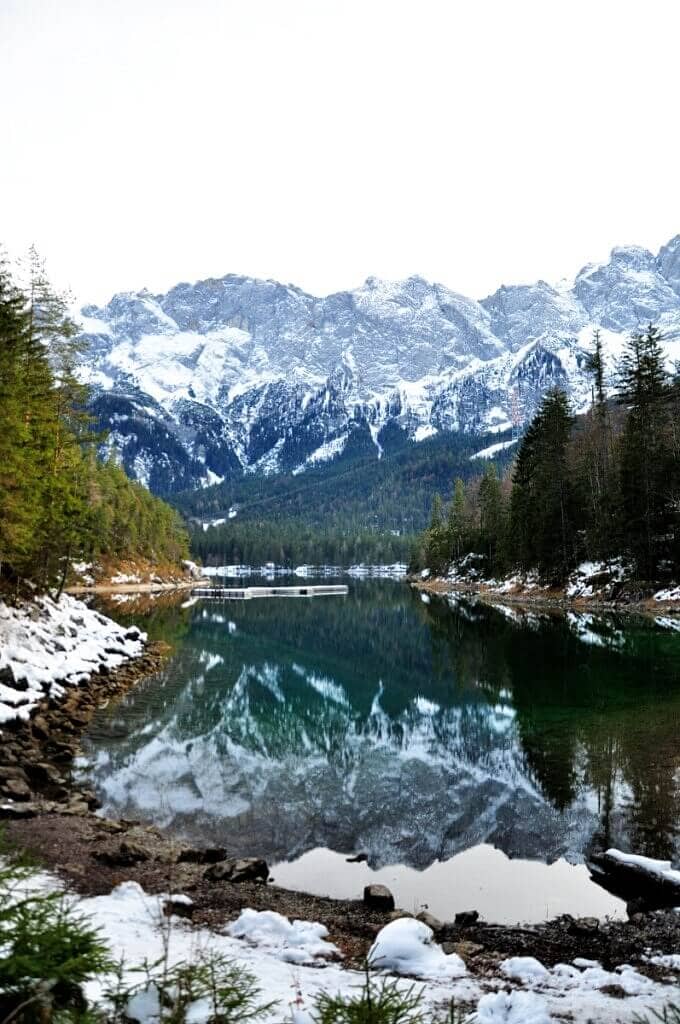 If you stay here for a few days, you can explore one of the most beautiful regions in Bavaria. Here are some ideas for a day trip in Grainau:
Check out the Partnach Gorge (about 15 kilometers from the hotel )
Takes a cable car to the top of Zugspitze (4 minutes walk from the hotel)
In wintertime, you can go skiing or sledding.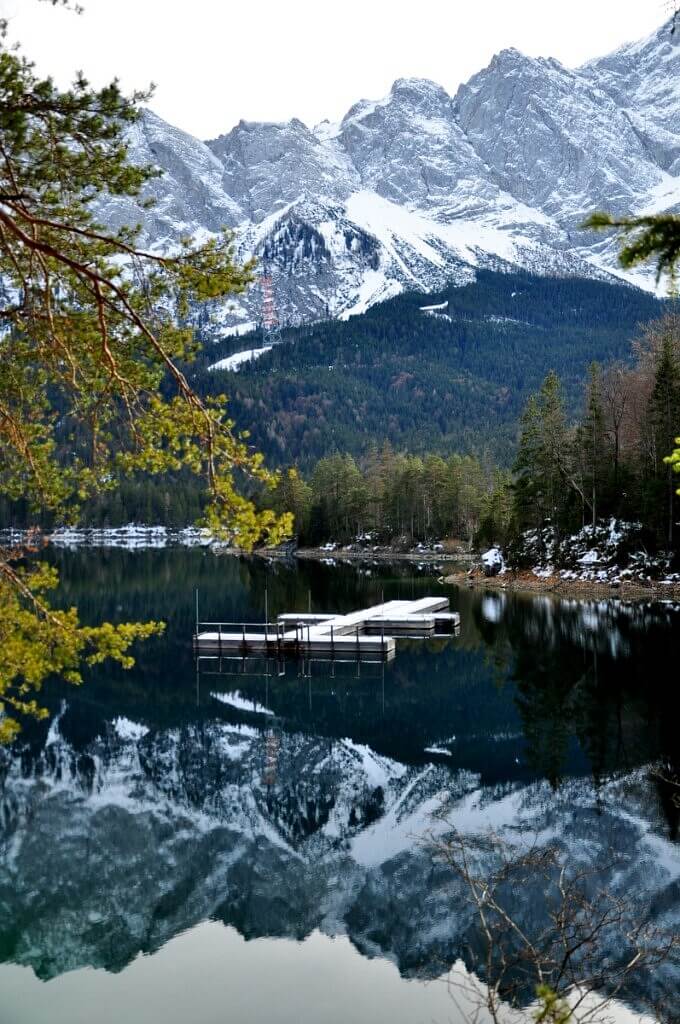 Lake Eibsee Camping

If you have a tight budget and can't afford a luxury accommodation there are several camping places near the lake Eibsee.
The closest one is the Camping Resort Zugspitze in Schmölz. It costs about 14 euros per person per night, plus 40 euros for a camper. WLAN and showers are included in the price.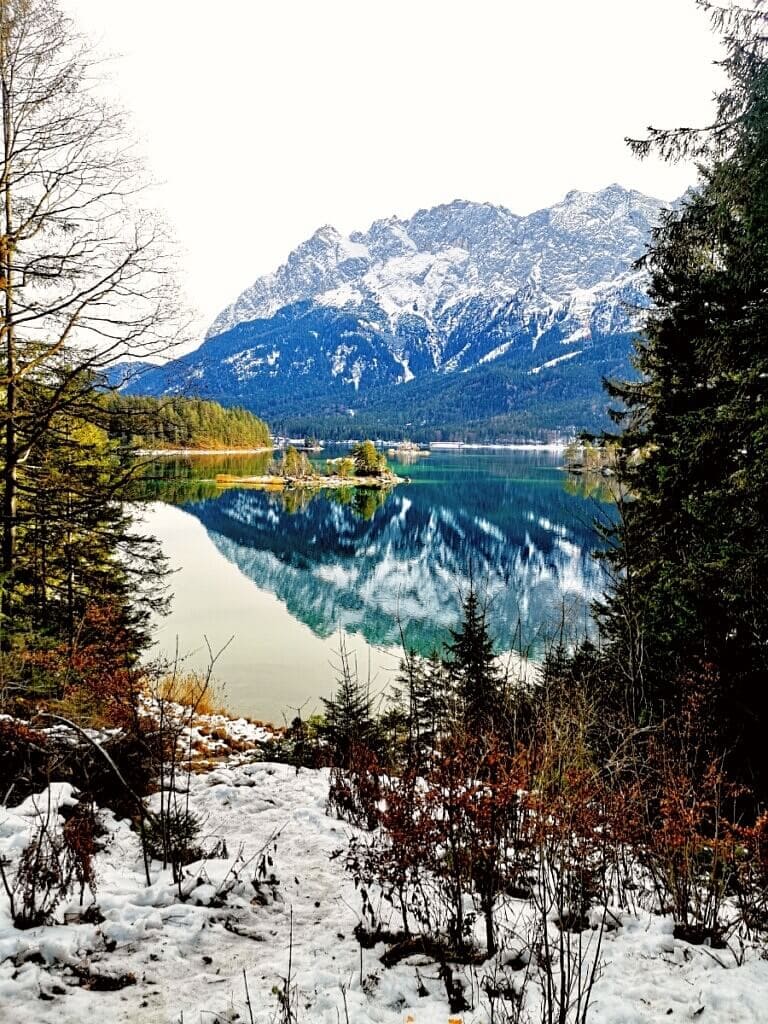 Please follow and like us: