Best Street Food in Lima: Locations and Safety Tips
When I arrived in Lima, Peru I was surprised with the popularity and diversity of street food in Peru. Street food culture is especially developed in Lima where you can find various markets and vendors offering delicious traditional Peruvian food. The street food in Lima's markets is usually sold in dedicated carts where vendors typically sell something specific. For example, you will see a cart named "Picarones" or "Choclo" selling only picarones or choclo accordingly. From this large variety of street food being offered in Lima markets, it might be hard to choose what to try. That's why I have created this list of the most popular and delicious street foods you should try in Lima and a few tips regarding safety and the best locations. 
Related Post: 2-Day Short Inca Trail Review
Anticuchos

Anticuchos are a popular street food in Lima and throughout Peru. They consist of marinated and grilled skewered meat (usually beef heart), often served with various accompaniments such as boiled potato or corn (choclo). Anticuchos originated in the Andes during pre-Colombian times and evolved over time. The key to the deliciousness of anticuchos is the marinade, which typically includes ingredients like aji panca (a type of Peruvian chili pepper), garlic, cumin, vinegar, and other spices. The meat is marinated in this mixture for several hours to infuse it with flavor and tenderness. After marinating, the meat is skewered onto wooden or metal sticks and then grilled right before serving. In most of the Peruvian cities I have been to so far, I could always find Antichuchos sold on the streets. I have tried both the street-sold version and restaurant version of this delicious Peruvian specialty and can confirm that both versions taste pretty good.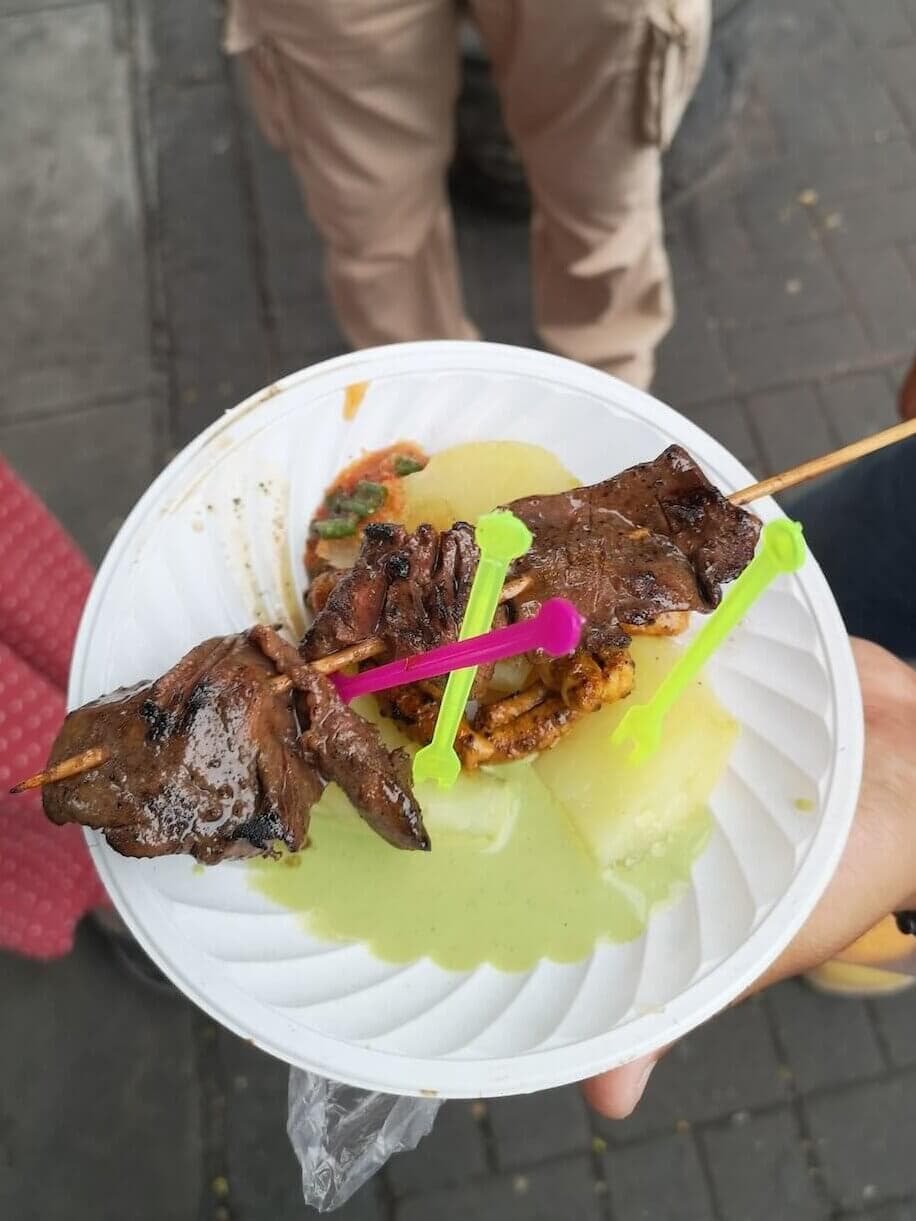 Ceviche
Ceviche is a famous dish from South America made of row seafood (mostly fish) marinated with lemon juice. I have to admit that Peruvians have taken this dish to the next level. The traditional Peruvian version of Ceviche consists of marinated raw fish accompanied by sweet potatoes, cooked Peruvian corn (choclo), and lettuce or cilantro. Today you can find ceviche on most of the street markets in Lima and other Peruvian cities. In Lima you can find the most variants of ceviche, for example, ceviche is accompanied by different side dishes such as noodles, rice, chicken, and more.
Pro Tip: If you want to try the best ceviche cheaply, do it in Lima or other cities in Peru close to the ocean. This way you will be sure that the fish is fresh just out from the sea. I don't recommend trying Ceviche in Cusco or other popular Peruvian towns located in the mountains at high altitudes. So make sure to try this popular Peruvian street food while you are in Lima.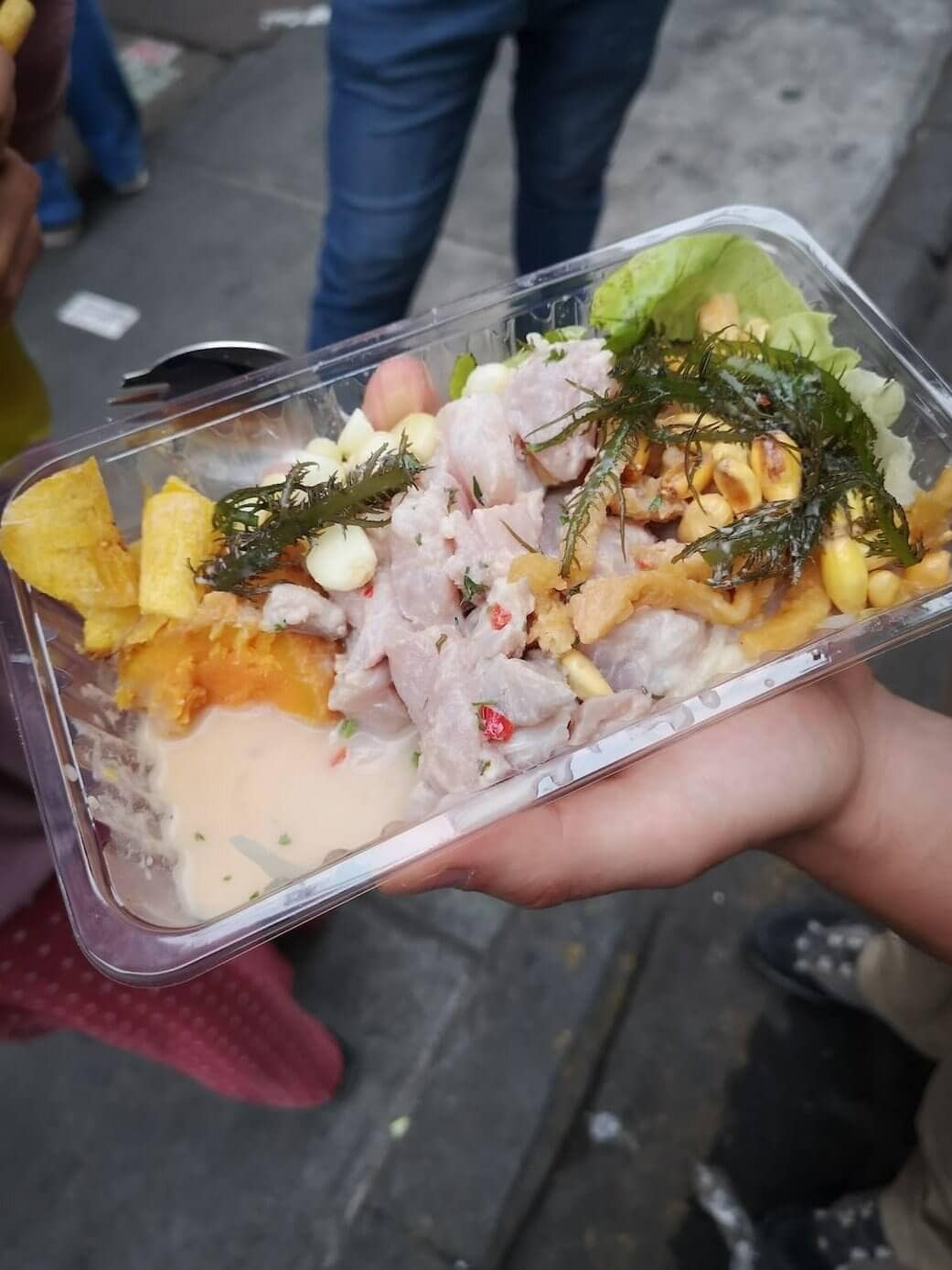 Choclo Con Queso

Choclo is a large-kernel Andian corn with a slightly chewy texture. It usually has a white or pale yellow color. Interestingly Pervuians call only the cooked version of this corn Choclo. It is a popular street food in Peru usually served with Peruvian white cheese and different sources. I absolutely loved this combination, especially the red spicy sauce with a bite of cheese and chewy choclo. Peru has more than 55 corn varieties and Choclo is the most popular corn sold as a street food on the street markets in Lima and other Peruvian cities. If you are concerned about the safety and hygiene of the street food in Lima, Choclo will be probably one of the safest choices. I tried it a few times and had no issues.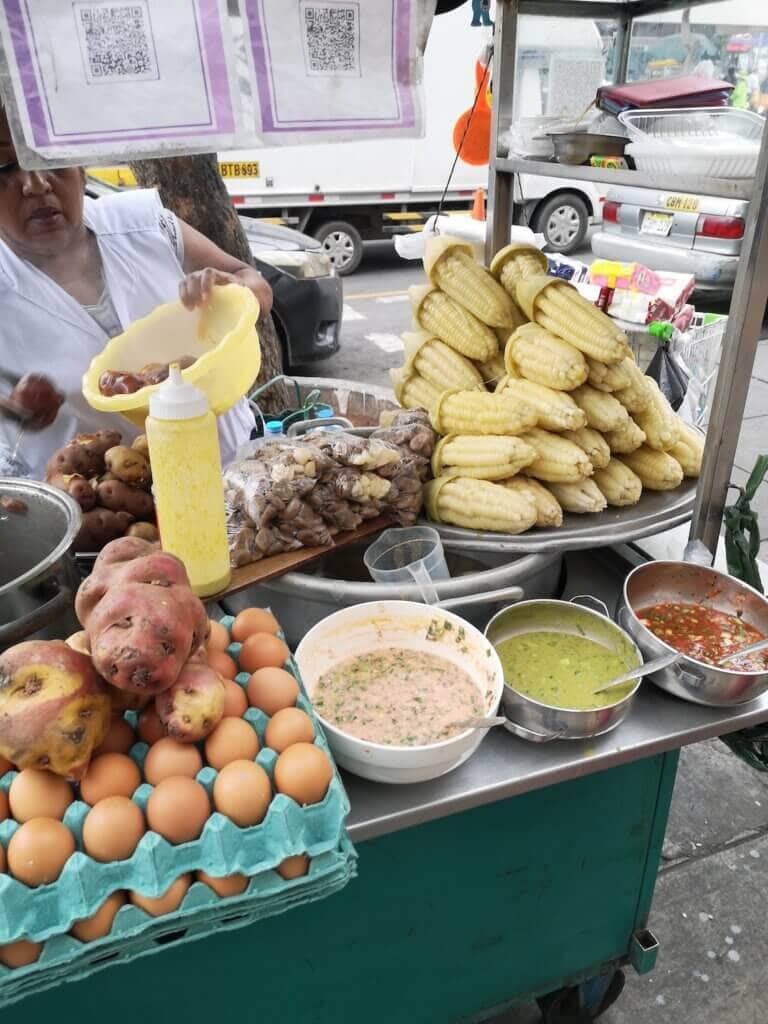 Picarones
Picarones also known as Peruvian Doughnuts, are a popular Peruvian street food dessert made of pumpkin and sweet potatoes. They are typically deep-fried and served with a sweet syrup (chancaca) or honey while still hot. Although picarones are not too sweet, the portions can be quite big as they are usually served in a pack of 2 or 4. You will find Picarones on most of the street markets in Lima. Locals usually love having picarones as a snack during festivals, fairs, and special occasions. It is believed that Picarones are the Peruvian version of the popular Spanish desert buñuelo. They were created during colonial times as a replacement for buñuelo which became too expensive to make.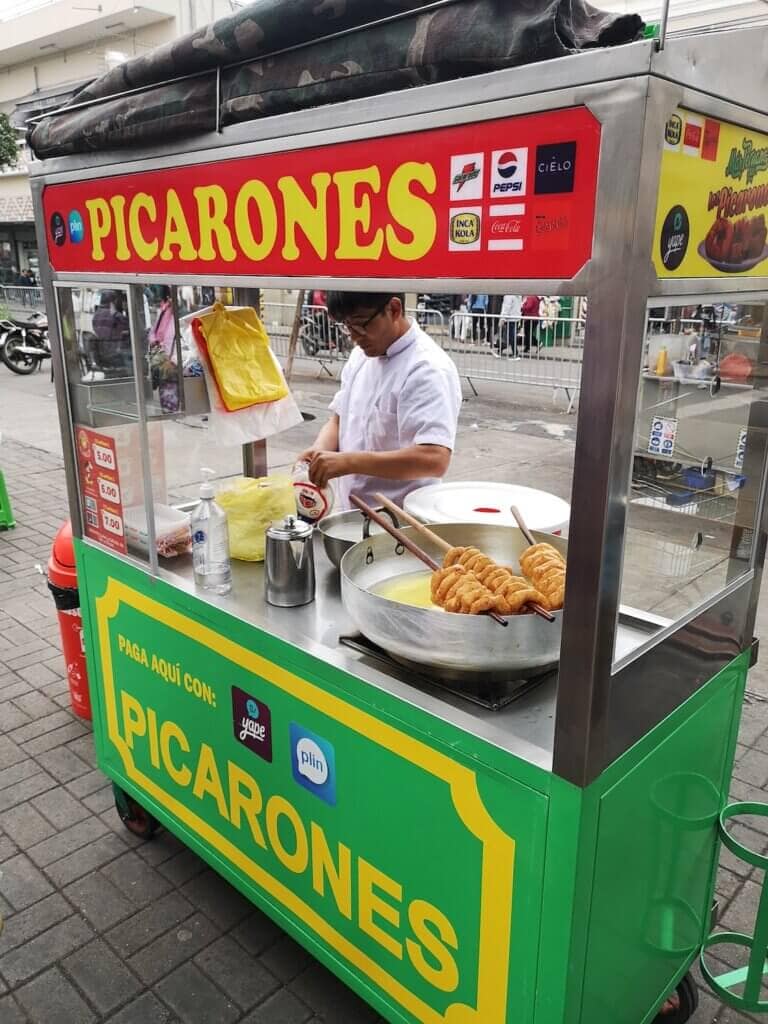 Arroz con Leche with Mazamorra Morada
The Mazamorra morada is one of the classic desserts of Peruvian cuisine. It is a pudding made of purple corn from the Peruvian Andes. The famous Peruvian drink called chicha morada is also made of the same purple corn. Mazamorra morada is usually served with Arroz con Leche (sweet rice pudding) and cinnamon. This is the perfect combination if you want to try this traditional Peruvian desert. In Lima, the mazamorra morada can be found in any market. It is a typical Limeña dessert (a dessert from Lima).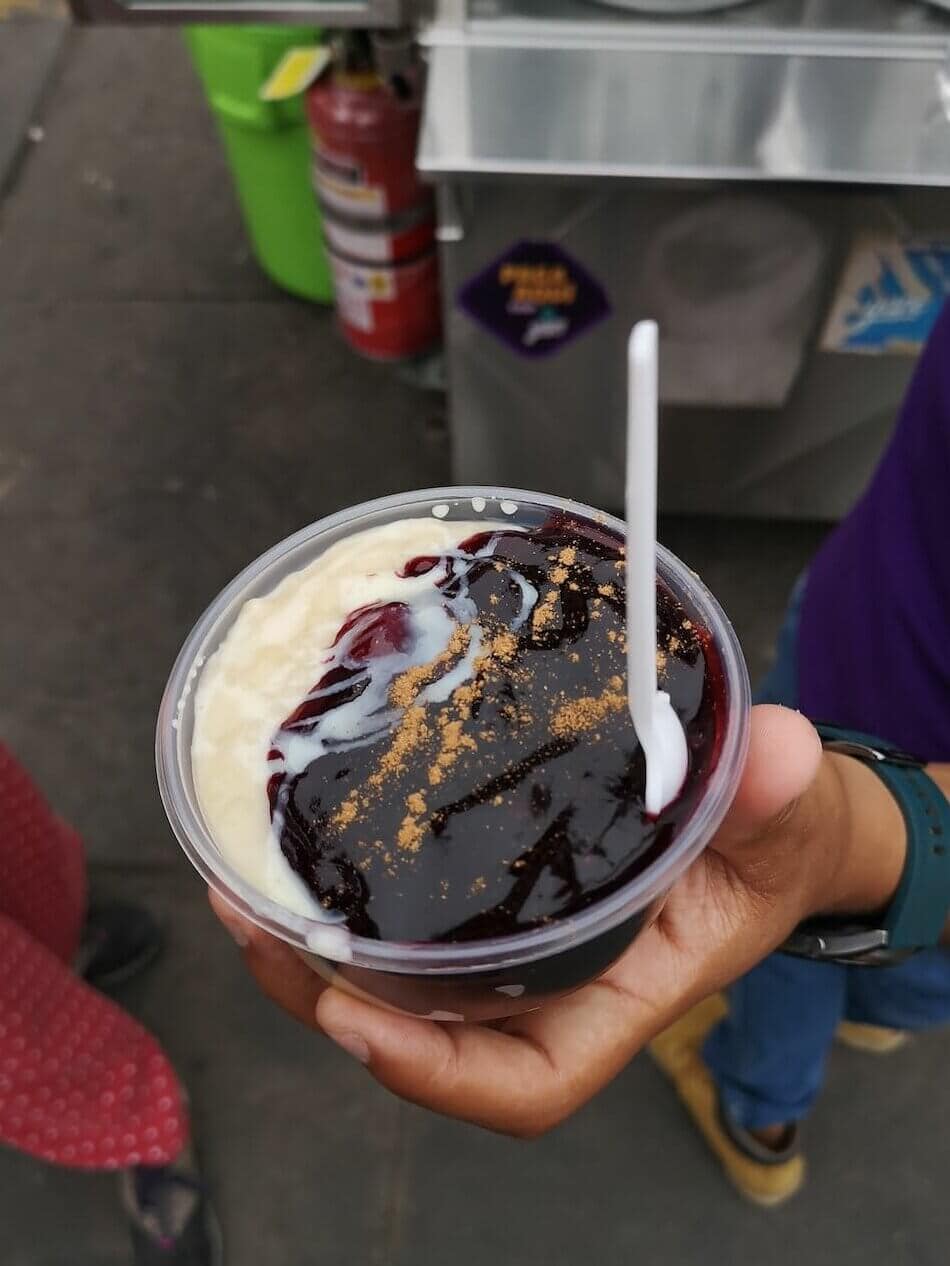 Papa Rellena

Papa rellena is a Peruvian stuffed potato, a type of croquette consisting of mashed potatoes stuffed with a mixture of ground beef, onions, hard-boiled eggs, and spices. Before serving the stuff potatoes are deep-fried to get the golden color. In Peru, the dish is usually accompanied by a "salsa criolla", or an ají sauce (spicy Peruvian green souce). On the street food markets in Lima, Papa rellen is usually accompanied by a fresh mixed salad or vegetables.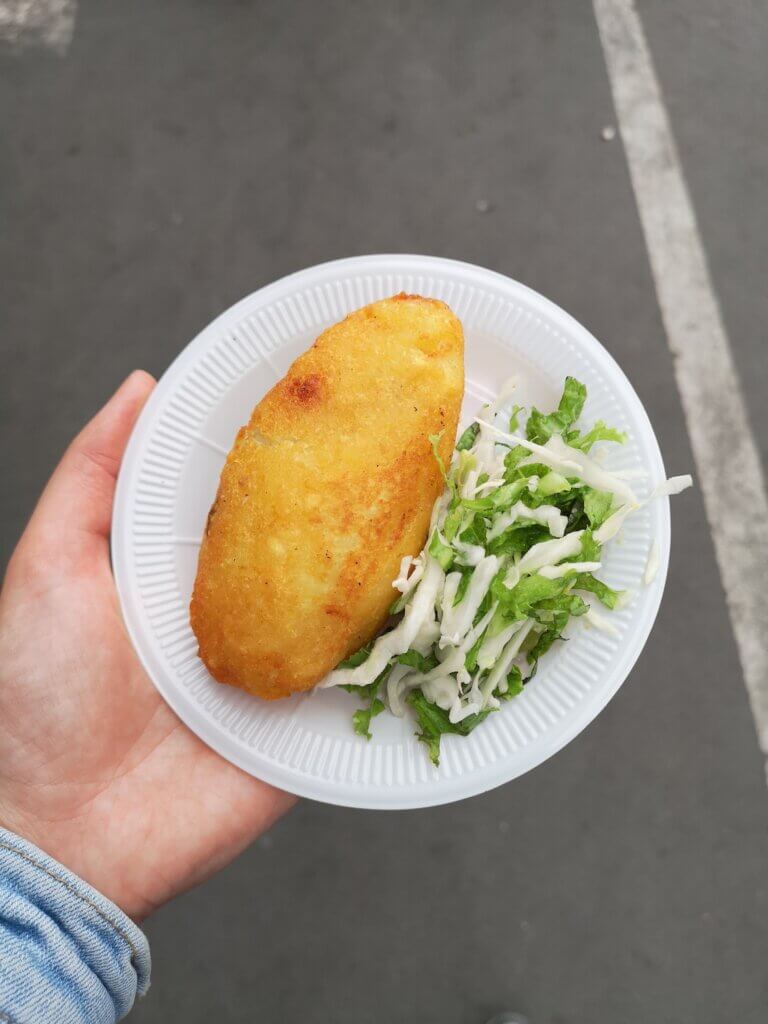 Chicha Morada and Lucuma Smoothie

Both chicha morada and lucuma smoothie are very popular drinks sold in Lima's street food markets.
Chicha morada is the most popular refreshing drink in Peru. It is made of Peruvian purple corn with cinnamon, sugar, and chancaca (Peruvian sweet sauce made of unrefined sugar). You can order it in any Peruvian restaurant or opt for a much cheaper street food version from local markets in Lima and other Peruvian cities.
Lucuma smoothie is made of a yellow fruit called Lucuma which is native to Peru and Chile. The fruit itself is usually too dry to consume it raw. That's why Peruvians make various drinks from these fruits which are absolutely delicious. I also tried Pisco made of Lucuma, and it was my absolute favourite.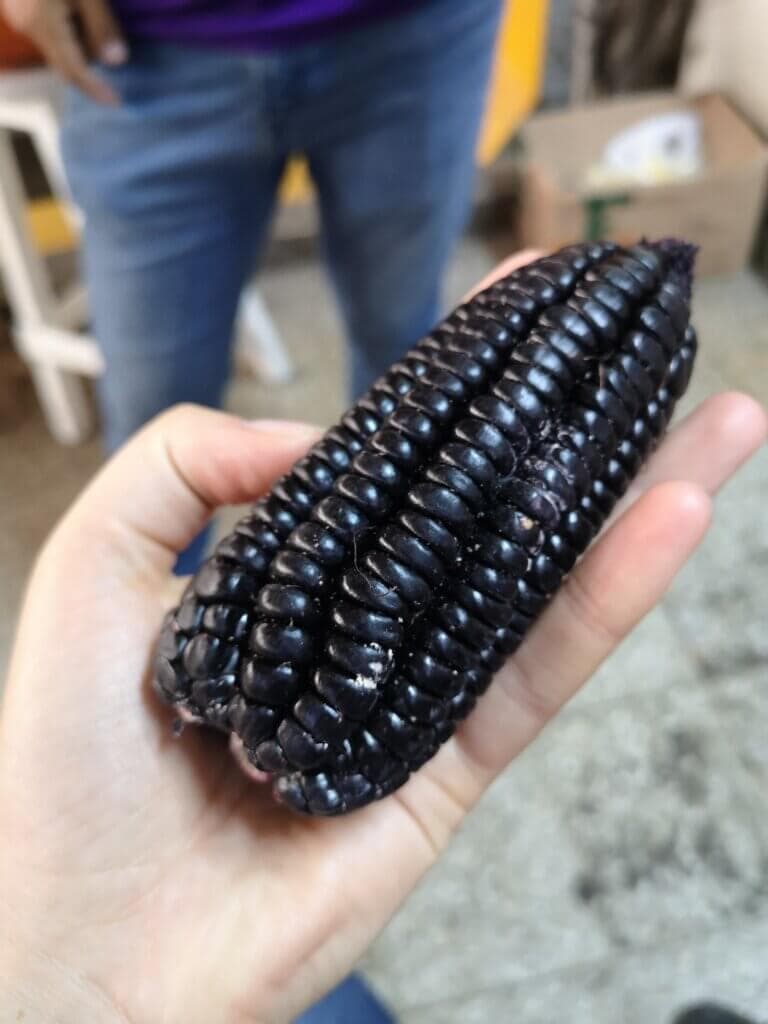 Best Places to Try Street Food in Lima
Although some street foods you can find on almost every corner in Lima, there are certain locations with a higher concentration of street food vendors. If you would like to try different street food in the same location then you should strategically choose where to go.
Mercado Central and Chinatown
Lima's main market (Mercado Central) is located only a few blocks away from the central square (Plaza de Armes). Here you will find the largest amount of street food vendors and have an opportunity to experience Lima as a local. But I have to warn you that this place is not very safe and touristic and it usually gets very crowded by local merchants. It is best to go there during the day and leave before it gets dark. I took a walking tour to the central market and the Chinatown to try local street food and highly recommend this option if you want to have a true authentic experience in Lima.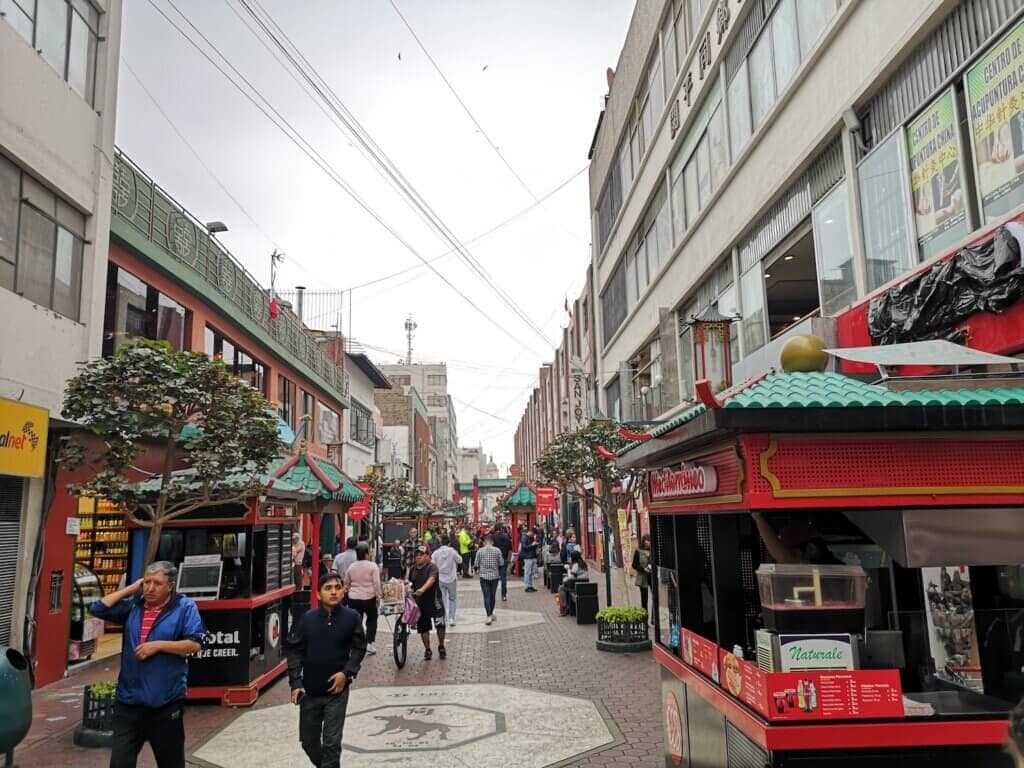 Surquillo Market
Surguillo market is much smaller but also a much nicer market compared to the central market. It is located just a few blocks from Kennedy Park in Miraflores ( the safest area in Lima). Here you will find fresh fruits and vegetables, various meats, seafood, spices as well as local snacks and drinks.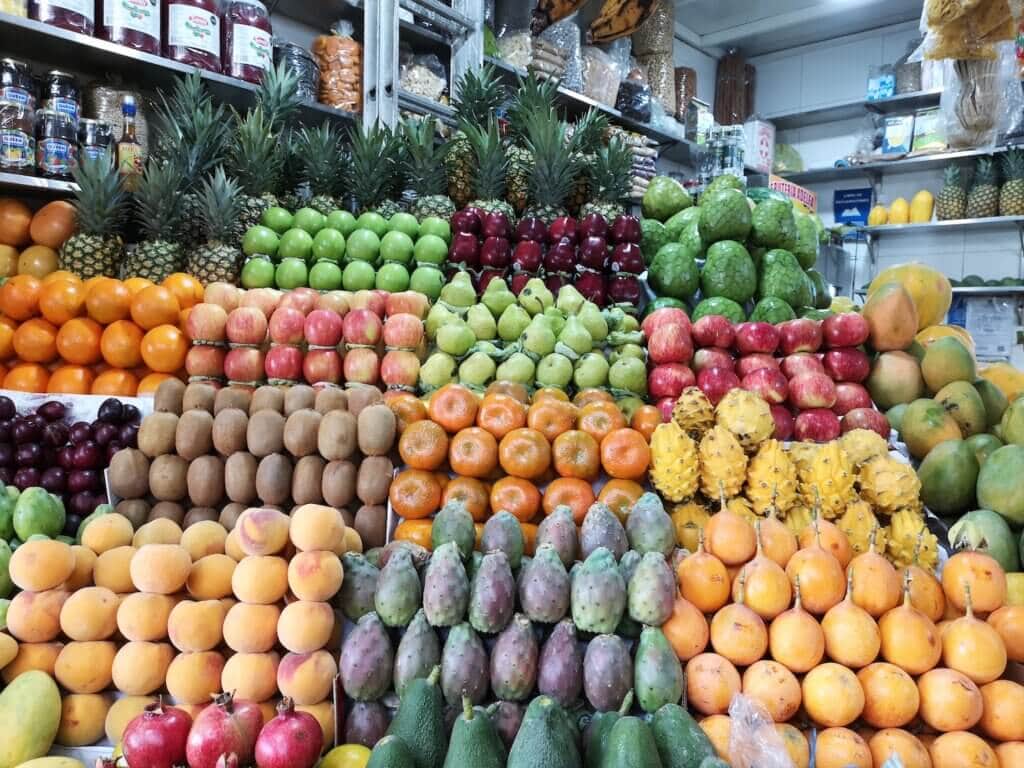 Larcomar in Miraflores
Larcomar is one of the most luxurious areas in Lima. It is basically a large shopping center in Miraflores, which is the safest and richest district of Lima. It is renowned for its scenic coastline, beautiful parks, and stunning views of the Pacific Ocean. Larcomar looks and feels very Western. So don't expect much of an authentic local Peruvian experience here. But if hygiene and safety are the number one priority for you when trying out street food in Lima then Larcomar might be the best option for you.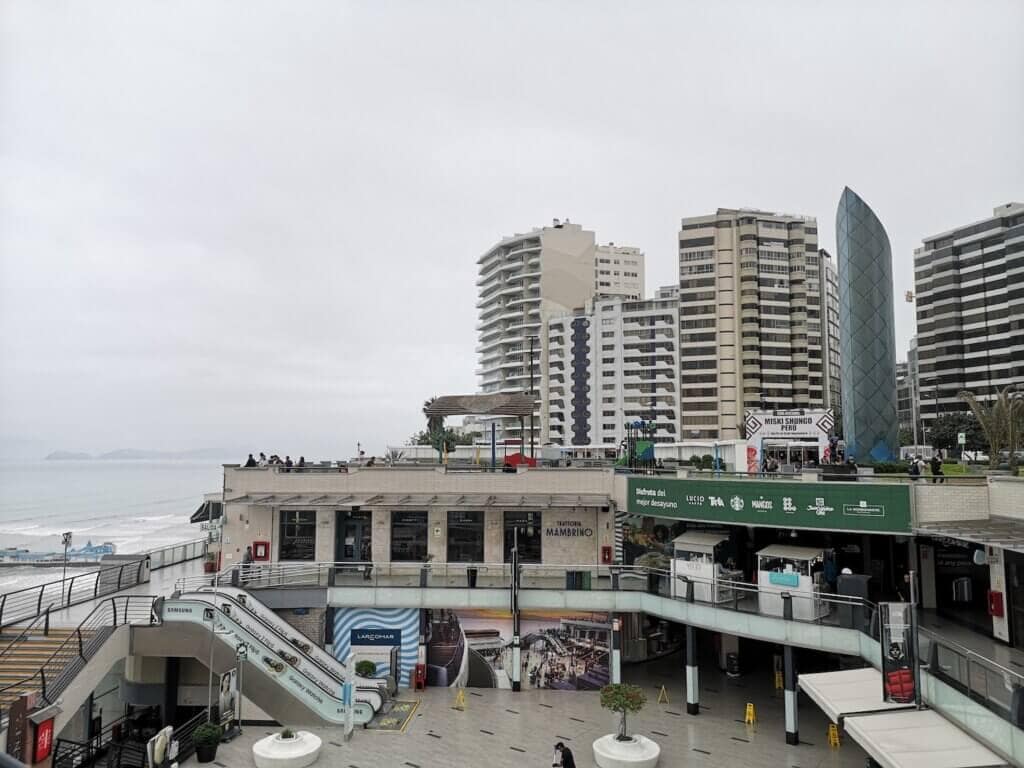 Barranco

Barranco is known as being the bohemian district of Lima. It is a very artistic and cultural place featuring various art galleries, street art, and trendy coffee shops. Like Miraflores, Barranco is considered to be one of the safest districts in Lima, even during the night!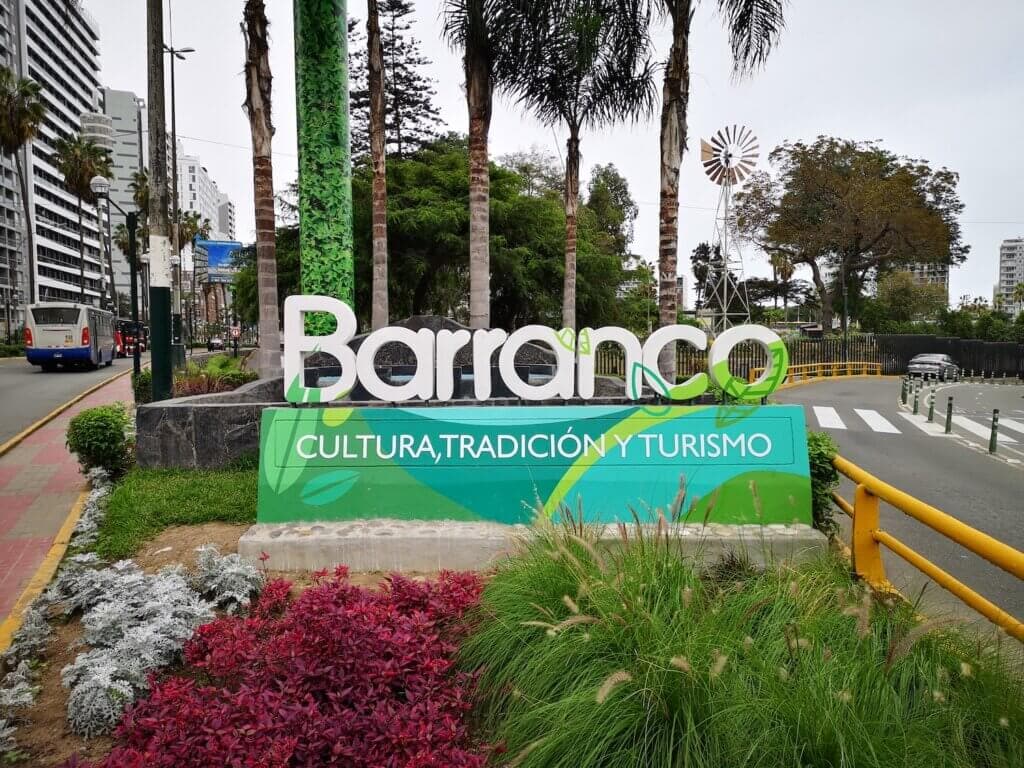 Is it Safe to Eat Peruvian Street Food in Lima?
When trying out street food in a foreign country it is very important to know how safe is it.
What is safe for locals might be dangerous for you, because your body might not be used to certain bacteria found in local food.
As a general rule of thumb, you are fairly safe eating grilled (e.g., anticuchos) or boiled food (e.g., corn), if it has been prepared on the spot.
Drinks and Ice
The locals have developed resistance to the bacteria in tap water, so if they are drinking or eating something from the street vendors, you can't automatically assume it is safe for you as well. If you want to have a safe experience with beverages, you should drink only bottled water (watch the ice cubes and ice cream). If you want ice cream, better get them packaged in factory-sealed containers.
Pay Attention to the Sanitary Conditions
When deciding to buy some street food from a cart you should observe how food is handled and look for red signals. You should ask the following questions:

Are there any flies around the cart?
Is the food properly sealed and protected from flies?
Does the cart look clean
How the vendor handles the food and money. Does he/she wear gloves?
Was the food out there under the sun the whole day ( if it's a hot day)?
How old is the oil used for deep-fried food (e.g. Picarones)?
Please follow and like us: