Your Ultimate Checklist of Things to Do in Sirmione Italy
When talking about Italy you probably imagine the postcards from Venice, Rome, or Tuscany. But Italy has a lot of hidden gems such as Sirmione worth visiting. Sirmione is a resort town on the southmost tip of Italy's largest lake, Lake Garda. Its historic old town is located on the Sirmio peninsula, a long narrow stripe of land on the southernmost part of Lake Garda. There are many things to do in Sirmione, such as the medieval Scaiger castle, the remains of the Roman Villa, and the Roman Baths.  Even getting into Sirmione's old town is a unique experience in itself. You will have to walk across a bridge spanning a moat and be greeted by the majestic Castle of Sirmione surrounded by the crystal clear water of Lake Garda.
Sirmione is a good base to start exploring Lake Garda or taking a day trip to Verona. In this guide, you will discover the best things to do in Sirmione, how to get there, and other useful tips.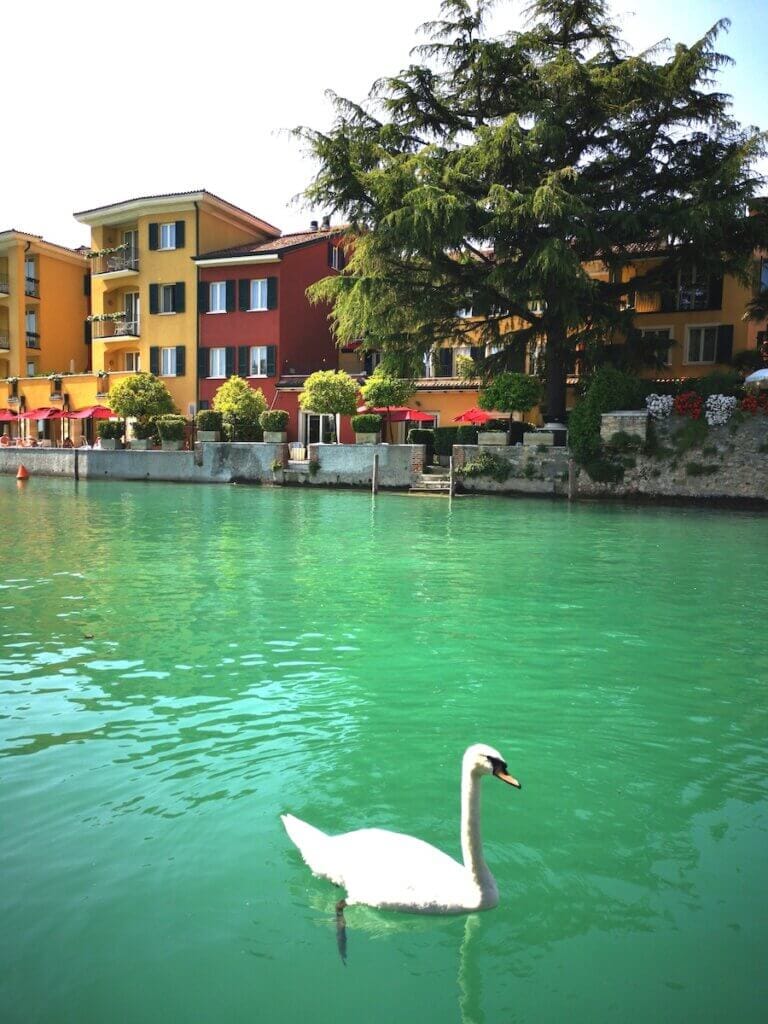 Where is Sirmione in Italy and How to Get There?
If you are traveling to Italy by air, the closest airport to Sirmione is Verona Villafranca Airport.
If you need more information on how to get to Sirmione, you will find it in my detailed guide on how to get from Verona to Lake Garda.
If you are planning to travel to Sirmione by train, the closest train stations are Desenzano and Peschiera del Garda. From there you can take a taxi, a bus, or a boat to Sirmione. From Desenzano, you can even walk to Sirmione, although I wouldn't recommend it. A regular train from Verona Porta Nuova to Desenzano del Garda takes about 19 minutes.
Main Distances to Sirmione
Verona to Srimiome – 42 km
Milan to Sirmione – 132 km
Venice to Sirmione – 154 km
Bergamo to Sirmione – 92 km
Tento to Sirmione – 105 km

Best Things to Do in Sirmione Italy
Explore Scaligero Castle

If you are visiting Sirmione, you simply can't miss visiting the castle of Sirmione located right at the entrance to the historic old town. Scaligero Castle (also known as Scaliger) is the symbol of Sirmione and is of the best-preserved castles in Italy. It was built in the 14th century by the order of the Della Scala family known as Scaligers who ruled Verona and a large part of Venice at that time. Scaligero Castle was an important fortification area until the 16th century and after WWI it was converted into a museum. Today the Scaligero Castle of Sirmione is a major tourist attraction and one of the top-visited sites in Northern Italy.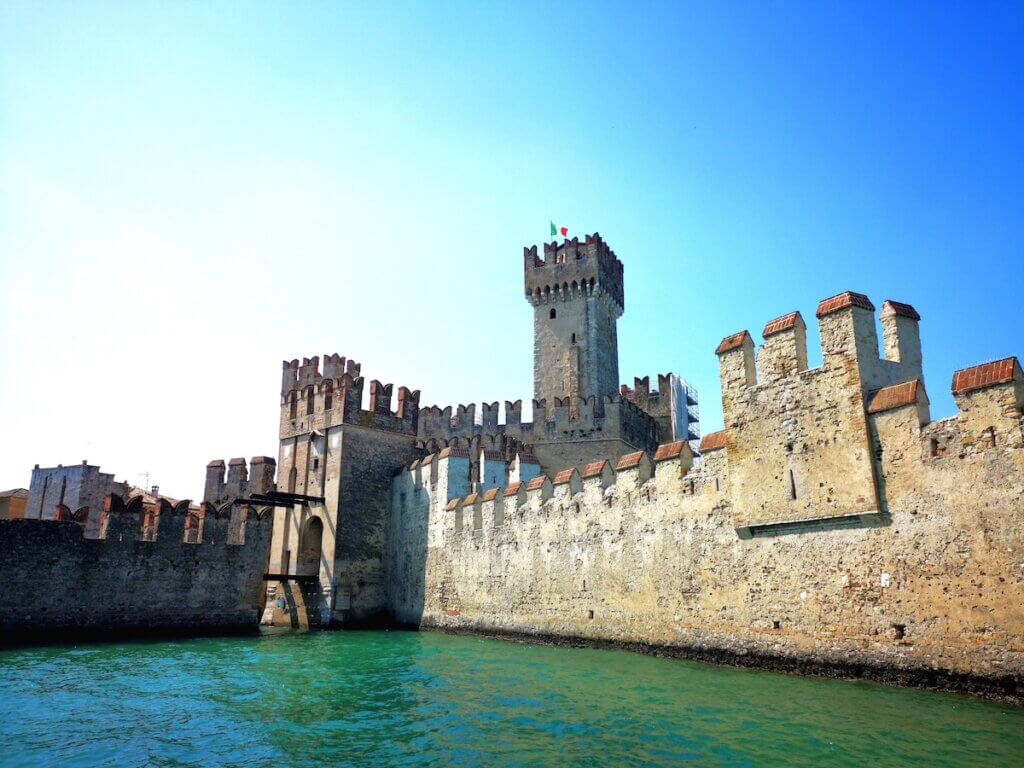 Scaligero Castle Admission and Opening Times
April 1st – September 30th
Tuesday-Saturday: from 8.30 am to 7.30 pm (last entrance 6.45 pm)
Sunday and holidays: from 9.15 am to 5.45 pm (last entrance 5 pm)

October 1st – March 31st
Tuesday-Saturday: from 8.30 am to 7.30 pm (last entrance 6.45 pm)
Sunday: from 8.30 am to 1.30 pm (last entrance 12.45 am)
Holidays: from 8.30 am to 7.30 pm (last entrance 6.45 pm)
Visit Archeological Site of Grotte di Catullo

Grotte di Catullo is a Roma Villa build in 1st BC at the northernmost tip of the Sirmione peninsula and one of the most impressive archaeological excavations from Roman times. The word "Grotte" actually means caves in Italian, but the site has nothing to do with caves. The site includes the archeological museum of Sirmione, the remains of the Old Villa, and the thermal baths. Sirmione is known for its thermal waters and ancient Romans knew how to build underground pipes to extract thermal water for their luxury ancient thermal SPA. The admission fee for the archeological site is 8 euros (price in 2023) payable at the ticket counter in front of the entrance.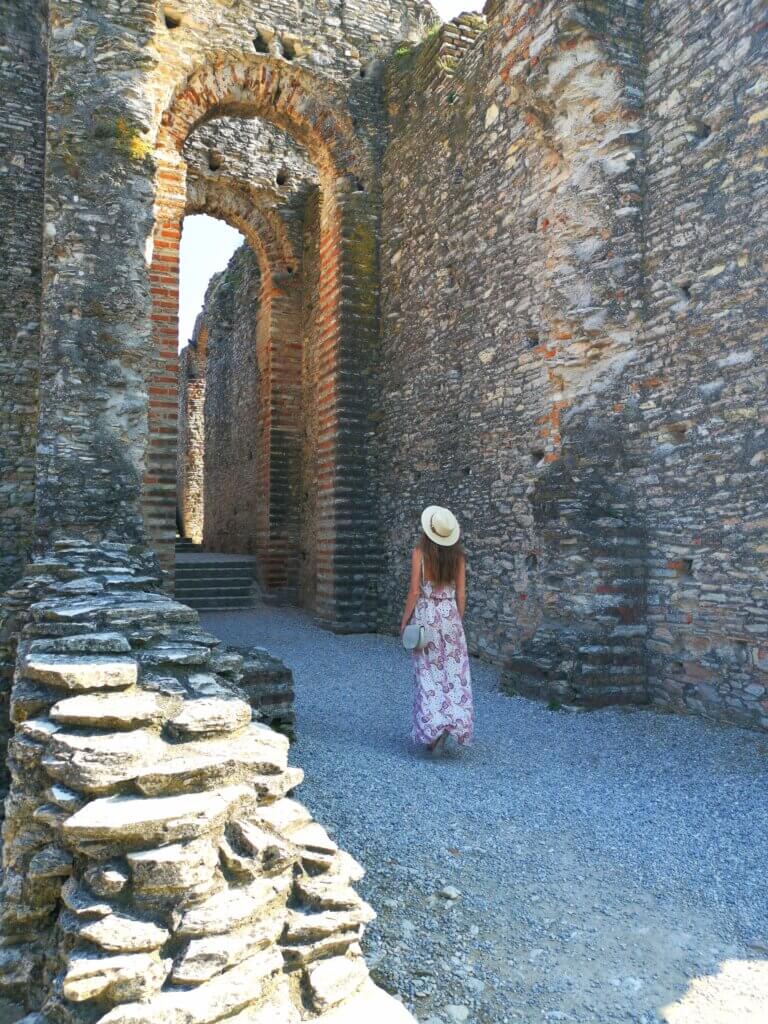 Go Sunbathing on Jamaica Beach in Sirmione
Jamaica Beach is one of the wildest and most authentic beaches in Italy. It is located on the tip of the Sirmione peninsula under the ruins of the ancient Roman Villa Grotte di Catullo. You can get there by walking about 10-15 minutes from the Castle of Sirmione or the entrance to the historic old town. You will not find sandy white beaches here, instead, you will find flat white rocks popping out of the crystal clear water which turns pink at sunset. The beach is partly free and partly equipped with sun beds for hire. Be careful when going inside the water. The rocks can be slippery in some parts and it's mainly shallow in the beginning until you reach the point where it gets deep and you can swim. Swimming in the crystal clear waters of Lake Garda with ancient Roman ruins in the background is a unique experience you should have.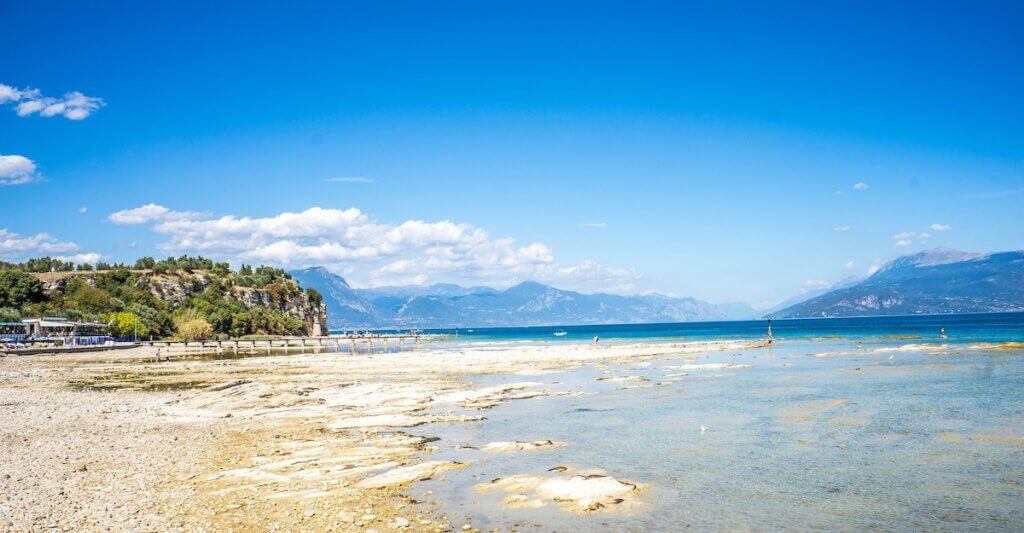 Get Lost in Historic Old Town
Sirminoes' cute little old town is full of nice cafes, restaurants, and unique designer shops. It is perfectly walkable on foot and I highly recommend wandering around the narrow streets of Sirmione's old town and grabbing a yummy Italian Gelato on the way.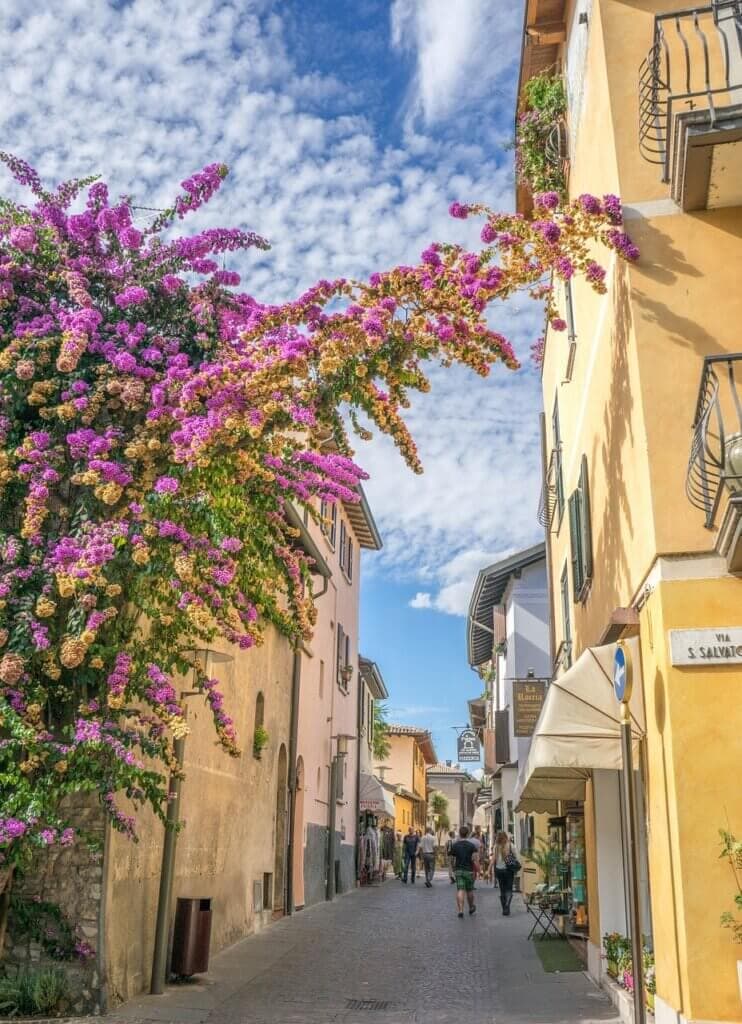 Go Wine-Testing in Cascina Maddalena

Lake Garda and Sirmione are famous for delicious regional wines with a long history of wine-making and beautiful vineyards. Cascina Maddelena is a family-owned winery just outside of Sirmiome's old town. It offers the finest wines of the region combined with wine-testing tours and traditional Italian cuisine.
Relax in Sirmione's Thermal Baths
Sirmione is known for its thermal waters with healing properties. The thermal waters of Sirmione contain sulfates and other minerals from underwater springs which are used to treat a wide variety of diseases. The thermal center of Sirmione operates in two locations: Terme di Virgilio thermal baths, as well as the Aquaria wellness center. Terme Virgilio is a health center for prevention, treatment, and rehabilitation. Aquaria Thermal SPA is a luxurious SPA and wellness area covering over 14 000 square meters with several thermal pools, outdoor freshwater pool, fitness courses, saunas, steam baths, massage cabins, and a large park on the shores of the largest lake in Italy, lake Garda. You can check the details on the official website of the Terme di Sirmione.
Visit Church of San Pietro in Mavino
Church of San Pietro in Mavino, located near the Roman Villa, is a medieval stone church surrounded by typical Italian gardens and olive trees on top of the Mavino hill. Built in the 8th century AD it is the oldest church in Sirmione. The church inside is pretty simple but it has its unique charm and you can feel the medieval atmosphere inside its walls. It's also very peaceful and tranquil inside and might well be worth a short visit to take a break from the crowds.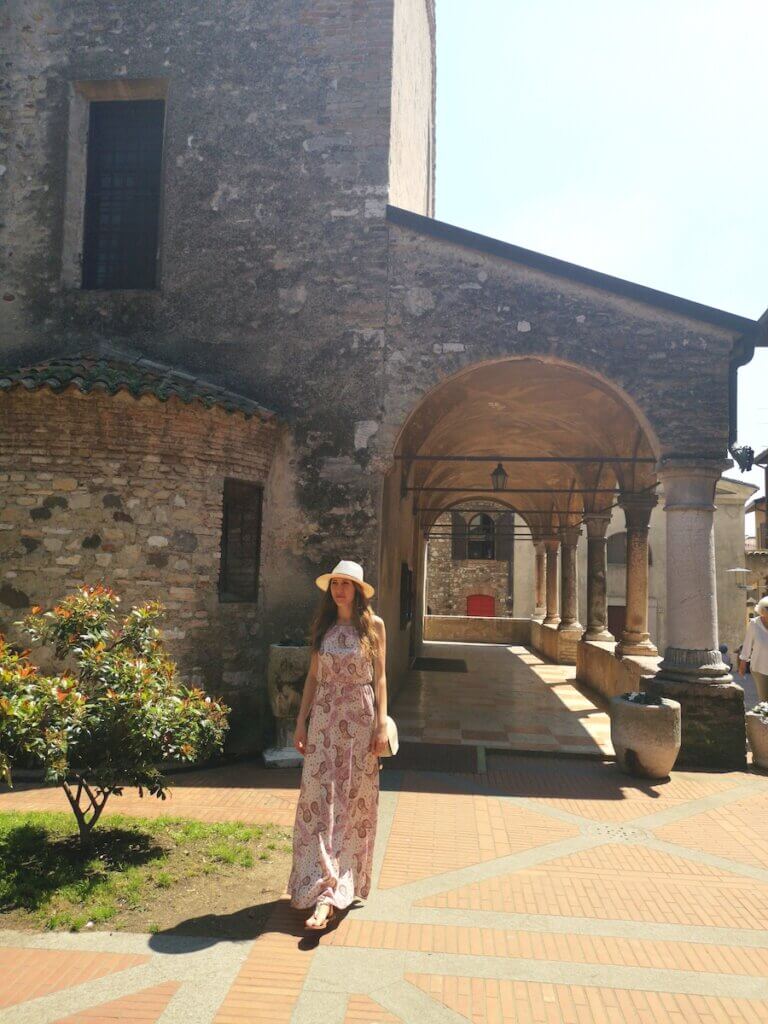 Go on a Boat Cruise Around Sirmione Peninsula
The best way to explore Lake Garda is by boat and this is something I recommend doing in Sirmione. There are several boat tours available in Sirmione to choose from. You can either go on a romantic sunset tour or explore other beautiful towns on Lake Garda by boat. The tours usually last around 1 hour and take you around the Srimione peninsula. The boat harbor is right next to Scaliger Castle and is very easy to find.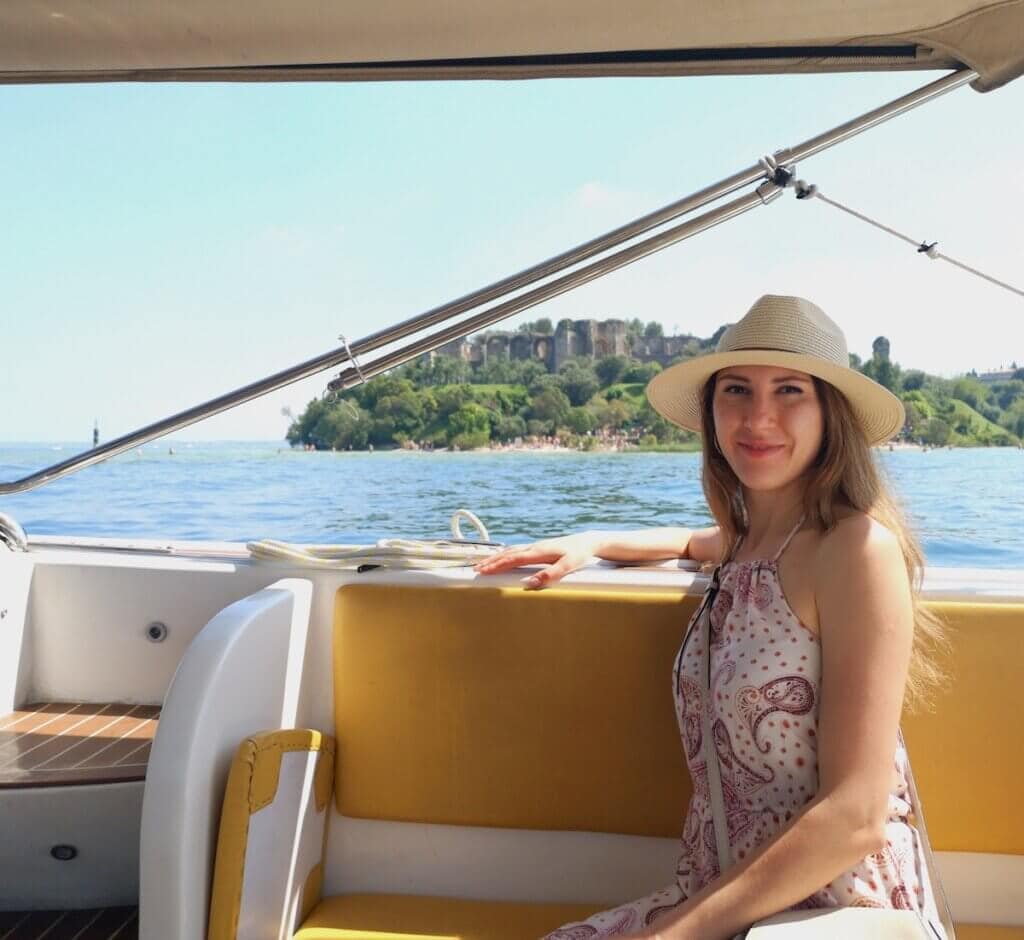 Parking in Sirmione

It is not allowed to park inside the historic city center of Sirmione unless you are staying in one of the hotels on the peninsula which offer private parking for their guests.
The is a large parking slot outside of the city center where you can park your car for a reasonable fee. Depending on where you park, you might need to walk up to 10-15 minutes to the city center and Scaligero Castle.
Alternatively, you can reach Sirmione on foot via the lakeside promenade that connects the towns of Colombare and Lugana to the old town center. There is a shuttle bus service from the car parks in Colombare to Scaligero Castle during the high season. Inside the old town of Sirmione, you don't need a car because it is pretty small and you can easily explore it on foot.
How Long Should You Stay in Sirmione?
There is no right or long answer regarding how long you should stay in Sirmione. It depends on how many days in total you have for your Italian vacation and if you are going to use Sirmione as your base to explore Lake Garda or not. Many people come to Sirmione as a day trip from Verona, but in my opinion, it is too short to see everything that Sirmione and Lake Garda have to offer. You can see most attractions of Sirmione within 2 full days, but you need at least a week to explore Lake Garda, the largest lake in Italy.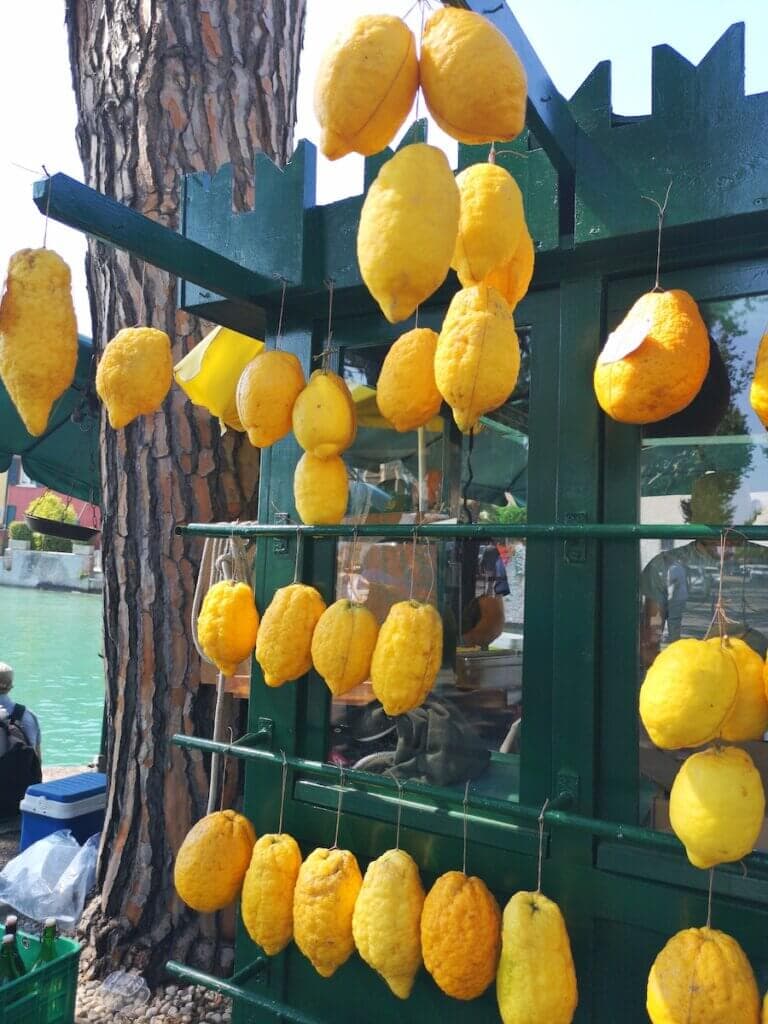 When is the Best Time to Visit Sirmione and Lake Garda?

Summer months between June and August are the warmest months in Sirmione and on Lake Garda and the water temperature is very pleasant for swimming, but these months are high-season months with crowds and high prices. I recommend going to Lake Garda in May, September, and October for lesser crowds. The water and air temperature is quite pleasant in those months as well and you can enjoy your vacation in a more relaxed and quieter atmosphere.
Other Attractions in Nothern Italy
Visit Verona, the city of Love
Go Shopping in Mila
Take a Gondola Tour in Venice
Please follow and like us: